In this panel from UCLA's fourth-annual Luskin Summit, TPR excerpts a discussion moderated by Ananya Roy, Director of the UCLA Luskin Institute on Inequality and Democracy and professor of urban planning, social welfare, and geography, featuring opening remarks from Miguel Santana, President and CEO of the Weingart Foundation and Gary Blasi, Professor of Law Emeritus at UCLA who address the root causes of homelessness in Los Angeles and some of the strategies used to address this crisis. Directly identifying speculative landlord "equity mining," housing unaffordability, and evictions as primary causes of homelessness in the region, panelists highlight how state and local COVID emergency protections have been positive interventions to stave off an eviction crisis, but point out the fallacy of local enforcement efforts that further displace and traumatize unhoused people in the name of "public safety." Find the full panel video online, here.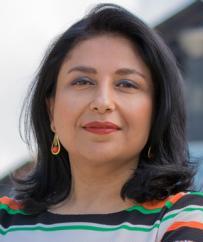 "In the case of LA, our research shows that neighborhoods that are home to working class communities of color are especially vulnerable to such housing grabs by both Wall Street as well as local real estate empires, whose business models are those of extraction and eviction"—Ananya Roy
"Homelessness begins with eviction. These are not two separate things. In fact, in January 2020, two thirds of the unsheltered people were in their very first episode of homelessness before the COVID crisis."—Gary Blasi
Miguel Santana: When it comes to homelessness in Los Angeles, most Angelenos feel that the city has given up. Given up at having one citywide homeless strategy or even one point of accountability. The sad truth is that Angelenos are right.
When it comes to the crisis on our streets, the city's official policy is that each council member decides. Each member decides the best that they can do under their individual political philosophies, resources, staffing capacities, and relationships. While they may house people incrementally in specific neighborhoods, without a system-wide approach, their progress is more than often short-lived. Instead of learning from the time and cost of building permanent supportive housing under the existing program, the city is trying to convince us that it is okay to wait over 5 years and pay over $600,000 per unit. At this pace, we will never meet the scale needed, even with all the new revenue being proposed under the latest initiative.
The city's plan to build affordable housing through the housing element is being challenged. Even if allowed to proceed, development will encounter the same lack of urgency that all new housing faces. Most are required to make many formal and informal stops along the way that prioritize interests that don't care about housing the unhoused as quickly and as affordably as possible.
Efforts to establish an ongoing regional coordination with goals and accountability between the city and the county are dismissed and sometimes even mocked. Instead, they continue to point fingers at each other and ignore the fact that they have a shared responsibility and the ability to work together through existing structures like LAHSA. The region offers no common vision, plan, or call to action to help even the most vulnerable: people suffering from mental illness and or addiction, the elderly, disabled, and even children.
The candidates running for mayor and supervisor each have their plans, goals, and frameworks. Overwhelmed by the existing void, we demand that they promise to fix it and provide us the answer. The truth is there is a silver lining, no matter what they are proposing as a path forward, they offer one thing in common: they haven't given up. It's why they're running, and neither should we.
Not giving up starts by being honest. Our best thinking after decades of policy analyses, advocacy, and unprecedented investment has fallen short. The outcomes speak for themselves. It also means acknowledging that there is no one panacea to ending homelessness. Like education, clean air, or reducing crime, homelessness requires constant planning, coordination, engagement, evaluation, and reengagement based on what is working and not working. It requires transparency, clear data and shared goals to evaluate progress and setbacks. This is what accountability looks like. Most of all, it takes leadership and honest reflection not just from our elected officials, but from all of us. Many of us here today have been part of creating the very policies in place today. We should challenge ourselves by asking the hard questions. Why are we failing? What needs to change? How do we hold ourselves accountable to not giving up? Thank you.
Ananya Roy: In my brief introduction to our panel, I will outline some key aspects of the present historical conjuncture, which I see to be a moment of conjoined crisis and opportunity. In doing so, I will think from the liberal city of Los Angeles, but I hope that the processes and possibilities I present will be of relevance in many other contexts. The ongoing and seemingly unending COVID-19 pandemic has both exposed and deepened the inequalities of racial capitalism. This is starkly apparent in the sphere of housing where the expansion of wildly exorbitant luxury housing takes place alongside a growing crisis of housing insecurity for rent-burdened tenants and the unhoused.
Since May 2020, the Institute has sounded the alarm on three key dimensions of housing insecurity. First, a seminal paper by Professor Gary Blasi warns about impending evictions, showing how in a city where tenants already carry staggering burdens, the loss of employment and weak social protections of the pandemic portend catastrophic consequences. This is now apparent in the massive rental debt carried by California tenants. Debt that is disproportionately borne by black and brown tenants. In just a bit, Professor Blasi will explain the looming eviction crisis, the failure of rent relief, better understood as landlord relief, to avert this crisis, and the work that is necessary to keep people in their houses. It is obvious, but nevertheless important, to note that this crisis will disproportionately impact working class communities of color.
Second, as black and brown tenants have accumulated rental debt, so the country's billionaire class and corporations have accumulated massive wealth during the pandemic. Our research at the Institute shows that, as was the case during the Great Recession, the current crisis will serve as the opportunity for housing grabs or the unregulated acquisition of distressed residential property by powerful corporate actors. Nationwide, Wall Street investors are once again on a buying spree, rapidly acquiring massive tracts of housing and converting them into rental empires. It's a process that has been appropriately called equity mining, and it is set to dramatically increase housing insecurity across cities and communities. In the case of LA, our research shows that neighborhoods that are home to working class communities of color are especially vulnerable to such housing grabs by both Wall Street as well as local real estate empires, whose business models are those of extraction and eviction. This will significantly expand the unhousing of people.
Already LA has drawn national attention to homelessness. While national public health protocols during the COVID-19 pandemic prohibited the displacement of homeless encampments and urged non-congregate shelter, such COVID compassion is now waning. In just a few months, as eviction moratoria come to an end, so will COVID-19 emergency shelters, such as Project Roomkey. Exacerbating this catastrophic confluence is the very deliberate political decision by the majority of LA City Council members to enact and expand homeless sweeps, mobilizing cruel municipal ordinances such as L.A.M.C. 41.18. LA's elected are instituting a regime of racial banishment, criminalizing homeless encampments and homeless persons. Lubricated by never-fulfilled promises of housing, such banishment entraps the unhoused in a churning system of carceral shelter and permanent displaceability.
In our research, which is focused on the aftermath of the militarized eviction of the Echo Park Lake encampment, we call this displaceability by design. It is clear that it produces both social death and actual death. A recent research report on the stolen lives of LA's unhoused shows that nearly 1,500 unhoused residents passed away on the streets between March 2020 and July 2021. Another 418 people passed away in hotels and motels; a number that reflects the placement of people in emergency shelters with conditions of carceral isolation, such as Project Roomkey.
But here's the thing. This crisis of housing insecurity is not caused by the lack of resources. This is not a moment of neoliberal austerity. It is in our panel title and the recent LA Times article on Governor Newsom's budget that argues a time of plenty. California's profits are overflowing. Billions of federal dollars are circulating to public and nonprofit housing and shelter systems in LA, spurring emergency housing vouchers, state programs such as Project Homekey, and more.
Our research finds that such resources are either sitting unutilized, as was the case with the city of LA's stubborn refusal to apply to and fully utilize FEMA reimbursements for project Roomkey, or they are being perversely invested in expensive, impermanent, and carceral forms of shelter that masquerade as housing.
It need not be this way. Indeed, the necessity and opportunity of the moment is to do things in a radically different way. As I turn the stage over, let me amplify three visions of housing justice that have been put forward during the pandemic and deserve investment. There are alternatives to the perverse investments that I have just outlined. The first is the call from tenant unions for rent cancellation and cancellation of rental debt. This is not the same thing as the convoluted systems of landlord relief that are currently in place. The second is the call from housing and racial justice movements outlining the fundamental principles of social housing. These include the decommodification of housing, housing as a public good or organized as cooperatives or community land trusts, the community control of such housing, new mechanisms of public finance, public acquisition of residential and commercial property to counter Wall Street equity mining, and an exclusively reparative framework for housing that addresses racial segregation and racial banishment, as in the national homes guarantee platform. The third is the urgent call to end the criminalization of poverty and the spatial exclusion of the homeless. It is indeed a travesty that so many of the candidates for the LA mayorship can do no better than to have crude forms of policing to address housing insecurity. Police enforcement can never be a path to housing.
Now, we'll start with Professor Gary Blasi. Professor Emeritus of Law at UCLA, a member of the UCLA Luskin Institute on Inequality and Democracy Faculty Collective, and as I like to put it, the absolute OG of housing justice and public interest law in LA. If there's an important topic on housing and homelessness, you can be sure that Professor Blasi has done the scholarship, analysis, and advocacy on it.
Gary Blasi: In the newspapers today, it appeared that Microsoft bought the gaming company Activision for $68.7 billion in cash. Accidentally, that's exactly the same amount that President Biden requested in the federal budget for all federal housing programs in the United States for this coming year, and that was up $9 billion.
In effect, if one were cynical, one could say that society and our country have said to the poor and unhoused, "let them play games." I'm not against technology or video games, but how often is technology used for the benefit of poor people or to solve social problems as opposed to create them? I'm going to describe one example that would not have happened but for Professor Roy and the UCLA Luskin Institute on Inequality and Democracy, but before it gets there, some background.
Homelessness begins with eviction. These are not two separate things. In fact, in January 2020, two-thirds of the unsheltered people were in their very first episode of homelessness before the COVID crisis. Almost two-thirds of those people attributed the cause to economic hardship. What they meant by that was that their incomes didn't match the rents. Incomes are often not mentioned when we talk about homelessness because there's a heavy focus on the supply side of housing, but without housing that's incredibly affordable, incomes will also be a defining variable.
Unemployment is now officially down, but unofficial employment has not improved that much for people at the bottom. Government support for people, which is supposed to be the last resort, in LA County, is $221 a month, where it's been for decades. The rent for a one-bedroom apartment would accommodate about 10 people using all the money that they have from the County Welfare Department.
A bit about the scope of the problem right now. The Census does a pulse survey that was recently completed on December 13th. At that time, the number of people and households that are behind on the rent was 1.8 million in California. In the Los Angeles Metro Area, the number of behind on the rent was 637,000.
You may or may not know that there have been not that many evictions yet, during the COVID aftermath. Because Professor Roy mentioned in May 2020, the Institute published a study that I did called UD Day—referring to unlawful detainer or eviction cases. I estimated that 365,000 households in LA County were likely to become homeless if the government did nothing.
Well, the government did something. Some local governments, like the city of Los Angeles, imposed a freeze on non-payment evictions under the COVID public health emergency powers. The legislature went through several programs and ended up with SB 91, which proposed to pay landlords that are owed back rent by people who have been disadvantaged by COVID 100% of the rent that they're owed. Unfortunately, today in the state of California, only 148,000 households have been served. That's about a quarter of the people who are behind on rent. In LA County, it's slightly better, with 73,000 people who are behind on rent.
What has stopped evictions? What has stopped evictions is a little noticed provision of SB 91 that said that landlords could not get a summons to begin an eviction case until they had completed an application for rental assistance. Unfortunately, that protection, which has stopped the tsunami, expires on April 1, 2022. That unfortunately appears to be the real next UD day.
In order to talk about evictions, it's important to get down to what happens in individual cases. These begin with the landlord filing a complaint in court, getting a summons, and serving that summons and complaint on the tenant. The tenant has to file an answer within five business days. Filing an answer is no trivial matter. If you don't file as a tenant in five days, you lose by default, and you face eviction in about two weeks, regardless of what defenses you may have had and reasons you should have not to be evicted.
If the tenant does file an answer, then landlord lawyers typically serve more papers that are really impossible to answer for laypeople. Failure to file those additional papers in response results in monetary sanctions or a default judgment. Then, if everything else goes according to plan, the statute requires that evictions be held within 20 days. At trial, in less than 1% of cases for unrepresented tenants that face represented landlords do the tenants prevail. My students and I did a study of a random sample of cases and found that the number was in fact zero. So, I'm rounding up to under 1%. It's also the case in LA County that 95% of landlords have lawyers, and about 90% of tenants do not have lawyers. This is in spite of the recent expansion on legal services capacity, which aims to provide a lawyer for everyone, but they are still very far from meeting that need. Very few tenants can successfully respond to an eviction complaint without assistance, especially within that five-day deadline.
One response, which is based on technology, is the eviction defense tool that's been created by a coalition of people I will describe later on. This is a free online application accessible either by computer or smartphone by any tenant in California facing eviction. The tool consists of a questionnaire in plain language that substitutes for a lawyer's interview of a tenant. In the end, it uses the information provided by the tenant to prepare all the legal necessary documents. These include the answer to the eviction case, an application for a fee waiver, which was otherwise up to $430, and any COVID-related declaration that the tenant may have.
In Los Angeles County, we can file that electronically through one of our partners, the Inner City Law Center. In the rest of the state, people have to prep the forms that are generated and emailed to them and then take them to Court file them themselves. Right now, the tool is available in English and Spanish, and we're working on the next most common languages.
Technology doesn't work unless there's an ecology to support it. The technology alone, even if a tenant successfully uses our tool, is not necessarily the end of their problems. The tool also provides targeted referral to further available legal help. In Los Angeles, that's relatively straightforward because there is a coalition-based website and enterprise called Stay Housed the we refer people to. We've also succeeded, at least in the past when we thought the evictions were going to be sooner, in recruiting about 300 law students and 100 lawyers to assist tenants with completing the form and dealing with any problems they have thereafter.
It's not just a legal tool. It's been designed to connect tenants to other tenants and to tenant community organizations. We see the volunteers and community organizers as the main users of our tool on behalf of tenants that they're working with. Those that we've been working with are the LA Tenants Union, other neighborhood tenant unions, the Alliance of Californians for Community Empowerment, and Tenants Together.
It's important to think beyond this individual legalized eviction defense issue. This is obviously not an individualized issue, nor is it merely an issue of eviction. As Ananya mentioned, regardless of eviction, tenants face huge debt, and it's now very easy for landlords to collect through small claims court, even though the amount in question may be $25,000.
We are, therefore, creating a similar tool called a Rent Debt tool that operates on the same principle: helping tenants represent themselves and connecting them to legal resources, other supportive enterprises, and community organizations. In the process, we also collect, with the tenant consent, data that will connect tenants to other tenants with the same landlord. It will enable us and others to identify abusive landlords and landlord lawyers that are using a short practices for a targeted response. Lastly, in the context of the university, we will be gathering data in real time on the housing crisis in California and making that available to researchers across the state.
Doing this may sound easy. The development and operations team that's produced these things and will continue to maintain, operate, and expand them consists of the people you see. Especially, I would like to say that in the initial operation of this enterprise, the Institute on Inequality and Democracy was absolutely essential. We're very grateful for the support that we've received and a lot of in-kind support through essentially volunteering and free labor from a lot of people, especially UCLA graduate students.
So, we're almost done. Just to give you an idea of what we have in mind, based on our experience with what we've done so far, we are developing a rent debt tool and thinking about developing other tools that will help in the housing justice field around habitability issues, housing discrimination, issues of utility, maintenance, and other tools based on the empirical assessment of needs that we develop through the data we are collecting now.