First elected with the slogan "Hate Traffic? Think Small", Mayor Thomas Aujero Small, in his recent State of City Address, highlighted Culver City's efforts to implement a new mobility paradigm and update its General Plan. The Mayor, also currently Chair of the Sustainability Council at LA Metro, emphasized inclusive growth and public-private partnership to begin addressing affordability concerns and the traffic congestion that plagues his westside city. Mayor Small, shining a spotlight on the City's new transit-oriented development Ivy Station, also cited the need for improved local transportation options—both active and public transit—to truly execute on the Culver City Transit-Oriented District vision.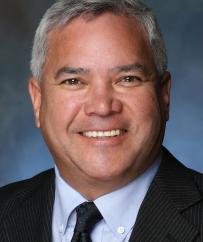 "Our focus on mobility is working hand and glove as we move forward with our general plan update, which is probably the most important thing that we're doing here in Culver City during my tenure." - Mayor Thomas Aujero Small
Mayor Thomas Aujero Small: The concept of a shared vision and community plan for the future of our city is what brought me to want to run for city council in Culver City. My campaign was based on the concept of excellence in design and what that can bring to a city. I was the architect's candidate, the urban planner's candidate, and the urban designer's candidate. It was a message that resonated, but when you get into a general election, of course, things get very simple. The poster that ended up being most effective was the one in which I was "the traffic guy." The poster said, "Hate traffic? Think Small!" I think that was part of what got me most of my votes.
So, when I was elected, we had a mandate to begin working directly on these issues. One of the first things we did was fashion a request for proposals to work on precisely that problem where it was most pressing for our city: the Transit-Oriented District at the corner of Washington and National by the train station where the Ivy Station project is going up right now.
We wanted three things from that project: We wanted a team that understood Culver City and understood the geography, mechanics, and topography of the city. We wanted innovation and new ideas that were not the same old ideas that have not worked here over the decades. We wanted true public engagement, which was probably the most important. The neighborhoods really woke up for that project
Whenever we try something new, we learn that change is hard. Implementation becomes the new challenge. How do we get there from here? I believe the project inaugurated a sea change in the culture of our city. We've become much more focused on the concept of mobility. It's something that we talk about all the time and something we work with all the time. For example, the Rancho Higuera neighborhood really came alive. The association in that neighborhood formed to figure out how their kids could walk to school in the morning without getting run over crossing traffic-filled roads.
Around the same time, Culver Studios was beginning to apply for a renovation project that's now underway. Rancho Higuera and Culver Studios teamed up and brought even more focus on mobility. They helped us engage with the land corporation to help the city create an implementation plan, which will be going into effect over the next few months. We're going to see new things; the results are coming. The Parking and Traffic Subcommittee is now the Mobility Committee.
This is the trajectory that has shaped the last few years for me: a focus on mobility and transit. I was elected chair of the Sustainability Council at LA Metro, which has given the city access to partnerships with Metro at the highest level. We've already begun discussions about the possibility of congestion pricing, which is probably the hottest idea at the moment for how to deal with traffic. I was also appointed to SCAG's Transportation Committee. Our focus on mobility is working hand and glove as we move forward with our general plan update, which is probably the most important thing that we're doing here in Culver City during my tenure. 
The general plan is something that has been in the works for a long time. It was part of the reason why I chose to run for office. It's hugely exciting to be involved directly in the general plan process in a city that is as special as this one- a city that is a microcosm of the world and an oasis in the metropolis. A city that is small enough to get things done quickly.
Much of what that we're dealing with is beyond our control and regional in nature; for example, traffic is one area where we need to work regionally. However, the growth and development of cities is something that is happening all over the world. Over the last few years, as a global society, we passed a landmark moment. Now, more than 50 percent of the world's population lives in cities. All cities are growing and becoming denser. That fits in directly with what we realized during the Transit-Oriented District Visioning Process. With regards to density issues, it's not about stopping development, which is something we are not going to be able to do. It's about mobility. It's about options, alternative modes of transportation, and being ready for the change and adapting.
Times have changed, but circumstances like the ones we're currently facing are not unknown in history. I'm reminded of a novel by Giuseppe Tomasi di Lampedusa that tells the story of the late 19th century in Sicily, when Italy was becoming a country for the first time. It was a time when political and social change was inevitable and rolling over the country in a way that overwhelmed everything. One character says to another, "If we want everything to stay the same, everything must change." That is simply a beautiful way of saying we need to be aware of change and demand it going forward. If we don't work with change, it will take over without us.
Over the last couple of years, we've had some key projects in Culver City that have been part of the growth that's leading us towards the future. One such project that many of us have been involved with is the revitalization of Ballona Creek. The creek is a concrete channel that we've looked on for many years and worried about it flooding. However, it's a hidden resource that, in the future, will be a linear park that will knit together our whole city with our regional partners to each side and carry us to the beach in ways that we have not imagined before. It's a hugely popular bikeway now and, as it becomes more green in the future, it will be even more so.
We've had two major workshops with stakeholders from all over the county focused on revitalizing Ballona Creek. But the most exciting thing we're working on regarding the creek is a new type of financing. It's called an environmental impact bond. This type of bond is funded by private investors who want to see environmental and social impacts from their investment, and is designed to fund projects exactly like this one. The environmental bond that we're working on will extend the bike path and parkway further into Culver City, under Washington Blvd and up into the City of Los Angeles to the district of my dear friend, Herb Wesson, who's partnering on this with us. We've partnered with the City of Los Angeles, the County of Los Angeles County, and, most explicitly, LA Metro. Having this extended bikeway will connect an entire underserved area of Los Angeles to the Metro. We'll be able to get to the Metro by foot, by bike, or by wheelchair in a way that has never existed before. It's created a great set of partnerships and a great hope for improving the quality of life in that area.
One of the other areas that has been the focus of a lot of thought and discussion is Fox Hills. I have recognized for a long time that Fox Hills and the southern part of our city is, in many ways, the most exciting. Our downtown has grown like crazy over the decades to become a walkable urban haven. However, the area that is really set to grow and change is Fox Hills and the Sepulveda corridor. We have great opportunities there, including a proposed development, and we're currently in the process of deciding what that great piece of available space should be. To help us figure it out, we received a grant from the National Institute for Civil Discourse to fund the Culver City Conversations, which were a pair of extraordinary public meetings that we held in Fox Hills this past year. We implemented a new type of technology that gave voice to every single person in the room and every single person at the table. It was really a leap forward to help the neighborhood begin to envision itself and a future that retains what everyone loves about the area while fostering growth and change. 
The other fascinating project we've unrolled over the past few years is our City Hall gardens. The landscaping around City Hall is set to become something completely different. We approached it in a new way by holding a design competition that was limited to Culver City firms, and the results were extraordinary. We chose an excellent, world-renowned firm, Y Architecture, and that project is moving forward as we speak.
All of this growth, change, and development is spurred by the extraordinary technological revolution that we've experienced as a result of Silicon Beach.  This is something that is not new; it's been happening in Seattle and the Bay Area, and has been the economic engine that has fueled our entire country and changed the world over the past few years. Having these companies here in Culver City- Amazon, Apple, Sony- has demanded a new type of public-private partnership. We need to raise the bar from where it's been in the past, and we need to enter a new era of closer relations with these companies.
They are realizing it too. The displacement in San Francisco has been tremendous. It's now a city of the very rich and the very poor; the middle class is almost gone. But we're lucky here in Culver City. We can see what's happened in the recent past and we can learn from it. We can do better. This is a challenge for us that is just beginning: to enter into these kinds of partnerships with companies that will be working here and bringing 3,000 new employees to our downtown over the next few years. It's a challenge and an incredible opportunity.
In this very special situation we have going into our general plan, I've come to understand the process in a new way. We worked on the RFP for our general plan over a number of months. In many ways, it was influenced by our earlier experience with the TOD Visioning Process, but deeper, more thorough, and led by our Community Development Department. The RFP for that project attracted firms from around the country and across the globe, from Copenhagen to Denver to Vancouver. Even though the process itself is just beginning, we've chosen our consultants. We have an extraordinary team. However, in time, I've come to see the General Plan update in a different way.
Although the General Plan is a technical document governed by state law with a prescriptive number of elements that we must look at, including land use, housing, and mobility, I've come to realize that, perhaps, at the heart of the general plan is a something different. This is where the opportunity for us really is. This is the opportunity to move our city into the future in a way that has not existed in the past.
The question is: Can we have growth fueled by this incredible economic engine and have it be inclusive? Can we have growth without fueling displacement? Can we have growth and prosperity and have a community that remains diverse, respects its history, and has housing for every level of income. That is the key. This is something that has not existed in the past. We look back on the past as some halcyon time that was more comfortable for us, but it was only more comfortable for some of us.
For a glimpse into this part of our history there's an extraordinary article that I highly recommend called, The Hidden History of Culver City Racism by John Kent. This past week, we had an oil spill in our community. The oil fields right at our doorstep and at the heart of our community are regulated in a sense, but not in a way that benefits everyone. This is something that has to change. How to have growth that's inclusive is the challenge for us in the city's General Plan moving forward.
How do we do this? One of the answers I encountered just this past week came from an extraordinary firm based here in Culver City, in Fox Hills in fact, called Auticon. It offers a different model of business than I've ever seen. Auticon is a high-tech IT consulting firm whose employees are all on the autism spectrum. Visiting Auticon was a revelation to me. Every person who works there has extraordinary talent that surpasses what anybody else can do. That is the company's mission: To employ individuals on the autism spectrum who can do that job better than any one else could. This is the kind of innovation and creativity in business that will lead us into the future.
This moment in our city, and in our society, reminds me of an image from scholar and philosopher E.R. Dodd's novel, The Greeks and the Irrational. Dodd describes the rise and fall of ancient Greek civilization and the Greek dependence on rationality. The image he offers is of Greek civilization atop a horse that must leap a chasm of the challenges they faced. The Greek horse of rationality was not strong enough to leap that chasm. Dodd's hope was that modern society would have a strong enough horse that could make that leap. That is my hope for us here in Culver City, in the United States, and in the world. The chasm that we face is this: can we engender growth in a society that's truly inclusive? I believe that's where we have to go, and it's all of us in this room who can make that happen.