By all accounts, the Culver City Metro station has seen explosive success since its opening in 2012. But it has also made painfully clear the city's need for an updated mobility vision. Councilmember Thomas Small and Craig Nelson of Steer Davies Gleave took a break from drafting Culver City's Transit Oriented Development Visioning Plan to illuminate for TPR the challenges ahead: exploiting and augmenting a robust development forecast; providing seamless integration with LA's patchwork of municipal infrastructure; improving customer experience to stem the countywide decline in ridership; and accommodating the moving target of changing mobility trends. The job is formidable, but one thing is clear: It will be driven by the transit users, community members, and design professionals of Culver City.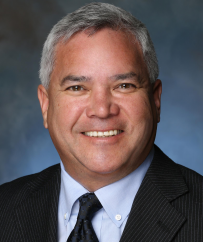 "Transit agencies need to speak to users, and to think about how good design, good strategy, and good policy can be used to deliver a more accessible and better-to-use transit network." –Craig Nelson
"The solution is not to try to stop development, but to work with it, and to create a multimodal mobility system that will enable all these people to get around. We need a mobility system that will work with development." –Thomas Small
Culver City recently hosted a design community roundtable as part of its Transit Oriented Development Visioning Plan. Talk about the contribution this stakeholder workshop is expected to make to the city's plans to integrate density and transit.
Thomas Small: Culver City is very lucky to have more great architects per capita than perhaps any other city in the world. This workshop was an opportunity for us to reach out to our design community and invite them to participate in coming up with new ideas to solve issues around mobility, transit, and densification in our city. It's a set of global minds focused on a very local set of issues.
Specifically, we are focused on challenges around our new Expo Line Station. What has happened with the great success of the Expo Station is that the traffic congestion, in terms of automobiles, has reached a critical mass—throughout the city, but particularly right around the station.
This project came from the community and from the residents. They demanded that we figure out what we can do about it, and these workshops are the beginning.
Craig, you work on intelligent transportation systems and smart cities abroad and in the US. Talk about the role you've assumed with Culver City in this process.
Craig Nelson: We are helping the city engage the public in this process from the get-go, and put the user in the mix right from the start.
We have developed a simple, easy-to-use web platform to capture qualitative and anecdotal information from people who use the transportation network—be they residents of Culver City, people who work there, or people passing through—and determine what improvements need to be made. The website contains an interactive map that allows people to leave comments about issues they experience. It could be transit users who feel their bus stop isn't in quite the right place, cyclists who feel that part of the network is dangerous, or pedestrians who feel their walk to work could be that much more pleasant. We need this information from the public before we even start thinking about solutions.
This approach goes back to 2003, when I was doing my doctorate on the involvement of people in transportation planning. We've used this platform in cities around the world—recently in Colorado, Panama, and Mexico—and Culver City is our next stop on the journey.
Your firm was called in by Mayor Garcetti to speak about the possibility of "frictionless travel" in Los Angeles. There's a 10 million-person audience waiting for a solution.
Craig Nelson: When my wife and I moved to Los Angeles three years ago, we decided to live car-free. I mainly travel multimodal. And as a regular transit rider, what I've come up against is friction in the system.
This isn't just about technology; it's not a matter of there not being a suitable app to plan a trip. There are plenty of good resources out there, like City Mapper, the GoLA app, or Google Maps. All of that is great—if you don't find the system to be unsafe or unreliable.
It's all about feeling happy and confident in your journey, and that's something that I think is lacking quite a lot from Los Angeles. In my research, I constantly hear that when people get to a station, they don't feel safe. LA Metro has picked up on this as well; they just formed an advisory panel on customer experience.
I'm striving to help transit agencies in the US think beyond a new app, a new website, or new sensors across the network. You need to speak to your users. You need to understand why they don't use the bus—why it's uncomfortable for them to use the bus—and think about how good design, good strategy, and good policy can be used to deliver a more accessible and better-to-use transit network.
Bus ridership is falling quite dramatically in LA at the moment, and something needs to be done about it. Customer experience—the way people interact with the network on a daily basis—needs to be addressed. I'm really interested to start digging into that in Culver City.
Thomas, 10 development projects are expected to be built in Culver City over the next four years, adding about 18,000 new cars and 30,000 daily trips. Talk about how this development can be optimized with an intelligent mobility plan. 
Thomas Small: That is exactly the problem that got me elected, and that we're trying to solve with this visioning process. This process, and its results, are going to slot directly into the update of our general plan over the next two to three years.
The realization that we've come to is that it's not about development; it's about mobility. What I mean by that is that development is coming. We are densifying; the whole region is densifying. We need these developments to make our economy go, to create jobs, for people to live here.
This is a very heated political issue throughout the region. Our solution in Culver City is not to try to stop development, but to work with it, and to create a multimodal mobility system that will enable all these people to get around. We need a mobility system that will work with development.
The issue is focused on the district that we're studying now, right by the train station. Our Ivy Station development is coming in, and three or four more developments within our TOD will bring more housing, more businesses, and more entertainment. On the other end of Washington Boulevard, at Jefferson and La Cienega in Los Angeles, the Cumulus development is coming, which is going to be very large. We see all the people who are going to live there as shoppers for our neighborhood on that side. We just need to make sure that we're not focused only on traffic congestion, but also on our new ways of getting around outside of one person in one car.
There is extensive conversation in the LA metropolitan area, and in the capital, about the need to grow our housing supply. But there is very little conversation about integrating that housing with transportation in a balanced city plan. How has Culver City managed to address this balance, while the city of LA has not?
Thomas Small: We're struggling with it, too, but it's a huge advantage of Culver City that we're so small. With five city councilmembers and a population of 40,000, we really can talk to each other.
The biggest struggle is to create housing—particularly housing that's affordable even to people of little means—near mass transit, and when that's not possible, to create transit near to it.
We're trying to increase the amount of affordable housing in our transit district. And we're looking all the way across town, in the Fox Hills area, where there's probably going to be more housing but where we don't have good mass transit yet. We're working on new strategies to increase transit in that area as the population grows. Hopefully, we can do this faster and more nimbly than LA could, because we're smaller.
Craig, bring your experiences in other cities to bear on the challenges that Thomas has just laid out for Culver City.
Craig Nelson: In the US, we have worked in a number of cities with medium-to-large-sized transit agencies, such as San Diego, Seattle, and Phoenix. Before we even look at any mobility plans or technology solutions, we look at the makeup of the population, and we speak to riders. We come up with snapshots of people—who they are, where they work, and what their needs are.
Cities are also usually very interested in attracting new riders. Let's say a new development is built in Culver City. That's going to bring a bunch of people who may not have used transit before. How can you attract those users? It will probably take a combination of things: making a number of attractive modes available to them, making it easy to find out where the lines go and how to use them, and making it all easy to pay for.
You could start by going to the new development and meeting the new tenants—speaking to them face-to-face, through the web, or through their employers. That way, they immediately learn that now that they've moved to Culver City, they don't necessarily have to use their car; the city has provided options for getting to work, and made it easy to understand.
We frequently hear in our research that people want to use multimodal transport, but they find it very hard to understand how to pay for it. That's something LA Metro is looking at: a universal payment system. Imagine a TAP card, or an account, that could pay not just for transit but for other modes as well—including bikeshare or Lyft—all as one journey. That possibility is very attractive to places like Culver City.
In London, we worked with Transport for London (TFL) on their bikeshare scheme. We helped them understand, not only the sort of technologies that should be delivered, but also where people lived in London who would use the bikes, and where the stations should go. What's important to remember is that at the end of the day, you're not just delivering a bikeshare or transit system, but a system that works for the people who live and work in the city.
This leads to another question: In the future, what does a transit agency look like? Does it just provide bus and rail service? Or is it more of a mobility broker? LA Metro is already interested in this; they've started working with Lyft to subsidize first and last-mile journeys, so that if you take a train journey on the Red Line but you live too far from the station to walk, you can have a Lyft ride called to you. 
By virtue of Culver City's location, it often acts as a pass-through city for travelers from LA heading into other Westside cities. In that case, bikeshare and first-mile/last-mile initiatives are not necessarily a solution. How will you address this challenge in Culver City? 
Craig Nelson: Yes, Culver City lies between a number of other cities and a number of different transit networks. We are asking people—and this includes people who are traveling through—what barriers they're finding to a complete journey. When there are multiple transit agencies operating in one area, how can we make it easy for people to plan a trip, understand where it goes, and pay for it?
In a car, you can drive through various cities without even necessarily knowing it. But with transit and bikeshare, it's plainly obvious. LA has more than 30 different transit networks, which are traditionally very difficult to integrate. There are lots of different brand identities, different maps, and different physical infrastructure that people have to navigate to go from A to B, and that can be very confusing.
As of now, when you come out of the Expo Line, you see signs saying, "This way to Culver City Bus" and "this way to Big Blue Bus." Do both go to the same place? Which one is better for me? How do these signs help me figure that out right at this point in time? There's a lot of work to be done, and we're working to uncover the pitfalls and friction points.
In some cities, such as London, we've done physical infrastructure mapping to help with this problem. For instance it might show, from a starting point, how far you can walk, how far you can bike in 10-15 minutes, and all the infrastructure available to you to complete your journey.
Thomas Small: Pass-through traffic is such a key issue. It's a historic challenge for Culver City, but addressing it is still unknown territory.
Harry Culver famously said, "All roads lead to Culver City." I've come to realize that that's a literal geographic fact. The original Red Car went through here, Ballona Creek goes through here, and now the 405 Freeway goes through here. That's because we have Blair Hills to the south and Cheviot Hills to the north, so if you want to go from Downtown LA to a Central Los Angeles beach, this is pretty much the way you have to go.
One thing we're considering slowing down some of our major boulevards—making them serve the locals more, and act less as highways to get through the city. The question is: If we do slow down Washington Boulevard, what are the effects going to be on the other arteries? Those are some of the things we're studying as part of this process.
Thomas, tackling these challenges will require political focus, persistence, and follow-through. There's been a recent change of leadership on the council: You're now Vice Mayor, and Mayor Jeff Cooper has replaced Jim Clarke. Does this make any difference to these goals? Is the council united on this front? Is this a seamless—or "frictionless"—transition?
Thomas Small: I really think it is, and I feel very lucky for that. We all know that mobility is a huge issue. Mayor Cooper was with me on the subcommittee that shepherded the RFP and helped choose the consultant team for this project. He's also on the ad-hoc Traffic and Parking Committee with me.
Jeff has a different background from my own. All of us here in California are very entrenched in car culture, and Jeff even more so than most: Culver City's famous vintage car show is really Jeff's child. It makes for a good balance: The different constituencies are well represented.
If you were both to participate in the global VerdeXchange Conference in January 2018 to tell Culver City's success story, what achievements would you like to be able to share by that time?
Thomas Small: I'd like to be able to say that we completed the visioning process and came to a set of recommendations, from low-hanging fruit that we could implement immediately—like striping the streets differently—to medium- and long-range solutions.
What I'd really like is for these recommendations to be new ideas that address new technology, incorporate ride-share into our municipal system, and envision the influence of autonomous vehicles on our system.
And I hope that we will be able to announce some real results—some light at the end of the tunnel—and that people will be interested and excited about the changes that we're making. 
Craig Nelson: I hope to be able to present a truly multimodal, user-focused vision for Culver City that puts into motion the ideas we've collected from residents. I'd like to be able to show people whose ideas made it into the vision how their proposals have been translated into new urban street design or cycling and walking infrastructure, but I'd also like to show people whose ideas didn't make it in why they weren't chosen and how they could potentially be used in a future scenario.
It would be great if we could show some small pilots with technology companies, or new modes companies have kicked off. These things can be spun out relatively quickly. There are a lot of transportation-focused companies out there that are looking to do new and interesting things; in London, the app company City Mapper just announced that they're going to run bus services in London with the backing of Transport For London, which is unprecedented.
We should keep an eye on the future and keep our minds open, but still focus on the basics and make sure that Culver City retains its identity and what it does best. There's so much opportunity around the Expo Line station to make it more accessible, safer, and more pleasant for everyone.