Between two new community plans, a federal Promise Zone, several upcoming Metro stations, and growing development interest, South Los Angeles is anticipating a major transformation. Los Angeles City Councilmember Marqueece Harris-Dawson has long worked to benefit the area, leading the beloved Community Coalition before his election to represent the Eighth District in 2015. He joins TPR to discuss how the new plans can guide the opportunity for equitable TOD in South LA, and his vision for increasing access to city services and jobs in the long-neglected area. He also elaborates on the homeless housing coming to his district through Proposition HHH and the unique strength of the area's community groups.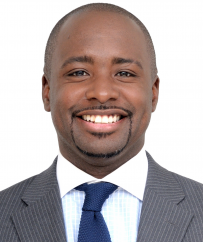 "South Los Angeles has some of the residents most open to new density. But we also realize that the services have to match the level of density." —Marqueece Harris Dawson
Over the past year, The Planning Report has followed City Council's actions to update the city's planning processes and community plans. As the South and Southeast LA community plans come before the council, are you satisfied with what is contained within them?
Marqueece Harris-Dawson: The planners have done a good job getting out and talking to folks and getting a view of the landscape. The Planning Department and the staff of CD8, CD9, and CD15 have been very engaged. From what I've seen, both of the plans are about 95 percent of the way there—there are just little changes to be made that the council offices have put forward. I think the plans will be warmly received by the Planning Committee and in the general Council. 
SCAG projects that by 2035, South and Southeast LA will gain 43,000 and 25,000 residents, respectively. How do the community plan updates propose to manage this growth to the satisfaction of both your present and future constituencies?
South Los Angeles, particularly the two areas we're looking at for these plans, has some of the residents most open to new density. But we also realize that the services have to match the level of density.
South LA has food deserts, and lack a lot of other basic consumer goods and services as well. To the extent that we correct that, density will be welcomed—particularly along our main boulevards. The southern part of the city was laid out in a more suburban way, and we could support a lot more density than we've seen here in the past. 
Accommodating the demand for affordable housing requires addressing the challenge of jobs—one cause of which is the conversion of industrial land for housing. You've served on City Council's PLUM Committee, as well as the Economic Development and Homelessness Committees; what strategies are you pursuing now to ensure the number of quality jobs matched the new residences being demanded?
These community plans include primarily residential areas with a few manufacturing and industrial hubs, which are protected in the new plans. There is exciting interest in those industrial hubs, so I don't think we'll have problems with our industrial areas.
We do need, however, to create transportation corridors to allow people to get from the housing we're anticipating to the jobs that we have. For example, along the 105 corridor is the airport, as well as other logistics and import/export sites; the 110 corridor going south also has lots of goods movement businesses, ending at the Port of Los Angeles. So we are not necessarily trying to shoehorn jobs into the existing landscape, but we do want to make sure that jobs are accessible.
How is transit-oriented development being encouraged with respect to the new Metro transit lines traversing your council district?
We are working very closely with Metro. After the West Adams-Baldwin Hills-Leimert plan was presented last year, we went back in and incorporated the newly announced LAX/Crenshaw Line stop by adjusting some of the zoning to accommodate more transit-oriented development.
In the South and Southeast, there is the possibility of a Vermont Line coming online in the coming years. Vermont is a great boulevard to do transit-oriented development on—probably the best opportunity anywhere in LA County. We certainly feel that about Broadway, as well.
The Silver Line runs down the 110 Freeway, and it is one of Metro's most popular lines. We're working on projects now to capitalize on that, and the plans also take that into account. 
Last year, TPR interviewed Larry Frank, president of LA Trade Tech and chair of the South LA Transit Empowerment Zone (SLATE-Z), the Promise Zone. Elaborate on the promise of transit investment and transit-oriented development in Los Angeles for the creation of jobs for the residents of your council district.
The great thing about the Promise Zone is that it showed the power of South LA's civic infrastructure and the sophistication of the organizations here. LA is one of the only cities in the country that has two Promise Zone designations, and that was on the strength of those organizations and that community.
I think the SLATE-Z coalition was very smart: It organized the Promise Zone around rail and transit investment. The goal, firstly, is that when we build transit-oriented communities, we want to make sure that the jobs that come as a result of that transit investment are ones that folks in the community are positioned to get. And secondly, we want to do transit-oriented development in such a way that the people in the community are its primary beneficiaries—so that it isn't a wholesale swapping out of one community for another, entirely changing the complexion of the community.
One of the ways we can get this done is by making sure that the preponderance of new housing is set at a price point that folks in the community and their families can afford. We need to do affordable and workforce housing that is consistent with the kinds of jobs people have in the community.
An interesting thing about the SLATE-Z zone is that it includes a high concentration of airport workers. It's notable how many people are going to be working at the airport, what their salaries are likely to be, and what their general residential needs are going to be. We can build housing around that—as opposed to building housing around a market that always opts to build for the highest zone that can afford it.
Metro has the resources to do transit-oriented communities and assisted housing development, and as the city looks at sources of permanent funding for affordable housing, we will also be able to make those developments happen. Also, as rail construction winds down, land that Metro has been using up to this point for the purpose of construction will become available, and can be developed into the kind of housing we're looking for. 
TPR also interviewed Capri Capital investor Ken Lombard about housing development opportunities in Metropolitan Los Angeles, particularly Baldwin Hills that are generated by investment being made in transportation infrastructure. Is Capri representative of other investor interest in your district?
I couldn't be more excited and proud to work with Capri Capital. They're making probably the biggest single investment in housing in South Los Angeles since Jordan Downs. Baldwin Hills-Crenshaw Plaza is a $750 million commitment with almost 1,000 units of housing at the intersection of Martin Luther King and Crenshaw Boulevards. That's exciting.
We also have lots of exciting small developers: Amcal is doing some affordable housing now, Sharp Capital is looking hard at housing projects in the Crenshaw district, and there are others in discussion. Again, we are trying to build the kind of housing that supports the neighborhoods that are there—because for one, it allows them to grow naturally, and for another, it brings real quality projects in terms of the architecture and the kind of beauty that we need to see in our neighborhoods. 
As a councilmember, how do you balance the city's goal of producing housing at an affordable price point with the growing costs associated with the passage of Measure JJJ last fall—or the potential adoption of a citywide linkage fee?
These projects require subsidies irrespective of JJJ, which I supported, and even the linkage fee, which would create a funding stream that we need, because the price of land is out of whack with incomes of people in the community.
It's tough. Right now, we have what I see as piecemeal solutions. The challenges they present can be overcome, but they do present challenges.
Can LA draw lessons from the growth and economic development Inglewood Mayor Butts has succeeded in attracting to his city?
The thing that we can learn from Inglewood is: Play to win.
Go after the big projects. Shoot for the sky. I've been around long enough to know that the fight for NFL football has gone back and forth from being right at our fingertips to being a pipe dream at different points in time over the last 30 years.
But that's what I think Inglewood has taught all of us over the last 15 years: Play for Madison Square Garden and the NFL and the NBA. Play for extremely dense housing. And don't settle for Walmart—you don't have to. 
Pivoting to the challenges of providing and delivering city services and housing to meet the needs of those without access to affordable shelter and adequate subsistence, address plans to utilize new funding now available, specifically Measure HHH.
I was proud to be a co-author of Measure HHH, and part of the team that got it over the finish line. We've got a selection of projects online, which will take three or four years to be realized, and they are moving along nicely. Builders and community development organizations are coming up with really innovative designs and ways to mix populations.
We will be able to do a good amount of homeless housing in my council district, and I think we can demonstrate to other parts of the city that may not be as open to it that these can be quality projects that build up the quality of life in your neighborhoods.
Elaborate on how HHH is going to be managed, and its funds distributed, going forward.
HHH is organized in the same way that the city of Los Angeles manages the pipeline for affordable housing. There is a round or two every year during which you can put projects forward and apply for funding to develop permanent supportive housing.
There are three requirements: You need site control; you need some kind of arrangement to provide services onsite; and you need a letter of support from the council office that the parcel is in. There are folks within the city providing technical assistance on these applications, to make sure they can pass muster. A committee looks at every proposal and funnels some to the council to fund. Then, hopefully, you get started.
That's the way HHH is taking shape at the moment. Over time, we'll start to see more innovative programming: People could access very small amounts of money to build granny flats in their backyards, or churches could receive grants to do a version of safe parking or onsite transitional housing.
Those are things that are coming. But at first, as we're getting out of the box, we want to clear the backlog of folks who have wanted to do projects, but funding has been an issue. We'll get those going, and then we'll get more innovative.
Is it easier to achieve consensus around building in the Eighth Council District than it would be in, for example, Boyle Heights?
We certainly have issues and tensions in the 8th District, and lots of citizen questions. There is concern in South LA about what is called the liquor store problem: You approve a few liquor stores, and then one day you turn around and South LA has this huge overconcentration of liquor stores that takes generations to undo. People have the same concerns about homeless housing.
From my position on the council, I think one thing we can do is make sure my colleagues have the resources and political cover they need to do similar projects all around the city, so they are spread out.
But still, you don't get the kind of pushback regarding land use in South LA that you might get in other parts of the city. That's something I'm proud of. The level of lawsuits, subterfuge, and downright sabotage that I've witnessed in my colleagues' districts—you just don't get that in the Eighth District.
Council President Herb Wesson recently announced that he will partner with the Community Coalition to host about 100 small dinners with diverse Angelenos to "combat hate." In the context of the recent events in Charlottesville: What is the opportunity for this series to have a meaningful impact on improving LA's social cohesion?
As a longtime community organizer, the first rule of community organizing is: Go have the conversation. Whether you agree or disagree, whether the other person is open or closed to you, do not skip the step of having the conversation. What the council president and Community Coalition are partnering to do is exactly what needs to happen. I'm already signed up for a dinner!
We've got to initiate conversations and be purposeful about our connections. We cannot take what we have in LA for granted. Those of us who have been here for years know that we can easily slip into a situation like what happened in Charlottesville if we're not careful.
There is a both building aspect to this, as we purposely build community around issues that may be controversial, and a preventative aspect, so that as issues bubble up, there is a space for people to come work it out.                                                                                                                              
Given the immensity of the city of Los Angeles—encompassing some 470 square miles—is it possible for Angelinos to know each other well enough to create and sustain a sense of community?
No. We can't possibly. I would go even further and say that, even in my district of just 27 square miles, folks don't know each other well enough. And even further than that, within each of the couple dozen neighborhoods in my district, people don't know each other well enough. One of the best investments we can make is in getting to know each other.
To close, the city has entered an agreement with the IOC to host the 2028 Olympics. What is the promise of a LA Olympic Games in 10 years for the 8th District and LA?
I happen to think Los Angeles is the creative capital of the world, and I see the 2028 Olympics as the culmination of a process that has been underway for the last 10 years to move Los Angeles back onto the global stage as the capital that it is.
The Olympics is unlike any other human endeavor that exists today in the way it organizes the world to come to your doorstep. For two weeks straight, everybody in the world is either visiting your town or is looking at your town on television. This is a great opportunity for Los Angeles, and holds promise not only for the Eighth District, but for the whole city. It allows us to put a shine on our existing infrastructure, and to build and innovate around the things that we have.
We're very lucky that we don't have to build a lot for these Games, so we get to do lots of improvements instead. In the Eighth District, we're working on rail projects, including enhancements at the Crenshaw/LAX Line. I also think this is a great impetus to make sure that we not only approve the Vermont Line, but also get it done and open in time for the 2028 Olympics.