South LA was awarded a Promise Zone designation in June 2016, in the third and final round of the federal initiative for place-based community revitalization. The coveted designation, which opens the door to substantial local and federal assistance, was won through years-long work by a coalition of local agencies and non-profits in a broad array of fields, including education, workforce development, and mobility. The South LA Transit Empowerment Zone (SLATE-Z) strategically puts each of its partners' skills to use in capturing the economic and community development opportunities stemming from LA Metro's massive transit investment in the area. Larry Frank, president of Los Angeles Trade Tech College and chair of the SLATE-Z coalition, joins TPR to describe this innovative partnership.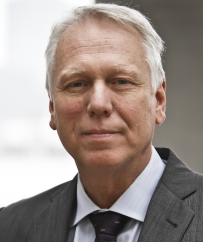 "Organizations within the Promise Zone are eligible to receive preference points in numerous federal grant competitions, and there is an MOU between HUD and 16 other federal departments that binds them to support our collective strategy for 10 years." - LATTC President Larry Frank
You were point on the successful effort to obtain the federal Promise Zone designation for South Los Angeles. Describe the significance of that achievement, and what support the area is now entitled to as a result of the designation.
Larry Frank: Let me first acknowledge where the drive for this Promise Zone came from. Although Trade Tech took on the role of lead agency, we were the last to the party.
The opportunity arose in 2014, during Round 2 of the initiative. The requirement for a prerequisite federal grant was removed from the application, making South LA eligible. And South LA was hungry to take a run at it.
Councilmember Curren Price convened several key leaders in the area: Veronica Melvin from LA's Promise; Councilmember Marqueece Harris-Dawson, then with the Community Coalition; Nolan Rollins of the Urban League; Charisse Bremond of the Brotherhood Crusade; Mark Wilson of the Coalition for Responsible Community Development (CRCD); and Benny Torres from CDTech. Congressmembers Karen Bass and Lucille Roybal-Allard were also driving forces.
As it turned out, our application was unsuccessful. In fact, we were told by many that it was impossible for South LA to be selected. This is a fierce national competition with a limited number of slots, and Los Angeles already had a Promise Zone. But we persisted, and worked to address the reasons we did not receive the designation.
Part of our work was to broaden the scope of the federal RFP. For example, initially, HUD used vacancy rates to determine housing need. But that is an East Coast-centric model. It doesn't capture the real need in South LA, which is expressed in unaffordability, severe overcrowding, and the worst homelessness rates in the country.
We successfully persuaded HUD to reconsider their criteria. Ultimately, for Round 3, they dropped the housing need component altogether—which is incredible, given that "housing" is in their name. In Round 3—the final round of the initiative—we finally won our designation.
The designation affords us a fulltime HUD staff person to help navigate the available grants, five AmeriCorps VISTA volunteers, and a commitment from Mayor Garcetti to designate a staff person in his office to help us access and coordinate city resources.
We've also enjoyed increased visibility, which has attracted support for our work. Since we received the designation, the Weingart and Annenberg Foundations have stepped up to help us build out the necessary staffing to make this effort successful—including the amazing Heddy Nam, who came on with the support of CRCD, LA n Sync, and the Disney Foundation.
Finally, organizations within the Promise Zone are eligible to receive preference points in numerous federal grant competitions, and there is an MOU between HUD and 16 other federal departments that binds them to support our collective impact strategy for 10 years. The unified collective impact strategy that came out of this effort is an important benefit in itself.
LA Promise Zone 1 has brought more than $150 million into Central Los Angeles over the last two years. That has been a huge benefit to those communities.  Now, South LA is on similar footing to find funding to support our collective work. It is an incredible opportunity that we embrace.
The South LA Transit Empowerment Zone (SLATE-Z), which you chair, includes more than 50 community partners. What unites them to realize the benefits of the Promise Zone designation?
Clearly, the prospect of preference points on federal grants was a powerful incentive to work together, but the vision behind the effort was also compelling.
Of South LA's nearly 700,000 residents [there are roughly 198,000 residents in the SLATE-Z area], 46 percent live below the poverty line. 44.5 percent experience working poverty, meaning that they work full-time yet still live below 150 percent over the federal poverty line. That's more than twice the rate of workers in LA County overall.
The need was overwhelmingly clear. It was also clear that no single institution working on a single issue could do the work to help residents get out of poverty. There was a compelling case for cooperation among our agencies, non-profits, and growing transit-oriented communities.
The vision of the "transit empowerment zone" is to capture the synergies of jobs, economic development, education, public safety, and mobility created by public investment in South Los Angeles—giving each partner a role and realizing multiple benefits. There was a clear sense after forging the coalition that this was a historic partnership, and that we were ready to work together with or without the Promise Zone designation.
We drew the boundaries of the zone to take advantage of major public investments, and to connect the eastern, central, and western parts of South LA. We also intentionally built in the racial and ethnic diversity that exists across the area.
The zone connects to 15 rail transit stops along Metro's Blue Line, Expo Line, and upcoming Crenshaw Line; 10 comprehensive high schools near the stops; USC; Trade Tech; and a number of smaller magnet and charter high schools. Each of the 10 high schools has key partnerships with the primary SLATE-Z non-profits.
Given SLATE-Z's orientation to the economic promise of new transit, describe the challenges facing workforce development in Los Angeles, where high numbers of low-skill workers are seeking upwardly mobile job opportunities.
SLATE-Z focuses on the good jobs made available by the county's transit investment in South LA.
Part of the challenge for workers in this area is long-term unemployment and underemployment, including for undocumented people. We're addressing that through several strategies.
First, we are creating pipelines to living-wage jobs through local-hire provisions in project labor agreements, development agreements, and community-benefit agreements, as well as through the city's train-to-place efforts. We're also strengthening the workforce development system to better meet the needs of vulnerable workers, such as people re-entering the community from incarceration, veterans, and monolingual Spanish-speakers.
Another strategy is education—putting students, workers, and job-seekers on career tracks. Half of the area's high school graduates do not go on to college in the next few years. As a result, high schools have renewed their focus on career pathways. We are prioritizing additional training and education for that population, as well as for South LA's many returning students.
For example, Trade Tech has 23,000 students, 70 percent doing career training, largely from South LA. 3,400 are in construction careers, and are well positioned for transit-oriented development opportunities and entry-level city jobs. 1,400 are in our Advanced Transportation and Manufacturing Pathway, many of whom are training for the 700 upcoming openings in rail maintenance. Last year, Trade Tech was awarded the first FTA-sponsored transit institute at a community college in the nation; we call it our Transportation Workforce Institute (TWI).
 There are also 900 remarkable students in our Fashion Design program, who are also well-trained in sewing and pattern-cutting—the country's largest garment manufacturing zone. We also have 1300 students in our Culinary Arts Program, which is the oldest such program at a community college nation-wide.
These programs are connecting the high schools and community colleges, both physically and educationally. The development of an MOU among the schools, colleges, and non-profits will also dramatically strengthen workforce training within the zone.
Finally, we're looking to increase economic activity, grow our local economy, and create more jobs here. We're working to strengthen small businesses, and to help them access procurement opportunities that take advantage of public investments throughout LA. The Economic Roundtable will also lead a study on the impact of minimum wage laws on our local businesses, and on our many minimum-wage workers.
Your career in community development, along with labor policy, has given you extensive exposure to a host of anti-poverty, redevelopment, and revitalization programs. Elaborate on how that experience, including your work at LATTC, contributed to the success of the Promise Zone application.
I believe the coalition's deep understanding of workforce training, and the relationships of trust we have built over time with partners in that field, allowed us to seed our strategies with concrete plans.
For example, we are very familiar with the major development projects throughout Los Angeles that already have project labor agreements built into them—most with local-hire and disadvantaged-worker requirements. This will allow South LA to capture our share of these jobs along transit.
Many organizations that coordinate construction jobs have signed onto the MOU, as have the County Federation of Labor, the building trades, and other unions that conduct their own training, like UNITE-HERE Local 11 and the Hospitality Training Academy.  
TPR recently interviewed both Mike Silvey from the Ironworkers Union Local 433 and former LACCD president Kelly Candaele about the union's successful apprenticeship program for the skilled and craft trades. How is LATTC currently preparing its students for today's workforce?
Trade Tech has an education and training program that connects our graduates directly to the building trades, trade-by-trade. We also have a six-week apprenticeship prep program that uses the Multi-Craft Core Curriculum (MC3), which we developed with the trades, including Ironworkers 433 and 416. Its last class was a women's cohort of 22 graduates, requested by Metro. We've placed almost every single one into different trades working on projects in Los Angeles.
Our next cohort comes out of a commitment the County Fed and Building Trades have with the Anti-Recidivism Coalition. It's a group of 15 reentry students, and there are agreements to pick up all 15 into various local building trades. The cohort after this will focus on the new soccer stadium.
Our primary reform strategy at LATTC is called Pathways to Academic, Career and Transfer Success (PACTS). For each of our seven Pathways, we are embedding counsellors, pathway navigators, along with contextualized math, English, and entrepreneurship courses. We are showing real success in program completion, and we are looking to more fully build these opportunities into all of our pathways.
You played a senior role in former mayor Antonio Villaraigosa's administration, which expended great political capital on public education reform. How is public education incorporated into SLATE-Z?
We see the high schools within the zone as building blocks.
SLATE-Z builds on the significant investments in our public schools, and will bring additional assets to the schools with the greatest need. LAUSD is a formal partner, and the Linked Learning Alliance has been active in shaping our plans.
Our Education Work Group's aim is to expose all high school students to college and career pathways, boost graduation rates and college preparedness, and increase post-secondary enrollment and completion. We want to bring our high schools in closer partnership with post-secondary partners: LATTC, USC, UCLA and CSU Dominguez Hills. The goal is to build stronger and seamless pipelines from our high schools through post-secondary completion.
These efforts also build on Mayor Villaraigosa's legacies around workforce development and transportation. On the transportation front, SLATE-Z has already coordinated a successful campaign to make Metro's reduced fare card for college students accessible to part-time students. With the great leadership of Metro Board Chair Mark Ridley-Thomas, the support of the Mayor's Office, and the organizing savvy of Move LA and the students themselves, this program will be implemented later this month as school starts. We hope to lower the unit requirement further next year.
Metro is also developing a transitional card—a partially reduced fare card for the year after students graduate to keep the transit-taking practices in place. These programs will strengthen the college-going culture in South LA, and hopefully make students life-long transit riders.
Let's close with the same question we posed to YPI's CEO Dixon Slingerland about Promise Zone 1: How will you, and the public, measure the success of SLATE-Z's Promise Zone investments in South LA? 
We have huge ambitions for creating South Los Angeles as a safer place with many more jobs and better access to regional jobs. Simply put, our success will be measured by the concrete impact that we have on the community.
Obviously, this will not happen overnight; we're launching a 10-year initiative. Metrics for each of our goals and strategies are built into our original application.
By the end of the initiative, we will move 10,000 SLATE-Z residents into living wage jobs through specific named strategies in specific sectors. We will increase economic activity by businesses in South Los Angeles by aligning procurement requirements among agencies, and by leveraging public and private investments in the 15 transit-oriented communities. We will reduce violent crime through a host of youth programs with partners like GRYD. And we will increase mobility by creating greater access to low-cost fare cards for all students. With additional collaboration and resources, we also hope to increase student attainment of certificates, degrees, and transfers, and connect individuals to the jobs that we know are there.
In the initial years, before we've put together a solid body of work, our success will be reflected in the additional collaboration and resources we bring to South LA. Over time, we will keep an eye on these metrics and sub-metrics, as well as our partners' performance metrics, to stay on track.
There are a lot of ways that we'll evaluate ourselves, but I think the public will want to know how much funding was brought to serve residents, whether jobs and services got better, and whether residents' lives were improved as a result.