In Part Two of The Planning Report's exit interview with Kent Smith, outgoing executive director of LA's Fashion District Business Improvement District, Smith describes how the Fashion District continues to change and evolve as Downtown Los Angeles enters a new era. Smith, a leading voice for Downtown, looks to the past as well as the future of the area, opining on the legacy of Stanley Hirsh as well as the potential streetcar system, currently making its way through the planning process.
Read Part One of our interview with Kent Smith here.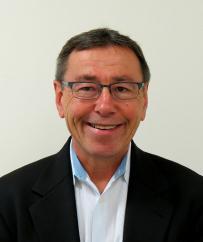 "I understand why the citizens of LA get frustrated with the development that they see. There is no planning framework, either at the General Plan level or at the Community Plan level, to give people some level of trust and comfort that the goals and aspirations they have for their neighborhoods are going to be reflected in the changes that happen." - Kent Smith
What's the essence of the Fashion District in LA today? Who's here, and what's happening?
We like to call ourselves the creative center for fashion in Southern California. Though manufacturing has long disappeared from the area, we still have a lot of creative energy behind fashion here, as well as managerial energy.
That energy is being reflected in some fundamental changes that are happening in fashion worldwide. Today, graphic designers are as important a component in fashion as pattern-makers and sample-makers were 20 years ago. We see a lot of those designers moving their offices here, and we have a lot of creative office space in this district.
The District's also become the go-to place for buyers who are looking for the latest in California fashion, which is taking the world by storm. "California casual" is a dominant look, especially for women. Women can dress much more independently now than they ever could, and California fashion has led those trends.
One thing I'm really happy about is the return of our theaters. When I came to the District, the three theaters that were in the Fashion District were all vacant and not being used. People said they'd never come back. Well, I'm proud to say we've got the Orpheum, the first theater; the theater at Ace Hotel; the old United Artists theater; and the Rialto (now an Urban Outfitters), all being reused.
The return of the theaters has brought something to the District that we've never had: events. We now publish a list of events going on, bringing thousands of people back to what was the historic theater district of the city. A lot of us are really happy and excited about that.
Recently, the corner of 9th and Los Angeles Streets was given a name that honors the patron of this district. Tell us about that naming.
On May 13, the BID got together at 9th and Los Angeles, which I've always viewed as the heart of the district, and renamed that intersection Stanley Hirsh Square.
Stanley was one of the pioneers in the evolution of the Fashion District. He was the founding chair of the BID. It was really his vision, and his knowledge about BIDs in other cities that he brought to Los Angeles, that began the big onset of BIDs in the city.
What started with just our district is now eight BIDs in Downtown LA, nearly 35 in the city, and many more in the county. Stanley pioneered that concept—and, of course, played his own role in revitalizing many of the buildings that he owned. They're still under family ownership today.
That's one of the things that differentiates our district from many other places in Downtown and elsewhere: It's still fundamentally family-owned real estate, and those owners really take a vital interest in what goes on, not only in their building, but also in the neighborhood as a whole. 
I'm sure you've heard from property owners over the years the position that the city should be the party responsible for maintaining safety and vitality—a private-sector landowner group shouldn't be required to service their own neighborhood.  How do you respond to that challenge?
As taxpayers, you expect to get a basic level of service from whatever municipality you happen to have your property in. What BIDs do is provide services over and above what the city would normally provide.
A BID allows a disparate group of owners to collectively provide services not dissimilar to what a shopping center owner is able to provide to their tenants because they happen to own the entire commercial area.
The concept of the BID has evolved so that they now work not just in commercial areas, but also in mixed-use areas. That way, residents there can also participate in doing the kind of things that the city is just not set up to do. 
You've talked about how the city has encouraged vitality in the Fashion District over the years, especially through private-sector investments. Now, what are some things the public sector could improve upon in order to further support the area's growth?
 I don't think I'm alone in saying that I'm very frustrated with the state of planning in the city of Los Angeles.
Since I came here, we have been looking at very outdated land-use and zoning regulations in our district. They're post-Second World War, heavy industrial—they don't reflect the kinds of uses that were already in the district, never mind the uses coming.
I understand why the citizens of LA get frustrated with the development that they see. There is no planning framework, either at the General Plan level or at the Community Plan level, to give people some level of trust and comfort that the goals and aspirations they have for their neighborhoods are going to be reflected in the changes that happen.
I worked for the planning department in the city of Vancouver in Canada. At the time, we were looking at bringing in what is now the SkyTrain, which would fundamentally change a lot of neighborhoods. Our role was to work with communities to come up with plans and guidelines for that future development. At the same time, we were also looking at General Plan amendments to accommodate all the folks that wanted to move to Vancouver.
A General Plan can address some of the issues that we're seeing now in Los Angeles. In Vancouver, the idea was that there were certain places in the city where we could add density, particularly residential development. We worked with the entire community to decide that in return for that concession, a number of low-density, single-family neighborhoods would essentially be sacrosanct—they would not be changed. Vancouver has really benefited from the ability to add in an enormous number of people in their Downtown.
It's a great story, and the same story could happen in Los Angeles if we recognize the places—including many neighborhoods in Downtown—that could add lots of residential and create more affordable, modestly pricing housing, and if we embrace the ability to use land-use and zoning regulations to help make that happen.
It's frustrating that we're sitting here with a housing crisis, and we have not been able to change our zoning to allow residential development. Right now in our district, it's conditional use in a heavy industrial zone, which is great if you have heavy industry in the neighborhood. We don't.
How do you react to the notion, represented in the impending ballot initiatives hat are making their way to the November and March ballots, that we should essentially disregard zoning in order to increase housing supply or put a major hold on many building projects?
 To me, planning is the tool that you need to manage the change that happens in your community.
We need to have everybody around the table. It takes time, effort, lots of discussion, and leadership—on the political side, especially—to put those plans in place to allow people to manage change in their neighborhoods.
My first career as a neighborhood planner showed me that it is possible to work with neighbors to come up with acceptable plans. I'm an optimist, and I believe that when you get people around the table looking at how to accommodate the growth that's going to happen, people will help you reach the right decisions. 
Thanks in part to your leadership, a streetcar will soon run through the Fashion District and Downtown. Talk about your hopes and expectations for that project, and the practicality of the investment.
Several neighborhoods downtown really have no public transit. Over the last few years, South Park has added thousands of residents; the Fashion District has added more than 2,000, and we have another 2,000 units under construction. Yet our neighborhoods don't have any rapid transit.
The streetcar touches our west boundary coming along Broadway. It is the proverbial last-mile transit from our light-rail systems. The Environmental Impact Report came out in June, and it covers route options, traffic impacts and a possible maintenance and storage facilities for the cars.
When we talk about introducing a streetcar, what we're actually talking about is bringing back a streetcar system that was in place up until the 1960s.
To make that happen, the private sector has basically agreed to provide between 30 and 50 percent of the cost, and the city has approved that. Now the issue is: Where do we find the public money?
People first looked to the federal level to get those funds; that's been a long and arduous process. There's some money for a streetcar in Measure R. The new ballot measure, some referring to as Measure R2 or Measure M, is looking at providing some capital dollars; there may be a long horizon for those dollars, but nevertheless, they're at least in the mix.
Our frustration with the new Metro ballot measure is that we look at this long list of projects and see that there are no real plans to link neighborhoods like South Park, the Fashion District, and the Arts District. We're talking about neighborhoods that will soon have the population of a Culver City. Well, Culver City is served very well. West Hollywood is going to be in the new ballot measure. So where are our neighborhoods? They need to be part of this, because they have the capability to accommodate an enormous portion of the growth of those people that want to move to the City of LA. 
Many Portland representatives came out to Los Angeles to advise the city on the Downtown streetcar. Is Portland a model for this project?
 Portland is indeed the model. One of the things we learned from Portland was that modern streetcars are the way to go. We didn't want to go with the historic trolleys. The new modern streetcars are flush with the sidewalk and make it really easy to get on or off, especially if you've got a baby in a stroller or you're disabled. They can also be integrated with other modes of travel, including cars, bicycles, and even walking. It's definitely the way to go.
The second thing we learned from the Portland folks is the importance of linking your major destinations—in our case, making sure the Staples Center and LA Live and 7th & Fig and the Bloc are all part of the system. We also have a small addition that goes up toward Bunker Hill and City Hall, and of course Broadway is a critical location.
<