Pat Proano, Assistant Deputy Director of the Environmental Programs Division at the Los Angeles County Department of Public Works, spoke with MIR about strategies for meeting AB 341's mandate to recycle 75 percent of trash in LA County. He focuses on the promise of conversion technology, which transforms organic waste into fuels, and the efforts at a state-wide, legislative level to clarify this practice. Proano also outlines benchmarks he expects the county to meet in the next year in terms of organics management, waste steam diversion from landfills, and citizen education. With landfills already full, a paradigm shift is underway to handle the 22 million tons of trash generated each year.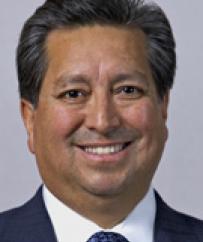 "The most prevalent material in the county's wastestream is organic material. Food waste is a good material to process through anaerobic digestion and create fuels. I believe this is just the beginning of a paragm shift. In the future you're going to see more composting and food-waste processing facilities, including anaerobic digestion facilities that generate fuels." -Pat Proano, LA County
Los Angeles County is charged by the state and AB 341 to recycle 75 percent of LA County's trash. Could you elaborate on LA County Public Works' initiatives to get to that goal? 
Pat Proano: For the past three decades, Los Angeles County Department of Public Works has been at the forefront of developing innovative solid waste management programs to meet state mandates and reduce the amount of waste deposited in landfills. 
In 1989, the State of California passed landmark recycling legislation AB 939, which required jurisdictions to divert 25 percent by 1995 and 50 percent by 2000. The County of Los Angeles has met and exceeded this mandate, and we are currently diverting over 62 percent of our waste from landfills. 
In 2012 the state passed AB 341, which included a goal of 75 percent recycling, source reduction, and composting by 2020. We captured the "low-hanging fruit" to meet AB 939—the glass bottles, aluminum cans, PET and HDPE plastic bottles, cardboard, etc. In order to reach the state's 75 percent goal, we need to enhance our current programs and come up with additional recycling programs targeting specific materials in the wastestream. 
The most prevalent material in the county's wastestream is organic material. Over one third of the county's waste stream is organic materials like green waste or food waste. Large producers of food waste—hospitals, restaurants, and big public facilities—need to be looking at how they are going to manage food waste. Food waste is an interesting challenge for us because we've been working on the use of conversion technologies, which take waste and convert it into useful products such as fuels or energy. Organics, specifically food waste, are highly biodegradable. Food waste is a good material to process through anaerobic digestion and create fuels. Several private companies in LA County are already developing anaerobic digestion projects as a means to reduce landfill disposal and generate fuels and energy. 
I believe this is just the beginning of a paradigm shift. In the future you're going to see more composting and food-waste processing facilities, including anaerobic digestion facilities that generate fuels. 
Another shift will take place on the collection side. We already have a 3-bin system for residents in the county and have recently implemented mandatory recycling for businesses, as required by AB 341. Moving forward, we will need to have a collection system for the large generators of food waste—hospitals, restaurants, and big public facilities. Organics, specifically food waste, is the big ticket item for the future of waste management.
Pat, share with our readers the magnitude of the challenges for the LA County Department of Public Works with respect to waste disposal. 
Pat Proano: As the most populous county in the state, businesses and residents in Los Angeles County generate about 22 million tons of trash. That's equivalent to filling the Rose Bowl 88 times. 13 million tons are diverted to recycling, composting, or beneficial use, but we still have nine million tons that are disposed of in landfills. 
Over the years, landfills have been the backbone of our solid waste infrastructure. LA County's largest landfill—Puente Hills Landfill—closed in 2013. With new advances in our understanding of climate change, changing public perceptions about waste as a resource, and a lengthy and costly permitting process, it's unlikely that we'll have a new landfill in LA County. 
So what will we do with our waste in the future? Our "status quo" projec..tions indicate that the county will export trash to outside counties, driving thousands of tons of trash hundreds of miles out to either Riverside or Ventura. 
That's not a sustainable way to manage our waste. Moving forward, we're using a new hierarchy to guide us. Instead of sending most of the trash to landfills, as has been tradition, the largest volumes of trash need to be reduced or reused—kept entirely out of the wastestream. Materials that do make it into the wastestream should be extracted as soon as possible for recycling or recovery. Municipal solid waste conversion technologies can be utilized to recover energy and fuels from materials that are not feasibly recycled or composted/digested. And then, only after all these efforts have been exhausted, should the remaining trash be sent to waste-to-energy or landfilled. That would be a sustainable way to live for future generations.
What are the barriers to this new sustainable paradigm that you described? 
Pat Proano: The first would be public awareness. I think many people are aware of environmental issues and are taking steps to reduce their carbon footprint—whether it's through using canvas bags rather than plastic bags, or driving hybrid or electric vehicles. But there are still ways we can work together to better understand the long-term impacts our daily lives and business practices have on the generation of solid waste. 
The second is lack of local infrastructure. It's about moving in the direction of building facilities, building the infrastructure to be able to process the food waste and generate fuels, building the fueling stations, and having the vehicles that will use biogas as a fuel. 
This year we will most likely see legislation at the state level mandating the management of organics. That's something that's being discussed by the Brown administration and the legislature. Then local agencies will need to have the courage to implement some of these programs, to develop new options in the way that we deal with food waste, and the way that we collect it. 
I think that is really the biggest challenge.
Earlier you mentioned AB 939. That law also requires jurisdictions to develop a long-term planning document called the Siting Element. Speak to that requirement and how the county has responded. 
Pat Proano:  The county's long-term strategy for managing waste is laid out in this document that's called the Countywide Siting Element. We've developed the Siting Element with the county-wide integrated waste management task force that's represented by members of the cities and industry. We're going to be disseminating this document to all the cities and to the general public. It describes how the county and the 88 cities will manage the disposal of solid waste in the next 15 years. It's an interesting document because it analyzes various scenarios. 
The status quo scenario is the very worst scenario, because if we continue the status quo and don't change any of our practices, we will run out of local disposal capacity, which will have very serious implications for our region. However, the Siting Element also lays out a sustainable scenario that includes a concept called the Waste Free Future, which is a design principal that goes beyond recycling to focus on reducing waste and reusing products and then recycling, composting, and recovering energy from the rest of the waste. Those are the new paradigms, the new philosophies, the new ideas, the new sustainable strategies that we'll be sharing with folks in the next year when we release the Siting Element.
Address what a Waste Free Future implies for LA County? 
Pat Proano: LA County and its jurisdictions have been very successful actually in educating residents on how to recycle and how to compost in their backyards. People understand the concept that shipping trash hundreds of miles is not a good way to live and that we must be more mindful of what we do with our waste. We are working with manufacturers, pharmaceutical companies, and packaging companies to establish mindful business practices that create less waste. 
In a commercial context, this last year we started to work with the commercial sector and recycling through the commercial sector. That's been pretty good. Obviously, converting waste into fuels or energy is better than burying it in a landfill where it will sit for years to come. Conversion technologies are working well in Europe and Japan and are one tool in our journey towards a Waste Free Future.
Elaborate on the current challenges that face Southern California public works agencies that wish to use conversion technologies in lieu of landfills.
Pat Proano: This last year, actually, was a very good year for conversion technologies and the alternatives to landfills movement. The governor signed a piece of legislation that allows for waste to be taken to cement kilns and processed there. We had a bill—a county-sponsored bill, Senate Bill (SB) 804—which basically defines conversion technologies, because that was one of the biggest challenges at the state level is that conversion technologies are not well defined. 
All the laws are written for either landfills or traditional waste-to-energy (incineration). But conversion technologies were not identified anywhere in the statutes. Our bill was defining conversion technologies, and it was also allowing for biomass feedstocks to be processed using conversion technologies and to receive the proper incentives—diversion incentives and renewable energy or RPS credits. The bill got through the California State Senate and through the California Assembly, and made it to Governor Brown's office. Unfortunately, the governor vetoed the bill. However, he expressed his agreement with the concepts; he just wanted us to work out some last-minute amendments that were made to the bill that didn't make it workable. 
This year the author of SB 804 introduced SB 498, which is basically the same bill that went out last year, but we've worked through some of the difficulties that we had with the language from last year. The bill was approved by the Senate Environmental Quality Committee on January 15. We're hopeful that this conversion technology bill will provide jurisdictions with another tool to help with the management of organics, especially given the state's focus on organics recycling. We're now starting to remove the barriers that we had in the past to put facilities in place. We've got a lot of people interested in building anaerobic digestion facilities, organic management facilities in the county, and they just want to have the certainty that their facilities will be permitted and that all the hurdles are going to be removed. Once we do that and the organics legislation, I think we should start moving in the right direction. I think we're at the tipping point now. All the stars are aligned, and hopefully we can make this happen.
Pat, if we were to interview you again in a year, what progress would most likely be reported on your plan to reach a more sustainable waste management system?
Pat Proano: I'm hoping that our bill gets approved and signed by the governor. That would create more opportunities for new organics infrastructure. I think the state, most likely, is going to introduce an organics management bill so there will be some sort of law requiring food collection, organics management. I think with those two factors and then the work that we are doing—reaching out to waste companies, reaching out to conversion technology companies—that we can have some projects really moving through the process. 
It's an exciting time. The County of Los Angeles is taking a leadership role in pursuing new ways of thinking. Obviously we're a large county. We don't have the ability to build landfills in the county. We generate a lot of waste, and we're really progressive in the way that we're looking for sustainable waste management options. We want to be progressive in the way we manage our waste, and again, it's an exciting time. •••