Laurie Becklund, a writer and project consultant as well as a senior fellow at the USC Annenberg Center on Communication and Leadership, is a longtime resident of Hollywood. When she heard about skyscrapers proposed at Hollywood and Vine, she was both appalled and intrigued. As she delved further, she saw Millennium Hollywood as a daring TOD test case yet, with today's residents taking a back seat to tomorrow's. In the following exposé for the Metro Investment Report, Becklund writes from the perspective of a concerned resident of Los Angeles struggling to understand the sometimes confusing decisions and proceedures that have surrounded the new development.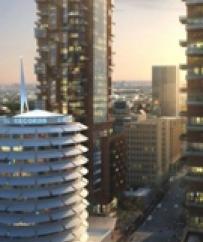 "The City isn't really acknowledging it, but there's almost no way to read its own reports without worrying about the impact these projects will have on our public safety, air quality, and ability to penetrate the gridlock to get to work if you live in an area without public transit." -Laurie Becklund
Ever since New York developers uncovered sketches of their plan to build skyscrapers around the Capitol Records building at Hollywood and Vine last year, public controversy over the proposed the Millennium towers in Hollywood has focused on their astonishing height: nearly 500 and 600 feet.   
They will, in fact, block views of the storied recording studio. So high will they rise, in fact, that a "shadow gap" will be needed to let in sunlight for neighboring blocks in winter, and widen a "view shed" of the storied Capitol Records building at their knees.   
Before a new mayor and council are sworn in June 30, Mayor Antonio Villaraigosa has been "on a tear," as a city staff member put it, to complete the pillars of his transit-oriented development (TOD), including the creation of new policies, a new Transit Corridor Cabinet, and the combining of at least nine City agencies under Planning Director Michael LoGrande.     
The culmination may be one of the largest, and riskiest, transit-oriented development initiatives ever undertaken on by a big U.S. city. It is not without its dangers: it is impossible to read about these projects without recognizing dangers that lurk in the sheer density ahead: inadequate police and fire resources, fear of terrorism, smog, debilitating gridlock.   
In keeping with its reputation as a city of "transactional planning," the Planning Department keeps the required cumulative impact statements required by CEQA in individual reports.   
Instead of hunting through 58 files, I started adding up the square footage of each project – and stopped counting when I got to 4 million. That's the equivalent of four Staples Centers in the core of Hollywood. There will be something like 2400 new residential units, as well as offices and stores and other retail – almost all of it infill, allowing the City to reduce parking requirements.   
The flip side: it is methodically removing parking. Many new projects, including Millennium, are being built over the remaining parking lots left in Hollywood; the last remaining lot available for commuters who want to take the Hollywood and Vine Red Line will disappear during Phase Two of Project 6200's seven-acre project, which includes 1041 apartments, a shopping mall, and plaza.   
(There is no possible way to read these reports, by the way, and come to the conclusion that the City is NOT trying promote growth in Hollywood. Millennium's goals, for instance, speak of how it will promote tourism and other entertainment and commercial development in Hollywood.)   
Some TOD experts warn that transit reforms stumble when lead agencies have other agendas, in particular the need to raise their tax base, Los Angeles doesn't appear to be hesitating. As Council Member Jan Perry, then a mayoral candidate, proclaimed at this year's VerdeXchange conference, "We're going to BUILD our way out of recession!"   
And, they're building it in Hollywood.   
The critical issue, whether for or against, is density. Mayor Antonio Villaraigosa, the City Planning Department, and Council member Eric Garcetti, whose district this is, are all strong supporters of increasing density around transit corridors. The Planning Department, for example, allowed Millennium to avoid even proposing to the Planning Commission alternative plans because they wouldn't provide "enough density" to create this "vibrant new Hollywood."   
The problem – one the City has not really acknowledged – is that it is fighting traffic with traffic. Those of us who know every little shortcut through Hollywood instantly recognize the dangers. For starters, public security.   
The City isn't really acknowledging it, but there's almost no way to read its own reports without worrying about the impact these projects will have on our public safety, air quality, and ability to penetrate the gridlock to get to work if you live in an area without public transit.   
Millennium, whose 1.1 million square feet will likely house hundreds of apartments, offices, eateries, bars, and clubs, including at least one "observation deck" for tourists, will require two new police officers – which is double that listed in the draft EIR. One of the advantages of increased density, the report says, is that it will reduce crime at night.    
I don't care what the formulas are for calculating that, I just don't believe it. If those of us who already live here are being robbed, will there be anyone free to help us? What happens if there is a disaster?   
I could not find any recent statement at all from the Fire Department except for building-specific requirements such as fire hydrants. The environmental impact report the City has approved states that no study needs to be done to examine brush fires because the project is in an "urban area" and no further studies are required.   
Such statements are particularly worrisome for the thousands of families living in the Santa Monica Mountains, which were just on red alert last week and warned of an early brush fire season.   
The Los Angeles Fire Department has not fully updated its response times in Hollywood since the Los Angeles Times did an investigation nearly two years ago and found out that response times were significantly longer than reported. And, the fire chief and city officials are even now debating how to deploy their limited number of firefighters.   
Will the City have sufficient firefighters to protect us? On this point, the City-approved EIR was either written by a Millennium consultant from out of state or a lawyer determined to absolve Millennium from any responsibility from future damages: brush fires apparently aren't an issue because this is an urban area.   
One of the worst problems is a potentially explosive omission by Millennium to even study summer pedestrian and vehicle travel in Hollywood. The Bowl fills up with 18,000 people. The Greek Theater, Pantages, Grauman's Chinese, the Arclight and other theaters, Franklin Village – and Hollywood Boulevard bar crowds sometimes spill over into the streets.   
What happens if there's an earthquake at such a time? A brush fire? Many of us have had concerns about the Millennium towers as a potential terrorist target but, out of discretion, have left those concerns private before the Boston bombings. However, police are holding community awareness meetings. Can two towers far higher than any building anywhere near them be protected against terrorists seeking a photo of their work against the world-famous Hollywood sign?   
CalTrans, which maintains the freeway system, has given the City several withering legal notices that the traffic studies it allowed Millennium (and other projects) to conduct are so inaccurate and misleading that they don't constitute an analysis at all. Among the possible consequences: "unsafe conditions due to additional traffic congestion, unsafe queuing, and difficult maneuvering" and physical damage to freeway structures, especially if they are congested.   
The Hollywood Freeway is one of the most congested in the nation, with over 200,000 cars passing by daily. CalTrans' filings saying that the City's traffic study of the 4.5-acre project is illegal under state (CEQA) law, also because the study fails to examine freeway onramps or look at its impact just a few miles a way, such as the Cahuenga Pass. (It did look at two that were more distant, and declared that there was "no significant impact" because no more than 150 vehicles (its threshold) would be entering the freeway.   
Ignored, because the City doesn't have equipment counters there, are onramps one and two blocks away. Caltrans says that true traffic analyses must take into consideration the number of vehicles already on the freeway change depending on "level of service," so a single number, like 150, doesn't apply. The Hollywood Freeway near Hollywood and Vine is often at a "LOS F" – its worst grade.   
City Planners acknowledge that the project will "exceed the CEQA regional operational significant thresholds for NOx and VOCs" and agree to require certain additional protections for occupants of the future towers.   
Initially I was excited about this project, partly because its lead, Phil Aarons, chairs the Highline Park in New York. Developers at Millennium are among the most sophisticated developers in the country. I still suspect that Millennium's developers can make a huge contribution to this community. But, not without a solid environmental impact study that takes all these issues into solid account.   
Millennium Partners is a four-billion-dollar New York-based development firm that specializes in public-private partnerships and luxury high rises in urban neighborhoods that are famous but undervalued. Its slogan: "Changing Skylines, One City at a Time." Argent Ventures owns, among other landmarks, Grand Central Terminal in New York, along with the land under it and the land under 140 miles of track. It also owns valuable "air rights" ("transferable development rights"), including most transferable air rights in Washington, D.C. Along with other "realized assets," it "flipped" the Chrysler Building. Grand Central Terminal and Capitol Records are listed on its Web page as "unrealized assets."   
Many of us have been waiting for years for development to come to our end of Hollywood. Today, Hollywood is a far more interesting place. There is a word in Spanish I can't translate easily – arraigo – which means, more or less, deeply rooted.   
Here are some questions we'd like to ask the mayor, mayoral candidates, council members and candidates, and, especially Planning Director Michael LoGrande, answer these questions:
•    GRIDLOCK: Hollywood residents know from daily experience the gridlock this project will create on our streets and on the 101. With such gridlock ahead, how are the thousands of families who live in the hillsides and have no transit options, supposed to get to work or take children to school? Or even get out of our neighborhoods?
•    PARKING: The City is systematically removing existing public parking lots. Millennium will eliminate two of Hollywood's major parking lots, replacing 500 existing public spaces with about 500 private ones – and doesn't provide parking for its own 1,600 employes. Is the "vibrant new Hollywood" for new residents only?
•    MORE PARKING: Soon there will be no parking around Hollywood metro stations, which means those of us who need to drive there, can't use it. Many TOD programs suggest parking at the edges of the city center. Why did the City build a parking lot near Hollywood and Vine but not require developers to add enough parking for those who have no other options?
•    AIR: The Millennium Project will cause unmitigatable impacts on our traffic, noise, and air. Ongoing studies at Keck Hospital show heart and lung problems for people who live within 500 feet of the freeway? The AQMD is requiring Millennium to move its air intake system up near the top of the tower because of air pollution below. What about our air? Does the City really intend to put Hollywood residents, including children and sensitive responders, in permanent danger for lack of an accurate traffic study?
•    POLICE: Why does the City go along with Millennium's claim that this project will require funding only two new police officers? Do you honestly think two police officers are sufficient to protect a 1.1-million square foot project that is a destination for thousands of tourists, residents, and office workers?
•    FIRE: How will firefighters reach us during summer brush fires? What about earthquakes? A terrorist attack on a new Hollywood icon? How can hillside residents evacuate if our few exit streets are jammed?
•    JOBS: Millennium says it will create new construction and hotel jobs. What about the impact this gridlock will have on jobs we already have? The many small businesses the City licenses in the hills? On repairmen, delivery services, home healthcare workers, caterers, film locations, taxi drivers, and creative industry support jobs?
•    SPAGHETTI: The entire area under the Hollywood Freeway is made of of odd pieces of leftover streets. This area as a funnel to and from the Valley, and the City's traffic study forsees permanent gridlock (Level of Service F) in this area and into the Cahuenga Pass. This simply isn't good enough. Can we make a serious plan for this area so we know where we're headed even if there aren't funds now?
•    FUNICULARS?: Hollywood is one of the creative capitols of the world. What about funiculars? (If Bogota can be the city's inspiration for the CicLAvia, what about Valparaiso, Chile as an inspiration for funiculars into the hills here, each with a different character.
•   HOMES: Those of us who live in the hills love our homes. But, the Hollywood Community Plan focused almost exclusively on the flats. Millennium refused to study traffic backing up into the hills, even though we pleaded. This study must be done!