The L.A. Conservancy, founded in 1978, has long been the preeminent advocate for historic preservation in Metro Los Angeles. Its membership numbers now reach nearly 5,000, making it the largest membership of any local historic preservation organization in the country. Among the iconic buildings it has helped save from threatened demolition are the: May Company Building, Herald Examiner, Sheraton Town House, Downey McDonald's, St. Vibiana Cathedral, and Century Plaza Hotel. Most recently, the Conservancy is working to preserve the former home of Marilyn Monroe. TPR here interviews Linda Dishman, the Conservancy's President and CEO, for more than three decades. Her TPR exit interview affords an opportunity to share her greatest successes, painful losses, legacy initiatives, and the stories "told" by the historic buildings preserved. TPR also speaks with Adrian Scott Fine, Dishman's successor and the Conservancy's head of advocacy for more than a decade, about the future of the Conservancy given a changing metropolis, one in which both a housing and homelessness crisis have rightfully consumed the attention of political and civic leaders.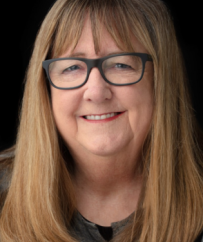 "A lot of people do not know their inner "preservationist"... Broadening what being a preservationist means is really important." - Linda Dishman
TPR: On November 5th, L.A. Conservancy members, supporters and admirers will be celebrating your 30+ year legacy of leadership. How has preservation changed in the last 30 years, since 1992?
Linda Dishman: I think the biggest change is that people are no longer proposing to tear down historic buildings for parking lots. That was certainly the case in 1992. The Herald Examiner Building and the Sheraton Town House, both of which have very active lives now—and are contributing greatly to the vitality of our city—were both endangered with demolition to make way for parking lots. Thankfully, Los Angeles has moved on from having parking lots as the biggest threat. Today, it is the need for housing, which is obviously not the same situation. Not to mention, historic preservation can be a viable tool in helping sustain affordable housing.
Over the last thirty years, we have created an "ethic" for saving iconic buildings. When Millennium bought the Capitol Records building in Hollywood, they never proposed tearing it down.  Instead, they planned to build around it. You can see the fundamental shift in thinking when you look at how we incorporate historic buildings into new developments.
Returning to the early days of the L.A. Conservancy, elaborate on the early battles and the impact of the Mills Act on incentivizing preservation.
The Mills Act was a very significant incentive for owners of historic buildings to maintain and restore their buildings, especially single-family homes. Los Angeles City's adoption of the Historic Preservation Overlay Zone Ordinance in 1979 also encouraged the preservation of neighborhoods' architectural and cultural legacy. In downtown, the Adaptive Reuse Ordinance of 1999 had an incredible impact, which not only revitalized underutilized historic buildings but has since resulted in 14,000 new housing units.
The other way that things have changed since the beginning is what buildings we're choosing to save. When I arrived in 1992, there was a lot of emphasis on the more traditional historic buildings that met the fifty-year threshold for what is commonly considered "historic." But the Conservancy also had a very active Modern Committee—also known as ModCom—that was doing tours and raising awareness of the more recent past, particularly Googie architecture. As we moved into the end of the '90s and starting with the next century, there was a greater threat to buildings from the '60s and '70s. So, we really amped up our efforts both on the advocacy side and education. We did the "Sixties Turn 50" campaign in 2010 to spotlight the 1960s buildings, including the Century Plaza Hotel. We wanted people to understand what was historic and that these were very important. We had three buildings from the '60s that were threatened with demolition come before the Cultural Heritage Commission; two of those buildings are no longer standing, the Columbia Savings and Loan and Commonwealth Bank buildings.
What did Los Angeles lose by demolishing these two historic buildings?
They were important bank buildings from the '60s. L.A. changed so dramatically post-war. These buildings tell the story of the westward and northern expansion of the city. At the Commonwealth Bank building, they had a room on the sixth floor where you would go and sign your loan papers, and it was high enough up in a flat valley that you could actually look out and find your house as you were signing your commitment to the mortgage for 30 years. They thought about that. I think that having stories about how these areas have developed is really important and the banks were such a critical part of people's lives, especially getting mortgages for their homes.
Given the L.A. Conservancy has no regulatory powers and works entirely through constituent support and public persuasion, elaborate more on the Conservancy's evolution, especially with regard to the organization's relationship with developers. 
From the beginning with the Central Library, the Conservancy has worked toward a win-win solution. Clearly, the property owner plays an important part in any advocacy effort. Sometimes, you can work with the property owner to find a preservation solution. Sometimes, the answer, such as with St. Vibiana, is that you need a new property owner. We approach these scenarios in the interest of looking for preservation solutions. 
We, in working with developers, learned that developers have a lot of knowledge about how to develop property; what we bring is the knowledge and how to do it from a preservation perspective. Where we have been most successful is in finding a win-win solution in which both sides get what they want and need. The developer wants a profit, which is completely understandable, and those of us in the preservation community want the historic building to remain and be part of the story. We're perfectly happy to have density built around the historic buildings and have the historic building be the centerpiece of new development.
What organizational success are you most proud of; what loss saddens you most?
I would have to say the most hard-fought battle, St. Vibiana, is the closest to my heart, and it was a really tough fight. It was David versus Goliath. The Conservancy was able to stand up in a defining moment for the organization. If we had backed down at any point in that fight, we would not have been treated very seriously by public officials and developers in the future. We certainly were very lucky to have a lawyer, Jack Rubens of Shepphard, Mullin, Richter & Hampton, who stood with us; and went to court with us on two lawsuits and through two appeals. We thankfully were able to prevail in court. But even after a new site was found for L.A.'s new cathedral, we had to help find a new owner to ensure it would be preserved.
The one that, obviously, hurts the most is the loss of the Ambassador Hotel. It was a long, long fight. But the thing about the Ambassador that is really important, is we really tried everything. We had resources that we don't always have; we were able to bring in a nationally known architect to look at how to build small learning communities around the building; we also proposed turning the Ambassador Hotel building into low-income, family housing; we tried a lot of things. 
What was very important coming out of that loss is that we really looked at what the Conservancy should be doing differently. What exactly should we learn from this loss? As a consequence, we made a shift to be more community-based in our preservation efforts, particularly working with the community living and working in the neighborhoods directly around these historic sites - to engage with them about the possibilities.
Re successes, you have often asserted that L.A.'s saved buildings tell us stories. What stories do they tell?
Los Angeles has an optimism that maybe doesn't exist to the same extent in other places. People come to Los Angeles for a better life, and the architecture really reflects that. Part of that is the Hollywood dream. We have a lot of great Hollywood-related historic resources that tell that story. 
When you start to get into post-war, you had all these service people that had come through Los Angeles on their way to both World War II and the Korean War, and they decided, "Maybe I don't need to be in Iowa where it snows four months out of the year. Maybe being right next to a beach is a good idea." 
You had all these people moving here, and their different buildings tell stories. Many people left their families to come out here and garden apartments were designed to build a sense of community. You have designs where the kitchens look out into the common areas so that the mothers could all watch the children, and through that, you have people meeting one another. When you think about architecture, expressing optimism or providing the ability for people to come together where they live, that's really important. Not everybody understands that, and that's why we're trying to tell that story.
So, if you were to address an incoming class at UCLA's Urban Planning School, most of whom are focused on increasing new housing production, what would you wish to convey about the value of preservation?
The most important thing to share, particularly with students who are just starting their careers, is that buildings, particularly historic buildings or culturally significant buildings, are a tremendous way of bringing people together. You look at the Mar Vista Tract, which is now an HPOZ. There were all these young families moving into a community with great architecture and planning. Each is a very specific neighborhood or community and people love them. Neighbors become friends for life. That happens in all the well-preserved buildings and neighborhoods in Los Angeles; it's a way for people to come together, to find a way to make a connection.
Your retirement, Linda, included the promise that the Conservancy would soon be selecting a new President & CEO. Share with TPR readers who has been selected to be the new L.A. Conservancy leader.
It's really a great treat to be able to introduce Adrian Scott Fine as the new leader of the L.A. Conservancy. He has been an amazing advocate here at the Conservancy. He's developed a lot of new programs and led efforts that really respond to a changing city and changing priorities. He is well-positioned to continue that work, as well as expanding the Conservancy's portfolio in many exciting ways. I look forward to being able to watch and appreciate how the Conservancy grows in the future.
Adrian Scott Fine, welcome. How, as the organization's new leader, do you plan on building on Linda's legacy? 
Adrian Scott Fine: It's hard to fill her shoes, but Linda has done a remarkable job setting up the Conservancy for a vibrant future. The Conservancy's work—what we've done, what we're doing, and what we need to do—never ends. Preservation will always be needed in a place like Los Angeles, I think now more than ever.
L.A. is facing many challenges, like housing and the issue of vacant office buildings. Preservation is part of the solution and the strategy. We must position ourselves as relevant and providing meaningful and positive impacts in our communities. I've been working in this field for almost 30 years in different capacities, and in some ways, preservation is harder because of the new challenges that our cities are facing now. Those have taken front, and center and sometimes people think preservation is a "nice to have" or "the icing on the cake," but preservation is an essential ingredient in the batter of the cake. If you don't have preservation, you're missing something really key in our community. That's part of what I will continue championing. And, as we say, where are the win-wins? We have a lot to offer in terms of succeeding in those solutions and strategies.
One of the Conservancy's recent successes was the salvation of Marilyn Monroe's former home, which was accomplished with the help of the L.A. City Council member in that area, Traci Park. Adrian, please speak to the importance of such collaboration.
Adrian Scott Fine: It's essential to have a relationship and buy-in from City Councils. In this particular case, honestly, the building wouldn't be standing there if L.A. City Councilmember Traci Park hadn't initiated a Historic-Cultural Monument nomination. The house was in her council district, so we directed all our advocates and supporters to reach out to her. She was inundated with so many people saying that this house matters to them, whether they lived in L.A. or not. It became this media sensation and there were people all over the world that were reaching out to her office saying it mattered. 
Our first step is always to see if there is a win-win solution. Is there a way to keep that house and still achieve what its owner's goals might be? In this case, we needed a process to kick off the conversation. Given how imminent the demolition was, the Historic-Cultural Monument nomination provided the Marilyn Monroe house interim protection and afforded us the opportunity to connect with the owners.
Lastly Linda, assuming you have or will leave a letter in your desk for Adrian, what will your message be?
Linda Dishman: I know that Adrian has the talent and understanding to really expand the work of the Conservancy. I would just advise him to continue reaching out to people and build consensus around advocacy issues. I think many people do not know that they are preservationists, but then you find out that they've restored their home or they go to their grandparents' historic home at the lake every year, it is clear they value preserving historic places that matter. Broadening what being a preservationist means is really important. Our work is a part of an ethic, and it's important for us to figure out how we expand that ethic to make sure everybody is involved.