It is with sadness that The Planning Report shares news of the passing of famed Los Angeles real estate developer Wayne Ratkovich, who died Sunday, September 24th at Cedars-Sinai here in LA at the age of 82. The renowned developer is best known for his part in saving several culturally significant Los Angeles landmarks from destruction and for acting as a steward to their restoration, revitalization and, now, active use. Among the most significant was the historical Wiltern theater, which was restored and put back into action with the help of architect and frequent collaborator Brenda Levin and her firm, Levin and Associates. TPR shares with its readers Levin's own introduction of Ratkovich at the LA Rotary club just earlier this year, on June 9th. In her remarks, Levin outlines their working relationship, the many accomplishments of Ratkovich, and a personal insight into the love he had for the city of Los Angeles.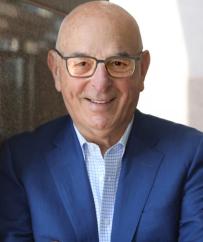 "Wayne was and is a visionary client who understands and believes in the larger transformative possibilities and impact that retention and reuse of an existing building can make to a world-class city and he has done more than any other city-builder in the region to create a public consciousness for preservation." - Brenda Levin, on Wayne Ratkovich
Brenda Levin, June 9, 2023, LA Rotary Club: I first met Wayne Ratkovich in 1978, through my husband, David Abel, who was at the time working for the CORO Foundation. They had just signed the very first lease at the Oviatt Building and the Ratkovich Company was celebrating.
Meeting Wayne for the first time, I did not realize that he was such a Los Angeles anomaly.  Being a relatively new transplant from the East Coast, I listened intently to his articulate vision for reinventing the 1926 Oviatt Building. I fully accepted his ambitions as quite reasonable, practical, and perfectly consistent with the basic tenets of what every Harvard-trained architect is schooled; that a developer who believes in good city building would seek to revitalize and to preserve, restore and reuse a city's architectural heritage and landmark buildings.
This naive presumption on my part soon fell way to the obvious reality that Wayne was a very uncommon urban developer.  He was forging new ground in Southern California; embarking on a risk-taking adventure which would result, in time, in the saving of some of L.A.'s most important landmarks.  And not only was he committed to preserving our historic treasures, he also wanted to set a high standard for their renovation. Wayne was and is a visionary client who understands and believes in the larger transformative possibilities and impact that retention and reuse of an existing building can make to a world-class city and he has done more than any other city-builder in the region to create a public consciousness for preservation.
It's important to note that the potential of the 13-story Oviatt Building was not evident to most developers. Yes, there was some remaining Lalique glass, hand-carved oak elevator cabs, white metal decorative mailboxes, call buttons and elevator doors. But Wayne, before anyone else, imagined that the ground floor Oviatt Haberdashery could become an iconic elegant restaurant – drawing people downtown to his building from all parts of the city at night and on weekends.  Many argued that a bank would be a far more viable use for this ground floor space – but Wayne knew that cities did not become active urban places without nighttime destinations. When Mauro Vincente entered Wayne's life, the Rex restaurant was born and we all (including the director of the film Pretty Woman) became believers. I also did; but I drew the line at Mauro's suggestion to name my soon-to-be-born son, Rex.
Wayne's success with the Oviatt rests not only in his real estate acumen, but also because he not only invested in real estate, he invested in people and relationships.  Indeed, he assembled for the Oviatt a collegial family of professionals – all were inspired by his skill, enthusiasm, tenacity, and charm – who then followed him from project to project including me, a relatively novice "lady" architect, as he called me then.
While the Oviatt building marked Wayne's first high-risk unconventional renovation project, it was not his last.
To the applause of preservationists and many Angelenos, Wayne went on, with his partners, to purchase the splendid but endangered Pellissier Building and Wiltern Theater, arriving at the last possible moment, with the support of the preservation community, to save the building from the wrecking ball.  
The Wiltern was not, however, without its challenges:
The building had been stripped
Water damage and vandalism was extensive
The ceiling in the Auditorium had fallen down
The stage was too small, the theater too big
The light fixtures had been auctioned off by the prior owner
The Schuberts and Nederlanders had a lock on most of the live performing arts productions
Our hero was undaunted! With the assistance of eccentric theater consultants, a 5'4" electrician who literally climbed through the building with his miner's light strapped to his head, Tony Heinsbergen, who restored his father's decorative painting, and Turner Construction ….
We retrieved the light fixtures
Created a new auditorium ceiling
Salvaged theater seats from the Paramount in Portland
Restored decorative paintings
Restored doors and hardware
Reinterpreted carpet and color schemes
Enlarged the stage and orchestra pit
Upgraded the building systems
Added dressing rooms
Complied with most of the City's reasonable code requirements
And found a theater operator in Bill Graham Productions
But lest you think that Wayne always keeps his calm and charming demeanor, ask him to talk about the bureaucracy that enforces the building codes, and you will likely see his face grimace and be told the following story:
During the Building Departments' final inspection of the Wiltern, just hours prior to the grand opening -with chandeliers hung, carpet installed and the smell of paint in the air- a fire inspector innocently asked that the side wall sprinkler heads located in the lobbies be activated to assure him that proper coverage was achieved. Wayne does lose it every once in a while! With a little political intervention, the theater reopened in May 1985 with the premier performance of the Alvin Ailey Dance Theater, to resounding acclaim.
In 1983, Wayne and his partners purchased the 12-story 1929 Global Marine House. The office floors were renovated, the Romanesque lobby and terra cotta exterior restored. At the completion of the work Wayne rededicated and renamed it the Fine Arts Building, showcasing artists' work in the lobby as originally intended. Once again, the ground floor retail space provided Wayne with the opportunity to be creative and take a risk. After extensive demolition, the original storefront Bank of America space long ago converted into the Cap & Quill restaurant was reborn as the Seventh Street Bistro, featuring Joachim Splichal, an aspiring young chef who went on to found Patina Restaurant Group.
Our last renovation project of this 10-year run together was the 1929 Spanish Colonial Revival Chapman Park Market. The nation's first drive-in market was Wayne's personal antidote to the mid-80's growing trend of corner mini malls. Envisioning the dirt courtyard as an intimate scaled piazza, shared by autos and pedestrians, surrounded by shops and restaurants, he once again gave Los Angeles a treasure—a model of a one-of-a-kind neighborhood center and urban oasis.  
With each of these projects, Wayne's reputation and stature grew as a developer and preservation pioneer. His reputation also grew as a developer with a heart and a social conscience. As chair of the Board of the Downtown Women's Center, he provided guidance and expertise in helping founder Jill Halverson achieve her dream of providing permanent housing for the homeless, chronically mentally ill women of Skid Row.
In a moment of brilliance, he introduced me to Jill, knowing that between the two of them, I too, would soon be committed to donating my services to create a home for women so under-served and lost in the day-to-day struggle to survive. When Jill was criticized for the use of high-quality materials, Wayne told her that criticism goes with the territory of breaking new ground and creating a new paradigm – the most important lesson is to follow your instincts, do what is right and believe in oneself." Sage advice he has probably spoken to himself more than once.  
Our most recent project with Wayne – after a 20+ year hiatus – was the redevelopment of the Hughes Aircraft Company Buildings, built in 1941. This large campus (adjacent to the Ballona Wetlands) was used during WWII to produce aircrafts, atmospheric entry probes, and guided missiles. The 11 extant buildings, including the hangar where the legendary Spruce Goose was built, were purchased by The Ratkovich Company in 2010.  The campus and the existing buildings are historic landmarks and thus were renovated consistent with the Secretary of the Interior's Standards, incorporating green technology for non-traditional companies known for their leadership in the fields of media, entertainment, and technology - home to Google and 72 and Sunny.
 
The Ratkovich Company, in its 45-year history, has developed over 18 million square feet of office, retail, industrial, and residential properties in the Los Angeles area,
including the redevelopment of The Bloc, formerly Macy's plaza; 5900 Wilshire, a 30-story office tower across from the Los Angeles County Museum of Art, now serving as LACMA's headquarters; and The Alhambra, a 40-acre, 1.2 million square foot office and retail campus. The City of Los Angeles selected them to develop a 42-acre waterfront site now known as West Harbor. The former Ports O' Call site is under construction with 66,000 square feet of tenants committed to a dynamic mixed-use dining, recreation, and entertainment destination. In association with JP Morgan, TRC has acquired "Bowcroft," a 75,000 square-foot project that borders on the technology market rapidly growing in the Culver City area.
In addition to developing real estate projects, Wayne is actively engaged in civic and professional endeavors.  In 2011, the ULI named Ratkovich a Life Trustee, an honor given to only 17 members in its 80-year history. He is Trustee Emeritus of the National Trust for Historic Preservation, having served on its board for 9 years, and locally, Wayne was the Founding Chairman of the Wende Museum, the largest Cold War Museum in the world. He currently serves on the board and is a member of the executive committee of Homeboy Industries. He has just completed his presidency of the Jonathan Club.
Wayne has reimagined – reinvented – and revitalized LA and the region into places that shape people's lives now and into the future. And on a personal note - he has mentored me and allowed me to attach my wagon to his star. It has been an honor and a privilege to share his dreams.