In the midst of California's hottest week on record and daily flex alerts urging residents to conserve energy to ensure grid reliability, in early September TPR checked in with Climate Resolve's Jonathan Parfrey for an assessment of the state's response and readiness for this and future extreme heat events. In this interview, Parfrey opines on what did and did not make it through this legislative session—including the holdup of AB 2076, a bill empowering a statewide Chief Heat Officer, and the success of AB 2238, a law now bearing Governor Newsom's signature, to rank heatwaves—as we do hurricanes or tornadoes—as the extreme weather events they are. Lastly, elaborating on Climate Resolve's recent acquisition of the zero-emission Dodger Stadium Gondola project, Parfrey urges a focus on extreme heat in the upcoming LA City mayoral election.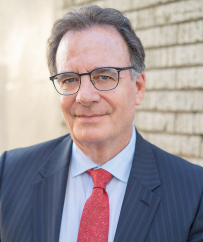 "Without electricity, communication services fail. Without electricity, the AC stops working. Without electricity, water pumps stop working. To be resilient in in the modern age, you need electricity. It's absolutely essential that we find ways to accelerate the placement of renewables and energy storage."
Jonathan, we do this interview of you as record-breaking heat broils communities across California and the West. Put this extreme heat in California and the West into context for our readers. What makes this heat wave so remarkable?
Jonathan Parfrey: There's not just one kind of heat wave in Southern California, but three. There are heat waves created by Santa Ana wind events, born of high pressure over the inland deserts that compresses air down the mountain passes and into the basin. Then, we occasionally get these monsoonal heat waves that come up from Baja. Last, LA experiences good old-fashioned summer heat waves.
The last heatwave was a weird combination of summer heat with a monsoonal effect which brought additional humidity. It was somewhat unprecedented and the added energy delivered care of climate change made the heat wave worse.
Thankfully, we are not powerless. There are ways to protect against heat waves, and we're working on that.
You've served in the past with distinction on the LA Department of Water and Power Board. You're well aware of the climate challenges to the grid and the mitigation and adaptation strategies that LADWP, the largest municipal utility in the country, has adopted. Assess where LA's public utility is on addressing this challenge.
LADWP performed well during the heat wave with very few outages. It's also notable how well the State of California performed. On September 7, the Governor sent an emergency text message to every energy customer in the state asking them to reduce turn off lights and appliances. The public responded beautifully. Within 20 minutes, 2,000 megawatts were freed-up, averting blackouts. It's a good news story where government, the California Independent System Operator, utilities and the public worked in concert to make a difference.
Turning to the recently-concluded California Legislative session, what were Climate Resolve's legislative priorities and how would you assess the outcomes?
It's a mixed record. This session Climate Resolve sponsored AB 2076, authored by Assemblymember Luz Rivas, who represents east San Fernando Valley. The bill sailed through the first house without opposition. And saw no opposition in the Senate's policy and budget committees. Even the vast majority of Republican members supported the measure.
The goal of AB 2076 was to coordinate state agencies on extreme heat. It also gave the Office of Planning and Research the ability to create a Chief Heat Officer to coordinate state action and then be able, if there are appropriations available on extreme heat, to help guide a coordinated approach to protecting Californians from the effects of extreme heat. It was basically a "California, Get Your Act Together on Extreme Heat" bill. Unfortunately, we did not succeed.
In Senate Appropriations, AB 2076 got "held," another name for killing legislation with no explanation or rationale.
During the heat wave, thousands of Californians found themselves in emergency rooms. Our legislation sought to put a dent in those numbers in the future.
Share what good news resulted from the legislation that was passed.
A number of excellent heat bills were signed by the Governor.
AB 1643 by Assemblymember Richard Rivas will create an expert committee to protect workers who face heat in their daily business. My group recently published a study called Exhausted!, about the effects of extreme heat and wildfire smoke on workers – so we were very supportive of Mr. Rivas's Bill.
Assemblymembers Eduardo Garcia and Luz Rivas – and what a climate champion she is – won AB 2243 that will help laborers when they're working in temperatures above 105°F.
Another Luz Rivas bill, AB 2238, will name and rank heat waves in the same way that hurricanes get named and numbered. We also vigorously supported this bill as it will help Californians prepare for extreme events.
The budget trailer bills also had funding for good things. My favorite was to fund a study to establish minimum air temperature standards for buildings. The California Energy Code currently mandates that every building offer space heating. Today, there's a furnace in every apartment. But there is no requirement for air-conditioning. Kudos to Senator Ben Allen and Assemblymember Richard Bloom ­for getting the study funded.
The budget also identified over $200 million for resilience centers. These are not cooling centers, which are really limited. Very few people actually go to cooling centers. Think about it. Let's say that you're elderly, you're siting in an un-airconditioned apartment; it's painful; but are you really going to walk, or take a bus, a few miles to go inside of a rec center that only offers metal chairs and no other services, no other amenities, just to get out of the heat?
By contrast, the concept behind resilience centers is that they offer programming in addition to AC. Resilience centers would have solar on the roof and backup battery storage, so if the grid goes down the air conditioning still works. We prefer this model. Climate Resolve is currently working with the Boyle Heights Arts Conservatory to establish a resilience hub.
With the ISO issuing its seventh flex alert in a week in September urging residents to reduce electricity to prevent rolling blackouts, what does this portend for the next year or two and what does it say about the governor's decision to prioritize reliability?
Well, I appreciate the Governor's attention to reliability. We're having reliability problems because solar projects have been delayed across the state. An abuse of CEQA when you think about it.
We cannot afford to have electricity fail. When Los Angeles County conducted its Climate Vulnerability Assessment, it found that electricity was a lynchpin. Without electricity, communication services fail. Without electricity, the AC stops working. Without electricity, water pumps stop working. To be resilient in in the modern age, you need electricity. It's absolutely essential that we find ways to accelerate the placement of renewables and energy storage.
Address the challenges and opportunities for incentivizing solar reflective surfaces as a means for combating climate change.
My favorite topic! Solar reflection is not only a means of cooling down entire neighborhoods, but it is also a way of reflecting short-wave radiation back into space, curbing the greenhouse effect at its core. I mean this: bouncing sunlight back into space is arguably the best tool we have right now to combat climate change.
The name of this phenomenon is "negative solar forcing," as the action of solar radiation contributing to climate change is called "solar forcing."
This is not geoengineering. Look at what human civilization has done over the past 150 years, how we've built our cities and roads—the 400,000 lane miles of road in California—what we've already done is geoengineering par excellence. What we're suggesting is rather than our built environment absorb solar radiation and adding to the climate crisis, why can't we adjust our infrastructure to reflect sunlight more efficiently back into space, so that it doesn't contribute to climate change?
This is a core concept. We have, within our hands, the ability to dramatically reduce the greenhouse effect if we reflect sunlight back into space. It's the same phenomenon as the polar ice caps bouncing sunlight back into space. We simply need to use this tool as a means of buying us some years as we simultaneously reduce greenhouse gas emissions.
Let's pivot to Climate Resolve's new subsidiary, Zero Emissions Transit, and its recent championing of the gondola to Dodger Stadium project. What enticed Climate Resolve to take on this project?
Climate change poses – with absolute certainty – devastation for human civilization. One must be willing to take risks to find solutions that can dramatically counter climate change.  And as transportation contributes the most to climate change, Climate Resolve has been working to curb transportation emissions.
As such Climate Resolve sued to stop the High Desert Freeway. And we won. Climate Resolve sued the Tejon Ranch Centennial project on grounds of their projected GHG emissions. And we won. But we then negotiated with the Tejon company and reached a landmark agreement where the Centennial project will not emit net emissions.  These experiences led us to seek more opportunities to make a positive impact in reducing transportation sector GHG, thus Zero Emissions Transit.
We believe that there has to be an openness to find solutions to reduce transportation emissions and do so in a dramatic way.  What attracted us to the gondola project is not only the millions of tons of greenhouse gas emissions that will be saved by the public foregoing the use of their cars, - and the easing of congestion in the surrounding disadvantaged and significantly impacted communities - but it's the iconic nature of the gondola, as it will move people in ways that are beautiful and elegant.
Taking a page from Latin America – and the gondolas in La Paz, Mexico City, Medellín and Bogota – we feel that Los Angeles should also embrace this form of zero emission transit. Our neighbors to the south have had enormous success with their aerial transit projects, from La Paz carrying over 100 million people on its system in 2019, to Mexico City realizing a reduction in crime and improved public safety in some of its most disadvantaged communities.
The proposed plans of a gondola include promising free transit ridership to all Dodger ticket holders. Given that the project will be sizable and very expensive—given the failure of the nonprofit-owned funicular project in DTLA—could you share the project's finances that justify the cost and opine on the return on any public investment?
The gondola will be free to anyone with a ticket to a baseball game at Dodger Stadium.  But, residents of the surrounding community and employees within the adjacent communities will ride for free as well. Social equity is key to this project and frankly with all of our work.The financial model is not dependent on ridership per se. The gondola will very likely have businesses interested in placing naming rights associated with such a high-profile project, much like was successful in London for their gondola that was built for the 2012 Olympics.  There are other revenue options due to the fact that this will be the first high-capacity gondola integrated into an urban transit system in America.  And to be clear there are no development prospects at this time associated with the lands around Dodger Stadium.
The idea of having this beautiful transit associated with climate action is frankly irresistible. I'm very excited by the project. The gondola will also provide access to the Los Angeles State Historic Park and Elysian Park.  Elysian Park is LA city's oldest and second largest park, yet it is not served by transit.