On June 1, over 6 million residents in Southern California saw the imposition of the strictest-ever water restrictions from Metropolitan Water District. In examining ways for the Los Angeles region to be more resilient and smart about our water use, TPR interviewed the Founder and Project Executive of Accelerate Resilience LA (ARLA), Andy Lipkis, regarding his life long quest to induce governments and individuals to adopt and invest in stormwater capture and other sustainable practices. Here, Andy Lipkis, TreePeople's founder, explains how public agency collaboration in this field can also help Los Angeles better address extreme heat, wildfire events, and also further the region's economic development, particularly in underserved communities.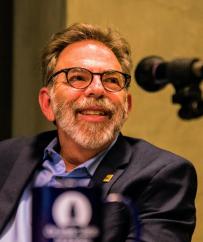 "Our ARLA study, using the best engineers and the best science, shows that significant stormwater capture can be done at people's homes and on private properties to advance climate resilience while providing multiple benefits. It sounds like a dream, but the science backs it up." -Andy Lipkis, Accelerate Resilience LA
Andy, let's begin by sharing the arc of your life-long efforts to have Southern California maximize its local water supply in a resilient way.
Andy Lipkis: I've been doing this work for five decades: my focus has been on trying to make Los Angeles an equitable, safe, healthy and resilient place to live for everyone. I founded TreePeople as a teenager with the simple notion of planting trees in the mountains to save the forests that were being killed by smog, and then began planting in the city to create clean air, food, beauty, a sense of empowerment and vitally needed jobs for young people. 
As this work grew, so did my understanding about the painful social, economic and environmental consequences of our collective mismanagement and waste of our local rain water: we were unwittingly turning LA into a desert.
To turn this around, I led a 6 year, multi-agency study that showed it was financially, technically and socially feasible to source as much as half of LA's water by harvesting the rain, and employing tens of thousands of young people to make it happen. The key was retrofitting and managing Los Angeles' public and private landscapes as an urban forest watershed where trees, people, soil and technology could capture, clean, store and wisely use the rainwater instead of polluting it and throwing it away.
It took another decade for LADWP to replicate our research with their Stormwater Capture Master Plan which confirmed they could locally source almost half the water LA needed from stormwater capture.  Nonetheless, that plan has not been fully implemented.
I've continued to advance this work at ARLA. Our recent study, using the best engineers and the best science, shows that significant stormwater capture can be done at people's homes and on private properties to advance climate resilience while providing multiple benefits. The latter sounds like a dream, but the science backs it up. In terms of climate resilience, we in Southern California are more than ever, critically vulnerable to drought, heat, and fire. The climate reality for Los Angeles is extreme swings of weather that increasingly harm and kill people.
Extreme heat, in fact, is regularly killing a lot of people in Los Angeles and Southern California, most especially our most vulnerable populations. On average, Los Angeles has roughly 20 percent tree canopy, but in some communities in South LA, East LA, and the Northeast San Fernando Valley, the tree canopy covers under 6 percent. When you examine a map of where people are dying in severe heat, it is those areas.
When you additionally look at the social and economic status of those dying from heat, generally they reside in the most underserved communities. Sadly, the data confirm that if you're African American, you are 48 percent more likely than a white person to die on the fifth day of a heatwave in Los Angeles. If you are Latinx, you are 46 percent more likely to die. We are in a critical state of pain that we've too long been accepting; and, that is unacceptable and fixable.
Australia started losing a lot of people to extreme heat during the first 10 years of this century. When they correlated the time of emergency call and heat, it was the third or fourth night when people started to die. They nationally made a major effort to establish tree canopy in their urban areas to save lives. In LA, it follows, based on science, that if we can increase tree canopy to 40 percent, and increase solar reflectivity on roof tops and streets…that would be enough to save lives.
In 2018, LA County voters approved Measure W, a parcel tax that promised to increase L.A. County's local water supply, improve water quality, and invest the $300 million per year generated to make our communities greener and more livable. Is the County currently investing Measure W funding wisely?
The County has set up a good Program, but like any major new Program, it needs some adaptive management to ensure taxpayer dollars achieve the goals that were promised to the voters.
Measure W passed after more than 10 years of effort to get it on the ballot. Then boom, the money's there (between $250-300 million annually).
To help determine how the Program can better achieve its goals, ARLA has worked with LA County and the various players involved, including key municipalities, and OurWaterLA, a coalition made up of  environmental and environmental justice groups, that put Measure W on the ballot. ARLA convened a Working Group of these key stakeholders to build consensus amongst groups that are typically adversaries and come up with recommendations for the County. The Working Group went through a 13-month process to look at all the dimensions of what we need to do and subsequently have laid that out as a set of recommendations and policies. 
Bringing in the science and the economics, we showed how investments ranging from gray infrastructure to nature-based infrastructure for stormwater capture could not only advance water quality improvements and help meet the MS4 permits (Municipal Separate Storm Sewer System) but also create significant water supply and community investment benefits, like jobs. The County is now studying those recommendations; and we hope they will take those suggestions, using new science, economics, and social science, to direct the investment of Measure W money.
When you look at Measure W, it's instructive to note that voters also approved Measure H for housing, Measure A for parks, and Measure M for Metro. Together, the people of LA County chose to tax ourselves and create close to $1.5 billion a year to retrofit our infrastructure to make sure people are housed, that we have parks, etc. There are project investments that overlap, and my mission is to entice agencies to collaborate across sectors to see where we are missing opportunities or where things look too expensive because we're only looking at one way to pay for it. Water affords a great opportunity to collaborate across silos.
Elaborate on what was ultimately recommended by ARLA's SCWP Working Group to insure a resilient, future local water supply for Los Angeles County residents and industry.
The Working Group came to consensus around 22 recommendations based upon two pillars: The first is that a watershed approach is needed for the Program to be successful, because stormwater projects have a cumulative impact on the watershed. This is also crucial to break the silos of traditional stormwater management. The second pillar is focused on recognizing that needs vary across the County, so identifying the unique needs and benefits for each community, with deep and meaningful community engagement, is critical.
ALRA is also working with some of the top engineers in the country and other top notch geospatial data visualization engineers. We've brought them all together to create tools that help agencies, neighborhoods, and individuals to see where the water is falling and the possibilities to create projects that meet their needs. What happens when you begin to remove the concrete and make places permeable to capture water? You can sink it in the ground and recharge our aquifer, or you can capture it in tanks or other systems—from homes, parking lots, schools, or parks—which we've been working on with the County and the LA City to install for the last 20 years.
When you scale those projects throughout the County, you can see the multiple benefits it brings, including urban greening, cooling, and jobs and economic development to communities. We worked with Earth Economics who took another step and quantified these benefits into dollars amounts, to help decision-makers better understand the tradeoffs between different investment and policy decisions. Multi-benefits like carbon sequestration, heat island mitigation, and air pollution reduction offer significant economic value. These real, tangible outcomes reveal what's possible, especially the number of jobs that can be created. You can go to the ARLA website and actually see some videos of those visualization tools that we've made so communities and governments can better understand that stormwater capture can bring communities multiple benefits, especially when using nature-based solutions. You can get glimpses of the tools that we are in the process of still creating for neighborhood planning.
And the tools and processes recommended?
What we're sharing on the website is an urban watershed approach to Los Angeles water conservation and reuse instead of "urban drain." LA stormwater conveyance system originally was designed under specs from the Army Corps of Engineers whose principal goal was to keep water and people apart for safety. It makes no sense in today's world to be throwing away all of this stormwater that we preciously need.
When it rains a half-inch in the City of Los Angeles, 7.6 billion gallons of water fall on the city but only 3.8 billion gallons of that is capturable runoff. I calculated what I can capture at my own home. My tank holds 1,000 gallons. It captures and stores 1,000 gallons for every inch and a half of rain that falls on my garage roof. That water sustains my drought-tolerant yard and fruit production. It's also available for firefighting and for emergency water. In fact, when our water mains have broken, I've been able to give water to my neighbors.
Because of the drought emergency, I recently calculated the square footage of my home's full rooftop surface to see just how much I could have captured this year if I'd installed a larger tank and rain garden. Every inch of rain that falls generates 0.625 gallons per square foot of rooftop. The LA County Public Works Live Rain Gauge Map (https://dpw.lacounty.gov/wrd/rainfall/) shows that it has rained 11.16 inches where I live so far this rainfall year. Thus, my rooftop alone has generated 26,247 gallons of capturable water. Unfortunately, most of that precious water ran off to the street. Every neighborhood and house could have sufficient, if not abundant, water for household and emergency needs. That's the way they're getting through climate extremes in Australia and it's possible for us to do here.
Recently VX News interviewed the general manager of the Metropolitan Water District, Adel Hagekhalil. He shared how SoCal needs—given the region's severe drought which has forced restrictions on water use coming down from the state, the county, and cities— a new model for meeting its water needs. How do you suggest the region get from "here to there" re water supply?
We are not going to import our way out of this. We will need to conserve more, reuse more water, and capture more stormwater. Data shows this is possible. But it's a lifestyle change. Los Angeles itself showed that people, when you give them enough incentives, will do the unthinkable. If you remember the drought not too many years ago, LADWP and MWD pumped out a half billion dollars' worth of incentives for people to remove their lawns. People did it. These lifestyle changes are not impossible, but we have to incentivize people and make it affordable to put in tanks by manufacturing them locally.. So one part of the answer is that MWD and other agencies should support additional incentives to help transition the region to our new reality.
Secondly, in Australia, which is very much like Los Angeles, they worked with their water agencies who have the same finance model that MWD does. They're incentivized to sell water, but that means they're not going to have revenue if they don't sell water. That business model may need to be changed.
In Australia, during their drought, when they made it cheap and easy to install tanks, between 30-50 percent of the homes in Melbourne and Sydney installed large rain tanks, then they survived the drought. In fact, they built desal plants in most major cities, but no one needed that water. It's there for emergencies, but they didn't need to use them because people had their water.
I want to also underscore, under (former General Manager) David Freeman's guidance, LADWP conducted a two year long Stormwater Capture Master Plan. With DWP numbers, their people concluded that we had enough water to meet nearly half of LA City's needs. The plan found that if certain barriers are overcome, the city can capture between 179,000 and 258,000 acre feet of water per year. That equates to between 22-35 percent of LA's water use if the required infrastructure, programs, and policies are funded. Once supported, these investments can provide billions of gallons of water for public use and decrease reliance on imported water, while also creating a boom for our economy.
But the plan wasn't fully implemented. Leaders ultimately retire and move on, and nobody carried the torch to put in place a robust implementation plan, and fund it. That's what we're saying needs to happen.
In addition, the UCLA Grand Challenge showed that we can get to 100 percent level of local water supply if Los Angeles invests in local stormwater capture and other committed programs including 100 percent recycling of wastewater, cleaning and serving the water from the San Fernando Valley aquifer, and maintaining the really good conservation levels as LA achieved in the previous drought. We need the jobs, and we need the water security.
With Voters in LA County supportive over the last decade of initiatives for funding for multi-benefit infrastructure projects, you have apparently won!  Now the challenge appears to  be the realization of Measure W's promised benefits. If you were advising on execution, what would you prioritize?
I would ask leadership to call all the stakeholders together. The only way to successfully invest Measure W funding is to act collaboratively - to break down and reach  across the different silos that operate with different budgets and different protocols and bring them together in the way that we  would in any emergency.
The protocol across the world is to bring diverse agencies together and facilitate a collaboration to see what resources they can bring in to help efficiently and effectively meet everyone's goals and mandates. We should use all the great modeling tools, not just ones that we normally use. We need to understand how we can co-invest and co-manage for the multiple benefits that communities need and want. We need the fire protection benefits, the cooling, the water supply, the flood control, the water quality, and the parks. All of that can be managed together like we did in this example pilot for Measure W.
In an emergency, we have an emergency command and operations center. One of the things that's based on is creating mutual aid agreements that say that we will bring our resources together and work together to solve the problem. We can even create agreements that will reimburse each other or make it right financially.
Those tools are there. There are various forms of Enhanced Infrastructure Financing Districts, Joint Powers Authorities, and mutual aid pacts that allow collaborative planning and investment for the most urgent situations but also for ongoing crises, such as climate impacts occurring right now.Part of the process now is to use those best practices that continue to work to enable the collaboration, so we can design this multipurpose system and enact it. Pilots have been done here and around the country. The projects under Measure O and Measure W are producing great results, but they're often too narrow and we need to actually scale. We have to move from pilot to programmatic.  That only works when agencies collaborate from the start.
Also, we need to reject the thought that multi-benefit water projects can only happen on public land. The public, all of us individuals on individual parcels all over town, obviously have a big role to play. We all want water and climate security. Thus, people will participate if they're incentivized.
Right now, it just costs way too much to do it yourself. Imagine the industry that we can be creating by locally manufacturing water tanks, infiltration devices, and remote control technologies for and installing them across Southern California—facilitating beautiful landscapes, local food, and the ability to put out fires.
During the tragic LA / Ventura Woolsey fire, the fire hydrants and  systems went down in many parts of the Santa Monica Mountains. Much of the water that was available to fight the fires was the water that was in the attending fire trucks.
In Australia and other places around this country, like in Idaho, when you build a house, they now require a tank, so you have your firefighting water available. All this surely can be happening here.