On Tuesday March 8, Governor Gavin Newsom delivered his third State of the State, beginning with an acknowledgment of the immediate crisis in Ukraine and California's role as a national and global beacon for democracy and economic vitality. While vaguely mentioning the state's new Housing Plan, Newsom avoided the supply-side mantra and committed to action on homelessness as a mental health and public safety crisis. TPR shares this excerpt from Newsom's address highlighting remarks related to California's climate investments, economic recovery efforts, and homelessness.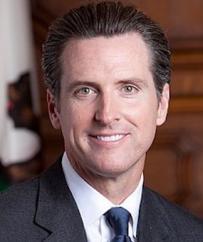 "In just the past three years, we not only have a comprehensive plan, we're also requiring new accountability and providing unprecedented investments for cities and counties on the front lines."
"The California Way means rejecting old binaries and finding new solutions to big problems.
For example, the speaker was talking about climate policy. California has no peers.
For years, we've set the rules, and others have followed. Over time, we've learned we can't solve big problems like climate change situationally with short-term thinking.
Look, no one's naïve about the moment we're living in with high gas prices and the geopolitical uncertainty that's fueling them.
In January, we proposed a pause for the gas tax increase.
Now it's clear we have to go farther.
And that's why — working with legislative leadership — I'll be submitting a proposal to put money back in the pockets of Californians to address rising gas prices.
But I want to make this clear: At a time when we've been heating up and burning up, one thing we cannot do is repeat the mistakes of the past by embracing polluters, drilling even more oil — which only leads to even more extreme weather, more extreme drought and more wildfire.
What more evidence? What more evidence do we need than our own state?
Just think about the past few years. We've seen whole communities nearly wiped off the map.
Greenville. Paradise. Grizzly Flats.
How many more are we willing to sacrifice? We need to be fighting polluters, not bolstering them. And in the process of doing so, freeing us once and for all from the grasp of petro-dictators.
This conversation can't just be about supply, can't just be about oil supply. Daily life still demands too much fossil fuel.
That, too, has to change, underscoring the importance of accelerating California's leadership in clean technology. This is not just a national security and an environmental justice imperative — clean energy is this generation's greatest economic opportunity.
A perfect example, by the way, a perfect example of that, is our dominance in electric vehicle sales and manufacturing.
It was, by the way, California policies that created this market.
Now we have the opportunity to extend this leadership, to secure a critical component of the supply chain for batteries, by tapping one of the world's largest lithium reserves — right here in California, in Imperial Valley. And consider this: our nation-leading climate investments — some $38 billion — will ensure that other innovations will surely follow, not by re-creating the 20th century, by extracting more oil, but by extracting new ideas, drilling for new talent by running our economy on a carbon-free engine.
That's the California Way.
Now when it comes to the economy, California is unmatched. We dominate.
We dominate in research, innovation, entrepreneurialism, venture capital — and remain the world's fifth-largest economy. Our GDP growth? Our GDP growth has consistently outpaced not only the rest of the country — but most other large, western democracies. Nearly a million new jobs in the last 12 months. Think about this: In December alone, 25 percent of America's jobs were created right here in California, a million new jobs just in the last 12 months.
More new business starts during the worst of the pandemic than Texas and Florida combined.
…
But there's another crisis — all too familiar, referenced just a moment ago. And that's the crisis of homelessness, which we know has worsened over the last decade, not only here in California, but across the nation.
It was just a few years ago, California lacked any comprehensive strategy. No accountability and no meaningful state resources to solve the problem. But that's all changed.
In just the past three years, we not only have a comprehensive plan, we're also requiring new accountability and providing unprecedented investments for cities and counties on the front lines.
And while we've moved a record 58,000 people off the streets — 58,000 since the beginning of the pandemic — we recognize, we all recognize, we have more to do — particularly to address what's happening on our sidewalks, reaching people who need the most help.
Those with schizophrenia spectrum and psychosis disorders, many self-medicating with drugs or alcohol addictions.
That's precisely what our encampment resolution grants, and our new Care Court, seek to address.
Getting people off the streets and out of tents and into housing and treatment is essential, clearly essential, to making our streets safe for everyone.
..
Look, I think all of us here can at least agree: people have always looked to California for inspiration.
Now, in the midst of so much turmoil with stacking of stresses and dramatic social and economic change, California is doing what we have done for generations: lighting out [for] the territory ahead of the rest, expanding the horizon of what's possible.
We know, we know, that government cannot be the entire solution. But we also know that government has always been part of the solution.
By creating a platform for people, and the private sector, to thrive.
And as [Thomas] Friedman said — we have a formula, a formula for success setting rules for risk-taking, not recklessness.
Infrastructure, research and development, investing in our conveyor belt for talent, the finest system of higher education anywhere in the world: our CSUs, UCs and community colleges. And ensuring society provides a hand up when people need help, maintaining, maintaining our pro-immigrant policies and welcoming refugees from around the world.
Those are all California values.
Embracing diversity, but also seeking common ground. Pursuing greater connectedness.
Not exploiting division with performative politics and memes of the moment, but by unifying towards common purpose.
Inviting more people, with diverse perspectives, from different backgrounds — "to strive, to seek, to find, to not yield" — all into the fight for a better California.
Thank you, all, very, very much. Thank you for the privilege of your time tonight.