As Congress deliberates on the size and scope of the Biden Administration's proposed infrastructure, jobs, and economic recovery package, TPR interviewed LA City Councilmember Bob Blumenfield, who chairs the city council's public works committee, on his priorities for public infrastructure investment in Los Angeles as a driver for economic recovery. The District 3 West Valley representative outlines his vision for systematically directing investments and streamlining city processes in a strategic way to maximize benefits across the city.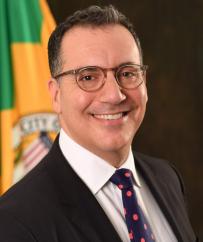 "[The Canoga Park Active Transportation Plan] is part of a bigger vision that I have for Canoga Park, in terms of really reinvesting through a number of things: enhancing the public right of way, catalyzing public investments, promoting private investments, and cultivating the community."—Bob Blumenfield
Mayor Garcetti, in his 2021 State of the City address, highlighted a number of public initiatives to spur economic recovery in Los Angeles.  As chair of the LA City Council public works committee, share with our readers your public infrastructure investment priorities for  Los Angeles. 
Bob Blumenfield: The mayor highlighted many great opportunities to invest and regrow this city in positive ways. One was focused on creating free or vastly expanded broadband access -- something he and I had been talking about since before I was even elected to City Council.  Through my
"Citylink" initiative, the City took a shot at creating a public-private partnership designed to create free basic internet access.  This was back in 2014-2015 and while we did not succeed, we advanced the ball pretty far --  we created a lot of movement and a lot of new free hotspots. Unfortunately, we didn't achieve the big picture solution, which was to have a P3 that provided free connectivity for all Angelenos. So, we're now taking another stab at that, but in a different way through the creation of municipal broadband. We're going to try to tap into some of the federal money designated for this purpose to make it happen.
Another priority initiative that I've been working on for a number of months involves a food and beverage industry working group that we put together to figure out how we could help restaurants and businesses, not just in terms of direct aid programs, but by getting out of their way and by streamlining permits and removing red tape. Through this industry working group, we came up with a number of ideas, including things that should be basic common sense, but if implemented will make a big difference. For example, allowing architects to do self-certification of tenant improvements or allowing the Department of Building and Safety plan check to be self-certified like they've done in New York or Chicago. Another thing is making different covid-related electronic permitting changes permanent or streamlining processes to allow more things to be concurrent rather than consecutive.  A lot of the frustration with city permitting comes from the fact that it takes too long because of the required sequencing. So, the more we can capitalize on technology to try and do things simultaneously, the better.
And of course, investing in Public Works necessarily comes down to the basics of reinvesting in our City's crumbling infrastructure--our streets, our sidewalks, and how we do that needed investment creatively and efficiently.
President Biden's Build Back Better plan has been critiqued as needing to be practical – resting on a local, knowledge-driven execution strategy. Are the tools being discussed in Washington likely to enable locals like you, as chair of the Council's Public Works Committee, to use federal money wisely and effectively?
Yes, but it's not yet as directly connected to local needs as it should be, which is a challenge we're going to take on as a city, and we're well-poised to do it. This is very much a priority issue for me that I've discussed with a number of local officials up and down the state and across the country.
I'm the Chair of the California DMO (Democratic Municipal Officials), and I also serve on their national board. We talk about these kinds of things because it's not only true in our city, but in every city across the country. How do we make sure that the good intentions and resources coming from the Feds actually get to where they need to go? That is going to be the challenge, but it's certainly one we're taking on already in this budget, and I'm focused on making sure we're positioned for the money that's going to be competitive and the money that's coming directly to our city by formula to make sure that we spend it effectively.
Councilmember Blumenfield, as someone who worked on the Hill for Congressman Berman before you returned to local government, what can be done in Congress to make federal and local policy and funding better mesh? 
We have to work hand in glove with them. We have to make sure that we connect the dots. A lot of times we get funds but there are so many requirements involved that it makes it difficult. One of my big frustrations, and actually one of the reasons I ran for local office, was that it killed me to see the city throw away federal money. Sadly, I've seen this happen time and time again, and I've been very vigilant in making sure we draw down the federal money in the right way.
For example, the small business assistance money that came in. We had a pot of money that we were originally just going to spend on our own small business assistance program, but I worked to make sure we used some of that money to position LA businesses to take the federal money down. The scale of the federal relief was so large that, if we could get      1/10 of 1 percent more of that funding to LA businesses, that would be 10 times more money than we're spending on our own programs.
In a situation like that, it's great to have our own little program, but let's also focus on how we make sure that our businesses are positioned to maximize this federal money because it dwarfs the money that we're getting locally. We were able to redirect some of our assistance money into programs that help with our Business     Source centers to help line up businesses to take advantage of the federal money. Ideally, that means that we had more money coming into LA than we would have otherwise.
The "Connecting Canoga Park" Active Transportation project was awarded a $30.7 million grant from the California Transportation Commission in February. Comment on the project as a model for innovative, integrated, and multi-benefit public infrastructure investment, and as a project that demonstrates, "the good local official can accomplish by being in the room where it happens."
The award didn't just happen on its own. We had to plant the seeds to make this happen, and it really is part of a bigger vision.  In 2017, the City of LA applied for a      $300,000 climate adaptation planning grant, and then we worked with Climate Resolve and Alta Planning on a community-based planning process. I had been working with them before that on our "Cool Streets" program to really show folks that the West Valley is a place where we can do innovative projects.
The effort under that planning grant is what ultimately led us to be able to take down the largest ATP grant in California history. It's going to include new sidewalks, curb cuts, bike lanes,      improvements to the Orange Line transit stop, and all sorts of really good transit-oriented elements. It's part of a bigger picture that I have for Canoga Park, in terms of really reinvesting through a number of things: enhancing the public right of way, catalyzing public investments, promoting private investments, and cultivating the community.
That Canoga Park project is part and parcel of a bigger blueprint that I have with my Reseda Rising initiative on the west side of my district and my Canoga Park initiative on the east side of my district—all in areas that have been traditionally underserved. We have systematically directed investments to make those areas really grow in a strategic way that's going to benefit everyone who lives there. 
Lastly, infrastructure by its very nature takes time: to amass the funding; to engage the public; to do the necessary planning and environmental reviews.  As a locally elected official, you work in an intense political environment where an eight-second attention span is often a lot to ask of colleagues, staff and the public. How do you actually manage the expectations of your constituents, most especially,  to actualize the public investments that most agree are necessary and generationally important? 
It's very tricky because people want to see results right away, so you try to put things together that are going to offer those results. We do a Reseda Art Walk and mural festival to show people that there's investment and economic changes on the way, but then these longer term projects that have all this lead time. You try to engage people in the planning process, so they see what's coming. We have a number of "community action teams" (we call them BobCATs) with community members who are involved in each of these projects, but it is a matter of managing the expectations because we've been planting seeds for many years since. Actually, even before I was elected to the council, I planted some of these seeds as an assembly member, and they're now starting to blossom. Over the next few years, they're not only going to blossom but they're really going to be visible and take shape.
You have to share that vision with folks so they understand what's about to happen, even though most of what's happening is under the ground. T     hat can be frustrating for some. One of the signature redevelopment projects I have is an ice skating rink in Reseda. We've been talking about it for years, we've lined up $27 million—a public-private partnership with the LA Kings. It's all great stuff, but if you go look at the site, all you see right now is just an empty lot. Keeping the community engaged and being able to share that vision is critical, but it all will pay off when people actually see it and feel it. It's starting to happen on a number of these projects, but I just can't wait for the next few years because that's when all these seeds that we have been planting will really start to blossom.