Recognizing that buildings remain a stubborn sector to decarbonize and one of the most difficult spaces to bring new technologies to market, USGBC-LA 's Net-Zero Accelerator is a one-of-kind 7-month program that utilizes LA's resources as an innovation ecosystem to propel a cohort of pilot-ready technologies to market and drive measurable adoption of net-zero solutions. With the unveiling of 2021's NZA Cohort at the Municipal Green Building Conference & Expo this week, TPR interviews USGBC-LA Executive Director Ben Stapleton and Net-Zero Accelerator Director Colin Mangham to offer readers an inside look into LA's hub of green building innovation. Click here to register for MGBCE and meet 2021's NZA Cohort.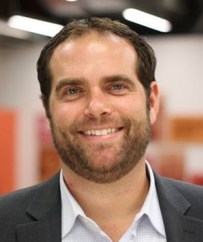 "While we have a building code in California that's aggressive in moving us forward, if you talk to the people who are trying to design these buildings of the future and maintain them, the cost effectiveness is really hard to get to—that was really the genesis of the accelerator."—Ben Stapleton
USGBC-LA will on Friday, May 21st announce your 2021 cohort of the Net Zero Accelerator companies at USGBC-LA's 20th Annual Municipal Green Building Conference & Expo. Share with our readers the mission of this accelerator and how different it is from the other Southern California incubators/accelerators?
Ben Stapleton: We're an accelerator, not an incubator, so we're really focused on quick deployment and scaling. We focus on two things: pilots and storytelling. 
This is our third year of the program, we've had over 30 companies involved with us over the past couple years, and we've been tracking 45 pilots. We're excited this year to grow even more and spend more time focusing on the pilots and doing some project management and technical support there. 
We're trying to help enable a net zero future today. We're the only Net Zero Accelerator in the world focusing on zero carbon, zero energy, zero water, and zero waste. We want to take the technologies that exist today and help them scale, and the goal is that we can achieve a net zero, or perhaps even a net positive, future. For us, it's really reflected in the companies that we select. We're trying to pick companies that are going to help us get there faster.
USGBC-LA is an independent nonprofit from the National U.S. Green Building Council that runs the LEED credential and certification. Our mission is really to accelerate sustainability in the built environment for Southern California to create a more sustainable region for all. We're focused on Southern California with our primary regions being LA, the Inland Empire, and we expanded into Orange County earlier this year, as well as Ventura.
We're also focused on the built environment. Our community here within USGBC-LA is a phenomenal ecosystem of people leading around green buildings and infrastructure. We want to take these companies with solutions and integrate them organically and authentically into this space. We do showcases and feature them at all of our events; we're trying to build relationships and build community. 
Colin Mangham: I think what's unique about the Net Zero Accelerator is our focus on real world pilot projects, ones that  leverage the strength and diversity of our community of sustainability practitioners, green builders, and other stakeholders. With USGBC-LA as a member-driven organization, we're the only ones we know of that are specifically focused on working with the green building community to help pilot-ready companies speed commercialization. Our NZA cohort members have functional prototypes we help to de-risk, stress-test, refine, sometimes pivot, and overall prepare for scaled adoption. Or, if they're already having some success commercializing in another geographical market, we help them pilot it into a building or site in a large portfolio, prove a success case, validate with data, and move further into that client opportunity here in the Los Angeles area.
Colin, elaborate on the above answer; what separates the pilot candidates… the wheat from the chaff. How did you score them?
Colin Mangham: One of the biggest scoring points is how ready they are for rapid adoption and commercialization. As Ben mentioned, this is a growth-stage accelerator, not an early-stage incubator. So are they really pilot-ready? And what does that mean to them? 
Second is the degree to which the Greater Los Angeles area is a priority. Preferably it's their highest priority. We're biased of course, but the data supports that we're in one of the absolute best proving ground markets for proptech and cleantech. It's a highly public, tech-forward, and media rich environment for promoting success cases. We also enjoy the support of favorable regulatory policies and a strong environmental stance. But, again, it's mainly about them being pilot-ready and prioritizing L.A.
More than a year ago, VerdeXchange highlighted the new Santa Monica City Services Annex building —a triple net zero Living Building Challenge building that is arguably the most sustainable municipal building in the world. What have you learned and shared from the latter projects to the curriculum of your accelerator?
Ben Stapleton: We didn't work on that project, but having talked to a lot of people who did, a lot of the issues they dealt with were things that all new companies deal with, especially in the built environment. A lot of that has to do with issues around permitting and the intersection with other systems in buildings and those impacts. 
Part of the reason we started this accelerator is that buildings remain one of the most difficult places to get new technology to market. While we have a building code in California that's aggressive in moving us forward, if you talk to the people who are trying to design these buildings of the future and maintain them, the cost effectiveness is really hard to get to—that was really the genesis of the accelerator. 
Buildings are tough, because you typically have three people making decisions: someone who's controlling the finances, an engineer or facilities manager, and either a tenant or a property manager. All three of them usually have different motivations and it's very rare that they'll all agree to test something out together. We really try to leverage our community to head those issues off at the pass around permitting and the intersectionality of building systems.
One of the Santa Monica City Services Annex biggest challenges was meeting its net zero water goals. Are any of your pilots involved with water technology?
Ben Stapleton: This year we have one company in the program that's focused on water. In the last two years we've had about 30 companies in the program, and there was only one other company that was focused just on water. Although, a lot of them manage systems for buildings, which include energy and water. 
A big part of the challenge of Santa Monica dealt with is just that the permitting around water systems is crazy; it has to go through several different agencies. The reason you see city buildings testing these things out is because no private investor or developer would spend the time, energy, or effort to go through piloting these systems, and that's a huge problem. We need to prove them out in a public setting, so that we can drive down cost and get the cities comfortable with the permitting so they'll do it in the private sector setting.
Colin, how are you counseling your companies to navigate through these above regulatory processes – given they are typically challenging all the "old" rules?
Colin Mangham: I want to echo something from earlier, and a little bit beyond permitting. With any new venture you've got a chicken-and-egg kind of prospect, and a lot of the time it centers on economics. Some of these newer technologies and business models just don't pencil financially, especially if they haven't optimized their supply chain, the cost of materials, the logistics of distribution and delivery, and all of the things that impact pricing and margins. 
One aspect we want to look at is, how can they do this more affordably, more economically? Sometimes it requires creating a bit of a chimera of a budget that helps them make something more economically viable when they aren't yet at scale ... that's a real challenge at this stage, scaling without having the benefits of being at scale, such as volume pricing on materials, etc. 
Also, a lot of my background is in branding, marketing, and building the narrative for early- and growth-stage companies. I've guided the success of hundreds of entrepreneurs. And they don't always have the best sense of how to communicate their ROI or know whether or not to lead with their green foot. You may come into this space hugging trees, and I've done more than my share! But ultimately the economics have to work. 
So we guide them on what to lead with and how to begin scaffolding prospects into the conversation of understanding the features, benefits, and measurable value they're bringing to the table. We're helping them craft the best narrative for the highest value customer profiles.
Ben Stapleton: One thing I've seen over the years is that pilots are an art, not a science. Most companies don't actually know the full cost of what it is to deploy their solutions. Most of the time they know what money they receive to deploy it, but they don't know the cost of time for the customer to install or maintain, and especially impacts to other building systems. 
By having advisors to our program—building engineers, facility managers, and other people who are in the guts of buildings—we really help them scope pilots. We spend about four weeks helping them scope pilots in the program, including a session looking at all of the true costs because oftentimes, that's the reason your customer is saying no.
We continue to be excited, and there's a great opportunity for LA to lead in this space. This is the only net zero accelerator in the world, and probably the second real estate innovation community in the world, after New York, and we have built that  around this program. 
We've started to work with more of the foreign trade groups. We had a contract with the Canadian consulate last year, and we ran three of their companies through our program. In fact, two of our companies from last year, CarbonCure out of Canada and CarbonBuilt out of UCLA, were both winners of the Carbon XPRIZE that was announced a couple weeks ago.
Speak to the role of the building and construction trades for the pilots in the accelerator. Are the former potential: solution collaborators, alligators to be avoided, or marketing partners?
Ben Stapleton: They're always collaborators; everything's around collaboration. We have over 25 pilot partners who've committed to take a hard look at pilots coming out of the program. If they can do it, they'll get a whole package of different kinds of pilots. If they can't do it, we ask them to give us feedback as to why not. Some of our partners are people that you know, like Kilroy Realty, Hudson Pacific, and Westfield. We're working with a number of the Cal States, like CSUN and Cal State Dominguez Hills, as well as UCLA.
The goal is to give them a package in bite sized chunks. When we structure a pilot, it's meant to be something that can scale, but that first bite-sized project is enough. We really encourage the companies to not do pilots with people who aren't going to be there as customers. If you're selling into the commercial office system, don't do a pilot in an apartment building because that's going to be a dead end for you. A lot of times entrepreneurs do that because they want to get that first project, so they'll do it in whatever building they can get their hands on, through a friend or someone they know. We try to do that matchmaking, and we are looking for more pilot partners. It's a great opportunity to get visibility into the pipeline of what future technologies are coming.
You're well aware of the Biden administration and of Congress' commitment to climate change, cleantech, and economic development. Is government (federal, state and local) part of the ecosystem that you introduce to your pilots? 
Ben Stapleton: I think it's the ambition of most of the companies to sell into some sort of government procurement, and that's often a great place for many companies to be. We haven't had the federal government involved to date, and that might be a reflection of when the program started three years ago with who was in place. I feel like the Biden administration really understands, especially around buildings, the value of weatherization and investing in reducing our long-term energy and other operating costs; those are signals building owners are embracing. 
We do engage with the state. We have worked with the Department of General Services and so many other state groups, and talk to them around their procurement. Most of the state and federal agencies, while they have a procurement process that may be exhausting for these companies to get involved in, have pretty strict mandates around energy efficiency, water conservation, and high-level building performance.
Let's tantalize our readers with a few examples of the technologies and innovations that are part of the startup that you're working with. In that mix of pilots, what are the technologies and the services that are being accelerated?
Ben Stapleton:Our program this year had multiple focuses: building decarbonization, clean construction, and occupant health. So, for example, Spectral Materials is a high-end surface coating that can be applied to reduce light and heat that comes through windows—like the next generation of window tinting. It's completely non-toxic and kills bacteria, so they can apply it to windows and other surfaces to reduce potential contaminants.
Another company, Vero Solutions, is doing modular construction but for low- to mid-rise commercial and multifamily buildings. We've seen more of that on a smaller scale, but they're actually doing taller mid-rise office buildings, and they came to us out of Canada.
Clean Robotics has a waste sorting system called the Trash Bot. Everyone struggles with how to sort waste onsite, so they've created these units with AI built into them, so when people throw away trash, it starts to recognize more and more over time what kind of trash comes in at that site and automatically sorts it for recycling, compost, or otherwise. It's doing that at the point of people throwing things out, and also getting you a count and a weight of what's happening. One of the issues a lot of buildings struggle with is that we need to know what's getting thrown out at sites, and most of the time things are commingled. This is a system to really address that at the point where things enter the waste stream.
USGBC-LA is now chaired by Christine Harada, a longtime friend of VerdeXchange and former federal chief sustainability officer who is now at Heliogen. What opportunities does her election portend for USGBC-LA and for Los Angeles in terms of its innovation ecosystem?
Christine is exactly the kind of person we need in leadership positions. She really brings a great mind around how we connect on the federal level with everything that's happening right now. 
We have a responsibility to elevate our whole ecosystem in the region, and that includes bringing in funding, workforce development, and helping to strengthen that connection on a federal level. She can help us think strategically about how the greater LA region can benefit as these programs roll out from the Biden administration. 
She was the former president of (i)x investments, and she's actually one of the judges for our Net Zero Accelerator selection committee. She helped review our companies that made it into the new 2021 cohort.
Lastly, Ben, the theme of the 2021 USGBC-LA Municipal Green Building Conference & Expo (MGBCE) on Friday May 21 is The Time Is Now. What do you actually mean—the time is now?
Ben Stapleton: This is the decade in the fight against climate change. All of the data shows that we have to be creating some impact and shifting global warming by 2030. As this is our 20th MGBCE, the time is now for us to make things happen.