The Biden administration's top priorities in its first month in office have focused on addressing the "four converging crises — COVID-19, the resulting economic crisis, climate change, and racial inequity." TPR interviewed UC Irvine Professor—and recent appointee to the Los Angeles Regional Water Quality Control Board—Michael Méndez about what lessons Los Angeles and California can provide to policymakers in Washington D.C on climate action and environmental justice. Dr. Méndez opines on California's continued struggle to implement ambitious climate goals and further elaborates on his new book Climate Change from the Streets: How Conflict and Collaboration Strengthen the Environmental Justice Movement (Yale University Press), which Bloomberg's Liam Denning notes "should be required reading for the most committed Green New Dealers and their opponents alike."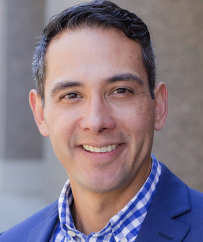 "What we're seeing is a new era of environmentalism where ambitious policymakers have to create a new political calculus in addressing climate change, the Green New Deal, and environmental justice groups."—Michael Méndez
Professor, let's start with the impact of this election on the future of environmental justice. What do you expect from the federal level in a new administration? What should be step one for US federal environmental justice action?
Michael Méndez: First and foremost, I want to acknowledge that we have never before seen a Presidential candidate that has spoken so substantially and meaningfully about racial equity, let alone, environmental justice. This has been a core element guiding the transition team in the selection of its various cabinet and senior White House on appointments. So, I'm quite impressed by that movement, because this a watershed movement. What we're seeing is a new era of environmentalism where ambitious policymakers have to create a new political calculus in addressing climate change, the Green New Deal, and environmental justice groups.
Rather than merely seeing these groups as obstructionist, or as hurdles to overcome, the Biden administration is channeling this energy and passion towards undoing the environmental damage that has been done in the last four years with the Trump administration. Particularly in the area of air quality and water quality, there have been tremendous rollbacks of Obama-era stringent regulations, as well as instances of looking the other way and not enforcing some of the minimum environmental standards, particularly in industrial areas that are primarily low-income and communities of color.
The first couple of months, we'll be definitely focusing on rollbacks in a row, focusing on renewing the enforcement efforts, and the protection of public health. As of this time, the Biden administration has reentered the Paris Agreement. The Domestic Climate Coordinator Gina McCarthy has shown a focus on direct regulation of emissions reductions. So it's a great opportunity to lead with environmental equity and justice, as we move forward and in Biden's environmental agenda. Regarding what is possible in Congress, it will be interesting to see where this falls in the list of priorities within a deeply divided Congress. [**Although the Democrats now control the Senate and House, the margins are razor-thin.] House Democrats lost seats in the November election, which shows there will likely be more of an incremental approach to environmental issues, whether or not the White House puts full emphasis behind the cause.
One thing the past months have shown is the growth of environmental justice as a social movement. The leaders are no longer considered a ragtag group of individuals, but rather a force with a strategic plan. These groups have successfully lobbied and been very savvy in using the media to get their message across. In states across the country, from California to New Jersey, the political calculus of how policymakers are dealing with environmental justice is changing. There are large constituencies and allies supporting them. While the EJ movement will not always achieve what they want, there's an opening now where their voices are being heard more and seriously considered.  
Before we turn to your book, let's talk about AB 617, one of the key California environmental justice programs that has been touted as a potential model for the new federal administration. Do you see a future for AB 617 at a national level or in other states?
AB 617 focuses on local community air monitoring, which is attempting to create real-time community-based air quality monitoring. Many of the air quality monitors that the government operates are stationary and oftentimes, miles away from the major polluting sources. This bill helps to bring air quality monitoring to areas where there actually is pollution happening.
It is a model as a bill itself and the goals and intent of environmental justice, through creating more targeted regulation and enforcement in disproportionately impacted communities. But, in California, we fully haven't figured it out yet. It's still in its infancy. 
I hope AB 617 can eventually become a model once policymakers ensure that community groups will not be pitted against each other and exactly how to implement the regulatory framework. Eventually, I believe California can get it right and it definitely can serve as a model for the rest of the country. There are other opportunities, such as a bill by Delaware Congresswoman Lisa Rochester, to address the fact our national existing air quality monitoring infrastructure is out of date or is not adequately working to assess air quality for fenceline communities.
In your book, you document the 2018 Global Climate Summit in San Francisco, organized by former Gov. Jerry Brown. Having been there, seeing the thousands of indigenous and environmental justice protesters halting the elected officials attempting to enter, was truly an "only in California" moment. Activists protesting the climate action conference. What does that episode symbolize and portend for the Biden Administration?
The episode highlights that in a time of increased anti-environmentalism, activists perform acts of creative defiance toward not only Washington, DC, but also state and local governments globally. They help spark debate that can blend seemingly incompatible worldviews and foster the integration of ideas and values. Their engagement keeps us honest about the complexities of, and possibilities for climate action, and environmental justice. 
Moreover, when I wrote this book, I wanted to tell the untold environmental history of California. Oftentimes, people of color are erased from California's global leadership of climate change. California is often seen as a singular entity that uniformly values environmentalism and climate action. But, the real story is that we're a very diverse and at times conflicted state. Depending on what list you look at, we are the third to the sixth-largest oil producer in the country. We have the most diverse agriculture in the country and diversified industry. Because we are not a monolith, environmental policy doesn't just happen, and the various industries (oil, auto, tech) don't just roll over and let ambitious policymakers enact whatever progressive idea that they design.
Furthermore,  the protest at the Summit encapsulates the different visions of how environmental protection should happen, and how the benefits of regulation should be felt. So in my book, I showed the tensions around conflicting worldviews and values embodied in the policymaking process, particularly around climate change. The early years of California's climate change programs were often focused on a global concept, without understanding the causes of climate change actually happen from the same processes that create local pollution (refineries, goods movement). These processes create local pollution that contribute to disparate public health impacts in disadvantaged communities of color
But oftentimes, this sort-of what I call "carbon reductionist" approach was applied. It is a myopic idea of only focusing on carbon emissions, not how fossil fuel burning is impacting greater society and marginalized populations. And who suffers most? Richmond, California has the Chevron refinery —the largest oil refinery west of the Mississippi and the single largest gross emitter of carbon emissions in California — residents are forced to breathe toxic air while the focus is on only global climate change programs. That was the major gripe of environmental justice advocates in the early years of California's climate programs: all the resources, time, funding, and energy staff spent on global climate change programs and not on protecting public health at a local level or prioritizing multi-benefit policy programs – local pollution and global pollution strategies were siloed from one another.   
Your book talks about the relationship between state and local governments and how the entrance point for EJ communities to engage is the planning process. Today, this is playing out in the implementation of SB 1000. What are you learning in its implementation? 
SB 1000 was passed in 2016 and became operational in 2018. It requires cities and counties that have an environmental justice community within their jurisdiction (identified through CalEnviroScreen) to address environmental justice in their general plans. When the local government updates their general plan, either through a comprehensive manner or updating two or more elements of a general plan, they must now include an environmental justice element to address some of those disproportionate environmental impacts happening in their local communities.
It is an emerging issue with no norms, key metrics or best practices, so cities and counties are learning as they go. Roughly a decade ago, many cities were pioneers for doing a public health or wellness element within their plan. These communities are adapting that into an environmental justice element. There are also other cities starting from scratch, and just trying to comply with the law. It is quite evident when a city is just submitting a pro forma analysis. It does not address the underlying issues of environmental injustice in their city or county.
I am researching how it is being implemented and watching how the California Department of Justice weighs in on these local land use issues. The AG's office is issuing guidance letters and comment letters, essentially putting the cities and counties on notice that their environmental justice element is being reviewed. So, that's a hammer or leverage that could eventually lead to better and more substantive and meaningful environmental justice elements. We saw this with former AG Jerry Brown, where he sued counties for failing to comply with AB 32, which he interpreted extended to the general plans.
Unsurprisingly, a key finding out of interviews and content analysis is that governments working off of their prior public health elements are doing the best. Having the precursor of a health and wellness element to their general plan is a huge leg up.
Let's close with your recent research, studying the impact of wildfires on farmworker communities. California, changed forever by both wildfires and the work of labor leaders like Cesar Chavez and Dolores Huerta. What types of planning resources for resiliency do we need to protect these essential workers? 
Our changing climate is leading to more wildfires. These fires happen at a higher frequency and are more severe. My research looked at the Thomas Fire in Santa Barbara and Ventura Counties, which at the time was the second-largest wildfire in California's history by acreage. And we saw that governments intentionally ignored the needs of these migrant communities. Oftentimes, they are rendered invisible in the policy context, largely because they are undocumented. Political choices are being made about where resources and planning disaster relief should be allocated, or what populations are considered "worthy disaster victims".  
When the Thomas Fire hit, emergency evacuation orders weren't translated in languages most commonly spoken in the area. This was primarily impacting Latino migrants from Mexico as well indigenous migrants, that don't speak Spanish or English. It took migrant rights groups and environmental justice organizations coming together to do the translation, to provide protective equipment for workers that were pressured to safeguard the crops. These workers are picking crops in toxic and smoking ash, but not given any type of protective equipment to protect themselves. Additionally, these workers are not provided any unemployment assistance if they lose their job if the fields are overtaken by fire or if they get sick because of working in those conditions.
Furthermore, these workers have no access to health care or federal disaster relief (FEMA) funds. These migrant rights groups had to fill that gap. They raised over $2 million in private disaster relief funds for individuals that couldn't access other state and local funding.
When we are thinking about resilience and disaster planning, we need to think about these socially vulnerable communities that provide the sustenance for the rest of the world. Ultimately, the nexus between disaster planning, environmental justice elements, and state government climate programs have to work more collaboratively to safeguard these communities.