In February, Governor Newsom laid out an ambitious plan in his 2020 State of the State for addressing California's failure on housing affordability and homelessness. With emergency measures to control the COVID-19 pandemic taking precedence over controversial housing policy debates and local budgets stripped of all but the most essential services, the state remains stalled on a comprehensive and well-funded approach to increasing supply of affordable housing. TPR spoke to contributing editor and former General Manager of the City of Santa Monica, Rick Cole, who offers his outlook on what can be accomplished statewide on housing and how the state can effectively assist and motivate local governments to meet affordable housing production goals.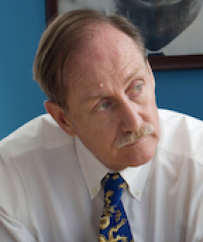 "The State's best leverage is rebalancing local revenues — away from reliance on sales and other regressive taxes and fees and toward property taxes so new housing pays its own way."
"The affordable housing crisis is now the most serious threat to California's future standard of living and quality of life. "
"Our public institutions must show progress against the frightening spread of blue tarps and tents to rebuild our faith in a just and safe future."—Rick Cole
Since stepping down as City Manager in Santa Monica, you've focused on housing and homelessness issues.  Attention was certainly being paid to the gravity of California's housing crisis before the pandemic.  Controversial legislation was being debated in Sacramento and Governor Newsome devoted his entire State of the State to homelessness.  Here in the Los Angeles region, there was a growing clash between so-called "NIMBYs" and "YIMBYs" as well as intense focus on the impacts of gentrification.  What are the prospects for 2021 on housing and homelessness?
Rick Cole: I see 2021 as a pivotal year.  Some factors are beyond our control like the national economy and the direction of the Biden Administration.  If the economy rebounds post-COVID, I believe cities will emerge more strongly than the doomsayers are predicting.  There's a great opportunity to overhaul and enhance Federal housing aid, but that depends on who Biden appoints, how much priority is given to housing and homelessness -- and whether Congress will go along. 
Still, there is much we do control, starting at the State level.
TPR Democrats control Sacramento yet have divergent views on controversial housing issues.  It also remains to be seen how deeply the pandemic will affect State finances. 
I see the opportunity for a "grand bargain" on housing between Sacramento and California cities.  Cities and pro-housing legislators continue to fight over "local control."  That dialogue of the deaf remains stalemated.  The State's best leverage is rebalancing local revenues -- away from reliance on sales and other regressive taxes and fees and toward property taxes so new housing pays its own way.  People need services, so when cities add people they should get the revenue that pays for those services.  That's more sensible than cities relying on declining "brick and mortar" retail.  It would also help address the jobs/housing imbalance that contributes so much to greenhouse gas emissions.  Equity considerations should be built in to fiscal reform to avoid unintentional consequences.  With the narrow defeat of Proposition 15, it's time for the Governor and Legislature to reform our finances for the 21st Century.  Since most city budgets are hurting, this is a favorable time to enlist their support. 
The other area where the State has enormous immediate leverage is the Housing and Community Development (HCD) department's authority over local housing elements.
Previous housing elements have largely been a paperwork exercise.  Cities are required to prove they have the capacity to meet the mandated Regional Housing Need Assessment targets, but there is little penalty for falling short.   Every cycle the State threatens that "this time it's serious" but even as many cities howl about how onerous the targets are, it remains to be seen whether it matters.
It clearly matters!  The affordable housing crisis is now the most serious threat to California's future standard of living and quality of life.  When it comes to economics, it's important to remember Stein's Law: things that can't go on forever, don't.  In the face of rising housing costs, there comes a limit to what innovative industries can absorb to attract and retain the talent they need to remain competitive. The service industries that support those dynamic sectors are already struggling.  For young people, working people and the poor, there is also a break point on how much rent and mortgages can eat into their income.  Like climate change, the housing affordability crisis is a slowly unfolding catastrophe.  It won't happen overnight, but California can't remain the fifth largest economy in the world unless people can afford to live here.
Our quality of life is equally threatened.  California retains formidable advantages of climate, natural beauty, diversity and social vitality.  We pride ourselves on our progressive values.  Yet rising homelessness is a graphic reminder of grotesque inequities and our fraying social fabric.  Our public institutions must show progress against the frightening spread of blue tarps and tents to rebuild our faith in a just and safe future.
Which brings us back to Housing Elements.  Cities have less than a year to submit their plans for meeting the RHNA targets.  Yet with organized opposition to making housing easier to build in many communities and funding constraints on financing affordable housing, how can cities meet those mandates? 
Not by doing business as usual.  Cities hire consultants who tell them how to write a plan that complies with State regulations.  Instead, the goal has to be finding community support for building substantial new housing, especially affordable housing, among their residents.  That's a heavy lift, yet it is the only course that will actually work in the long run.  It matters less whether HCD gives cities a stamp of approval to their Housing Element than that cities devise realistic approaches that will actually produce results.  Our aim shouldn't be that every city has an approved housing element.  It should be that over the next seven years, every city builds its share of the 1.3 million units of housing that we need to serve all income levels in Southern California.
Those RHNA housing targets are handed down from the Southern California Association of Governments – and 46 of the 192 cities in our region have filed appeals against them.  How can cities enlist community support for meeting those targets if they oppose their targets in the first place?
The appeals are a distraction.  In the last cycle, 14 cities filed appeals and zero were granted.  Any appeals SCAG grants this time will be minor technical adjustments.  The formula isn't perfect, but that's because government isn't perfect.  Cities will have 10 months from the time they lose their appeals to file their housing elements with HCD.  They need to start now to engage their communities in dialogue about the realities of our housing affordability crisis -- and enlist their diverse constituencies to come up with workable solutions.
That sounds idealistic, but where have you seen that work?
There are models of successful community engagement on housing issues that should be applied to drafting Housing Elements.  Pomona in 2017 adopted a comprehensive plan to deal with homelessness, including siting and building a 175 bed shelter.  Santa Monica residents voted in 2016 to raise their local sales tax as an ongoing source of funding for affordable housing.  Los Angeles adopted the Transit Oriented Communities (TOC) Incentive Program in 2016 to encourage construction of affordable housing near transit, which has sparked applications for building more than 20,000 units. Each of those successful efforts required patient dialogue, coalition-building and political will to put talk into action.  I've personally worked on three landmark General Plan rewrites in Azusa, Ventura and Pasadena that were unanimously adopted by City Councils after extensive community engagement.  Gail Goldberg calls this kind of commitment, "real planning."  Cities that try to cobble together a document to satisfy HCD without broad community support are simply kicking the can down the road.  Unfortunately, they are kicking it down the road to themselves and their successors.  Unless city leaders get real with their constituents about addressing affordable housing and homelessness, we are condemning ourselves and our constituents to far worse problems down the road.
There are sensible reforms and policies that should be widely adopted.  Abundant Housing LA is one of the groups advocating a wide-ranging agenda for revising housing elements around their four core principles: legalize more homes; make it easier to build homes; fund affordable housing; and end homelessness.  Shane Phillips at UCLA's Lewis Center has just published a comprehensive guide to affordability policies and programs under the themes of Supply, Stability and Subsidy.  It's called The Affordable City: Strategies for Putting Housing Within Reach (and Keeping It There).  Our challenge isn't lack of practical answers, Phillips writes, "it's making the moral and political case for action, building broad and effective coalitions, establishing shared values to fall back on when difficult trade-offs must be made and elevating community knowledge for solutions that are responsive to local conditions."
How confident are you that local city leaders are prepared for this challenge?
It depends on who you define as "leaders."  If you mean mayors, councilmembers, city managers and planning directors, most are far from ready.  Many have other priorities.  Others are fearful of political heat.  Some actually oppose building housing in their communities.
But if you define "leaders" more broadly, I think many community leaders are eager to tackle this challenge. There are thoughtful housing advocates in the civic sector, academia, business, non-profits and our diverse neighborhoods.  Those who are calling for change are the real leaders.  Their challenge is to get the elected and staff officials in their communities to seize the housing element opportunity to forge community consensus.  If these leaders succeed, we can make 2021 the year that we put California on course toward making decent and affordable housing both a community benefit and a human right.