As the California legislature considers budget revisions to fill the revenue shortfalls left by COVID-19, TPR spoke with Assemblymember Cristina Garcia, who shares the genesis and implementation of AB 617—the 2017 state law that changed how pollution reduction funds were allocated and implemented. The transformative program integrates a suite of actions to reduce community-level health impacts of pollutants and toxic emissions from large stationary sources. In Part 1 of TPR's spotlight on the Natural Park at Ramona Gardens, which receives funding through AB 617, Asm. Garcia emphasizes the significance of having local air districts at the table with community members and centering their voices to effectively target environmental pollutants as vectors of public health in disadvantaged communities.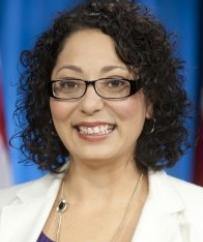 "It's the first time we've seen the local air district at the table with community members, creating action plans, and having to compromise. This is just one tool of the many tools we need to develop to right generations-worth of wrongs in those communities."—Asm. Cristina Garcia
Assemblymember, TPR interviewed Esther Feldman and Lou Calanche about the Natural Park at Ramona Gardens, a project that wouldn't be possible if it weren't for AB 617 funding. Can you give us some background of what AB 617 is and how the bill became law?
Asm. Cristina Garcia: AB 617 looks at air quality issues in a more equitable way, so instead of looking at the whole region, we started to identify hotspots with air quality issues. Then, we started to work with communities and the local air districts to not just monitor and get data, but to create action plans with actual emission reduction goals. 
​I live in a community that has six freeways, and most of my constituents live around traffic. These communities are often low-income communities of color that are treated like wastelands, and the constituents are treated like they're disposable. If we want to talk about California for all, we need to shine the spotlight on these communities to make sure they have justice and the same clean air they have in Malibu; our zip code shouldn't matter anymore. 
There's a second important component to AB 617, and it's that by 2023, any facility under cap and trade must retrofit to the best available technology. We often forget about that piece in the bill, but it's also an important tool that's going to be a critical complement to improving air quality for the communities on the fenceline of these refineries or manufacturing facilities.
​This was the first step, and it's exciting. It's the first time we've seen the local air district at the table with community members, creating action plans, and having to compromise. This is just one tool of the many tools we need to develop to right generations-worth of wrongs in those communities. 
You mentioned compromise, can you talk a little bit about how AB 617 was a product of the legislature and the administration working together on a path forward?
​I've been on the Environmental Related Committees at the legislature since I got there, so this is my eighth year in that space. When we're talking about climate change and cap and trade, we always talk about clean air, but when I was looking at the stats and reviews of the last ten years, all the research and data was showing us that we didn't get the benefits we expected.
It was clear to me that we needed to be more intentional. 
Ironically, the data also showed us that if we focused on cleaning up the air, we would have those benefits for climate change, so the reverse was true. When the Governor made it clear that he wanted to extend cap and trade with a 2/3 vote and that it was his top priority, I saw it as an opportunity to leverage it, put a bigger spotlight on environmental justice communities and move the pendulum in a different direction. I was then the chair of Natural Resources Committee, which any cap and trade bill would have to go through, so I knew I had unique leverage I had to use. I decided to be unabashed about pushing my community's needs to the forefront. 
​I introduced AB 378 that merged free credit in cap in trade to meeting certain air quality goals. Unfortunately, that bill died on the Assembly floor, so there was a hustle to make sure that we remained at the table to still make this an issue. The compromise was that the administration was to have two bills—a cap-and-trade bill and a clean air bill—and make them a priority.
​Somewhere in that little window of time, there was one important detail that was left out. We were also in the middle of negotiating SB 1—the transportation funding initiative—and the governor needed help getting votes. In the bill, there was language for truckers that allowed the continued use of diesel and fossil fuel trucks. This was very difficult for environmental justice communities like mine to support. 
​I was a team player, so I said to Governor Brown, "I'll work to get the votes, including pleading my own vote, and ignore some of the outcry from my community, but I want you to come to my district of Southeast LA and—just for a moment—experience the reality of what my life is like every day with my neighbors," so the Governor came down and toured the district.
We left at 7:00 in the morning from Sacramento and he was there until 2:00 in the afternoon. The whole time, the Governor and the driver kept complaining about traffic and trucks. I told them how nice it was, comparatively to the 5:00 PM rush hour. As we wrapped up the tour and were getting ready to meet with community members, the Governor described the area as a 'wasteland.' I said to him and his team, you can't come in with that perspective my community. We still take pride in our community, we want to be agents of change, and we want to know that we matter. If you're comfortable with this being a wasteland and not even trying to address the root causes of the toxics and pollution, you're comfortable with us being disposable.
I hope that's something that stuck with him, and as we negotiated cap and trade, he kept revisiting and bringing up that tour. For him, he experienced something in a way he hadn't seen before.
It passed in 2017, and now the air districts and CARB have begun implementation. What are some of your takeaways thus far? What has been working and what hasn't worked as well? 
​First, I'd like to remind folks that we don't have a model. This is a brand-new model that we're building, and I think one of the positives is that this has forced the air district to be at the table with community members and to take them seriously. We're putting a magnifying glass on these communities that are heavily burdened. But, because there's no model and we're creating something new, it's painful and there are definitely trust issues between the community and the air districts.
​The first ten communities were selected, and we've seen them develop community actions plans, and we've added three more along the way. We're now starting a mentoring program so Year 1 communities can help Year 2 communities for a smoother transition. 
​The air districts are trying to get better. The San Joaquin Air District was initially hesitant about this program, but most recently when I was in Sacramento, they were excited about it. I saw a change in perspective. They were excited to talk to the community, and there were about 100 people that showed up to talk about South Sacramento's air quality.
I want to point out a couple of victories in Wilmington, where the community action plan has clear emission reduction goals for refineries of 50 percent in the next handful of years. The Shafter community have been fighting hard to ensure that their work included pesticides—something that the air district has constantly refused to do—and through this process they have agreed that they'd include it in their monitoring and emission reduction goals. 
​If you talk to participants in the program, sometimes they feel like the district is still talking down to them or not taking them seriously, so there has been some frustration. Some communities worked hard with the district and got a victory when they agreed expand the boundary so that it reflected closer to what the community wanted. Like any process, it hasn't been perfect, but the fact that we're getting victories we never would have had is a really big deal. 
Turning to the present and the near-term future of GovernorNewsom's May Budget Revise, the proposed budget prioritizes AB 617 funds. But, there are still many unknowns. Give us some insight into what's happening with AB 617, and what kind of funding we could be looking at. 
​In the May Revise, Governor Newsom specifically prioritized AB 617, which is exciting, and we're appreciative of that. He capped it at only $200 million for this year, and that's contingent on the money that's coming in; we don't know what we're going to generate along the way. 
​That being said, $200 million is a significant cut to the budget we had last year. And we've added the additional communities since last year. So, we are organizing in the legislature—with advocates and stakeholders—to at least get him to keep the budget at what we had last year of $255 million. To me, that's still a cut because we're adding three additional communities, and we're going to make it work with the same dollars we had last year.
We understand, and I'm prepared for some of those cuts, but one of the things we've seen through COVID is that if you live in one of these polluted communities, you're much more vulnerable. We see it in infection rates, ICU rates, and death rates, so I don't think we can afford to slow down the work that we need to be doing. 
As we close, what are your insights on how to connect the dots between COVID, cleaning up the air, and ensuring access to open space and green space? 
​Encourage folks to learn more about AB 617 to make sure it continues to be funded properly. AB 617 is one tool and it's exciting to see it grow, but how do we add to the toolkit? That's a question that we started to explore early on in January, and we started to talk a little bit more about land use and mitigation. We ran out of time, because COVID really condensed our legislative session and made it hard to hold a discussion with stakeholders. 
​How do we add a health factor to the data we're looking at?  Because when I'm talking to constituencies, they're learning about particulate matter and what it means, but at the end of the day they want to know about their health. We have that data out there, so we need to think about how we use resources that we already have and use them to make this a more powerful tool. We can't let the budget cuts slow us down, we need to get creative along the way to help ensure that we all have the best air quality in all of our communities.