TPR spoke with SoLa Impact Founder and Managing Partner, Martin Muoto, about SoLa's mission to: "Earn good returns, while targeting 'really tough neighborhoods,' often with properties plagued by many vacancies and a lot of deferred maintenance, renovate them and create decent, affordable housing." In addition to providing affordable housing, SoLa is now invested in economic development opportunities in the communities of South LA—most specifically, through the Beehive business campus on 60th and Central.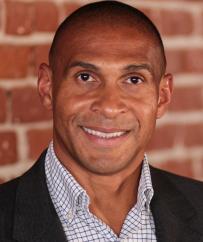 "Over the years, I've come to realize that we must find a way to enable economic development and bring that into South LA… That led us to build out what we call Beehive, the nation's first opportunity zone business campus, on 60th and Central... " Martin Muoto
Martin, having been featured in Forbes magazine as the nation's leading opportunity zone (OZ) fund with an urban focus; introduce our TPR readers to SoLa Impact Fund's mission and focus.
We certainly appreciate the recognition from Forbes and the Sorenson Impact Center, which selected us as the leading urban OZ fund in the country. We've now raised almost $200 million to invest primarily in housing in the broader South LA area—South Central, Compton, Watts.
I've been investing in South LA for over 10 years now in affordable housing. We have 1,500 units that we currently own and operate, with around 3,500 tenants. With the opportunity zone fund—our most recent fund—we expect to build an additional 1,500 units in South LA.
Most of what we've done historically has been in rehabbing and preserving affordable housing. What's really exciting about this fund is that we're adding to the housing stock. Through our opportunity zone fund, we're adding covenanted affordable housing, meaning that the tenants have to be 60 or 80 percent of the area median income (AMI). Developing affordable housing in Los Angeles is a tough, complicated process, and we certainly hope that the city—while they've been helpful— continues to accelerate the process of bringing to market affordable housing.
Our particular focus is on people who have been formerly homeless—about 60 percent of the tenants that we've placed into our units have been homeless at some point. We need the City's help to drive the completion of those 1,500 units; and, if we do that successfully, it becomes a platform for doing 3,000, 5,000, or 10,000 units. HHH raised a billion-plus dollars from sales tax, but we're doing it all using only private money, private investors, and a simple, straightforward model.
We felt that despite work we have been doing for several years, affordable housing is really only on one side of the balance sheet. Providing affordable rental units is only part of the equation.  Over the years, I've come to realize that we must find a way to enable economic development and bring that into South LA. I've been driving the streets of Normandy, Florence, Figueroa, and Vermont for a dozen years, and unfortunately, the level of business activity is not great; it needs to be energized and increased.
That led us to build out what we call Beehive, the nation's first opportunity zone business campus, on 60th and Central in the heart of South LA. We have now over five acres of incredible space that we hope will be a hub of economic activity. We have special incentives for local and non-local companies, minority-owned businesses, and women-owned businesses, but we also want the Googles and the YouTubes to also inhabit that space and coexist with local businesses and local entrepreneurs. 
Elaborate on what you envision the Beehive business campus on 60th and Central—in the heart of South LA— becoming. 
When we started, it was fairly controversial. Even some of our investors thought we had lost our mind building out a business campus in South LA, but it's something that we've been incredibly excited about. Councilmember Curren Price has been incredibly supportive, and we really appreciate that.
We have now over five acres that we've acquired. These are authentic red brick buildings with bow truss ceilings and saw-tooth roofs. These are some of the coolest buildings in all of Los Angeles; they don't build them like they used to. We expect that this will be a hub of activity for entrepreneurs, innovative companies, and, particularly, social enterprises, meaning business that combine profit and purpose.
Our hope is that we have a lot of social enterprises that are committed to the community. We are hoping to incentivize and hold accountable the companies that ultimately become tenants to hire from the community. We have about four or five ways that they can fulfill their commitment, either through volunteer hours, scholarships, mentorships, or by hiring, but through all these channels, our goal is to ensure Beehive business tenants really become part of the community. 
The wide, campus-like atmosphere is going to be incredible post-COVID. But also, both from a corporate responsibility standpoint and an individual human level, the one thing that COVID-19 has demonstrated is that we're all interconnected, literally and physically. Even the most vulnerable among us can affect those that are in the 0.001%. It doesn't matter how rich you are, you still need food, services, and to interact with people. I hope the takeaway is that people realize their interconnectedness and corporations realize the heightened responsibility they have to communities like South LA. We're hoping that we get that unique mix of companies to become tenants and really help the South LA community thrive. 
How has the COVID-19 pandemic impacted your investment agenda? And, your mission?
Let me speak about to what we've specifically done in response to COVID-19, and in what order.
 First, we fortunately had eight-person Social Impact team that does a tremendous number of community programs during the normal course of business.  That team immediately became a virtual encyclopedia of financial assistance resources for our tenants. Their objective was to read, decrypt, and understand all of the federal, state, and local stimulus packages—the CARES Act, Paycheck Protection Program (PPP) and dozens of city-wide and non-profit programs —and interpret how to apply and what to apply for our tenants, both on the business and residential side.  We have been assistant tenants in filling out applications and collecting supporting information so that they could be at the "front of the line", so to speak, for assistance. As you can imagine, half the battle for our tenant base is simply navigating the system, so our internal team have become experts and are helping our tenants in that process.
Part two was a food drive, and it's our sixth week of doing it. We're giving out about 100 critical care packages to our tenants who are over 65 or homebound with a health condition. We are giving them almost a week's supply of food. It's fresh meat, fresh vegetables, and fresh fruit, and well as canned food and supplies. It's been incredible; the volunteers are not only from SoLa Impact, but also our contractors, our architects, and even our investors have all volunteered. They participated while practicing social distancing and the appropriate protocols, and we're delivering this food this and every Thursday.
The third thing is that we've have been giving away Chromebooks to our tenants whose kids don't have adequate technology to continue their education. I spoke to one of our tenants whose husband and two kids were sharing the same computer.  Other tenants were trying to use only their mobile phones to have their kids get access to their school work.   Our residents in South LA don't have the same resources that the kids in Santa Monica or Brentwood have, let's just be very honest.   So we've given away 100 Chromebooks to our tenants kids, and we raised $24,000 from investors and friends of the fund, and 100 percent of what is raised is going to this initiative. The good news is we've delivered 100 Chromebooks, the bad news is we now have a wait list of 100 folks.
We have a digital town hall every two weeks where we bring together 30 or 40 of our nonprofit partners in our regular course and just talk about what each organization is doing, ensure that we're encouraging each other, and make sure that our efforts are not duplicative.
All of our efforts so far, in our view, are vitally important, but our efforts are only meeting a short-term need— a direct response to where we are today.
And here's what we know: Number one is that the COVID-19 crisis is impacting the black and brown community disproportionately, both in contracting the virus and in death rates. We know that our tenants and other low-income communities are at the front lines of a lot of industries that continue to be exposed, whether that's hospitality, the restaurant business, food delivery, or logistics.   Number two is that there will be another "crisis" in the future – whether in five, ten, or fifteen years; and whether it is a health crisis or a financial crisis – it will again disproportionally impact low-income communities, and African American and Latinx communities. 
We felt that it was critically important to start engaging now on how to "change the trajectory".  We feel deeply for those who have lost their jobs, but this may be a good time for the folks who have been displaced, furloughed, or laid off to go back to school -- to retrain for jobs that are less vulnerable or in more demand in a post COVID-economy.  So we've raised $250,000 along with NaHCo3, the family office of Ashley and Marc Merrill, for what we're calling the COVID-19 Retraining and Recovery (CORE) fund. It will initially give out 100 scholarships to folks who want to go back for certificates, an associate's degree, or vocational training particularly for jobs in healthcare and technology.  We are talking about jobs like an licensed practical nurse, an emergency medical technician or a lab technician.
Both sectors are going to be higher paid, but hopefully less vulnerable to the next disaster that's certainly going to happen.  And both of these sectors will help the country become more resilient and prepared for the next pandemic.
To leverage opportunity zone funding for investment in South LA, you already have raised over $100 million; and now, you again are raising funds ($250,000 recently) for your CORE fund. Which has been more difficult—the earlier OZ funds or the latter?
Our goal is to get to one million dollars, but this is simply a non-profit initiative or grant, so it's technically not a Fund.  But I'm working as hard as I did to raise $1 million for our non-profit as to raise the $115 million opportunity zone fund. We've challenged a lot of folks that we know in the opportunity zone fund world to rise to the occasion.
I will say unapologetically that it is our responsibility to come to the front of this and come up with innovative solutions for low-income communities. Again, it doesn't need to be our CORE fund or SoLA's idea, but it's incumbent on developers, landlords, and funds to think creatively and act right now to find medium- and long-term solutions for the communities that we invest in.
At the end of the 2008-2009 fiscal crisis, Blackstone and other hedge funds, taking advantage of a cratering mortgage caused housing crisis, became over time the largest owners of residential real estate in California's five largest markets. What gives you hope in this economic collapse that what SoLA is doing envisioning for South LA will win the day?
Following an economic crisis, the demand for affordable housing rises, and the need becomes even greater. Families share homes and apartments and move in together, and people move down the rent ladder because they need more affordable housing.  Ours is fortunately a very recession-resistant business, and  we are seeing more applications for our apartments than we've had even pre-COVID. We are encouraged by that, but it also is very bitter-sweet, because it demonstrates the lack of affordable housing and the acuteness of the shortage.
You noted above that 'affordable' housing in Los Angeles is relative. Certainly, until the pandemic, housing prices were fast becoming unaffordable. For example, the first housing development proposals that sought HHH funding were priced from $350,000 to $400,000 a unit; but, less than a year later, they were almost double that amount. How does one build affordable housing in this market? 
We are a for-profit, privately funded, and we think we can build at half of those rates. Now, the issue is that you've really got to align public and private innovation to drive down the cost.  You have to find ways to combine the best of the for-profit world with the good intentions of the non-profit world.  We are quite aggressive at figuring out smart ways—including panelization, modular construction, process standardization, and continuous improvement —to drive down our costs.
We are relentless in finding every way to be innovative in the process. We have to continue to find ways to accelerate the timeline and increase the certainty of getting affordable housing developed. We're going through a lot of challenges, but we are also finding true partnerships in the Planning Department and Building & Safety that are really striving to work through the bureaucratic process to enable more construction of affordable housing. We know it can be done. 
To what extent are California's unaffordable housing costs primarily due to local regulations vs. the labor market, material costs, and land costs?
In California, it is all of the above. It is regulations, its bureaucracy, its land costs, its labor costs, and its incentives. We looked at HHH, and we found that the administrative overhead, the complexity, and the incentives weren't aligned. We want to drive down costs and build as affordably as we can, because ultimately, I really don't see any scenario under which building for $500,000 per unit translates into something that is sustainably affordable.
Over the last 50 years in South LA, there were critical Savings and Loan and banking institutions, like Broadway Federal Savings and Loan that played an indispensable role in the development and finance of the kinds of housing you're talking about. This is a new world you're playing in now in 2020 with opportunity zones and private money, share with us the difference between the old world and new world of financing developments.
I think that there is an appetite among the big banks to finance developers that have models that work in areas like South LA. First of all, the banks get Community Reinvestment Act (CRA) credit, which is important to them. Our preferred lender has been First Republic bank, they have been very flexible, innovative and with a true commitment to improving communities.  We have a very long-term hold perspective, which is very different than most developers. Most developers want to build, make money, and get out. Even before the opportunity zone legislation came about, our hold periods were 10+ years. We have to drink our own Kool Aid, right?
We build a building, fill it, manage and maintain it, and deal with all of the consequences of the way we construct, and I think that's the right model. You and your investors have to be patient, set the right expectations, and find the right financial partners. First Republic has been incredible, and there are others—like JPMorgan Chase and Pacific Premier Bank—who have wanted to work with folks in low-income communities that have operational experience and want to do this for the long term.
Again, a lot more developers want to build in highly gentrified and gentrifying areas in Koreatown and North Hollywood. We've gone to those developers and asked to partner with them. They'd rather make their money and get out in two or three years, and that's fine, but it's still hard to convince developers to develop in South LA, Watts, Compton and these historically neglected markets. 
One of the concerns about opportunity zones for in LA and the Legislature is that tax-advantaged, private capital will accelerate the transfer of ownership away from the historic owners of South and East LA neighborhoods. LA Council President Herb Wesson's council district has reportedly seen a 60 percent turnover in land ownership. Address the fears that bringing private capital to the development process of Los Angeles will accelerate gentrification?
Ultimately, the issue of gentrification is real, but I think that it's also there opportunities to uplift the community in the process.  We believe in 'economic integration,' which is that there need to be people from different socio-economic groups in the same community interacting, working together, and living together. It must be intentional diversity and inclusion.   
I use the example from New York. The beauty of New York, and historically of the public transit system, is that a kid could take the subway and be next to a doorman, waiter, investment banker, attorney, or doctor, and look at them as people they can interact with.
Young African-American men come up to me and say, "I've been watching you walk in and out of that building for the last three months, what are you guys doing? I want to do what you're doing." These are not anecdotes, these are real examples.
We want the dry cleaner who has one location and is driving a Honda. So that two years later, he's got two dry cleaning locations and a used Lexus. Five years later, he's got a Mercedes, and the kids are seeing how wealth is created. I know it sounds a little philosophical, but having lived, worked, and invested in the South LA community, we believe strongly in that, and it's one of the pillars of what we do on the social impact side.   You have to be able to see it, in order to be it.
Are SoLa's investments in South LA leveraged or competitive with initiatives by Councilmember Marqueece Harris-Dawson in Crenshaw i and/or Mayor James Butts remaking of Inglewood as the Sports & entertainment capitol of Southern California?
I'll make one comment: Inglewood and Crenshaw are uptown for us. Marqueece is doing an incredible job in his district managing the competing interests and ensuring the community needs are being considered, and I think that the Crenshaw corridor has a tremendous amount of potential.
I will say that we are very focused on projects like the Beehive. We want local entrepreneurs, local businesses, minority- and female-owned businesses, which can become opportunity zone operating companies and have some incredible tax benefits and wealth transfer within the community. We're set up to facilitate those businesses, meaning that we have partnerships with leading consulting firms, accounting firms, and compliance firms to help them get established in the community. But, we also want the infusion of ideas from other parts of LA—from the Westside to downtown.
We believe strongly in that concept of economic integration. We have some buildings with folks that have been formerly homeless and on Section 8 and a USC PhD student right in the same hall. I know it's a bit idyllic, but it is what makes for the most vibrant, diverse, and dynamic societies. We look at the glass half full in that sense.
Lastly, share a bit of your history and how you came, 10 years ago, to be investing as you uniquely are in South Los Angeles?
Well, I took the circuitous route. I grew up in West Africa, and came to the United States when I was 18. I went to the University of Pennsylvania and got a full scholarship to the Wharton School.  Either their standards were lower back then, or I was a little smarter when I was younger.
My father, who is Nigerian, went to medical school in Poland in the 60s. At the time, the Soviet Pact countries were trying to influence African leaders and so they gave scholarships away hoping they would go back as communists, but my father went back to West Africa as a capitalist. When I was a student at Penn and had no money and would work 20 hours a week in the university kitchen washing dishes, I would call home and complain but my dad would remind me that he did seven years of medical school in Poland with one year of Polish language. He reminded me he was a black man in Poland in the 60s.  So I realized I had nothing to complain about.  That's my history.
I spent most of my career in venture capital, then came out West in 2004 to run one of our portfolio companies, which happened to be in Los Angeles. I fell in love with LA's vibrancy, diversity, and spirit and decided to stay.  No matter how overwhelming today's COVID-19 challenges, that vibrancy, diversity, and spirit will return.