Prior to Governor Newsom's announcement of state assistance for California's immigrant and undocumented workers impacted by the COVID-19 pandemic, TPR spoke with San Diego City Council President, Georgette Gomez, on the critical value of providing accessible and factual information and resources to the city's diverse constituents during this unprecedented public health crisis. President Gomez stresses how the pandemic is magnifying systemic inequalities—including income, language, and digital barriers—and the need for additional federal support to serve the essential frontline workers and communities throughout San Diego as city revenues run dry.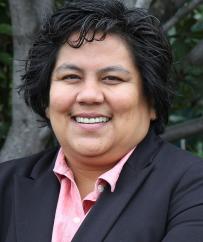 "We entered this health crisis in an unbalanced way—with people already living paycheck-to-paycheck—and now, that paycheck they were depending on is no longer coming."— Georgette Gómez
Council President Gómez, share the representational & operational challenges presented by COVID-19 that demand your attention as a Councilmember? And, as Council President, the city and metropolitan issues that you have prioritized.
This pandemic has most definitely become the big focus of our entire lives; it's literally the center of what we do every single day thus far. That translates to the work that I do as the council president in a couple of ways.
As a council representative for District 9, I'm making sure my constituents are receiving the information that's flowing from all levels of government, because City Heights—one of the communities I represent—has families that are not hooked up to the internet nor do they have computers. Yet, the world right now seems to be shaping around the necessity of having devices. We are reaching out to our constituents via phone to ensure that people are connected to the resources that are available.
We're also connecting with other entities that have stepped up to do translation work for us. As we're creating or aggregating important information that needs to be communicated, we are trying to turn that around in different languages—Spanish, Somali, Vietnamese— to make sure that the whole community is being informed. Outside of delivering information and checking up on constituents, we want to ensure that they're getting access to food and—if they have a computer—connecting them to providers that are making internet service available either free or at-cost.
That takes me into City Hall. When all of the different stay-at-home orders were coming very quickly, we knew that we would eventually not be in City Hall. So, we created a system to be able to still meet, review, or adopt items to continue business for the city moving forward and to ensure that the public is participating in some way, so we don't leave the community out of the decision making. That capability is still limited—it's a hybrid between some staff and councilmembers calling in while three other council members are present at the hall. The community sends in written comments that are read during the meeting. [After this interview was conducted, the San Diego City Clerk instituted a new system that allows members of the public to call in and speak directly during Council and committee meetings.]
COVID-19 required us to make certain decisions, like closing restaurants and certain businesses. Because of the economic impact this has on people working in these industries, we crafted a proposal right away that laid out 14 different measures. The main ones related to implementing a moratorium on evictions—at least for the period that we have this emergency in place—to protect both residential renters and commercial tenants. That's been adopted already; as soon as we introduced the idea, we made it into a policy.
The premise was to ensure that folks didn't have another worry. Without their regular paycheck, and it was already two weeks before the end of March, people were going to start trying to pay bills. It was a response to create less anxiety, and help government respond without more people living in the streets; we were trying to address both areas. 
Elaborate on the income inequality and inclusion issues that have been brought to the foreground by the pandemic; and, how the City of San Diego should address these challenges today.
I've always been an advocate—and now a government decision maker—engaging in policymaking through a lens of equality and inclusion. It's more important now than ever before to really create a better system that treats people equally. By leaving a lot of people behind, we now have to create emergency policies to address those inequalities. But if, from the beginning, we had addressed inclusion and equality, I would have less pressure to create an eviction policy targeting low-income communities or renters in the middle of a crisis.
We knew that they were going to be susceptible, but there's a domino effect of what could happen if we didn't introduce those policies immediately. If people lose their homes, that would have led to more people in the streets. But if we're not protecting landlords that are investing in the properties, they might have to declare foreclosure, and that doesn't help anybody.
How do we create a better system that truly creates inclusion and equality? In moments like these, we see what the challenges are, and it does create a lot of pressure. We don't have the resources available immediately, and we had to really scramble. I have an amazing team that is very well connected, so we were able to use those relationships to help us achieve the communication that needed to occur.
TPR in the past has featured and published a great deal on one of the neighborhoods you represent, City Heights; specifically, the two-decade long effort by the City, Sol Price and others to revitalize that underserved community. What today are the economic stresses caused by COVID-19 that likewise need immediate attention by the City?
I try to do a round in the evenings to look at the conditions of the community—outside of City Heights, too—and it's a bit of a ghost town. A lot of businesses have to close doors very early, because there's not a lot of traffic coming in; we are definitely seeing economic impacts. We entered this health crisis in an unbalanced way—with people already living paycheck-to-paycheck—and now that paycheck they were depending on is no longer coming.
The economic impacts are very severe and very real right now, and the federal government is providing very little support. Yes, it's about $1,200 if you qualify, and it's better than nothing, but it's still not enough. If you calculate the real cost of living in San Diego, we will quickly see that is not nearly enough for a family.
A big chunk of our population is living paycheck-to-paycheck because of the conditions that we have created by not pushing a bigger increase to the minimum wage.  It does give an opportunity to really have an economic discussion and perhaps create better systems. I know that there have been talks about universal paychecks, and maybe for the working-class communities that's what's needed.
The way that we have it structured right now, a lot of people are applying for unemployment, but it's not getting to them immediately, and there's a longer wait even to apply. It's very difficult and inaccessible, so we're trying to connect community members to organizations that can help people apply, because otherwise they wouldn't be able to apply. It's just that simple. It's not an easy application to navigate through, so if they don't have support, they're out of luck.
It gives us a moment to pause and realize that the systems we currently have are not truly accessible to the people who really need it them most. We need to figure out how we make it accessible in a real way, because right now it isn't. Once we get out of this, there's a lot to be said about what we do to address the safety-net holes that are popping up right now.
What are the resources that the City of San Diego—and to a larger extent the county—is able to draw on to respond to the needs you so eloquently just articulated?
The reality is that the people helping others apply for unemployment are raising money from individuals, not government grants. The challenge is that some of the people that they're trying to help are undocumented, and—if we support nonprofits with government money to do this very critical work—there's the fear of having to report that information, and it might get misused. It feels like people are becoming targets.
I know California is super-inclusive, and we've been doing a lot of work trying to acknowledge our immigrant communities and our undocumented communities. We're seeing how important that community is to the makeup of California. But la ot of the people that are working right now—cooks, people stocking our markets, people working the land to make sure that we have our vegetables and fruits—are the undocumented.
It's interesting that although we don't have a system to truly address their needs, they're the ones that are keeping us going right now. The undocumented need support right now, and the entities that are set up to support them are working with very little resources; they're doing it because they care. We need to figure out how we can support them without so many conditions, if even that's a possibility given the environment at the federal level.
I've been very mindful of that reality and using media to express that we have a safe environment; we want all people—no matter their background—to feel comfortable getting access to the resources and the health care they need.
Let's turn to the CARES Act and to federal proposals and discussions for additional assistance for individuals, businesses, local governments. As someone who aspires to be a representative in Congress, what should Congress be doing—in addition to what it's done—to better serve the community economic needs?
We need more resources. I know they just passed their biggest emergency relief package ever, and that's great, but we don't yet know the massive impact COVID-19 will have in our community. From a local government perspective, we're starting to look at the numbers.
Most of our budget comes from taxation, and a lot of those taxes—transit, gas, sales—have decreased, if not completely at zero. For example, our TOT (Transient Occupancy Tax) revenue is literally zero, and we're projecting it to be at that level for a couple of months.
We haven't entered into the budget discussions, but they're not going to be pretty. We're going to need a lot of resources and support from the federal government—beyond what's been allocated—because the impacts are going to be pretty significant.
I am a true believer in the idea that when you act globally, there will always be impacts at the local level. For me, the global aspect of this really demands that our federal government step up even more.
There are businesses that are closing that have fired practically their entire staff and are encouraging them to apply for unemployment. But when unemployment is not set up for these circumstances, you start seeing an impact. Yes, the federal government gave some relief, but at the same time, I don't think it's been enough; they need to rethink it.
I'll speak to the moratorium that we passed. I was very proud of it.  People are going to be protected for a couple of months, but eventually they have to pay that rent; the rent's not being forgiven. How are people who can't afford one month's rent right now going to afford three months' rent in June? If we follow the logic that these folks are not making any money, then how are they expected to pay their rent? How is that going to happen?
I hope there's a bigger conversation on either rent relief, or rent support, to make sure that the people who need it, get it, and it doesn't just go to the banks or the landlords who are still putting pressure on the renter.
San Diego, having survived past fires and sea-level rise, surely has emergency response plans to offer guidance in like circumstances. But how prepared do you believe your City Council was for a respiratory pandemic? And is the notion of "Resiliency" being necessarily redefined by this health pandemic?
We've been able to react pretty quickly. One thing that I am extremely proud of is how we've managed to create a very healthy environment within the local jurisdictions here. Meaning, we're working extremely well with the county, and we're working very well with other cities. 
As soon as the Governor declared this emergency, our county had every single mayor from all the different cities from the region present to say: This is what happened, is happening, and what might be coming next. That was very refreshing and something we've never really seen before.
 n terms of cooperation, we're doing an amazing job having the medical necessities available. Obviously, not everybody is getting tested because we don't have enough resources; there's not even enough doctors and the nurses right now. So, we're seeing the impacts of not having a stronger workforce within the medical field and having to act as we find out where the shortages are.
For me, this is the biggest thing that I've ever experienced and lived through. So, I don't have any other reference for how this is done. We don't have the necessary structure; there's a lot of gaps. But what we do have, we've managed to pull together and make available very quickly.  Aside from having amazing cooperation between the different leaders here, the Governor and the state are doing an amazing job as well. We're pretty lucky to have strong leadership really stepping up and taking the necessary action but also getting the resources available as quickly as they can. There are shortages, no question whatsoever, and there's a lot of gaps, but we have a strong leadership making decisions right now and are able to move and tackle these shortages quickly when and where they arise. 
Turning to more local policy issues, how well—when there is no normal—is the city managing the time-sensitive negotiation of the San Diego State University West stadium site sale?
It is my understanding that the negotiation team is still meeting weekly and those conversations have not stalled. Obviously, the meetings are now being done through devices, but conversations continue to move forward. We're going to continue pushing forward and making sure that it happens, because it's important for the region, regardless of this crisis.  The investment and vision that the voters approved is still very much alive. And we want to make sure that it moves forward. I've expressed to the negotiation teams that I'm still very much committed to that deal coming forward.
Please, elaborate.
San Diego State is in City Council District 9, which I represent. I'm a product of San Diego State; it's a university that made a huge impact in my life and that I care about deeply. Making education available to San Diego is extremely important, and San Diego State is more accessible than any other university here.
The partnership of San Diego State touches a lot of different issues that I care about. The university is currently limited by space, and in order for them to expand for more students, they need more room. In order to provide housing to those students that they're educating, they need to develop more student housing.
Right now, one of the biggest impacts is that the university sits right next to a community with residents who have lived there a long time. We're seeing the impacts, which have been going on since before my time, of students living in the community. How do you create a good environment for both student-living and family-living and create those bridges between students and the established community in the area? That's always a challenge.
 The other challenge is the cost of living. Students are starting to go into the community and flip some of these long-term housing options into what we call 'mini dorms.' So, we're starting to lose some of the multi-family units to student housing. 
As you can see, the university's expansion is critical for multiple reasons. We need more student housing that does not flip multifamily housing for student-living, and the university needs more room in order to be accessible to and accommodate more students.
So, San Diego State-Mission Valley couldn't be more perfect in terms of the location and its proximity to where the main university currently is. It's right next to the trolley and one stop away from the main campus. The vision is to expand the university to create a campus for research and business.
They're going to be looking at other areas to expand, while also creating housing for students and faculty, which right now is important and missing. Housing is important, period.  But when you're trying to attract students and professors--and California housing has become such a luxury--we can attract people and keep them here by making sure housing is available.
This project is very critical for higher education and investment in San Diego, but it also will come with a park. We have an extreme deficit of green space. This project will also transform park availability. It's right next to the river, which we have treated in a not-so-pleasant way. So, this is an opportunity for us to restore a river that has been ignored, create more greenery, and expand education. It's a win-win for everybody.
In conclusion, how has presiding over the council and its work through this pandemic changed you, personally?
It really is challenging me. I've always been a troubleshooter; that's been my character. But this definitely has taken it to a different level. I'm just making sure that we're being responsive and grounded.  This crisis really tests your character for how you're going to handle things. I've been very, very mindful of trying to stay extremely grounded. I do not want to lose my connectivity, because then we start making irrational decisions. Crisis mode is not a good way to operate.
So, I've been very extra mindful to recognize that we're in a crisis, but not treat it as a crisis that messes with how you think and the way you engage—just identifying the issue and working through it by figuring it out from beginning, middle, to end and responding to each challenge trying to be extra-mindful to ensure that you're being your best self.