Last month, the County of Los Angeles ordered the closure of all county hiking trails to keep with the statewide physical distancing mandate and stay-at-home-order. TPR spoke with Executive Director of the Santa Monica Mountains Conservancy (SMMC), Joe Edmiston, on the impact—fiscally and operationally- these recent closures have had on his organization's responsibilities and operations, as well as his concern about another fire season compounding the region's disaster response challenge. Lastly, Edmiston shares his personal thoughts on the life and legacy of the late Lewis MacAdams, founder of Friends of the LA River and lifelong advocate of the city's waterway.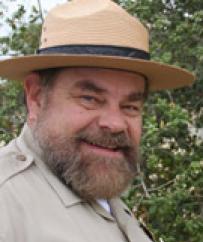 "The fact that we can sustain that wilderness around us is what's exciting about life in Southern California: it ain't tame." —Joe Edmiston
Joe, TPR interviews you on a day where the global news is distressing, but the local news maybe even more so. This morning, Friends of the LA River's Lewis MacAdams has died. A poet who for decades was a crusader (FOLAR) for transforming the LA River from a concrete lined flood channel to a more natural state, he also was a close friend to many, especially you. Could you could speak to his legacy: restoring habitat, widening the channel, creating wetlands and providing access points and bike trails along an 11-mile section of unpaved riverbed north of downtown?
Joe Edmiston: My first introduction to Lewis was through his poetry. His poem says, "The river spoke to me through the concrete and said, 'Help'." That was so powerful. We'll never again look at the Los Angeles River as merely a flood-control engineer's miracle for getting water to the ocean as quickly as possible. There always will be that element of a real river speaking to us, and Lewis brought that forward. He was able to do in words what couldn't be imagined. If you look at the river in 1985, before Friends of the River, it was his words that created the space for people to think differently. That's what a poet does.
The real legacy is to change people's attitudes. It's not even so much a physical contribution, it's the fact that people now actually think of the river as a river, as opposed to just being a sluice. That's the real contribution Lewis made. Just last week, we adopted the Upper Los Angeles River and Tributaries Masterplan. It took us two years to do so—1,500 people participated in the process—and it was unanimously adopted by all the jurisdictions.  This is all directly related to the idea that there's a real river running through it, not just a flood-control sluice.
Moving to the immediate, share the priority challenges of COVID-19 for the Santa Monica Mountains Conservancy, whose mission is—through direct-action alliances, partnerships, and joint-power authorities—strategically buying back, preserving, protecting, restoring, and enhancing treasured pieces of Southern California to form an interlinking system of urban, rural, rivers, parks, and open-space trails and wildlife habitats that are easily accessible. 
Definitely, and here's the great challenge we have to our mission: I look through our social media, and out of the tons and tons of photos, we do not have a single picture of a solo hiker. Everybody uses the mountains in a congregate manner, and that's what you do. At every one of our venues, everybody is there with their friends enjoying nature together, and that's one of the great advantages that we have. Now, nature has to be parsed out six feet, and it really is a refutation of everything that we're about.
We keep talking about how beneficial it is to get families and friends together, but we're going to parse this nature out at six foot intervals? The idea of making one-way trails with no friends and no touching is dramatic, and I'm not sure that we're ready for that.
The last thing I want to do though is to have such an attractive locale that people say, "Come on, let's just get together." If somebody then expires based on the attraction of nature and friendship, that's not a good thing. Trying to enforce what is contrary to every human impulse is very tough.
Much of the political conversation in Coastal California for the last decade has been for the need for greater affordable housing opportunities. This policy agenda has translated into a call for greater residential density and thus, the reliance by residents on the availability of accessible parks, beaches, and other resources for recreation. With the current public health pandemic elevating public health as a value, will localities reconsider how to spatially plan in a healthy way our coastal California communities?
Not really, because the pandemic will be over and forgotten at a certain point. Who remembers the Spanish Flu, SARS, or previous pandemics? But, I do think that the issue of personal space is going to be much more important. People are now going to be thinking about how to protect themselves in an urban environment. That may not mean fewer condos, but it may mean a whole different approach to socialization. For example, in New England, everybody's house has a vestibule for taking snow gear off because it's cold outside in the winter. So maybe we'll end up with pandemic vestibules.
If you're following the JPMorgan analysis—which I do religiously every morning—they are looking at the comparison with the 1918-1919 (Spanish Flu) pandemic. It had its initial bump exactly where we are right now, then it flatlined. But starting in September, October, November, there was a huge spike in deaths because the virus had mutated or nobody cared about it anymore, so there was no social distancing.
If that happens, then we may have a continuing spike and may actually need a new regimen related to vaccines for these little buggers. Did you ever think that you would be part of a historical moment and actual participate in something that would be in the history books? I didn't.
What has shelter-in-place and social distancing done to SMMC's many programs?
Well, the critters are happy. They don't have to contend with the humans, quite literally. We're seeing many more aggressive demonstrations, and I keep getting more and more videos of mountain lions from the mountain lion people. Their cameras are getting much more of that. Unfortunately, our people really want to serve the public and when we have to turn the public away, that's hard on us; that's not our mission. 
Recently, and related to SMMC mission, the California Fish and Game Commission voted unanimously to list Southern California and Central Coast mountain lions under the California Endangered Species Act. Elaborate on the implications of this administrative decision; especially considering that the loss of landscape connectivity and open space from Santa Cruz to the US-Mexico border is a key factor threatening such species' survival. 
P-56 was sacrificed-- sacrificed by that odious person, but that sacrifice changed the history of conservation of the mountain lions, because it forced the Fish and Game Commission to recognize and take action. I remember it very vividly as I was very much involved on the Mountain Lion initiative in 1990. It was always felt that mountain lion predation was so great that we had to have an exception. If you swore on a bible that there was a predation problem, you could kill the lion.
Now, we have gone so far in the other direction where the public says, "Okay, we lose a couple of sheep, so what?", and frankly, it surprises me. The free critters that we all love have embedded themselves in everybody's heart. I love them.
Elaborate on SMMC's commitment to wildlife connectivity in Southern California?
We're going to have connectivity. We're going to have a wonderful crossing over the 101 Freeway, for people during the day and mountain lions at night. We're finally going to get to the goal of uniting what the neighborhoods, communities, and habitats that the freeway system intentionally cut through. We're gradually knitting all that back together, so I expect that the successors of P-56 won't have to date their cousins.
Who would think that there was that much wilderness left? It's a great thing that it's there and it's real; you have to look out for it, and you have to be alert. This is not the land of chipmunks. It's a really vibrant system where animals live and die. Bambi gets eaten by the mountain lions—that's nature and it's going on right around us. The fact that we can sustain that wilderness is what's exciting about life in Southern California: it ain't tame. 
Pivoting to the fiscal impacts of the coronavirus on the Santa Monica Mountains Conservancy's operations. Note that TRR recently published an interview with resigning city manager Rick Cole in Santa Monica, where a prosperous city was faced with the cratering of revenues while demand for city services exploded? Are City challenges similar to the challenges Santa Monica Mountain Conservancy is facing?
They're very similar and I understand why Rick resigned, but I'm sticking with it. We have the same issues and our operations are not supported by the State of California. We appreciate the help we get from Los Angeles County, but the critical component for our keeping the parks open is self-generated revenue—parking lots, weddings, movie production, homeowner assessment, that sort of thing. We have relied on non-tax sources and that has been a great strength to us.
Back when Schwarzenegger was threatening to, and did, close down a number of state parks, we puffed out our chests thinking we were immune. That's not the case today because we're closed down tight. We're going to be only opening as we can do so based on the amount of revenue coming in, in that sense we are exactly in the position of a medium sized business. It's going be a slow opening process for us.
How is your staff of rangers and others experiencing the impacts of the closure of public access to trails, beaches, etc.
Well, we're trying to make it as easy as possible. Some essential functions are going to go on and we do have some revenue sources that are not that impacted—assessment districts and things of that nature—but it's tough. I don't want to call it devastating because we don't actually know the duration; we're in the middle of this. We don't know, so I don't want to make generalized statements but it does not look good.
We're all about coming to nature and enjoying it, we're here to help you and facilitate that. And now, when we have to say no, naturally it's a blow to the solar plexus of our folks. It's totally against the ethos that we have.
Lastly, SMMC, as an organization, has been for the last two years addressing the disastrous fires that plague California — including Southern California. Now, in addition to the aforementioned, the pandemic is challenging operations. How are you and your board prioritizing SMMC's resources?
We have significant funding for fire prevention and remediation, and that's going to be carrying us through the rest of this fiscal year and next fiscal year. If coronavirus and the fires get together, we could have a really devastating end of this year if we have another fire season equivalent to what we had in 2018. We need to really think through how we prepare the state for potentially double-barreled disasters.