From the April 9 Los Angeles Business Council (LABC) webinar series COVID-19 & California's Housing Crisis, TPR excerpts LA County Supervisor Mark Ridley-Thomas and Sacramento Mayor Darrell Steinberg, co-chairs of Governor Newsom's Council of Regional Homelessness Advisors. Moderated by LABC President, Mary Leslie, Ridley-Thomas and Steinberg provide an update on state and local efforts to secure appropriate supportive housing for some of the state's most vulnerable. Both emphasize their mandate to address both the public health crises of COVID-19 and homelessness by advocating and rapidly implementing innovative supportive housing solutions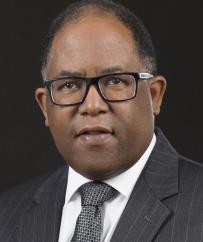 "It is not the intent of the Board of Supervisors to house people temporarily in the context of the COVID-19 crisis, only to have them turn into the streets again after this is over."—Mark Ridley-Thomas
Mark Ridley-Thomas: We've been very hard at work here. Part of what we have to deal with are ways in which to bolster the existing homeless system such that it is: enhancing outreach, maintaining and improving services in the context of physical distancing, and trying to beef up the services that are provided in terms of that which is clinically based.
The governor has engaged in a very impressive way. The notion of standing up hotel and motel rooms to bring homeless individuals in is key to that effort. Targeting asymptomatic individuals and doing what we need to do to make sure that they are protected from being infected as they are older adults with underlying health conditions.
Quickly stated, our goal is to have 15,000 hotel rooms across the county by April 26. As of April 8, the county has assigned occupancy for some 1,000 rooms, and 400 of those have been brought online with staffing and supplies [update: 766 as of April 18]
Now, the other set of individuals will be those who are in, what we call, 'medical sheltering.' We are operationalizing isolation on sites and targeting those symptomatic individuals that have been tested and are waiting for results. We had procured some 900 units, 200 of which have been brought online, but more work to be done there.
So, what's the exit strategy? We have to make sure that we are sustaining this work because obviously we are not bringing people in to turn them out again once we get past COVID-19.
Ladies and gentlemen, let me just be clear. We will get past this. We just have to be determined and practice best practices that have been suggested by our health officers. The homeless population will still need to be addressed in a significant way.
The interesting thing is that it will focus on the same population—those who are 65 and older—to try to build out an appropriate response headed by our emergency response team, our health department, our CEO, and the Department of Public Social Services collaborating to improve the quality of life for that population on an ongoing basis. It is significant, it'll model what can be done.
Darrell Steinberg: Everything around homelessness, I think we ought to stipulate, moves too slowly. And yet, we are in a unique context these weeks. Homelessness was a public health crisis prior to COVID-19, it is an elevated crisis during COVID-19, and if we implement with fidelity, the opportunities that we have through federal stimulus, state funding and leadership, and through local and community leadership, we could exit the COVID-19 crisis not having cured homelessness, but making it better.
That is our opportunity here today, because we now have a different context. The public health crisis that preexisted was not ignored, but it was one of many considerations for the state and public officials dealing with a myriad of challenges. Now—because of COVID-19—we know that the greatest risk of spread is in nursing homes, but it is also a great risk on the streets for obvious reasons. People are already vulnerable when it comes to health care and their conditions, and they are living in ways that are not very sanitary.
We now have $150 million in emergency homeless aid from the state, on top of the $650 million that we were able to attain through the 2019 state budget. The federal stimulus includes billions of dollars through the emergency services grant program, as well as the CDBG program.
In my city and my county, and throughout the state, we are combining resources and forces to expedite getting people into safe shelter. This is complicated by the fact that the traditional way of bringing people into large congregate shelters is not appropriate. In fact, one of the strategies that we are all having to employ is actually getting people out of congregate shelters into isolation if they are symptomatic, or at risk.
So, the motel strategy operation is a key strategy, because it enables us to bring tens of thousands of people from the streets into isolation in various forms—between the trailers and the motels. This is a signature chance  to elevate and to increase the number of people that were already in the process of beginning to develop the infrastructure and the plans to enforce what we hoped would be a legal mandate to bring people off the streets.
In these next weeks, if we can deal with the significant challenges that exist around transportation—about the insufficient number of service providers—especially to provide the level of services that many people who are coming off the streets need, then we can develop, in real time, a rapid rehousing strategy that is of a much more massive scale than we have been able to accomplish up to now. Because of COVID-19, this is the chance to get people indoors not just for the short term, but for the long term.
I know in Sacramento—and I think it's largely true in other places as well—our challenge implementing the strategy is not the number of units or the number of beds. We have more offers from hotels and motels than we've ever had before, they want to be of help. The issue is, 'how do we stand up the infrastructure on transportation, services, and rapid rehousing?' But there's no complaining here. I'm looking at this as an expedited way to try and achieve what supervisor Ridley-Thomas and I led over the course of the last six months, and that is to tacitly or in legal form, require at all levels of government to bring people indoors.
There are two other pieces of this that are really relevant. One is  the old concern that we get thousands of people off the streets only to see them replaced twice over by the next cohort of newly homeless is even more serious today. While rent control, rent stabilization, and just-cause eviction are controversial topics, we're going to have to figure out how we protect the landlords and the property owners who aren't getting their rent payments timely, and a lot of that's going to have to come through new and existing federal stimulus. At this same time, it is appropriate that we slow down—if not stop—the pace of evictions, especially for people who have lost jobs, have been furloughed, or cannot pay their rent because of the crisis. We will never achieve a net decrease in the numbers of people—even with this sad opportunity—if we're not dealing with the front end of homelessness in the first place.
It may not be a bad idea down the line for similar efforts to be undertaken throughout other parts of the state, because maybe it's time toi nvolve all of our branches of government in trying to solve this problem. Because of the multiplicity of jurisdictions that exists in local government, and the complications of the state mandating what local governments can or cannot do and the preeminence we seem to place on local control in our state, maybe it is appropriate to find a broader strategy around how to involve either the state or the federal court in helping us manage the complicated nature of trying to make real progress. There are some who want to do a lot, some who do what they have to do, and some who don't do nearly enough.
This is a terrible time for people of California, the country, and the world, and I wouldn't go so far as to say that this homeless strategy is a silver lining. There's no silver lining here, but there is an opportunity to do in a shorter period of time what Supervisor Ridley Thomas and I called for in California with greater urgency.
Mary Leslie: Mayor Steinberg, with local and state budgets being tested due to emergency funding being appropriated during COVID-19, how will we be able to fund long-term strategies post-COVID to provide interim and permanent housing?
Darrell Steinberg: We don't have a complete set of answers now. I'm not exactly sure how the LA programs are working out, but in Sacramento we are funding our motels strategy exclusively with the new monies that both the federal and state governments have provided through their respective stimulus packages. We do have money from the 2019 budget that has not been fully committed yet—but that's going to be one source to put into our rapid rehousing strategy.
FEMA has said that they would reimburse up to 75 percent of the costs of getting people indoors. That's an important point, but their declaration only goes until the end of April. I'm sure they will extend that if the stay-at-home orders continue, but we don't know if that is open ended. I think we have to put a lot of energy into advocating with our congressional leadership—and for those who are on the other side of the aisle who've got connections with the White House—to make longer term solutions to housing people a significant piece of his federal stimulus money.
CDBG and emergency services grants are great, but that's different from giving us all the capacity. For example, we are buying some of the motels that we are re-leasing so that people who are living there can stay in them with the right kinds of support. We also have to step up and commit to an efficient housing strategy in California. We have to create more inventory, and we're not going to create more inventory by doing three- or four-year planning cycles to build affordable housing that can cost upwards of $900,000 of public subsidy per unit. We've got to go to scale on more efficiency housing if we're going to get more people indoors.
Mary Leslie: There's a whole series of bills in Sacramento to address this issue. What is your sense? Will those bills continue, get amended, put on hold? What will happen? 
Darrell Steinberg: I have my own my own trauma because, as you remember, I was a pro tempore of the State Senate during the worst budget downturn in state history, and that was four out of the six years of my leadership.
I worry that the state government is going to find themselves in very similar straits as we were in 2008/2009, so their ability to be able to respond with sustained stimulus funding, I'm not sure that's actually a reality. The federal government, on the other hand, does have the ability to print the dollar.  I think that's where we need to put a lot of our effort in terms of the fiscal piece and relief. If the state budget is what I fear it will be as a result of this, the federal stimulus may bolster state budgets— and I sure hope that it does—but the state cannot provide more help to local governments if they don't have the money themselves.
Mary Leslie: Supervisor Ridley-Thomas, we've activated our recreation centers and hotels to increase capacity to shelter the unhoused, and there have been a lot of innovative and swift responses to the virus, which you and others have been responsible for. Recognizing that we are still heavy in the response phase, what can we do to inject the same innovation and purpose to ensure that people housed under the present circumstances can be housed in other suitable locations and not be displaced back onto the street once these venues reopened to the public?
Mark Ridley-Thomas: The thrust of the motion that's being heard by the Board of Supervisors on this coming Tuesday focuses precisely on that issue, looking at the population of those who are 65 and older to create a pathway for long-term sustainability in terms of housing. These are those who, on the one hand are the most vulnerable, and they also have certain benefits attached to them in terms of Medicare and a range of other support systems that make it possible for us to be successful.
I think it is fair to say that we can and should make progress; we shouldn't discourage innovation; we shouldn't discourage thinking outside of the box. That's some of what has caused us to move in the area of dividing the two groups in terms of those who are symptomatic versus those who are asymptomatic, and being prescriptive as to how we will keep them sheltered beyond the current crisis.
You can be absolutely assured that is front and center. As I said in my earlier remarks, it is not the intent of the Board of Supervisors to house people temporarily in the context of the COVID-19 crisis, only to have them turn into the streets again after that is over. That is completely unacceptable, the problem will be compounded and exacerbate the existing set of challenges that we have.
We are anticipating what we must do to prevent that and working overtime to address it. That will be memorialized in the context of the adoption of the motion that Supervisor Janice Hahn and I put forward on the agenda. The public sector has the infrastructure, the private sector brings innovation; we should marry those things to create significant solutions.
The fortunate part of this is the county of Los Angeles is blessed with certain endowments. We obviously are going to face a moment in time when those might be depleted. We hope not, but we have to brace ourselves.
We have to be very realistic, but it would be an absolute shame, a total travesty to do anything that causes the homeless crisis in the Los Angeles region to be worse than it is today. So, our job is to do all that we can to prevent that and make progress through some of the methodologies, programs, and solutions that are currently on the table.
Good for us that we have a governor who has engaged in an unprecedented way. Good for us that we have a Board of Supervisors that is taking this matter seriously. Good for us that the city of Los Angeles, the mayor, and the City Council are attempting to address this. The extent to which those three levels of government are collaborating, we will have better outcomes.
Mary Leslie: Several of our viewers are asking about the eviction protections have been put in place, for many renters living in multi-unit housing that do not qualify for any mortgage relief. Since the loans are not Fannie or Freddie, how can landlords—both small mom-and-pop and larger—be protected financially during the crisis if their funding stream is being delayed or deterred?
Mark Ridley-Thomas:  We have taken what might be considered step one, which is to make sure that people are not upticking in terms of the homeless crisis in our region. And now, it seems to me that we have an obligation to make sure that property owners, landlords, etc. are not being unfairly disadvantaged because of the crisis in which we find ourselves—and more and more conversation at the federal, state and local levels are taking place.
Perhaps a full scale of drill down is appropriate—perhaps leaded by LABC—to get to the short strokes on what kind of proposals can be put in place in terms of the packages and relief scenarios that make this fair and balance. There's nothing unreasonable about that, and I'd be more than happy to participate in those kinds of solutions and working sessions.
Mary Leslie: The LA Times published an article today about the increased cost of developing affordable housing in California, due to burdensome regulations, labor costs, and financial hurdles. What measures—given that most elected officials at this point have emergency powers—will we be contemplated at the state, county, or local level to help reduce the cost to develop affordable housing? What do you envision?
Mark Ridley-Thomas:  It all reduces itself to the following: political will and the capacity to build consensus so that change is wrought. I think this is a propitious moment to do that, and I fully expect that we will see movement on that front.
At the level of the state legislature in particular—which is where a lot of this has to happen—that which is experienced at the local level, as you will appreciate, is largely derivative. The real conversation is in Sacramento, state and local government can impact that through legislative advocacy. Both Mayor Steinberg and myself are refugees from the state legislature, and we're still recovering from the battle scars that we endured and basking in the status as local elected officials, but we are not without influence and capacity.
The Los Angeles County delegation is significant. We have offices in Sacramento and we do legislative advocacy, so we will be in a position to help move that forward; the Santiago bill (AB 3300) is just one example, there will be more coming forward.