Facing budget shortfalls and fiscal hardships already dwarfing those of the Great Recession, the economic aftermath of the COVID-19 pandemic was the focus of Los Angeles Mayor Eric Garcetti's 2020 State of the City address. Ahead of the release of new city budget projections—estimating a $598 million shortfall—the mayor last night announced furloughs for thousands of city employees in the form of 26 unpaid days off—equivalent to a 10% reduction in pay. Wary to assure the unyielding strength of the city, Garcetti urged state and federal support for cities and agencies on the front lines providing services to support communities during this unprecedented global public health crisis. Find the full transcript and video online, here.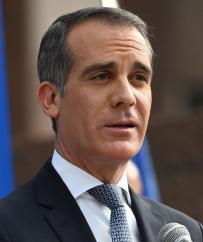 "From a fiscal perspective, this is the worst it's ever been."—Eric Garcetti
Our City workforce has filled roles they never expected. DWP and Department of Transportation staff now deliver meals to the elderly. Sanitation and Rec and Parks employees help run centers that shelter Angelenos experiencing homelessness. Our housing and economic development teams connect people and businesses with loans and relief that can make the difference between ruin and recovery.
Just as these folks were vital to our City's response, our city has been vital to our nation's response, with our port and airport serving as the entry points for personal protective equipment that comes from overseas on its way to the doctors and nurses on the front lines in every corner of this nation. 
In years past, our region has been hamstrung by bureaucratic and political barriers. Not this time. Building on relationships fostered over the last few years, we came together. County Board of Supervisors Chair Kathryn Barger and her colleagues have been incredible partners. Dr. Barbara Ferrer has become a steadying presence in our homes, like a family doctor for a county of 10 million.
I have convened the mayors of L.A. County's 88 cities on the phone. Several times a week, I have a Zoom meeting with the mayors of California's 13 biggest cities. I talk weekly with mayors nationwide and around the world, where we share ideas and best practices.
Some leaders pass blame, but I'm working with leaders who share responsibility. We talk about how to protect our residents and how we can work together to deliver a robust, just, and healthy recovery.
It's been the honor of my life to serve this city for 19 years, and I've been proud to be part of this City family every single day I have worked here. The days are long, the years pile up, but whenever I'm tired, I think about my fellow City family.
For two decades I've witnessed acts of courage from your public servants: I've seen firefighters on the line, in the heat and the smoke protecting our homes and our people. I've cried with the families of police and traffic officers after they've given their lives to us. I've seen workers volunteer on their weekends to clean up an alleyway with community groups on their own time and on their own dime. 
When I said that this government would not shut down, I was confident because I know the people who make up your City government. And I knew they would make good on that promise.
All of us remember the 2008 recession. Until now, it was the biggest economic blow of our lifetime, and it hurt. But there's no way to sugarcoat this. This is bigger, and it will hurt more.
Our City revenues have plummeted. Hotel reservations have collapsed. After 9/11, our airport closed for two and a half days, passenger traffic fell by as much as a third that month, and it took 10 years to claw our way back. Today airport passenger traffic is down 95%.
From a fiscal perspective, this is the worst it's ever been.
We've borrowed $70 million to date from our Special Funds and our Reserve Fund to front the costs related to our COVID-19 response.
Some of that will be reimbursed by the state and federal governments. Some may not.
But under no circumstances was I going to save pennies and lose lives. Rolling out testing for Angelenos at highest risk, expanding it to cover everyone with symptoms — these were expenses we couldn't shy away from. And they won't be the last ones either.
I am so grateful that, together with this City Council, we had the foresight to build up our reserve fund, year after year after year.
Combined with a budget stabilization fund, we headed into the pandemic with reserves equivalent to double what we had before the great recession and the highest on record. You don't get awards for saving money, cutting costs, and boosting bond ratings, but our prudence has paid off.
Tomorrow, the City Charter requires, and I will release my projected budget for the fiscal year that begins July 1.
I always say that budgets are a statement of our values. But this year, it is also a document of our pain.
Soon, many departments will have to operate at sharply reduced strength. Cherished programs will lose funding, while recreational and community services will see significant changes. We'll have less to spend on removing graffiti and caring for our urban forest. 
We face sharp limits right now. But I draw a red line around the foundation of our common good — those "back to basics" investments that keep our neighborhoods safe, our streets clean, our families housed, and our children and seniors fed. 
We've already enacted a hiring freeze in our City government, and we will continue that in the coming year. Unfortunately, we must also face another painful reality: that our civilian employees will take 26 furlough days over the course of the next fiscal year … the equivalent of a ten percent reduction in pay.
I don't take that step lightly. Every day we're down one person is a loss to our City.
It's my priority to reduce the number of furlough days as soon as possible, and I've called on the federal government to either loosen restrictions on emergency funds that prevent us from using them to replace lost revenue, or in the next cares package, help bail out cities, as they've bailed out banks. 
The bottom line, though, is, just like households are doing, we will have to scale back the scope of our spending.
But even as we scale back, we will never lose sight of our core commitments to protect your health, to jumpstart your recovery, to deliver your fundamental services, as we keep pursuing our long-term missions: ending homelessness, saving our planet, and eradicating poverty.
Hard times like these raise big questions. And there are four that we need to ask ourselves right now.
First is the most urgent: how will we make it through?
It may be months before we safely gather in large groups. It may be a year or more before a vaccine or medicine frees us from periodically returning to safer at home. But I'm so proud of what we have done as a City to stanch the bleeding. Emergency protections like our eviction moratoriums and our rent freeze are helping.
Our manufacturers have retooled their assembly lines to produce face coverings and essential equipment and keep people at work. Our labs and universities have lent their expertise on testing, tracing, and economic revitalization.
And our philanthropic community has stood up to ensure that no one gets left behind. With donations large and small, the Mayor's Fund for Los Angeles has put food on the table and grocery cards in people's hands; provided childcare for our healthcare workers, meals for our seniors, and beds and safe havens for victims of domestic violence.
And my wife, Amy Elaine Wakeland, First Lady of this City, was a driving force behind our launch of the Angeleno Card initiative of the Mayor's Fund, which offers funded debit cards to our low-income neighbors and doesn't discriminate based on immigration status. 
The resilience and resolve of this City is on display every single day, in our embrace of physical distancing, in mutual aid networks and neighborhood support groups.
Right now, we're in the first battle of this fight. Without a vaccine, we will almost certainly see a second wave of this novel coronavirus. But let me be clear: we cannot stay indoors for six or seven months without risking an even greater economic catastrophe.
So that brings us to the second question: when can we begin to leave our homes?
The choice between saving lives and saving our economy is a false choice. The only way we can save our economy is by saving lives, and the only way we can save lives is by clearing a path to safely reopen our economy. 
So how do we get there? Just as we didn't wait for cases to ramp up to take action, we don't wait for cases to ramp down to start planning. Last week, I laid out the key elements of our return.
One, testing both for the virus and for its antibodies.
Two, real-time dynamic monitoring to see where cases are, followed by three, an immediate tracking and tracing response to quarantine people so that the virus can't spread to others.
Four, we need to build and maintain our hospital capacity, both the human talent of nurses, techs and doctors, and the equipment and supplies so they can safely treat the worst cases.
And five, we need ongoing research & development into treatments and a vaccine for this disease.
To lead this effort and rebuild our economy, I have proposed the formation of a "CARES Corps" — a coalition of local governments and health agencies, medical professionals and businesses, backed by federal funding and built to combat COVID-19 and to accelerate our economic recovery. 
In the short term, the CARES Corps would helm contact tracing efforts, deliver food to vulnerable populations, support testing sites, build and staff shelters, and assist small businesses.
In the long term, it will address systemic disparities in access to medical services, incentivize careers in high need fields, train corps members in disaster response, and cross-train individuals from the public, nonprofit, corporate, and independent sectors to support essential services during emergencies. It will take advantage of the skills of public workers and put to work unemployed Angelenos.
And we will get this done by putting the power in the hands of any Angeleno willing to step forward.
The CARES Corps is only one facet of our comeback. We're also going to have to accept lasting changes and new realities in our daily lives, new rules of the road for our workplaces, our schools, our train stations and airports and malls.
And I want to be clear: it won't all happen at once. Going back out won't be like flipping a single switch in a single moment. Think about a circuit breaker box. To stay safe, some switches stay off while you turn on the lights one room at a time. It won't be everything at once.
But it will be so much better than the darkness.
Our third question is about that darkness. When we do go back, what damage will have been done? 
At the height of the great recession, our city's unemployment rate hit 13.4 percent. Today it's higher. Preliminary numbers for the top of this month show nearly 300,000 angelenos unemployed. That number will rise.
Behind those numbers are neighbors, behind those statistics, stories, and it hasn't fallen upon us equally. Fewer Latinos, Asian Americans, and African Americans have the option of working from home. Many working-class Angelenos of color who could keep working have had to risk their health by doing so, so we were among the first cities to protect vulnerable workers by requiring face coverings and hand sanitizer at essential businesses.
So far 600 of our neighbors have died from COVID-19 across the county. Nearly 3,400 have been hospitalized.
There's good reason to believe that your actions have flattened this curve, but to be clear, the numbers are still going up. Yesterday, we lost 81 Angelenos. Until our numbers start to shrink, we still have work to do.
And each one of those dots on a graph represents one human life cut short. And that one life is connected in turn to families, communities, workplaces, neighborhoods. We are all inextricably linked to every single loss, each day.
And in the grip of this disease, that means a final embrace denied, for the sake of the health of loved ones and medical personnel. This cruel virus steals even the hour to gather and mourn and salute their memories.
We are in the midst of a collective trauma that will leave none of us unmarked and so many of us deeply wounded.
If there's any justice to be had, it will be in how we heal.
Which brings me to my final question: when we do return, who do we want to be?
You see, outside of our homes there is a great city waiting for us. The things we love about L.A. will persist: our weather , our music, our food and culture, our drive to transform and innovate, our freedom, and what we believe in — the idea that we all belong to a block, a neighborhood, to this entire place, and to one another. 
We live, in the words of my friend Antonia Hernandez, in a city that is an imperfect paradise. While our weather and our people are unmatched, we, like everyone, struggle with our challenges. We grapple with homelessness, with children growing up unequally, with traffic and pollution, with decades of neglect that have piled up.
And while we set the pace for the nation in so many ways, in innovation, in freedom, in belonging, we must ask of our city and our nation, at this time, is normal really what we want to come back to?
Before this crisis, on a normal day in the United States, we could see the federal minimum wage stand still for years while executive compensation knew no limit, and hear the slogan of America first elevated above actually putting all Americans first, pushing our immigrant neighbors into the shadows.
We knew some families who could easily pay the full costs of college, while too many others drown in debt.
We had some friends who had better health insurance and better health, and others whose bodies pay the toll of the discrimination in our society and disparities in our medical system.
Long before this, too many Americans had been forgotten by a country that speaks about the many, but too often favors the few.
But just as I believe that Los Angeles was uncommonly prepared for the unforeseeable, I believe that Los Angeles can inspire the groundwork for a future that is much better than normal ever was.
To have 36,000 people without a place to call home—that was a public health crisis well before COVID-19 came along.
I called for a FEMA-level response to our homelessness crisis almost two years ago, and it took this virus to finally get the federal funding to begin to make it happen.
As a City, we haven't been waiting to take action. We've been digging deep, passing record investments like Prop HHH and Measure H to deliver housing, healing, and hope to the unsheltered. But in this crisis we have a new county-wide plan to find thousands of hotel and motel rooms to prevent the spread of the virus among people experiencing homelessness. And once those fellow Angelenos come inside, they must not return to the streets.
We passed a moratorium on evictions. But let us guarantee that the loss of a job need not mean the loss of your home. Let's back with federal funds a suspension of rent and mortgages during this crisis. Let's use a massive expansion of Section 8 to create the affordable and the social housing that will end our housing crisis for good.
Here, we made our College Promise — the largest now in the country — our commitment to making community college free for every LAUSD graduate.
Let's build on that nationwide with a promise to make college free for everyone who wants it.
Give millions more the opportunity to pursue education as part of our recovery, to attend four-year universities as well as trade schools and community colleges as a way to get ahead, just as the GI Bill after World War II democratized education and wealth.
The soul of our recovery will shape the contours of Los Angeles' future. We've been addressing our biggest problems head-on: homelessness, traffic. So let's not just try to recapture the past when we have the blueprint of the city of the future.
A few footsteps away from here, seven years ago, I stood on the steps of City Hall and made a promise to get us back to the basics. We filled enough potholes to fill the Coliseum. We paved enough streets to stretch half the length of the equator. We didn't do it to stand still, we made ourselves a runway to our destiny.
Strengthening city services, common-sense reforms and a culture of problem-solving—these were the keys to building up our economy. That same solid foundation will help us build it again. After the last recession, we recovered faster than the state, and the state faster than the nation. Los Angeles was a sprinter.
And that same solid foundation and that same speed can help us do it again.
We're not just Angelenos. We are the caretakers of the third-largest metropolitan economy on the planet.
We don't just live in L.A. We work in the nation's busiest port and live in some of the safest neighborhoods in recorded history.
And as we look ahead, we carry no small plans. So, here's the deal I'm going to put on the table.
To our friends in Washington, D.C.: Do what it takes to keep us building. Pass a national infrastructure bill now, so we can put people back to work, and we'll show the country how to get it done. 
In L.A., we have already begun this work. We passed Measure M, the sales tax measure that funds our transit vision, the nation's biggest in history, times two, a vision of connected communities, 21st-century infrastructure, and an L.A. economy that's green, resilient, and built to last.
When we passed it, I said we would produce over 787,000 middle-class, recession-proof jobs and I said we would make sure those jobs found their way to communities who have too often been denied a fair share of our common prosperity. Now it's time to accelerate those jobs.
But with transit agencies nationwide bleeding right now, we need federal support to keep America moving.
When I released L.A.'s historic Green New Deal, I thought I would see my grandchildren before I would see a sky as blue and pure as the one outside our windows today. We won that sky by saving each other from a disease. But if we can keep that sky blue, we can save many more lives from asthma, from cancer, and from climate catastrophe. Do we dare do any less? We'll need bold steps to protect our planet and build a green economy that works for everyone. Let's take them. 
Because L.A. Leadership gets results. We've led the way by staying home and by raising the wage. We've led the way by wearing face coverings and by protecting the undocumented. Those Angeleno cards were followed by California's $125 million fund to support immigrant families—let's follow that by opening every part of our recovery to every immigrant no matter their status.
You see, when Los Angeles takes action, we inspire the nation and the world. And god knows we could all use a little inspiration right now.
The shock to our economy and our lives recalls the scale of the challenges faced by the generation who sacrificed through the Great Depression and World War Two and who turned their eyes to president Franklin Delano Roosevelt.
What he offered throughout was reassurance and resolve, healing and hope. And in his second-to-last State of the Union address, he said that "true individual freedom cannot exist without economic security and independence." He told us that on top of the liberties of speech and worship, we must guarantee jobs, homes, medical care, education, and protection in old age and infirmity
Roosevelt didn't try to get America back to normal. He painted a picture of "new and better days." He called us to imagine not only what we could have, but what we could—and must—stand for.
We owe each other no less this very day.
The forces that fought the New Deal tooth and nail would be astonished to see how much more wealthy our nation is today, and how much more concentrated that wealth is once again.
This nation has the resources to fund a real recovery. And it must, so that we can hire and train the teachers, the homeless outreach workers, the contact tracers, and lab technicians of the cares corps.
Because the stark budget choices in front of us must not be the final word. Don't bail out banks but leave cities with cuts and collapse. 
If you want to reopen America, America's cities are where this nation begins. A weakened city brings the pain of laid-off workers, fewer services and sends ripples through every main street and every home. But in resilient and strengthened cities, businesses will find their footing once again, the jobless will find their work and their worth, and communities will protect their loved ones' health.
Our strong city is willing to lead the recovery just as we moved fast when the pandemic arrived. We—like cities across this country—must not be abandoned now.
 So, tonight, I stand before you because our city's charter directs the mayor to "publicly address the Council on the state of the city."
I've never before hesitated to assure you that our city is strong.
But I won't say those words tonight.
Our city is under attack. Our daily life is unrecognizable. We are bowed and we are worn down.
We are grieving our dead. 
But we are not broken, nor will we ever be.
So the real question — the real test — is how we will come back. Not just our initial response and recovery, but our commitment to each other and to long-term change.
 The spirit that we have felt each night at home and across this city is the spirit that must move our economic recovery and our commitment to heal an unjust world.
There is no plan, no purchase, no wall that will forever protect Los Angeles from a threat like this. But we can forever promise ourselves that the next threat we face, we will face stronger and more equal, with the chasm between rich and poor closed and covered.
We can promise ourselves that we will leave behind the old normal in favor of a new justice.
Our city is hurting. How could it not be? But our city is ready.
Our eyes are open wide to the high demands of justice.
Our arms, outstretched, announcing to a neighbor we may not touch that we will not let you fall. 
Our hearts, Los Angeles, are stronger than ever. We are the City of Angels and we will fly again.
Thank you, and good night.