With Governor Newsom's stay-at-home order rounding the three-week mark, small businesses not deemed "essential" have been unable to operate and now can only hope for state and federal assistance programs to help weather the pandemic—or face closing their doors entirely. TPR spoke with Ann Rogan, Executive Advisor on Economic Innovation to Stockton Mayor Michael Tubbs, who shares how her Central Valley city is serving its citizens and businesses during the pandemic—and redefining "resiliency" to prepare for the future.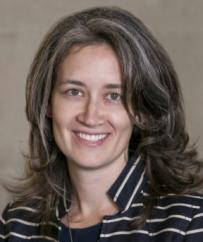 "Obviously, there's a lot of disruption happening around healthcare and education, so how do we make sure we're building the foundations to react and be proactive for the future?"—Ann Rogan
"There is absolutely a need for unconditional cash to make sure that we are weathering this crisis and—as the COVID aftermath materializes—have the ability to pay to restart our small businesses, pay our bills in April, May, and June, and get back to work."
As the senior advisor for economic development for  the city of Stockton's well-regarded Mayor Michael Tubbs, share the priority challenges that you, the mayor, and the city are addressing both immediately and also to prepare for recovery.
Ann Rogan: There are two big buckets when we think about response. One, not surprisingly, is around emergency relief—the needs of the frontlines, emergency food access, supporting hospitals and their workforce, the impact on those experiencing homelessness, and the impact the shortage of affordable housing will have in worsening the pandemic—and response.
Our further response—once we get through the block and tackle of what's right in front of us—is making sure that we're meeting our citizen's basic needs and preparing ourselves for a post-COVID reality and aftermath. In this response bucket, we're thinking about how to support small businesses to make sure that they have what they need—either locally or through the state or federal government—to weather the crisis appropriately.
Beyond that, how do we bring in the right level of partnership to prepare and help us be more resilient in the future? Obviously, there's a lot of disruption happening around healthcare and education, so how do we make sure we're building the foundations to react and be proactive for the future?
The city has adopted an eviction moratorium and rental assistance program, but address how Stockton is repurposing its buildings for those without shelter?
There is an eviction moratorium on both residential and commercial properties. To your specific question on repurposing buildings, we've actually been in conversations with some downtown groups—in particular, architects and designers who have studio space that has gone underutilized. They have put forward proposals to repurpose their space, either as temporary shelters or proposing the idea of using vacant land to place shipping containers for the duration of the pandemic to make sure that folks have shelter.
There are also a number of other initiatives that we're working on with the state to partner in thinking about how to repurpose motels and hotels. The challenge, obviously, is that for anything of that scale, the cost escalates significantly, pretty quickly. We're figuring out what is the right mix of state and philanthropic support to make those ideas pencil out and go forward.
Has the city also addressed supply chain challenges related to food security?
Broadly, one of the things that has been a top priority for the office is emergency food access for highly vulnerable populations. We're thinking in particular about seniors who are highly vulnerable to COVID-19, but also about low-income populations that live in food deserts and may not feel comfortable leaving their house or can't afford groceries.
We announced last week a partnership with Alice Waters and the Edible Schoolyard Project. As you know, school districts across the country have been closing and will likely be closed for the rest of the school year. In that vein, Edible Schoolyard Project, who usually partners with schools, have had to re-pivot their project. So, we partnered with Alice Waters, the Edible Schoolyard Project, local farms, and our emergency food bank to make sure that we can store fresh, organic produce from those farms and make it available for free as much as possible to seniors in the area that are experiencing shortages of food in the home, and this can be delivered to their doorstep. We're close to launching Nourish Stockton next week.
Has the City of Stockton drawn ideas from other jurisdictions around the country challenged by the same issues?
There are a number of operations that look slightly different, but they all have been taking advantage of the food bank, and using it in some form to be an organizing hub connected to folks that are experiencing food insecurity, homelessness, layoffs, and furloughs to make sure as many people as possible get access to food.
Folks in government, in particular, need to recognize that if you don't meet basic needs, we can't afford to think about other objectives that we have out in front of us. We collaborated early on with the Innovation Team in Birmingham, Alabama, to learn about their Birmingham Strong effort. We then launched StocktonStrong.org as a one-stop information hub for our residents—whether it's for folks worried about income, food, or housing. On childcare, we're paying attention to some very interesting work being piloted in San Francisco and Sacramento. 
Are these just city issues or are there regional arrangements that appeal to Stockton, your mayor, and yourself that are relevant?
Ultimately, there are a number of city-focused initiatives where each city, in many cases, is having to reinvent the wheel. The past two weeks, in California at least, have been very intense in trying to put the pieces together and make sure that we're not replicating what's already going on somewhere else in civil society or the public sector.
As we understand who's doing what, I think there will be more opportunities to coordinate regionally. Workforce coordination is such a huge opportunity - given the escalation in unemployment and the need for surge hiring in key industries. We've been quite excited about the work that Bitwise Industries is leading with OnwardCA to assist displaced workers across the state.
How are you, as the economic development point for your mayor, addressing "Resiliency?" In the midst of this pandemic, is "Resiliency" being re-defined by policymakers? 
In a pre-COVID context, resiliency has been linked to mitigation and adaptation around climate change.
Resiliency is forcing us to redefine the relationship between climate and public health. There was a New York Times article describing those areas with poor air quality having disproportionately higher rates of COVID-19 complications because lungs are already at reduced capacity.
There is also resiliency from an economic development perspective. By making sure that our systems are resilient enough so when small businesses shut down or pause—and we're all of a sudden forced to think about childcare considerations for frontline health care or retail workers—we have backup systems baked into the DNA that can kick into gear.
We're either having to come up with entirely new systems or repurpose existing service systems to support gaps. It's challenging as we're having to meet both needs simultaneously, but it's forcing us to think quite critically about how to build resiliency.
On your reference to climate change, you are credited with inspiring City Systems to look at investment opportunities to drive jobs and economic vitality in Stockton's green economy. Elaborate on this work. Is it still relevant?
We've been partnering with the City Systems team as their principal lectures at Stanford University. About a year ago, we asked them to evaluate green economy investment opportunities for the city of Stockton. Within that, they looked at the assets that Stockton has to leverage and reduce air pollution, improve air quality, and build infrastructure to prepares us for a green-economy future.
City Systems framed two big ways to look at the green economy. One way is to reduce vehicle miles traveled and bring jobs closer to home—which is important for a city like Stockton, where tens of thousands of super commuters go to the Bay Area every day to work. The second way is to attract green industry or startups—whether that's electric vehicle infrastructure, public transit, agriculture, or water.
Beyond how to leverage Stockton's assets, City Systems also looked at best practices across the country. I describe it as the "McDonald's menu" of a green economy. We can put that menu of options in front of our environmental justice groups, the city itself, and other interested stakeholders to find out how we want to move forward. And if we want something off the menu, we'll figure out how to raise money for it and build a coalition of connections that can drive it forward.
The City System analysis is, and will continue to be, incredibly helpful as we adapt to COVID-19, but also as we think about how to make investments in our educational future and in green infrastructure moving forward. 
The City administration must be overwhelmed with the challenges of addressing the immediate needs of small business, but also their projected needs. In real-time, are you able to align local public resources, and—equally important—leverage assistance from the CARES Act and other philanthropic resources?
The small business front is interesting and seems quite tenuous at the moment. We've spoken to a number of Chambers of Commerce and, broadly speaking, they are trying to get their heads around how they can be of most assistance to small businesses that are struggling to keep the doors open. The chambers themselves in many cases—who are providing advisory services—are also struggling to keep their doors open. So, how do you make sure that you're having the maximum impact on as many people as possible?
In our context, the chambers in the county have been playing the role of advising on SBA disaster loan assistance applications. And more recently, they've been focused on the Paycheck Protection Program (PPP) that came out of the CARES Act. In that vein, I think the struggle, really, with PPP—which on the surface is a pretty great deal for many small businesses—is that it's subject to whether small businesses have the correct banking relationships. If not, you're locked out of accessing that capital.
In many cases—at the city level—we're trying to figure out who's able to access those types of supports from the federal government, and where the city should play in providing the supports—whether that's coming out of the city's emergency relief fund or in other ways. The question is whether we—the city—are providing grants, loans, and supporting dislocated workers in small businesses.
There's definitely discussion—both at the federal and state level—about the need for more school stimulus and regulatory assistance. Can you talk about what those future efforts should include, given the interest of Stockton and the work you're just described?
There's an opportunity to reimagine guaranteed income. The federal government has made it available with the one-time payment, but there's an opportunity to think about what that looks like as a sustained payment during the period and in the aftermath of COVID-19.
Certainly, that pulls from the lessons that Stockton has had over the last year of running a guaranteed income demonstration with 125 households. Back to building resiliency and economic opportunity, there is absolutely a need for unconditional cash to make sure that we are weathering this crisis and—as the COVID aftermath materializes—have the ability to pay to restart our small businesses, pay our bills in April, May, and June, and get back to work.
Before concluding our interview, please orient our readers by giving a snapshot of the city of Stockton, its mayor, and his agenda.
Stockton is a city of about 320,000, and we are about an hour and 15 minutes from San Francisco and 45 minutes south of Sacramento, which leaves us uniquely a stone's throw away from the policy community in Sacramento and the technology community in Silicon Valley.
Stockton has been a place where a lot of low wage work has taken root. We have been a hub for transportation/logistics, health care, and retail—industries and jobs that are not only low wage, but are also subject to technological disruption and automation.
When the mayor came into his first term, he really focused his agenda on a couple of things: public safety, homelessness, education, and opportunity. He is one of the youngest mayors in the country and the first African-American mayor of the City of Stockton. Having been from south Stockton, he's taken a very progressive and proactive stance on investing in people.
Given Stockton's bankruptcy in the past, he has really made a concerted effort to create economic opportunity here; that's what the basic income demonstration is about. That's what Stockton Scholars—the $20 million scholarship program that was launched about two years ago to make sure that high school students graduated and were able to get a scholarship to get to a trade school, two-year, or four-year—is about.
All of this is wrapped up in the vision the mayor has around making Stockton a place where people want to come back to and find opportunity. I think that is what has driven his vision and his desire to be bold and ambitious in the work that he's undertaken.
And finally, share how Mayor Tubbs enticed you to join his administration in the city of Stockton? 
I came from the private sector and was working in Silicon Valley. In 2016 after the election, I decided that it was time to understand a little more about the public sector, so I got connected with a group called FUSE Corps. FUSE Corps is a nonprofit that connects private sector folks with local governments for a year in an executive fellowship context to focus on a strategic priority for that city or county.
I will admit that Stockton was not on my radar, but ended up getting into a conversation about the Stockton workforce development opportunity. Once I interviewed with the mayor and realized that—based on the questions he asked me—this was a very unusually progressive, elected leader, that his administration's wildly ambitious vision was something I wanted to be a part of in a community that has had underdog status for some time. That's something we're changing.