In line with the City of LA's commitment to update its community plans by 2024, TPR spoke with Planning Director Vince Bertoni to understand how DTLA 2040 community plan will will encourage livable, transit-oriented density in the city center and hopefully accommodate the immense pressure for housing development the region faces. Bertoni further addresses his city's efforts to incentivize affordable housing and noted the responsibility shared at the state, regional, and local level for policy and regulatory change to address the state's housing challenges.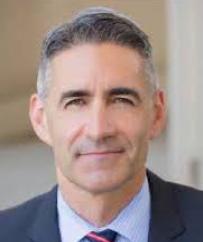 "There's a role for the state, for the region, and for the cities and counties; everyone has to come together and make housing a priority" —Vince Bertoni
As a new decade begins, put in perspective what the priorities are of the LA City Planning Department – given that equity, climate change, homelessness and housing affordability are city priorities.
Vince Bertoni: Some of the biggest challenges that we face in planning in Los Angeles-probably throughout California and the United States as well-are the dual issues of climate change and equity within our communities.
As part of that, we have to really address our housing challenges. Do we have enough housing for everyone here in Los Angeles? Is housing being created and preserved in an equitable manner throughout the city? Critically, at the forefront of that issue is how we are handling our unhoused Angelenos, those who are experiencing homelessness.
So, climate change, equity, housing and homelessness are really the main focus. We have several initiatives that are really going to be moving forward and coming to completion over this next year, and one of those is our new community plan for Downtown Los Angeles.
Drill down on what the public, and our readership, can expect from the Department's DTLA 2040 community plan.
We see downtown as the center of Los Angeles. For example, even though downtown is 1 percent of the city's total land area, we're planning for it to accommodate 20 percent of the city's future growth.
We're trying to make sure that our future growth is closely accessible to transit. It's important to note that we are planning 80 percent of new development within about a half mile of a transit stop. One of the greatest contributors to climate change is greenhouse gas emissions, and over 40 percent of our greenhouse gas emissions come from cars. If we can get people out of the car by giving them options, we can start to address this issue of climate change. 
We're also expanding what we do in terms of adaptive reuse, which has been a driver of downtown development in the past. Think of what's happened in the Historic Core as well as in the Arts District—we're trying to expand the opportunities for adaptive reuse by allowing more of it by-right in areas such as the Fashion District and more of the Arts District, and eliminating minimum size requirements for dwelling units. 
Also, we eliminated all of the parking minimums in Downtown Los Angeles in the DTLA 2040 plan. Currently, whether you're building a new building or changing the building's use, we require the owner to provide a certain amount of parking, which is something that has inhibited us from being able to really create a vital city center.
Now, we're not prohibiting anyone from putting in parking. If a business thinks they need the parking for their operation, we'll allow them to build it—but the city won't require it. Downtown Los Angeles is the place to do it, where we have Union Station—the center of our rail system—brining in all the Metrolink lines throughout Southern California and five different L.A. Metro Rail lines in downtown, as well as many buses. 
We're actually starting to re-envision our streets for more than just cars to make room for other modes like bicycles or scooters. Along Main and Spring, you're starting to see separate bike lanes, so that bicyclists and scooter riders don't have to compete with cars to get from one end of downtown to the other.
It's been a half a century since the Mayor and LA City Council have attempted to update the City's outdated zoning code. Elaborate on the challenges that the Planning Department and Council have experienced trying to update a 1946 zoning code for a large, 500 square mile city?
Los Angeles is such a large and complex city. It's not just large geographically, it's very diverse in terms of its physical place, its people, and its development over time. This diversity makes it challenging to create one plan that covers the entire city all at once, so we're creating the plan in phases. 
The first phase of the recode is to address the citywide issues and put in the framework of the code. We're not applying the new code citywide right way,  we're applying the new code community plan by community plan, which helps to capture that diversity of the complexity of the city.  
The first plan that will have the new zoning code will be Downtown Los Angeles, shortly followed by Boyle Heights, then, the southwest Valley, the southeast Valley, and then we will keep on going throughout the city. Within four years, we could have the entire city covered with a new zoning ordinance. This process allows us to think carefully about how the new zoning applies to a particular community and make sure that we can craft the zones. 
Today for example, a commercial zone—let's say a C2 zone—has the same meaning in San Pedro as it would have in Encino or Boyle Heights. This new code process allows us to create all types of zones—whether they're commercial or residential—that are much more crafted to a particular neighborhood or community and helps us get to some of those social issues. 
There was actually a precursor to the recode—which we adopted a little earlier called the single-family variation zones.  In the past, we had just one zoning designation for single family, R1, which applied to most of our single-family homes. We created 16 different variations of single-family zones with an overlay that could be applied to any of them. We started to apply it to communities and looking at the issue of mansionization roughly four to six years ago. In parts of the city, we applied these new zones that were much more customized to the neighborhoods. 
If you look at some of the articles written about LA from 5 or 6 years ago, the issue of mansionization was on the front page all the time, and these R1 variation zones allowed us to address the issue about what the right form of a neighborhood is. I think the recode–as we apply it community plan by
community plan–is something that should be able to do that even better.
Against what standard should the public judge the success of DTLA 2040's recoding and rezoning of the built environment of Los Angeles? 
First and foremost, we need to look at what our citywide vision is, and if it's really being implemented. The General Plan Framework Element looks at the city from a big-picture standpoint, and if you look at it, there is definitely a vision. One metric would be whether what's getting built falls into that vision. Are the right types of projects able to get through the approval process more quickly because the zoning really supports that type of building?
The pressing California homeless and housing affordability challenges – especially in coastal California–have been framed in a way which suggests its local government and R1 neighborhoods have caused housing to be both unaffordable and slow to produce, and therefore, as a result, the state ought to supersede local control of planning and zoning. The latter argument
suggests that LA City's new vision for planning and development is incapable of meeting California housing challenges. Do you accept the latter premise?
Building housing and making sure it's affordable in California is a really complex issue, and there are lots of things that need to be done to move into a direction where housing is more attainable for all Californians.  One of the things
that we have to acknowledge is that it's a very long and complex process for us to update all of our plans to accommodate new housing.
Dealing with consensus in neighborhoods and communities takes a long time. The California Environmental Quality Act process for building more
housing– even Downtown Los Angeles– is also very lengthy and expensive. There are some state regulations that make it difficult to build housing where we want
to build housing, like on top of a subway station with multiple subways going through it all the time. We go through an extensive environmental impact report that takes a long time, so there's clearly a state role in streamlining to make it easier to produce housing at the local level. 
State approaches ignore the impacts of statewide regulations like Prop 13, CEQA, labor requirements, Costa Hawkins, Article XXXIV, and instead focus on local "NIMBYs" as the problem. Is their premise correct? 
Whether that's their premise or not, the way we get out of this housing dilemma is by changing laws at both the state and local level. 
What changes?     
The state needs to make it easier for us to create local plans that provide more housing by streamlining that process. Local government agencies, cities, and counties could look at ways to actually provide more housing in their general plans, community plans, and zoning.
Keep in mind, LA has worked really hard to actually create more housing.
We represent 10 percent of the total population in the state of California, but where 25 percent of the housing is getting built in the last few years. We're 40 percent of the population of Los Angeles County, yet we produce 75 percent of
the housing and 85 percent of all the multifamily housing.
The city of LA has worked really hard to produce more housing, but we can't do it by ourselves. The other cities and county agencies around us also have to step up to the plate and make some tough decisions in terms of how and where they put housing. The state does play a role in that to some degree, so the state and the locals both have to work together.
The new RHNA allocation was a really good start for a regional agency looking to make sure that we target our future growth in the right areas, which meant Los Angeles taking on more of an obligation for housing. We have to focus future housing near jobs and transit infrastructure, and the regional agency is setting goals, and to a certain extent mandates, to local agencies to make that happen.
There's a role for the state, for the region, and for the cities and counties; everyone has to come together and make housing a priority.
What is the jurisdictional responsibility of planning? Is the planning department a housing agency or is it more? What about the role of a city planner?          ·
We're charged with looking at the land use of the city over time through our general plan, our community plans, and our zoning. When certain projects come through that may want an exception to the rules, we want to make sure the project is designed appropriately.
A key part of that is providing for enough variety of land uses in the city.
We don't actually build the housing, but we make sure that there's enough zoned capacity for it. For example, we can't dictate that a housing project is built in a certain place, we can just make sure that we have the zoning for it; zoning can be a barrier.
Downtown LA has built more housing than anywhere else in California, but none of it addresses affordability. With the development of housing in Downtown LA and ADUs around the city, how is affordability being addressed?
Here are a few things to keep in mind: we phased in our housing linkage fee, which applies to both residential and commercial development. It's the first time in the city's history that we actually have collected a fee that goes into building units that will be restricted affordable. The last phase of the linkage fee just came in a little over six months ago, so we're going to start seeing the results of that as we collect more revenue to build on.
We're also starting to produce much more affordable housing than we've had in the past through our incentive programs. Our transit-oriented communities (TOC) program was adopted and mandated as a result of Measure JJJ.
The TOC incentive program went into effect September 22, 2016. That system has incentivized the creation of affordable units, and is at a point now where TOC represents anywhere from 40 to 50 percent of all of our units that are coming in, and another 10 percent through a density bonus.
Almost 60 percent of the units being proposed are through one of the incentive programs. It has increased the amount of affordable housing from about 5 percent to almost 20 or 30 percent. I would argue that incentive-based programs are new and have been working. 
Why is it that the dominant conversation today across California and in LA is that cities are the problem and that the state needs force the cities to build by right along bus transit lines in residential neighborhoods throughout the 500 square miles of LA?
There are lots of bills being proposed in the legislature, and there is a general theme to encourage building more housing near transit . We think we're doing that in Los Angeles. With our Expo Line Transit Neighborhood Plan, which really increased housing capacity on the Westside for the first time in decades, upzoning some properties from single-family to multifamily for the first time since the 1960s. Plus, our citywide TOC program has shifted a lot of our growth and future development near transit.
But we've done that in a way that has been livable. We've been able to provide these units and the new housing capacity to fit communities while largely not touching single family neighborhoods. There's an argument out there that the
vast majority of a city-especially the city of Los Angeles-is zoned for single family. While that's true, we've crafted our TOC program-which does not include single-family neighborhoods-to be tiered and work within our local zoning. TOC is an incentive that doesn't change our local zoning, it builds upon it like a density bonus.
With the state proposing to strip control away from the cities to do exactly what you're suggesting, is there a counter argument to what's happening in West Adams and in South LA addressing incredible changes of ownership and displacement of homeowners since the recession? 
It's hard to truly understand the consequences of statewide upzoning for various cities and their communities. The struggle is that single-family zoning in California is not the same from city to city. In some cities, single-family zoning may be rare and more exclusive, but in others, it may be common and more inclusive.
If you look at Los Angeles, I would argue that we have single-family zoning
that is as diverse as the people who live in these communities. In places like South
Los Angeles and West Adams, you have multi-generational communities–many of them communities of color–that are in single-family neighborhoods. There is a clear concern about displacement in those communities and what happens when you build more housing in an area that isn't maybe as diverse.
When we crafted our plans, we spent years working with communities to see where they wanted change and make sure it's done in a more equitable way. We worked with a lot of community groups to get there who have embraced and supported the plans as we've implemented them.
We think we're doing it the right way in LA and that state laws that look at mandating housing in California should acknowledge places that are trying to do it the right way, and either enforce or incentivize that.
I think it would be difficult to achieve all these goals with blanket zoning throughout California. It would make sense for the state to have some goals and to allow us to have an alternative means to comply with it. If you look at what we've already done, I think we've done a lot to really comply with the state goals. We have some very diverse and unique single-family neighborhoods in Los Angeles, and we have to be mindful of that.