From reducing vehicle miles traveled to supporting equitable, affordable, and accessible mobility options, TPR spoke with Los Angeles Department of Transportation (LADOT) General Manager Seleta Reynolds on her vision for 'universal basic mobility.' Reynolds emphasizes the importance of taking a rider-side perspective when it comes to redesigning transit to maximize access and mobility for all Angelenos.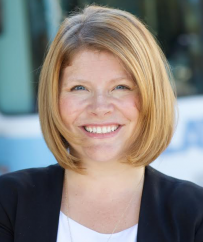 "What you'll see from the Mayor,... as he steps into his role at C40, is a call to action ... to start taking some bold steps to both make the right investments in the right kind of fleets, but also change the way we deliver mobility in our city to make it easier & more affordable for people to get around without a car."—Seleta Reynolds
When last interviewed, you described your vision for transportation in Los Angeles  as a 'symphony of transportation choices,' which harmonize to make driving alone the transportation option of last resort. As LA City's DOT General Manager and conductor of this symphony, update us on the progress of your transformative transportation initiatives.
Seleta Reynolds: Yesterday, I was at the CicLAVia Heart of LA event that was celebrating UCLA's centennial anniversary. The Heart of LA route goes up into Chinatown, over into Mariachi Plaza, then down into MacArthur Park. I was reflecting on the fact that when I started five years ago in 2014, CicLAVia Heart of LA was one of my first events that I went to in my role as General Manager. Back then, I got on my own bike from my house, rode down Sunset, and came down to the event; it was a fantastic party and a great reflection of Los Angeles.
But now, in 2019, there are electric Metro bike-share bikes in my neighborhood that I could have taken. If I lived in Santa Monica, I could take the Expo Line. I could take a scooter or get into an electric vehicle from the BlueLA car-sharing program that we've launched. It feels very much like there's been progress in giving people more choices, and in putting them in places where they're being well used.
We're seeing some of these new ways of getting around growing at warp speed; scooters in particular just showed up on the scene a year or so ago. Now, we're seeing—at least in the city of Los Angeles—over a million rides a month on electric scooters and bikes.
On one hand, we've made progress. On the other hand, we see that in the same period of time tailpipe emissions have grown 5 percent in the state. We know people who drive in Los Angeles are experiences longer time in congestion. And, the number of overall vehicle miles traveled that people put on their cars every day has grown.
It's really a mixed bag. It tells me we still have a long way to go.
Given the challenges you cite, how is the City aligning outcomes, incentives, disincentives, as well as investments to change human behavior regarding personal mobility choices?
For the first time in over 20 years of doing transportation in cities all up and down the West Coast, I'm seeing a real reckoning with the idea of congestion pricing. Metro just awarded its congestion pricing study in the last week or so. SCAG is continuing its work on congestion pricing. Managing and pricing demand for people to drive is a whole catalyst; it amplifies the investment that we make in giving people transportation choices.
We also saw the glimmers of the beginning of what I hope will be a beautiful friendship on the Flower St. bus lane. We were able there to demonstrate how putting a partnership between Metro, the entity that's responsible for delivering the service, and LADOT, the entity responsible for delivering the streets, can result in some really great outcomes for the people who are just trying to get around. I hope that pushes us off into a meaningful investment in transit-only lanes in the city; we're starting to see things move in that direction.
I also call our shift from level of service to vehicle miles traveled—the key metric that we use to evaluate the environmental impact of changes to both land use and to transportation—an unsung hero of changing everyday decision making to change outcomes.
Doing things we know work to reduce congestion and car trips: providing people options, giving them transit passes, giving them car sharing pods, providing less parking, etc. These are the infrastructure investments and changes to process that are indicators of us moving in that direction. 
If 21st century urban transportation is about giving consumers options, it appears the mobility option overwhelmingly chosen is still the automobile. Does, however, LAX's new policy to ban ride-hail pickups & drop-offs inside the horseshoe coupled with current DOT policy to remove car lanes from crowded downtown corridors like Figueroa and 7th Streets —mean lone automobile drivers in the future will have one less choice? 
It's important to have a real reckoning with what the role of driving ought to be in a 21st century city; a really important conversation that we're really only just starting to have.  Clearly, decades of land use and transportation decisions have really made it an economic necessity to drive a car. That's particularly true if you are a woman or if you are medium to low income.
It's sometimes easy for urbanists and planners to say lightly that people ought to give up their cars or drive less, but we're not having the deeper conversation about how to make sure that everybody has access to the same opportunities before we start saying that people need to get rid of their vehicles.
My job is to start exploring different ways of developing mobility. One of those ideas—which is a play on universal basic income—is the idea of universal basic mobility: making sure that no matter where you live in this city or how much money you make, you have access to safe, reliable, and affordable transportation to get where you need to go.
When we start to talk about things like congestion pricing—which is absolutely essential if we want to really see the full benefit of all of the amazing transit investments that we're making in this region—we ought to think about using the revenues from congestion pricing to create universal basic mobility. It might be that we have a package of memberships to a car-sharing service, a bus pass, Uber/Lyft credits, and money for the toll lane. All of those things that can combine to give people the same access to mobility in South LA and Pacoima as they have in Century City and Venice.
Given the challenges you have as GM of Transportation for the City of LA— a city of 472 square miles, a county of 4,000 square miles, and a five-county area of 35,000 square miles—how realizable is the goal of "universal basic mobility"?
It's definitely not realizable if we don't have elected leaders and communities opening up the conversation about it. Even just a few years ago—particularly given the failures of some of the earlier sales tax measures in the county—I wasn't sure there would be another sales tax for transportation any time soon. I certainly wouldn't have thought Metro would take congestion pricing seriously, and the board is going to study it for the region.
I'm not sure that either one of those things would've seemed like a viable possibility even a few years ago, but because Mayor Garcetti really threw the weight of his political capital behind Measure M, and because Phil Washington became an incredible spokesperson and persuasive champion for congestion pricing and framed it as an equity issue in a way that was really hard for people to look away from. Now both of those things are happening.
When you have the right leadership there's huge potential. Of course, you can always use more funding, and transportation financing is really complicated; there are always significant capital needs. We are very lucky that the voters have decided to put their trust in us. Our problem isn't necessarily a truly financial problem. It's a political and policy problem, and those things are solved by strong leadership and community groups demanding accountability from that leadership.
Given your shout-out for bold, political leadership, Mayor Garcetti is in Copenhagen being elected chair of the C40 cities organization.  What is the Mayor's elevation to chair of C40 likely to mean for his administration's Green New Deal priorities and your LADOT responsibilities?
Mayor Garcetti's first response when President Trump backed out of the Paris Climate Accords was to get on the phone with his fellow leaders in cities around the United States and create this cohort of climate mayors who were willing to stay in the Paris Climate Accords even if our national government is backing away from science. His leadership at C40 is consistent with something that has continued to be a central part of his platform, and something he's fought for through LA's Green New Deal and the Sustainable City PLAn that came before it.
Those plans include a combination of things, and some of them—like electrification—can overshadow some of the really important goals that he's laid out for the city in those plans. Getting to a 100 percent electric procurement for our transit fleet is no small task, and I don't mean to belittle it. It's going to be a big lift both in terms of closing gap financial gap, but also making sure that we have the entire city coming together to create the facilities we're going to need to charge that electric fleet—which look very different than the facilities that we have today to refuel our compressed natural gas fleet.
All of those things are incredible challenges, and they're really important market signals to let bus manufacturers and entrepreneurs that the City and the County are going to be investing in this. We're big enough that we can actually nudge and grow markets, and that's essential, but we also have to do other things. Even if every vehicle on the road right now were electric, we would still have incredible climate challenges to confront because we really do have to drive less. The California Resources Board came out with a study a while back that said we have to drive about 25 percent less even after electrification. That means the way we build our city, deliver mobility, and live our lives has to change, but hopefully that means it can change for the better.
The idea of shifting the way we get around can sometimes feel like an attack on people's way of life, and that's really not the intent. The intent is making it better and easier to get around without driving a car, and in doing so meet some of the incredible climate challenges that we have.
What you'll see from the Mayor in particular as he steps into his role at C40 is a call to action for both the city and the other cities part of that cohort to start taking some bold steps to both make the right investments in the right kind of fleets, but also change the way we deliver mobility in our city to make it easier and more affordable for people to get around without a car. 
Your thoughts: Bus ridership is down, not only in LA but across much of urban America. Curiously, universities like USC, which are in the heart of LA and surrounded by convenient, new public transportation, are opting to outsource their transportation programs because their students, faculty, and staff are choosing NOT to use available public transportation. What tools in your LADOT war room are available to entice people to choose alternative modes of transportation to their automobiles?
LADOT also runs a transit service and we have actually seen DASH line ridership go up by a modest amount, about 5 percent in FY18/19 over the previous year, and the reason for that is twofold. One—we really changed the way that we delivered the service. In particular, we have a line that takes people up to the Griffith Observatory that is standing room only pretty much all the time. We rejiggered and restructured our service to capture some high-demand locations. Our service delivery plan was designed a long time ago, and we need to keep it up to date; as the city changes, it needs to change too. We've extended our service hours so that—especially in downtown—you can ride a DASH bus until later in the evening.
The other thing we did was to start to take a fresh look at how we actually charge people to use our service. We made our services free for students, all the way up to community college in the city of Los Angeles. As a result, we've seen our ridership grow. We really think about the services we deliver from the rider's perspective first, and we understand that the economic value of public transit in particular and transportation in general is that we can connect people to opportunities.
For us, looking at transportation that way and thinking about it a little differently, we've been able to buck that trend. We've seen that same kind of pattern repeat in the cities of Houston and Seattle. They've had really remarkable turnarounds in transit ridership by thinking differently about it as a service; making it free for certain folks and redesigning and redelivering the service.
There are pretty simple tools that we have at our disposal. They don't require a lot of political oversight or intervention, but it does require us to shift the gears of bureaucracy and the way that public transit has traditionally been delivered in the United States.
Given your strong support for public transit as a public good, speak to the post-IPO sputtering of Uber and Lyft and the documentation of the rideshare industry's impact on city congestion and  vehicle miles traveled.
Uber has been pretty public about its desire to monopolize transportation in cities. They're not just interested in the money they get from their ride hailing service, they're interested in being the Amazon of transportation. That means what they're really interested in, most of all, is your data. We've seen the increasing emergence of what the royal business model is for Uber and maybe Lyft as well.
That ought to make folks a little bit nervous about the future of transportation in cities. If it is entirely captured and monopolized by a private company, that may or may not be a good outcome for consumers. It means that government cannot play the role that it traditionally plays in insisting on accountability for wheelchair services, or making sure that the services don't redline certain communities; that everyone gets access to the same kind of services; that the vehicles are safe; that drivers are permitted; that there are channels for people to get justice when something occurs on one of these platforms; and that there's a viable future of work for folks.
In California, AB 5 is going to dramatically change employment classification. In particular, for companies like Uber and Lyft, leading them to make dramatic proclamations about going out of business or refusing to comply with the law. Those things are good indicators of what we might see in the future if there isn't a rebalancing between public and private when it comes to Uber and Lyft.
My perspective is that those services may have a role and definitely fill a gap in city transportation, but in California, the CPUC has exerted its regulatory authority and gone through rulemaking to reduce the fees that Uber and Lyft have to pay in cities because the CPUC was not able to use those funds to regulate them.
Instead, we have private companies that are able to build wealth on public infrastructure. Cities and the public are cut out completely from playing the role that government does.
Is it appropriate—given your comments above—for cities to reassess their mobility and land use planning's current reliance and encouragement of rideshare?
I think you're starting to see it in the city of San Francisco. They're putting forth a ballot measure for the residents to be able to approve the city's ability to exercise a fee on some of those services, because Uber and Lyft are accountable now for about half of the increase of congestion in downtown San Francisco. Here, we're talking about downtown San Francisco, one of the most transit-rich corridors and areas that we have on the West Coast. The same is true in Seattle. There is a high concentration of Uber and Lyft trips happening in some of the most transit-rich parts of the city.
Some common sense rules are being adopted to prioritize streets for transit—whether that's rail, bus, biking, or people walking—that there be limits on the number of Uber and Lyft trips that can occur in those same corridors. You see it in New York City with the Taxi and Limousine Commission now enforcing minimum wages for drivers for both taxis and Uber/Lyft, as well as putting caps on the number of overall Uber and Lyft vehicles that can be in a certain part of downtown Manhattan, and even cap on the number of trips, or 'deadheading'. 
In other words, you've dropped a passenger and you've got nobody in your car, so at that point you're just congestion; you're circling around the city, trolling for a ride. There's no incentive for the companies to reduce the amount of deadheading to reduce congestion and improve pedestrian safety.
Those are some early ideas that are out there that people are experimenting with where cities are able to exert some regulatory authority. The companies don't like them and they're very resistant to them, but that's because they're trying to expand their driver pool and the city is trying to reduce congestion.
Lastly, city curbs, much like city streets, also are experiencing new demand—a subject addressed last year at VerdeXchange VX2019 CURB Charette and in TPR's recent interview of  LA City Street Services GM Adel Hagekhalil on his department's new strategic plan: 'StreetsLA'. How might, from your perspective, the City of Los Angeles best manage its curbs—given its priorities for mobility and the many conflicting interests vying for curb priority?
I think we're just starting to see an evolution of that. Washington, D.C. is doing some of the most innovative work around this. First and foremost, it requires us to have a comprehensive understanding of what our current curbside regulations are. Second, it requires businesses that have fleets—like UPS, FedEx, Uber, or Lyft—to integrate with what we call our city's API that would dictate where, when, and how much it costs to use our curbs instead of relying on their drivers to make moment-to-moment decisions about double parking in bike lanes or blocking travel lanes to conduct business. That is the next frontier, but first we have to get a good foundation in place and understand what's out there, and we have to integrate it with all of the hundreds of thousands of changes that the Department of Transportation makes to the curb on an annual basis.
Whether that's putting in temporary restrictions to support the filming industry or to go out and put in new bus stops or new red curbs that are requested by residents. If we can do that as a starting point, then we are on our way to creating a real city operating system for curbs. I think the way that we're trying to distinguish Los Angeles is that we want to do that in open source so there's not a single vendor who takes advantage of the city's slower ability to get to the starting line. We end up with sort of a vendor capture situation which I think there's a real possibility for.
There's a lot of companies out there that think that this is the next frontier, and if they can monetize the curb and get the cities to pay them do it; they think that's the future.
For us, it's going to be way more about boot strapping a system that we build ourselves. And then, making it open so other cities are able to take advantage of it as well.