Set to open in Spring of 2020, LA Metro's highly anticipated Crenshaw/LAX light rail line will run through South LA to connect LAX to the Expo Line and will serve as the transit gateway into Los Angeles. Destination Crenshaw is a $100 million 1.3 miles, open-air community art and park installation celebrating the black art and culture of South LA that will accompany the new line's at-grade portion along the Crenshaw Corridor. TPR presents the remarks of City Councilmember Marqueece Harris-Dawson from a recent LAEDC Board of Governor's meeting, in which he outlines the project and highlights the economic development and community investment opportunities that Destination Crenshaw brings to South LA.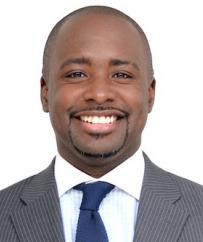 "The idea is to make the Crenshaw stretch into a destination— we've been working on it for some time and made significant progress— to turn the streetscape into an open-air people's museum that tells the story of African Americans on the West Coast, and in Los Angeles in particular."—Marqueece Harris Dawson
Marqueece Harris-Dawson: As great as our economy is, as much opportunity as we have, as bright as the future is, none of us should ever go to bed at night and not remember that there are 60,000 people that sleep on the street every night in our town. While we're making hay while the sun is out, we can't forget that. Everything that we do should be informed by creating a playing field where everybody can play, whether through direct assistance or through their direct participation in the economy. One way or the other, we've got to get that done.
 Whenever we talk about the economy, I like to start by laying that marker down and putting into context what we're discussing. Second, I'd like to take a little bit of time and talk about the economy of South LA, and lay out a little bit of a vision. I'm excited to talk about Destination Crenshaw as well.
Los Angeles is a council-run city. We have fifteen councilmembers, so each of us have somewhere between 275,000 and 300,000 residents. Our council districts are roughly the size of Detroit city. The departments respond to the council offices, and so the onus—unlike other cities—is upon the councilmember to layout the economic vision for their council district. If you represent a district like mine, which has been left behind for generations on end, that burden and that spotlight's even higher than it is in other districts. There are some parts of the city where the economy just kind of happens; it's really no job to manage and contain it. In other parts, it's really important to generate an economy. So, as we were laying out a plan to run for council, we had to lay out an economic vision. 
I want to thank Carolyn Hull from LAEDC who helped me do the biggest project I had ever done in my life while at Community Coalition, which was a $7 million purchase and building renovation on Vermont that is now the headquarters for Community Coalition. We asked Carolyn and others what to do about the economic situation in South Los Angeles. We tried to take a scientific approach to all of these social problems that we face, because dealing with the economy is largely a social challenge. First, we wanted to know what jobs are people doing versus what jobs are available? We looked at folks who are in the working-age population in South LA, and they're really in the service sector. They serve buildings, communities, municipalities, and do our entry-level management jobs in low-skilled industries. What we realized when we started studying the economy is that there was going to be growth in the public sector for the first time in our lifetime.
The airport is undergoing a $14 billion expansion, we have unprecedented investment in public transportation, and all governments are just now hiring back the people they laid off in 2008 and 2009. If I can take a person who's a janitor at CVS—with no disrespect to CVS—and have them be a janitor for the City of LA, it would be life changing. Instead of needing two jobs, they can have one that has healthcare benefits and lets them be home on the weekends so that they can coach soccer, go to church, and help build up the entire community. The bottom line is almost triple. Just like we tell every developer who's going to do a football stadium or a large building that they have to do a local-hire agreement, we wanted to have an aggressive program recognizing that the City of LA ought to have a local-hire agreement as well. We've worked to put that in motion, and it's resulted in about 500 people from South LA getting city jobs with vacation time, health benefits, and retirement benefits. 
The second question is how to make our community a place where investment is an attractive notion. People drive by, see the infrastructure, and get the impression that this isn't a place to invest in— that this is not a place where there's a lot of opportunity. And that's just when you exit the freeway. 
Recently, there's been investment in transportation to really focus on our main corridors. We have Vermont Ave, which is the second most traveled corridor in all of LA County. We have Western Blvd, which is the longest corridor in our district and in LA County. It goes through Glendale all the way down to the Port and was built as a transit goods movement corridor. 
What we're doing is building upon strategic investments along those corridors. We have an $80 million program for Broadway Blvd, of which we've raised about $30 million. For Vermont Ave, we have the strategic investments at Vermont and Manchester. It's not a private investment at all—when someone comes and sees an empty storefront, it's seen as an opportunity rather than a problem. If we can bring the sidewalks up to the highest quality, improve the lighting dramatically, and improve the urban forestry, we can make sure we take care of the blight that is there. 
This brings us to our last item, and our showpiece for what we want to do with the economy, which we call Destination Crenshaw. It started off as a corridor strategy, but it really anchors itself as a business plan for South LA. We looked at South LA, studied the economy, and identified the strategic advantages that South LA has that no one else does.
The strategic advantage that South LA has and offers to Southern California is culture. South LA largely decides what is in the cultural conversation or at least decides a disproportionately large share of it. If you go to any town and turn on the popular radio station, there will be about 30 songs that they will play over and over all day and 10 of them will be produced, written, or sung by people who live in South LA. How do we capitalize on the culture and make people come to South LA to consume culture?
What has happened historically is that we gave our culture away. I have to go across town to a museum to see a painting by Mark Bradford—one of the most famous artists right now—whose gallery is in Leimert Park actually. Also, at the same time, Crenshaw becomes very important. It is the last corridor that has—on either side of it—a significant portion of precincts adjoined to each other that have an African-American population of 60 percent or more. Another way to say this is the last and largest African-American community in any big city west of Chicago is along Crenshaw Blvd. There's a relationship between Black people being there and culture being the asset that Crenshaw has. 
It also happens that Metro plans to run a train right down the center of Crenshaw Blvd, called the Crenshaw/LAX line. The Crenshaw/LAX line is slated to bring 6 million riders from the airport through LA. The idea is to make the Crenshaw stretch into a destination— we've been working on it for some time and made significant progress— to turn the streetscape into an open-air people's museum that tells the story of African Americans on the West Coast, and in Los Angeles in particular. It's 1.3 miles that will have acres of parklets, new landscaping, new lighting, and artwork by renowned artists that typically you have to go outside the community in order to see. If you think about examples from around the country, you might think about the Highline in New York or Wynwood in Miami. Many argue that both of those were gentrification strategies, but this is an anti-gentrification strategy. This is a way of branding the community for the people who have been there, and we expect that they will continue to be there. 
It will be anchored by two great and iconic installations. Sankofa Park will anchor in the north, where Leimert Park is. It'll allow you to see the full scope of South LA going north all the way to the Hollywood sign and going all the way south to the Inglewood border. The Sankofa symbol is very important in folklore in Moorpark and South Los Angeles. In African folklore, it is a bird that can fly forward and look backward at the same time, so it can bring the past into the future, which is what we expect to do. At the southern end, we'll have a tower that will mark the entry into Los Angeles on the Crenshaw line coming from LAX. The first stop in the City of LA after leaving Inglewood will be in Slauson. When the train comes up from underground, we want you to see this giant monument indicating where you are and what community you're in. It sends the signal that everything cool you've heard about Crenshaw on a record or TV show, you're in that community now so, get off the train—go buy some sneakers, clothes, or a record. Stop and eat some food, get back on the train, and go where you're going. 
Throughout that 1.3 miles, we'll have a number of parklets and installations. The iconic Crenshaw Wall is the inspiration, which has been around for generations now. This project will rebuild the wall, restore the original parts, and build a parklet on top so you can actually stand, linger, observe, and feel the energy of the Great Crenshaw Wall—the painting on which is called Our Mighty Contribution. These are just a few of the art installations we'll have; we'll have a total of 100 or more art opportunities in both 3D and 2D.
There are a few things we think this project will do. First, it will be the gateway to Los Angeles. When people come to Los Angeles, they'll see that this is where and who we are. It will be workforce development. This project is able to generate 1,000 jobs. We're making a very bold stand, and we're saying we want half of the workers on this project—50 percent— to be African American. That's going to be very tough, but we're going to press it, and we're going to work as hard as we can to achieve that goal.
Through Legacy Business Investments we want to make sure that the businesses that have been along Crenshaw get the investments that they need in order to stay, so that they can actually reap the benefits of the investment in rail and the traffic that will come through there. 
We also want to make this project about education for all. We believe that education about the history of African Americans in Los Angeles is extremely low. I was, just last week, at the African-American Museum in Washington, which is a great facility, but has very little about Los Angeles with just a little bit about Bradley for Mayor in 1984. This is the city where Jesse Jackson and Barack Obama are credited for building the National Rainbow Coalition. This is the birthplace of that; Bradley did it in 1969 and we've continued to build upon that. In terms of environmental equity, we'll plant almost 1,000 new trees along the corridor, which right now has no trees. 
We believe that this can be an arts program similar to the arts programs you saw during the New Deal. It is really an idea to employ our artists to do work in their neighborhood to be consumed by their neighbors and the people they grew up with. We think, on the whole, this lays the basis for all kinds of investments. A lot of the investments seen in other parts of our region that originate in South LA—almost 40 percent of what you see on Melrose and 100 percent of what you see on that little stretch in Fairfax—will relocate to our parts of the city, so that we have commerce and common spaces. Most importantly, we've laid down a cultural marker so that Crenshaw takes its place among American neighborhoods, because we believe it is just as important to the history of Los Angeles, California, and the United States. 
This project altogether will cost $100 million. We have significant public and private investors, and we're just at the precipice of reaching $50 million. As folks think about their corporate giving or their corporate investments, this is great project that has significance for the entire region of Southern California. Destination Crenshaw is its own 501c3, so we take grants, donations, loans—all of it.
As an African American in leadership in the city, if you put forward a program that is so nakedly promotional of the African-American community, it can get weird looks. What's nice about Los Angeles—and people outside of Los Angeles don't know this—is that we all throw down for each other. We don't wait for Latinos to stand up for immigration reform; we don't wait for African-Americans to stand up for the issues that affect them. Men don't, and shouldn't, wait for women to stand up for women's equality. I think to the extent that we talk this issue up, in boardrooms and rooms we sometimes have a hard time getting into, it helps the project a great deal. 

LAEDC's Board heard two thoughtful presentations this morning. Could you comment on how SoLa Fund investments in South LA align with Destination Crenshaw? 
Marqueece Harris-Dawson: What was exciting about Martin's presentation and the SoLa Fund isn't necessarily the sort of project-by-project the fund is doing, but it's the approach SoLa takes with South LA. That is, we need people who come here and see things that everybody else doesn't see. The orientation is that people come to South LA, and they see problems and reasons not to do something. Both of these projects look at South LA, and they see opportunity and ways to create advantages and products that you can't create anywhere else. That's the relationship between SoLa and Destination Crenshaw.