On July 25, the California Air Resources Board (CARB) announced a framework agreement between the state of California and automakers Ford, Honda, BMW of North America, and Volkswagen Group of America to strengthen gas mileage standards and reduce greenhouse gas emissions, a potentially confrontational response to the Trump administration's efforts to roll back current vehicle emission standards. In addition to CARB's statement announcing the agreement, TPR, for context, also includes the remarks of Mary Nichols at a June 6 UCLA Law Emmett Institute on Climate Change and the Environment conference in which she describes how California came to be the national leader on air quality and vehicle emissions.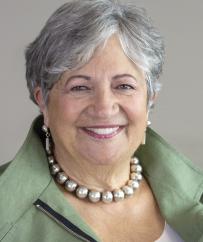 "Governors—whatever the size or location of their states—are in the unique position of being the CEOs of their 'laboratories of democracy'."—Mary Nichols
Mary Nichols: I am here today because I've had the great good fortune to be part of the story of what happened when California began to tackle smog, and ultimately, to play a role in the fighting the global air pollution known as climate change.
As I approach the inevitable sunset of my time at the Air Resources Board, I have the opportunity to look back over my experience serving under three governors. I see that what has enabled California to do everything we have been able to do is an unusual combination of things that are unique to California, as well as things that are not. Indeed, one of the most gratifying things to me is seeing how governors of other states, many of them newly elected, have decided to take on climate pollution or air pollution or electric transportation or advanced vehicles as their own signature issues. Governors—whatever the size or location of their states—are in the unique position of being the CEOs of their "laboratories of democracy."
Two unique factors in California are that we are bigger than every other state, and that we have the asset of an amazing coastline and climate. People come here because they love the weather and they want to be outdoors in a beautiful place, and this has been a persistent touchstone for conversations about preserving the environment. The environment has been politically salient in California at times and in ways that it has not been in most other places.
Jerry Brown had the advantage of coming into office during a demographic revolution—a generational shift. He was part of that generational shift, and so were many of the people he brought into office. I myself was 29 years old when I was first appointed to the Air Resources Board. What I most remember about those early days was that the place was full of younger people who were considered, by the people we were replacing and by many legislators, too young and too inexperienced to be doing what we were doing.
But Jerry appointed us because he wanted to make change happen. He was impatient with what his father had done or not done to make change, and the environment was a key issue where he saw that the public was ready for more action and where he could make things happen that people hadn't dared to do before. The idea of taking on major corporate employers, the idea of challenging the auto industry at its core, the idea of reshaping the future of our electricity system—these were areas where he was ready to push for action. So we did.
One story from that early period illustrates what life is like when you're trying to make things happen in environmental law and politics. Within months of being in office, Jerry had to sign a piece of urgency legislation repealing a law that I had helped to pass and had even sued the state for not implementing. That law was a requirement for people who owned older cars to retrofit them with a device designed to reduce emissions of nitrogen oxide.
Let me back up for a moment. Smog is a mixture of volatile organic compounds (VOCs), or hydrocarbons, and nitrogen oxides (NOx), which are produced by combustion. In the early days, the state went along with the auto industry and others who were convinced that it would be much cheaper and easier to control smog by attacking the hydrocarbons. After all, anything that involves reducing combustion inevitably leads to questions like: Are we going to drive less? Are we going to use less fuel? And so forth.
So, the state had embarked on a program that mostly involved controlling VOCs. Not only was this not successful, but it pushed the smog east, because the emissions that cook in the sunlight also move with the wind over the course of a day. What was helping to some degree on the Westside of Los Angeles was making things visibly worse in the Inland Empire. If you were living in Riverside or San Bernardino in those days, you were at the bottom of the funnel, and you were getting bad air from Los Angeles.
My entry into this scene came when I moved to Los Angeles in 1971, right out of law school, and landed a job with a public interest law firm that was just getting started. I became their air pollution lawyer because no one else wanted to do it; there wasn't any air pollution law in those days. But the Clean Air Act had just been passed, so I thought maybe there was an opportunity to do something.
The city of Riverside came to us asking to sue Los Angeles and make them stop sending us our smog. It didn't take me long to realize that that was not likely to be a successful strategy, but I convinced them that we could sue the federal government and the state of California to force them to develop a plan to achieve the new federal clean air standards. That was the beginning of that.
The law requiring the NOx retrofit devices was due to come into effect in 1975. At that time, the Arab oil embargo was causing people to line up at gas stations and to really worry about gas mileage. People were in a panic about having to pay more for gasoline or being unable to get it—and these NOx devices had a fuel penalty associated with them. So, from many people's perspectives, the state was going to make you go buy one of these devices, and they were also going to screw up your ability to drive by making it harder for you to get gasoline.
This was one of those times when the legislature finds it possible to pass a bill within a couple of weeks. It landed on the governor's desk after the assemblymember from Riverside, who had been the leading proponent of this NOx retrofit program, turned around and took the lead in trying to get the bill repealed. For me, what this meant was that I found one of my signature projects already on the cutting room floor when I hadn't been on the job for more than a couple months. But it helped us learn the lesson that technologies have costs.
You see, Jerry Brown's great insight—which it actually took him a while to learn—was that it does not make sense, in a democracy, to piss off too many of the people at any given time. If you've followed the yellow vest movement in Paris, you can see what I mean: We can sit here and articulate great strategies that make economic and policy sense, but if we fail in implementation because we piss off too many people at one time while other things are more important in their minds, than our particular issue is not going to succeed.
That insight has been the guiding force for many in California politics for more than 40 years. We set big aspirational goals, and then we turn it over to a bunch of unelected bureaucrats—like me—to figure out how to get to those goals, and then we hold them accountable for doing it or not. Either way, we give ourselves some flexibility in how we actually achieve implementation.
California and Major Automakers Reach Groundbreaking Framework Agreement on Clean Emission Standards
SACRAMENTO—As the Trump administration prepares to roll back emission standards for light-duty cars and trucks, a consortium of automakers and California have agreed on a voluntary framework to reduce emissions that can serve as an alternative path forward for clean vehicle standards nationwide. Automakers who agreed to the framework are Ford, Honda, BMW of North America and Volkswagen Group of America.
The framework supports continued annual reductions of vehicle greenhouse gas emissions through the 2026 model year, encourages innovation to accelerate the transition to electric vehicles, and provides industry the certainty needed to make investments and create jobs. This important commitment means that the auto companies party to the voluntary agreement will only sell cars in the United States that meet these standards.
"Few issues are more pressing than climate change, a global threat that endangers our lives and livelihoods. California, a coalition of states, and these automakers are leading the way on smart policies that make the air cleaner and safer for us all," said Governor Gavin Newsom. "I now call on the rest of the auto industry to join us, and for the Trump administration to adopt this pragmatic compromise instead of pursuing its regressive rule change. It's the right thing for our economy, our people and our planet."
Under the framework, gasoline and diesel cars and light trucks will get cleaner through 2026 at about the same rate as the current program. It also supports a national program that will result in at least 30 percent more greenhouse gas emission reductions compared to splitting up the standards between those followed by California and 13 other states and the less stringent standards proposed by the Trump administration.
"This agreement represents a feasible and acceptable path to accomplishing the goals of California and the automobile industry," said California Air Resources Board Chair Mary D. Nichols. "If the White House does not agree, we will move forward with our current standards but work with individual carmakers to implement these principles. At the same time, if the current federal vehicle standards proposal is finalized, we will continue to enforce our regulations and pursue legal challenges to the federal rule."
The announcement comes as the Trump administration is preparing to roll back federal vehicle emission standards, effectively freezing them at the 2020 level through the 2026 model year. This move threatens air quality and health for millions of Americans, would increase costs to consumers, and promises to further set back U.S. efforts to combat climate change.
The rollback has faced growing opposition from a broad array of governors and mayors, auto companies, labor, consumer groups, public health organizations, and environmental groups. Earlier this month, a bipartisan coalition of 24 governors representing more than half the U.S. population came together in calling for a stronger, national clean car standard.
In a letter last month, 17 worldwide automakers appealed to the White House and California to work together on a single national standard, warning of uncertainty for the auto market and noting that auto industry jobs are at stake. Now four of these companies have agreed to a framework that includes annual emission reductions and would speed the transition to electric vehicles.
California urges the Trump administration to reflect the principles in the framework in the vehicle emissions rule it is finalizing. If that does not occur, discussions on the approach laid out in the framework will move ahead.
The terms of the framework will deliver the same greenhouse gas reductions in five years as the original Obama standards would have achieved in four. This provides a path forward that allows California and other states to meet their climate and clean air goals, and maintains a national approach for participating automakers who will sell these cleaner cars nationwide. The framework also supports the long-term electrification goals of California and the carmakers.
The terms of the framework also make it clear that California must maintain its authority under the Clean Air Act to establish emissions rules because of its unique air quality, public health and climate challenges. "California's authority to set tough vehicle emission standards has been good for California and the country," said Governor Newsom. "This agreement affirms the fact that retaining that authority is a crucial element in our ability to make progress with cleaner cars."
The framework agreed to by the automobile companies and California benefits the country by achieving continuous annual reductions in greenhouse gas emissions and criteria pollutants while saving consumers money. Its terms include the following:
Extend the current 2025 model year standard until 2026 and smooth out the interim years from 2022 through 2025 to provide additional lead time and slightly less aggressive year-over-year reductions. (That is, changing the original year-over-year 4.7 percent GHG reduction over four years to 3.7 percent over five years.)
Support the transition to electric vehicles by rewarding companies that sell more EVs with additional credits to meet the GHG standard for their entire fleet, while ensuring that gas and diesel vehicles also get progressively cleaner over time.  
Provide an incentive to car companies to install more GHG-reducing technologies (such as making the car more aerodynamic at highway speeds or improving the vehicle's internal temperature control) by modestly revising limitations on their usage, and streamlining agency review and approval for new technologies.
Simplify compliance by removing the requirement to consider upstream GHG emissions associated with the production of the electricity used by electric vehicles when calculating the GHG emissions for a car maker's fleet.
Participating companies are choosing to pursue a voluntary agreement in which California accepts these terms as compliance with its program, given its authority, rather than challenge California's GHG and ZEV programs.
Vehicle emissions in California are responsible for nearly 40 percent of GHGs and more than 40 percent of smog-forming emissions. The stakes are high for the health of Californians, and the agreement on principles announced today will still allow the state to improve conditions that threaten public health. Those conditions include:
32 million Californians breathe ozone or particle polluted air at some point each year.
10 million Californians currently live in the only two "severe non-attainment" areas in the U.S. for ozone. They face higher risk of severe heart and breathing problems.
A steadily warming climate, which drives drought and more intense wildfires and increases polluted air and the associated health risks.
California has fought hard for its air quality improvements over the past 50 years. In the Los Angeles area, 8-hour ozone levels have fallen 45 percent since 1990. But California still must achieve an 80 percent reduction in smog in the Los Angeles region and about a 50 percent reduction of smog in the San Joaquin Valley to achieve its health based goals, and federal air quality requirements.