As the California legislature debates wresting planning and zoning control from local governments, TPR revisits a timely—but two-year-old—conversation between Los Angeles Mayor Eric Garcetti and then LA Times architecture critic Christopher Hawthorne from a "3rd LA" gathering at Occidental College. Occurring shortly after Measure S—a proposal to place a moratorium on projects needing zoning variances until the city completed its comprehensive plan—was defeated in a LA city election, Mayor Garcetti addresses the city's evolving approach towards growth, density, and supportive infrastructure and public frustrations with the city's planning status quo. Garcetti argues that support for the measure was motivated more by legitimate frustration with LA's failure to reform its zoning code or complete its community plans than by a purely NIMBY opposition to growth and densification. In 2017, Garcetti emphasized that he is decidedly "pro-planning" and recognizes the need for a more transparent and community-valuing process. In light of recent efforts at the state level to upzone residential neighborhoods and allow the building of market-rate housing by right (SB 50 and SB 330), TPR presents an excerpt of that conversation here, edited for space.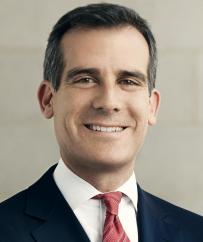 "I'm kind of agnostic about growth and density. I've had difficulty communicating this and being understood: I'm not inherently a pro-density or anti-density person. I'm a pro-planning person."—Eric Garcetti
Christopher Hawthorne: What gave rise to Measure S? Certainly there's a lot we can debate about that measure, how it was written and what led to its defeat, but from your point of view what's the specific frustration that led to the ballot measure in the first place?
Eric Garcetti: I think it's two things, and one is not new. It's the history of Los Angeles. Land use is a full-contact sport. It has come in popular referendum time and time again—some of them pass and some of them don't. Change is difficult and messy. Some people embrace growth and some people want to build a legislative wall around to prevent.
I'm kind of agnostic about growth and density. I've had difficulty communicating this and being understood: I'm not inherently a pro-density or anti-density person. I'm a pro-planning person. I believe that people come here, or live here and have children here, because they're free to do so. I've never believed that if you build a condominium, people in Wichita or Warsaw are going see that and think, "Time to move to LA." They come here for other reasons. Our challenge is to respond to the number of people that are here.
We've had decades where we haven't prepared for that and haven't built much, and we have decades where we have accommodated and built.
So, I think part of [the resistance to growth] is because the city is growing, not as fast as we thought it would but it's still growing. We have seen a lot of jobs come back here, which is certainly a great part of our recovery, but it comes with problems too like the housing crisis. We can't build housing quickly enough to accommodate all the jobs, which pushes people out and displaces them.
I think [Measure S] came from a combination of the most NIMBY instincts to not build anything to social-justice advocates who think this growth isn't really working for everybody. I think collectively, I was surprised by what a small minority it was. Support was still sizable, and I don't dismiss it. But one of the things I learned from my predecessor, Jackie Goldberg, on how to get affordable housing project done was to not dismiss people's fears. You can't just tell people they're racist or they're idiots for the way they feel. Fear comes from a real place. As genuine as your own perspective may feel, you have to work through it, understand it, and maybe propose a reason why that solution isn't the right one. I think that's one current underlying Measure S: the history of what we have.
Another current is that we just haven't updated our planning in a long, long time. It is our fault. It is City Hall. They were right. Measure S didn't bring my attention to this; it was something I felt very strongly about as a councilmember. But what would you do as a city leader when a recession comes? Lay off police officers and firefighters or slow down planning? It's always the last thing even if it's the most necessary because it's not the most urgent. There's less of an immediate consequence to not doing it. During the Recession, planning was put off even though we had a plan in place to finally update the blueprints for our neighborhoods with the Community Plans.
My first year as Mayor, I doubled the Community Planning Unit in our Planning Department to update those Community Plans. People wondered why it was going to take so long, until they saw how long it took to do just one. In Hollywood, where I was a Councilmember, we wanted to do it right. We had 114 public meetings, and at the last meeting we had new people arrive who hadn't heard about the plans who demanded even more meetings. And the courts eventually struck down that plan. You want to do very comprehensive community outreach, but you have to balance that with the eventual need to act.
How do we balance speed and community input? Things are changing so quickly in this world, and you have to respond. If we don't respond quickly enough, problems will overtake us. If we respond too quickly, we risk not including people who are then displeased with the outcome. I guarantee, no matter how well we do things, there will be some outcomes that we collectively don't like. We're not going to be perfect. But I have to air on the side of updating these plans as quickly and responsibly as possible.
Whether it's updating a zoning code that hasn't been updated since the 1940s, which is what we're doing with ReCode:LA, or updating the Community Plans, which we've pledged six or seven years to complete, it's a huge undertaking. I think that's where Measure S bubbled out of: a frustration with that process. To be sure, some support for Measure S comes from the idea that we can just stop density from happening. If you looked at the vote, the council district that voted most against Measure S was CD 5, where there is already the most development activity. The parts of the city that voted in support of Measure S were in the west and northern rim of the San Fernando Valley, where there is currently the least development activity. So, places with less density and development feared it a little bit more than those that are experiencing it. But overall I think Measure S came from a dissatisfaction with the status quo planning and development process that we have in Los Angeles.
Christopher Hawthorne: In terms of planning reform, the people I know who understand the planning process best are the most pessimistic about the possibilities for reform. There are certain developers who do know how to work the system and planning deputies that have a unique knowledge that becomes less powerful and less valuable if we have a more transparent system. How do we get past this process that is baked into the system that allows people to gum up the works for their benefit?
Eric Garcetti: So, I don't wear rose-colored glasses, but I am an absolutely an optimist. I'm also a storyteller and a realist as one of the longest serving elected officials on the City Council right now. And what you've described is not my reality. There's a theory that city councilmembers enjoy having discretionary power over planning and development in their districts. I'll give you my answer, I did 12 years of it. I hated it and many of my colleagues hated it. I like talking about design, pedestrian access or landscape decisions. But I think it's a myth that we at City Hall love this power and revel in the idea that projects must come and kiss the ring for approval. I'm not saying that some people don't have shades of that—I'm not that naïve, but I also don't think it's broken. The process needs fixing to be more transparent and more predictable so people don't get that perception. But I think the bad planning we have isn't mostly from people getting variances or exceptions. It's bad architecture.
There's a shared concern over mansionization and the mega-mansions that destroy the feel of certain neighborhoods—when streets of single-story homes are suddenly interrupted by a giant mansion next door that gobbles up every inch of land. But on the whole, I think as a city, we've grown reasonably and responsibly.
Christopher Hawthorne: What do you take from the results of Measure S in terms of the voters' vision for how they want the city to be shaped?     
Eric Garcetti: I think this anti-growth approach is on its way out and was the death cough of a past approach to planning. It's not that everyone in every neighborhood wants DTLA—which is not possible nor something anybody wants. But the biggest planning failure we have is not the buildings themselves, but the infrastructure around them. What are we doing to build more affordable housing and transportation specifically? I think it comes down to the three Cs: what do we have the capacity for, how will we bring in more context, and how will we encourage connectivity—not just geographic connectivity but issue connectivity.
Metro is currently going through a visioning process and they asked, "What should the mission of Metro be?" In the past, Metro's mission was to run the buses and the trains and make sure they run on time. My answer to that question now was is that Metro should be the main agency addressing traffic and the main planning agency for the county. Metro has the power now to really affect planning in the county, especially with Measure M. We didn't just undertake 15 rail line projects, but 15 economic development corridors with rail lines running through them.
But think about it this way, as we develop the rail line that will run between DTLA to Artesia, suddenly these working class South East LA cities that are predominantly immigrant and Latino communities are a place where other folks will want to live if they can get to work downtown in 10 minutes via the new rail line. If we displace the residents of those communities, it will only compound the problems we have. So at Metro, we passed a policy that 35 percent of all the housing projects in partnership with Metro will have to be subsidized affordable for low-income people. There is nothing as radical as that anywhere in the country. That's the kind of issue connectivity that we need to address.
Christopher Hawthorne: Measure M, in combination with Measure S, represents a pretty strong expression from the voters about what kind of city they want to see. This relationship between transportation, planning, public space, and design provides an opportunity to reshape not just how we get around, but how the city is designed—what it looks like architecturally and also the civic character of the city. We have over $100 billion to begin to address these issues. However, in my experience, Metro has never thought of itself as a patron of good design, urban design, as a planning agency. It's run mostly by transportation engineers. What's your sense of how we make that switch. Those who are more ambitious about planning at Metro have not always survived politically in that agency. How do we to get Metro embrace what it is: the most important patron of public architecture and civic design that we have in the region? 
Eric Garcetti: Phil Washington, our Metro CEO, and I have talked about this specifically. We have to build a lot of capacity at Metro. This is the largest public infrastructure undertaking for transportation in the nation's history at the local level times two. Not all $120 billion of Measure M goes towards building. A lot of it is going to go, smartly, to maintain the system. And we're taking an interesting approach to public-private partnerships, not ownership, but partnerships.
Part of the reason I recruited Phil Washington from Denver was that he oversaw the connector from downtown Denver to the airport. They were able to complete that project seven years early and at 75 percent of the cost because, instead of the agency designing it, they put it out to bid. It's almost like the XPrize. You get a companies spending their millions and bringing their expertise to figure out the best way to complete something and save money.
Whether it's the private companies, which I think oftentimes do a better job at design, or our in-house for construction management, one of the most radical things we've done is cook in requirements for the first mile and last mile. Anybody who submits a project to Metro needs to address how people are going to get there, rather than building the project and then thinking about it later. It's smarter and cheaper to build this into the architecture from the beginning rather than addressing it after the fact.
So we have some pretty radical ideas for how we approach projects, whether it's the affordable housing piece or the first mile/last mile, which doesn't really get to the design, but will impact the design and the function aspect of the form.
We live in a county with a lot of different ideas about what good design is. It's one thing to try and plan a city—there are some real strong ideas in Whittier that might be different from those in Santa Clarita that will be different from those in Santa Monica. With that said, too often we've fallen back on the most boring architecture ideas. I've tried to insert myself where I can and will continue to while I'm on the Metro Board to encourage good design. 
Christopher Hawthorne: What do you think is driving the decline in transit ridership and to what extent is ride-hailing, like Uber and Lyft, to blame? 
Eric Garcetti: I don't think it's primarily ride-share. I think it's a combination of cheap gas and a bad bus riding experience. Measure M was not just about building 15 rail lines. Part of that $120 billion was to make the bus lines better. The security on them wasn't great, so we've just changed how we provide police service and security personnel.
I don't think we've looked closely enough at the rider experience. For example, there's a bus stop across from City Hall where people can charge their devices, access free wifi, hear audio announcements of bus arrivals, and, in some, we have simple games for kids. These are simple things we can do to enliven the streetscape and improve rider experience.
We have a very unique public transit system. We have the highest percentage of low-income riders of any public transportation system in the country. It's really the transportation option of last resort for many people who are low-income. As we improve our system and make it more interconnected, current riders will benefit from that. I'm less interested using funds to entice a whole new sea of middle-class riders to public transit, but if you make the experience better for current riders, more people will come. Many people won't take public transit because as slow as it is in your car, it's still faster. That was a criticism of the Expo Line. It moves so slowly. I think the Wilshire Line subway will be absolutely a game changer to ride from UCLA to Downtown in 20 minutes. That is way faster than you could travel in a car.
We're exploring some really interesting moments. We've put money aside for new technology, and I think that we'll begin to see a different transportation and civic environment in the aerial space, at the terrestrial level, and in subterranean space as well. I've spent some time with Elon Musk, who'se attempting to improve tunnel boring technologies to make them faster faster. He wants to put cars in tunnels, we want to put transit, but we'll figure it out. I think that could change the face of things. I was very worried that we'd pass Measure M, a 40-year plan, and three years into it the plan would be obsolete because the world would ever move that way again.
Christopher Hawthorne: The LA River is one of those issues, like transit, where the city has a significant amount of direct control, but only about two-thirds of the river is in the city and the rest is outside the city and in the County. I think people who follow the issue and are interested in the future of the LA River have a hard time keeping track of who's responsible for what. It's an incredible collection of agencies at the city, the county, the state, and the federal level. Give us a sense of where things are and when the public might begin to see a new vision for what the LA River might look like? 
Eric Garcetti: I've surrendered to the fact that most of the LA River work is like planting trees: we probably won't be the main people who benefit from the shade.
We're opening a new state park this month. When I was at Oxy as a professor, Mayor Riordan wanted to put warehouses there. A bunch of folks, like Lewis McAdams, who just retired from Friends of the LA River, fought against it.  And now, 16 or 17 years later that park will open.
Similarly, we just announced that we bought the G2 parcel that blocks people in Cyprus Park from getting to the river. We have an amazing park there too but the railroad tracks were cutting it off. It wasn't cheap, and the cleanup won't be cheap, but each generation needs to pile on to the piece that they can get. We also put the river into Measure M so that we can finally finish the contiguous bike path from Chatsworth to Long Beach, all 51 miles.
And then there are the even more visionary pieces, like the new Union Station, for example. There is a lot we could potentially do with the land between Union Station and the river, where the City owns some of the land surrounding the station. There's funding from high-speed rail to reconfigure and rethink Union Station which will be a more and more important hub with Metrolink and a connection to the airport
The river will literally parcel together lands and visions, and I don't think we'll ever centrally plan it. There are 15 cities along the river. Robert Garcia is doing amazing things for the river down in Long Beach. I've fought for projects from the north end to the south end of the river because we have to have interconnectivity. For example, we now have uniform signs, visual cues, and architectural elements that go from the river's headwaters in Chatsworth down to Long Beach and will connect the parks in different cities. I think people can understand this complicated river. Every metaphor has been wrong. The LA River is a city unto itself. A quarter of the city lives within walking distance of it.