On May 20, at a ceremony atop the Hoover Dam, federal, state, tribal, and local leaders and water managers gathered to commemorate the finalization of the Colorado River Drought Contingency Plan. The agreement on how to address dwindling reservoir levels along the Colorado River comes after years of negotiation between two nations, seven states, ten tribes, and the countless internal interests involved. TPR presents the following interview with Metropolitan Water District General Manager Jeffrey Kightlinger discussing how a complex consensus among the parties was finally reached, and providing an update on other pending water supply issues affecting Southern California's livability.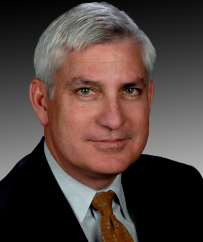 "You can imagine the difficulty of balancing the interests of the complex stakeholders involved when two nations, seven states, and 10 Indian tribes all had to agree on how to share the shortages. It's not like we were dividing up a surplus; we were agreeing how much everyone would have to cut." —Jeffrey Kightlinger
Since we last interviewed you, the Colorado River Drought Contingency Plan has been approved by Congress and signed into law. Guide us through the evolution of that plan and how this complex agreement was finally reached.
Jeffrey Kightlinger: The Colorado River went into drought in the year 2000, and from 2000-2005 was incredibly dry. These were the driest years on historic record. It woke up the state. We developed a shortage sharing plan in 2007 based on modeling that showed it should take us, comfortably, at least 20 years before we fell into a severe shortage. What that meant was Arizona and Nevada would give up lots of water if the elevations in Lake Mead continued to fall due to drought. After 10 years, in 2017, we realized that Lake Mead was falling faster than anticipated. The drought was still continuing and the shortage sharing guidelines simply weren't robust enough.
Our main concern was avoiding critically low elevations in Lake Mead, which threatens the ability to deliver water to Nevada, Arizona, and California and run the power system at Hoover Dam. We were getting closer to those critically low levels than we ever thought possible. In 2007, with California claiming senior water rights on the river, Nevada and Arizona absorbed all the shortages. By 2017, realizing that with continued severe drought and climate change models showing a likely permanent reduction in water supply, California needed to step up and own part of this.
For the next two years, we negotiated between the states to decide how each state would accept shortages, then each state decided how to divvy up the responsibility. As you can imagine, that was an even more difficult agreement to reach.
Arizona spent a long time, and it was very difficult for them to work through how to share the shortages between their agricultural sector, urban, and tribal interests.
California had a tricky issue with the Salton Sea and deciding how agricultural interests could give up some water without impacting the Salton Sea, which would have opened up a difficult environmental mitigation process. Eventually, the Imperial Irrigation District declined to sign the agreement, and it looked like that would stop everything. Metropolitan Water District decided to step up and cover Imperial's share, taking on that burden for the rest of the state and allowing the agreement to move forward.
The agreement then went to Congress, where it was blessed and then signed by the president (we know it's official because he tweeted about it). From there, we finalized everything with a ceremony at Hoover Dam on May 20th.
Elaborate on the significance of this multi-party agreement for Southern California and MWD. 
About 25 percent of all drinking water in Southern California comes from the Colorado River, so it's an extremely important source—the second largest source of drinking water that we have. Between climate change and severe drought, the Colorado River looks likely to be in a near permanent state of severe shortage. And though this year has proven to be an exception, one wet year doesn't change the long-term drying trend. Clarifying the rules for delivering water from the Colorado River is very important for an urban agency like MWD that's all about long-term planning and developing programs to supplement the water supply.
It was critical to figure out how to manage the Colorado River facing a permanent state of shortage in a sustainable way, without teetering on the brink of critical shortage or collapse. You can imagine the difficulty of balancing the interests of the complex stakeholders involved when two nations (the United States and Mexico), seven states, and ten Indian tribes all had to agree on how to share the shortages. It's not like we were dividing up a surplus; we were agreeing how much everyone would have to cut.
The fact that we were able to put together such a complex agreement in three years speaks to the cooperation between the various parties in resolving these critical issues.
You mentioned our reliance on climate change modeling to predict Southern California's long-term water supply needs. In light of President Trump's public threats to roll back funding of climate research, elaborate on the role science plays in MWD's planning for our "new normal." 
We rely on modeling to think about how to plan for the future of our water supply. All of our modeling is based on the recorded history that we have, about 115 years of data. We've collected runoff, precipitation, and snow pack data through the years and developed models using that data to give us statistical likelihoods of climate events, like how long a drought might last.
What we're seeing with climate change is that even in normal snowpack years, we're getting about 10 percent less water in the reservoirs. We've been trying to figure out exactly why, and it appears to be driven by the higher temperatures of climate change which results in higher rates of evaporation, early snowpack melting, and the early arrival of Spring. When Spring arrives several weeks earlier in the Rockies, the plants that bloom earlier use more water. As temperatures continue to rise, this is going to get worse.
We've lost about 10 percent of our historic supply, and that loss is likely to be permanent and could continue to increase. Since we use every single drop that we can from the Colorado River, we have to find ways to make up for that loss or deal with less. This is where the science and modeling is really helping to guide our policy decisions.
Regarding the challenge of addressing the Salton Sea, MWD's agreement to take on additional shortages was clearly only a temporary solution. What does a real fix for the Salton Sea likely include and cost?
The drought contingency plan is, in many respects, just a tourniquet; we're basically bleeding out on the Colorado River. The first step is to stop the bleeding. Step two is to figure out a long-term cure. The state of California has a 10 year plan for the Salton Sea with an estimated price tag of $500 million, $280 million of which is currently funded. That is a funding shortfall, but still a significant chunk of money to get started with. The state has been slowly working with Imperial Irrigation District to secure the easements and agreements necessary to begin habitat restoration along the Salton Sea edge.
The 10 year plan seems like a good, healthy start. Habitat restoration and dust control for human health and mitigation need to happen. However, there may not be a grand solution that involves de-salting the Sea or connecting it to the Sea of Cortez, but there is still a lot that can be done. Look at the Great Salt Lake or Mono Lake—There's tremendous habitat value in those saline environments. Part of our long-term thinking needs to include the possibility of a reduced Salton Sea that's saline but maintains its habitat value for migrating birds and other species. Are there ways to do that? I think it's something we need to think about. 
Water supply and reliability appear to be a priority for Governor Newsom; his administration recently directed the Natural Resources Agency, the Environmental Protection Agency, and the Department of Food and Agriculture to prepare a water resilience portfolio and coordinate state action to address long-term water needs. Speak to the significance of that direction and how it might work.
There are five Mediterranean climates in the world with semi-arid temperate conditions where we grow most of the fruits and vegetables in the world. Three of them this century have faced crippling droughts: South Africa, California, and Australia. It's pretty clear that climate change is impacting these regions where a lot of people live and they're critical to the world economy.
California has done a very good job in the urban areas to prepare for drought. If you look at the drought we experienced over the past decade in California, which included some of most severe drought years in recorded history, we basically managed pretty comfortably as a state. We didn't experience major dislocation in our economy; we didn't do a crash seawater desalination program like Australia; we didn't have a Day Zero campaign like Cape Town. We managed because we have a pretty resilient water supply system in the urban areas. On the other hand is our agricultural economy, which has just relied on mining groundwater during periods of drought.
So, taking a careful assessment of the state's resources is important. We're going to have hotter periods that we're going to have to plan for if we're going to accommodate 50 million people in this state. Thinking in terms of resilience is very smart. It's not a matter of prevention but of how to deal with this new reality. Conversely, we're going to have flooding periods. That's what climate change really means for California: even more volatility than we already have.
We have to figure out how to take advantage of the wet years to smooth out the dry periods. What's the right mix of infrastructure and how do we build for that? It's very smart to be thinking about it and taking a look at these questions in terms of climate change adaptation. 
After the 2018 midterm election, many new faces have taken on leadership roles in Sacramento—from the Governor's Office, Natural Resources Agency, CalEPA, and Water Resources Control Board to the State Legislature. All of these new players are now the stewards for the state infrastructure investments we've been discussing.  Speak to the status of that leadership and your confidence in it. 
There's been a significant generational turnover in our leadership ranks. We have a lot of new people and a lot of young people. I think the changes we made to term limits are healthy, so that people will be around longer. I think one of our challenges in water is that many of our projects take 10-15 years to build. Most of our planning and thinking happens in multiyear cycles. It requires a lot of patience and knowledge; it's a pretty arcane and wonky issue. With turnover in the Assembly happening every six years, it was really hard to get people to care about projects that could not be completed on their watch. I believe the changes we made to term limits will help in that regard.
What I am hearing is that people are really starting to accept that climate change and weather have to be drivers of our infrastructure. That's part of the mantra of this new leadership. I think they understand that we have to build resilience into our future planning.
Let's pivot to the California WaterFix. Recently, Governor Newsom withdrew permits for the two-tunnel conveyance project through the Sacramento-San Joaquin Delta and began a new process for a smaller, single tunnel system. In our last interview, you warned that pulling out of the existing EIR review process and starting anew might be a mistake. Is Governor Newsom's decision a setback, or will it allow MWD to move forward on WaterFix? 
It's definitely going to delay things. In my view, it is a setback to some extent. But I'm encouraged that the Governor has been very clear that something must be done. In his view, the two-tunnel approach was too large, too expensive, too ambitious, and unlikely to ever be completed. He feels that a smaller, more efficient single-tunnel approach that is less expensive and less disruptive to the Delta is a more achievable option. It's a positive sign that they want to get something done and want to be aggressive about it. Hopefully, we can turn this into a positive and get it done within the next 10 years, which is our goal and timeframe.
WaterFix was clearly one of former Governor Brown's highest priorities over the course of his last two terms. You have repeatedly opined that it takes focus and endurance across administrations to accomplish state infrastructure projects of this scale. Given that the Newsom administration is staffed heavily from the Bay Area, do you expect the Governor to go the distance on WaterFix? 
I sure hope so. They have said they intend to, and we're taking them on their word. We want to work closely with the Governor and his team to get this done. They've said all the right things. Now we're going to work hard and do our best to get this completed.
Last year, Los Angeles County passed Measure W, an evergreen $300 million sales tax for water purification and conservation projects. Speak to how that commitment fits in with the work MWD is doing with regard to water supply and clean water.
We've seen a lot of commitment from the public on these issues. When I became General Manager at MWD 13 years ago, we did some polling and found that less than 10 percent of people identified water as a top issue or concern. Now it's something that comes up very often as a priority issue for almost everybody. Both the drought and the increased awareness of the impacts of climate change have made people understand the issue in a way they didn't 15 years ago. That's essential for MWD to fulfill its mission.
We need people to care and be proactive. Our water use has shrunk to levels we didn't think was even possible. People have stuck with conservation even as we've come out of the drought and it's started raining again. People still use much less water than they did a decade ago, which has given us a lot of room to work on projects without having to worry about meeting demand day-to-day.
I've seen a lot of public investment and commitment on conservation and recycling. People have been willing to put up the money for these projects at the ballot box. It complements very nicely with Metropolitan's mission to be the region's backbone and backup supply of water. Yet we still need to develop the local resiliency to deal with the impacts of climate change on our imported water supply. These issues must work hand-in-hand and the public is really engaged on this issue. It's a very positive development. I honestly wasn't sure it could pass with a two-thirds margin, but it did. 
Orange County seems quite committed to clean water and conservation. How is it that the most Republican county in blue Southern California has been the leader on water?
Interestingly enough, in our six-county service area, Orange County and Riverside have led the way on recycling water for 20 years. They're also probably, politically, our most conservative areas historically. However, water has not historically been a partisan issue. On the Metropolitan Board, Santa Monica often votes in line with Orange County and Riverside on water recycling programs. We have extremely liberal areas whose interests align with conservatives on water. They are very much in sync on what we need to do in terms of water supply. Most Californians realize that providing water is critical.
Lastly, Australia and other countries challenged by drought are engaged in research, investment, and commercialization of better technologies to clean and reuse water. Elaborate on MWD's communications with other nations regarding best water practices.
There's quite a bit of outreach between the countries that deal with these issues on a regular basis. We've done a lot of exploration and discussion with Australia regarding their experiences with drought. Israel is another country that has no other choice but to be on the cutting edge and extremely frugal with their water supply. We do a lot of technological exchange and idea sharing with Japan, which has similar issues with earthquakes as a seismically active country.