As California braces for the upcoming wildfire season, PG&E gets new leadership on the utility board to navigate the company through bankruptcy and the transformations demanded by the Climate Crisis. TPR spoke to former US Ambassador Jeff Bleich on his new position as chair of the PG&E utility board. In this interview, Bleich highlights Australian strategies for resilience and the new board's commitment to ensuring the safety, reliability, and security of its distributed electric grid.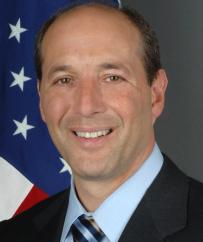 "PG&E needs to create a vision that makes ratepayers and residents willing to work with us as we implement our new strategies."— Jeff Bleich
Following PG&E's bankruptcy declaration, you've become board chair at the utility. What attracted you to assume this role, and what are your responsibilities?
Jeff Bleich: My focus is and will be on the issues that matter for the next generation. One of the most critical, in my view, is mitigating and adapting to the challenges of climate change.
We built our infrastructure more than 100 years ago for the last climate. But we've got a different climate now, and we need to adapt our infrastructure to match. We need to rethink how we produce, store, and deliver energy in this new environment. If we can't get that right, a lot of humanity is not going to fare well.
This reckoning is coming to every utility in every part of the globe, but it's starting in California first because of a number of conditions—some environmental, some regulatory, and some corporate—that need to be addressed.
My overarching responsibility at PG&E is to provide safe, reliable, affordable, and sustainable energy to all the people living in the PG&E service area, which is one of the largest service areas in the country, if not the largest. In order to do that, there are a number of challenges we have to overcome. Fundamental to them all is the understanding that it's not just about solving today's problems, but also making every effort to mitigate the increasing challenges of climate change. 
As the utility's new board chair, elaborate on the different interests and expectations the board now faces from financial and political players—such as the Governor, Legislature, debt holders, and ratepayers.
I am chair of the board of the utility, and a member of the corporate board as well. Of the utility board's 14 members, 12 of us are new. That was intentional; there was a desire, given PG&E's current circumstances, to take a fresh approach to leadership, including selecting a new corporate CEO—Bill Johnson, who is terrific.
I think the new board reflects a real diversity of experience and interests, and I've been very pleased in our early sessions to see the embrace of a common mission. Rather than representing their own individual interests, the board members understand that there is a much more urgent calling for all of us: to make this institution effective in delivering what people need—that is, energy that is reliable and affordable, safety for customers and others living in the service area, and ultimately, a sustainable future. It's not enough to deliver today; we've got to be thinking years down the track.
In terms of our relationships with stakeholders, PG&E has been really challenged by the loss of trust and confidence from critical partners. There are a variety of reasons for that: the bankruptcy in the early 2000s, the San Bruno explosion in 2010, and now the terrible and tragic wildfires in the past two fire seasons, among other missteps. Altogether, there is an increasing understanding that we are at a critical inflection point for the company, the state, and the industry. My hope—bolstered by my experience so far with the new board—is that there is also an increasing understanding that we are all in this together.
People need to be able to turn on the switch and know that they'll both get electricity and be safe in their homes. The state, for its part, needs to know that this is a long-term proposition. That means PG&E needs to adjust how we work with all our partners, and take up the combination of humility, transparency, and vision that they rightly demand. I hope that they, in turn, will give us the latitude and opportunity to build something great together.
You served as U.S. Ambassador to Australia in the Obama administration, and lived in that country at a time when they faced significant fire damage, severe drought, and flooding simultaneously. What did you take away from that experience that could guide how California approaches the challenges of its own "new normal" climate?
Australia, like California, is on the bleeding edge of experiencing climate change impacts. There is a lot to learn from them in terms of both wildfire management and delivery of vital resources.
I was in Australia as they were recovering from devastating wildfires in Victoria and the Australian Capital Territory (ACT), where my family and I lived. We toured those areas and met with people who were affected and communities that were devastated by them. We also met with people who were involved in the Wildfire Royal Commission that was conducted, which gave me some insight into best practices in wildfire management.
At the same time, the country was in the midst of a severe drought and running into water management challenges. Victoria, a major metropolitan area, was literally running out of water. After a number of proposals for massive infrastructure efforts, they ultimately developed a plan that combined new technologies with incentive programs based upon water pricing. By relying largely upon water reuse, groundwater recharging, use of greywater, water capture, and catchment, they were able to meet all the water needs of a growing and very dynamic metropolitan area. In fact, although they built a desalination plant as a backup plan, they've never actually had to turn it on because these other efforts have continued to successfully meet their water needs.
That is a very impressive model, and one that I think offers a lot of lessons as we look at our energy future. What can we do now with better deployment of existing resources and adaptation of new technologies, particularly in storage and distribution? What else should be added to the mix in order to meet these needs?
On energy, South Australia has done some very innovative things with battery storage that I want to study further to see whether they could be replicated here or at least offer lessons that are applicable.
Lastly, Australia recently made some strong moves on solar and wind power and other forms of renewable energy, for which they are ideally suited, given their environment. But there was also heavy political pressure to continue to use coal and other high-carbon-emitting fuels. I think some of the challenges they've faced have been a reckoning for making that choice.
PG&E's bankruptcy has reportedly hit profits hard and led to the downgrading of several other utilities' credit scores. How might the financial impacts on the industry from the devastating fires of these last few years ultimately affect California's progress toward its ambitious renewable energy goals? 
We're all in this together. The changes required to adapt to a new climate—and to an increasingly digital, and therefore energy-intensive, society—are going to cost money. Unless we become significantly more efficient, that will mean higher taxes, higher rates, or higher insurance premiums.
When the cost of capital goes up for a company like PG&E, all of us suffer, because it becomes more expensive to produce something that we all need. One of the most important things we can do is restore confidence in the company. We need to reassure the financial markets so that it becomes less expensive for us to do the borrowing we need to do in order to meet people's energy needs.
That's going to require a combined effort. We need a regulatory environment that the markets have confidence in. We need to establish a safety record that makes insurers and others comfortable. And most of all, we need to create a vision that makes ratepayers and residents willing to work with us as we implement our new strategies.
There is much discussion related to what the utility of the future should look like, and how or whether the role of the California Public Utilities Commission should evolve. What policies, incentives, or other actions from the new state administration would help support your vision for the future of PG&E and the utility industry? 
I wouldn't want to prejudge where we come out. I think it's important to allow the state's new leadership team, and our new board, to spend time hearing the voices of our stakeholders—regulators, industry leaders, technology leaders, and those who are on the ground maintaining the system, as well as the people who depend on us most—to find the opportunities for improvement. Working collaboratively with partners is the only way we're going to form a vision that everyone can believe in and get behind. As chair, I think it would be wrong to lay down a certain number of markers before allowing others to study the issue and speak their piece. I'll learn first, and hopefully develop a vision from that. 
In closing, you have spent quite a bit of time over your career involved with national security and cybersecurity, which directly touch the energy industry as it transitions to a distributed electricity grid. What are your thoughts on energy as a national security issue, and the role of cybersecurity in the utility of the future?
Energy is absolutely a national security issue; if you don't believe it, just ask anyone in the national security world.
For one, our dependence on certain forms of energy that can only be produced in certain areas has always been a challenge for national security. But it's a particular challenge now given the rise of authoritarianism in the places where certain fuels are more abundant.
Secondly, energy is a national security issue because climate change is going to produce tremendous refugee populations and other significant challenges to an orderly world, which will place great strain and demand on countries like the United States.
Finally, energy is a national security challenge because a successful energy system of the future will depend on sensor technologies and distribution systems that are vulnerable to cyberhacking. After the Russian government's cyberattack on power plants in Ukraine, we have a great appreciation for the tremendous harm that could be done by hacking transmission systems in California.
Every utility in the country has a daunting, but very important, responsibility to create secure systems. That's not easy. The internet is an inherently vulnerable platform; it wasn't designed to carry the kind of sensitive information that it carries today. We are always in a game of cat and mouse in terms of security versus hackers, and the mice keep getting bigger and bigger. To me, that just means we need to keep growing as cats.
<