In honor of Women's History Month, the Los Angeles Conservancy recently screened Citizen Jane: Battle for the City at the Wilshire Ebell Theatre. The following panel discussed the role women play in protecting America's historic neighborhoods. Iconic buildings such as the LA Central Library, Oviatt Building, and Wiltern Theater have been protected due to community support and architectural stewardship. TPR is pleased to present an excerpt of the panel, moderated by Trudi Sandmeier, architecture professor at the University of Southern California, and featuring Linda Dishman, President and CEO, Los Angeles Conservancy (pictured); Laura Dominguez, co-founder, Latinos in Heritage Conservation; Lisa Gimmy, Principal, Lisa Gimmy Landscape Architecture; Brenda A. Levin, President and Principal, Levin & Associates Architects; Karen Mack, Founder and Executive Director, LA Commons; and Christy Johnson McAvoy, Founding Principal, Historic Resources Group.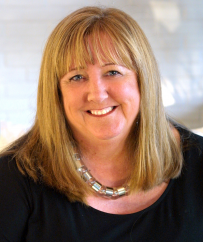 "The bottom line is that it has become economically viable to save historic buildings because adaptive reuse possibilities have come of age, and tenants want to be in these buildings." —Brenda Levin
Trudi Sandmeier: Christy, speak to the culture surrounding historic preservation in the late 70s when the LA Conservancy, Hollywood Heritage, Pas Heritage, and others were founded? Why was Historic Resources Group founded? Did the battles being fought in LA mirror any of Jane Jacobs's activities in New York?
Christy Johnson McAvoy: Efforts in LA actually did have some similarities to those of New York and Jane Jacobs, although the more organized non-profit responses did not occur until around 1976. We did, however, have a functioning local landmark program beginning in 1962, in which any citizen could nominate a property to the Cultural Heritage Commission. Writers and academics like Esther McCoy, Robert Winter, and David Gebhard had been calling attention to LA's architectural heritage, in particular modernists like Irving Gill, Schindler, and Richard Neutra. 
The Los Angeles Conservancy grew up to network with the other California organizations—California Preservation Organization, the National Trust—and began to understand that our problems were not unique. It was a very heady time in the 1970s and '80s to realize that we weren't alone, that stories like these really brought power, and that we could go talk to city officials and cultural heritage boards and designate buildings.
There was one last piece of the puzzle. The three-legged stool has been made up of government action, developers, and advocates. Something that's come up more recently—though it was always intrinsically a part of East Coast preservation—is the role of the professional. We did not have as much of that before Brenda and others came to town and the Historic Resources Group was founded. They bridge the gap of what developers needed to know about federal programs and how to treat this architecture and these aesthetics. Professionals made the fourth leg of the stool. And when you lose any one of those things or they begin to disconnect, the stool starts to fall.
The demolition of the Dodge House, which McCoy fought to preserve, the coming of redevelopment efforts in Los Angeles to areas like Bunker Hill and Little Tokyo as well as the demolition of the iconic Richfield Building were all concerns to Angelenos. In the mid-1970s, there was a push from the National Trust for Historic Preservation to form a statewide organization in each state, and SHPOs were granting funds to do local surveys of historic properties.
The threat to the Central Library galvanized Margaret Bach and the architecture community and resulted in the founding of the Conservancy. Five women who met during the survey effort in Hollywood founded Hollywood Heritage, and a group of friends from Pasadena's Junior League were the founders of Pasadena Heritage. 
After founding Hollywood Heritage, I realized that there was a need for a professional consulting group to help with nominations, entitlements, tax credit approvals and other tasks outside of the traditional architects' roles in preserving buildings. I began doing that work in the mid 1980s; Historic Resources Group was founded in 1989. The network of these groups with statewide and national organizations and the use of CEQA led to some powerful organizing during that period.
Trudi Sandmeier: Linda, you've been the head of the Los Angeles Conservancy for more than 25 years. You've seen some fairly large battles over that period. What are the biggest battles you've fought in the arc of your time here, and what do you think the future battles are going forward? 
Linda Dishman: The Central Library was the reason we were founded, and that set the stage for the Conservancy fighting for the truly iconic buildings of Los Angeles. Before the library problem was solved, the Eastern Columbia and Sunset Tower were saved. Those were buildings that people had a hard time imagining losing. We continued to save iconic buildings; our biggest fight was St. Vibiana. These successes have been really important in changing both government's and developers' perceptions of these important buildings—so that when Capitol Records was purchased and a developer came in, it was never even discussed that that building might be demolished. The plan was always going to be high-rises built around it. And whatever you think of that, at least the building itself was not threatened.
The iconic buildings are probably here to stay, and overall, there is a sense that we can figure out a solution because we have been figuring out solutions. The struggle now is the lesser buildings—the neighborhood buildings that maybe don't have the same kind of loyalty or familiarity. We joke that if you can see the building from the freeway, we have a much better chance of saving it.
Preservation is getting more and more complex. There are materials issues, community issues, and development issues. How do you find the right solution? As preservations, we need to reach out into community more. We are often, sometimes correctly, criticized for being more about the buildings than about the people in the buildings. But I have always believed that we don't have important buildings if we don't have people who believe that they are important. That tie to the building is really important.
We need to reach out to increase the number of people who say that preservation of these buildings is important, and I believe we can do that. We are doing it now in neighborhoods across the city, and not only is it important, but it is incredibly fulfilling. It's not only something we should do, but something we should really want to do because it is great to do.
Another part of this is that preservationists also have to look at the city or county as a whole, and think about how we can be part of the solution to the most pressing issues. For example, when it comes to the housing crisis, how do we help solve that problem? The adaptive reuse ordinance went a long way in using underutilized buildings for housing. The Conservancy is doing an economic benefit analysis now to look at the power of preservation in our economy. There are many other big problems out there, and we as preservations need to find out how we can be part of the solutions.
Trudi Sandmeier: Karen, your work ties together the intangible cultural history of place with the physical environment. You now sit on the Planning Commission, which gives you a different viewpoint. How do you see all these things playing together? 
Karen Mack: At LA Commons, we are the people side of this equation. That is what our organization is about: People make neighborhoods, so how do we support them and their voices in impacting their places?
I'm fortunate that at the time I'm on the Planning Commission, there is a real openness to the conversation about taking people's ideas into consideration, particularly about their heritage, and preserving that heritage in neighborhoods that are under siege from change and displacement.
We just hosted, with our partners at USC and their Race, Art, and Placemaking initiative, a conversation about mapping cultural inclusion. We brought Vince Bertoni, Danielle Brazell, and other leading thinkers, including Brenda, to the table to talk about how we think about these intangible assets—not just buildings, but stories that are important to the city. What was exciting is that Ken Bernstein, who heads the Historic Planning in the city, was one of the most gungho people there. He's been looking at what's going on in San Francisco and other places around the country in this regard, so there is a real openness to thinking about that.
What I love about Vince is that he is willing to think about things in a practical way: How do you do this? Is it by ordinance, or is it an administrative thing? Is it in partnership with a neighborhood to move community-based ideas forward?
Another thing that's great about the Planning Department is that Vince just structured the department so that all the department leadership are women. I'm excited about that, because It brings a different perspective. My colleagues in the Planning Department are now talking to me about how to do community outreach differently. There's a real openness to engaging communities in a deeper level of partnership around the planning process.
Trudi Sandmeier: Brenda, you have your own firm, Levin & Associates, which does not only historic preservation work but also new projects. In architecture school, it's always about designing the next new thing. But I always tell my students that the most creative architects I know are the ones who have to work with what's already there. As your career has unfolded here, talk about how the balance between the two has played out, particularly in such a male-dominated field.
Brenda Levin: That is the question of my career. I was the beneficiary of the advocacy movement that Linda and Christy described with respect to the Conservancy and Hollywood Heritage, because when I started working on the Oviatt Building in 1978, there was advocacy but there were no architects working in that field. It was serendipity that I met Wayne Ratkovich, but it seemed totally logical to me that his interest in a 1926 Art Deco building made economic sense. Why wouldn't it? It's beautiful; it's fabulous; it has a great history. The fact that there was a high-end Italian restaurant on the ground floor, which was part of Wayne's vision, instead of a bank occupancy that would have closed at 5:00 at night and made the street dark, was really an unusual decision.
I've had the opportunity to work on most of the iconic buildings in Los Angeles—the one-offs, where there was as sense of: How could you not save them? How could you not preserve them? How could you not reinvent them? How could you not think about their history? There are so many people in Los Angeles who have memories of those buildings and can tell you the stories of those memories—shopping at Oviatt's haberdashery, going to Griffith Observatory, being in City Hall, etc. Those were really important projects, and what happened for me was that because I was new to Los Angeles and new to the world of preservation here—because it was, for architecture, new—I became an expert just by doing, as opposed to a long background in it. I became an expert in dealing with the Department of Building & Safety and teaching them the importance of saving these buildings.
I remember once going to the Fire Department, who had just put a correction on my drawings for the Bradbury Building to enclose the stairs. I said, "Have you ever been to the Bradbury Building? Are you kidding me?" There was quite a bit of a learning curve, and the State Historic Building Code has changed that. The toolbox that we now have has made it somewhat easier. But the bottom line is that it became economically viable to save these buildings because adaptive reuses possibilities came of age, and there were tenants who wanted to be in these buildings. That's what we're seeing now: We're seeing buildings that aren't these premiere icons, but that all of a sudden, the Googles, the YouTubes, and the WeWorks have made a whole new industry of creative offices that capture the spirit of these buildings and made them economically viable for reuse
When Paul Goldberger said "managed growth," he meant that it was not just about stoops in the West Village. Managed growth and economic viability can work hand in hand to create more vibrant cities and places.
Trudi Sandmeier: Lisa, oftentimes when communities are rallying to save the building, what surrounds the building is forgotten. What is the role of landscape architecture in cultural conservation?
Lisa Gimmy: One of the things that stood out in the film was the subtle ways that landscape impacted the outlook. Overall, the fragility of those neighborhoods, and the introduction of something like a freeway can destroy the human ecology.
We are just at the beginning of understanding and appreciating landscapes. That is why I am excited to support the Cultural Landscape Foundation. The initial motto was "Stewardship Through Education," and now it is "Connecting People to Places." Both are great mottos that effectively communicate our mission.
Our beginning to understand landscape is a process. Landscaping needs to be constantly tended, because it is a living thing. It is a unique challenge that sees evolution over time. I am optimistic that landscape will be better understood, and people will come to see how landscape impacts quality of life. Landscape and ecology a key part of the Los Angeles experience, which is different from New York's built environment.
Trudi Sandmeier: Laura, as an emerging leader and historian, what would you add to our preservation toolbox?
Laura Dominguez: Preservation can look differently; based on what community you are in. In this next generation, we need to reevaluate the paradigm to assess what needs to be preserved, and what voices are missing from this conversation.
An additional tool that I hope we can bring into the toolkit is thinking about the intangible aspects that make a place. Thinking about food, music, art, and other non-physical activities that give communities meaning will be critical to the next generation of preservation.