Long before winning the congressional seat in California's 49th District, Mike Levin advocated for clean energy and developing the green economy. Representing Orange County and San Diego County coastal communities, Congressmember Levin is one of the few freshman members named to the House Select Committee on the Climate Crisis. In this exclusive TPR interview, Rep. Levin discusses the current outlook of the House of Representatives, his goals for dealing with climate change in a bold and aggressive way, and the policies that will ground the recently announced Green New Deal. He also outlines his new task force to address the safe disposal of waste from the San Onofre nuclear plant.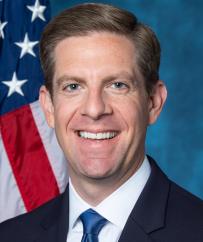 "My great hope is that we won't miss the opportunity to build green infrastructure—to help create the clean energy jobs of the future that are so important." —Rep. Mike Levin
Congressmember, in 2018 you repeatedly challenged the then-incumbent Darrell Issa, a climate change denier, to read a beginner's guide to climate change. Since winning the election to represent the 49th District, you've been named to the House Select Committee on the Climate Crisis and the Committee on Natural Resources. You also have recently joined with many of your House colleagues to endorse, in principle, a "Green New Deal." Elaborate on how the aforementioned will serve your constituents.
Mike Levin: I ran as a clean energy advocate and an environmental attorney with well over a decade of experience in helping to grow the clean energy industry—and yes, I did send Darrell Issa a copy of Climate Change for Beginners during the campaign, along with a letter urging him to acknowledge the scientific consensus around climate change.
At some points in the campaign, it was said that I was "gambling" on the issue of climate change. My belief is that it would have been gambling not to talk about climate change, which I consider to be among the most important issues, if not the most important issue, of our time.
When I got to Congress, I had the incredible honor of being named to the new Select Committee on the Climate Crisis, which I think is named very well: This is a crisis. If you look at the recent National Climate Assessment, the latest report from the Intergovernmental Panel on Climate Change, and the most recent data from NOAA and NASA, there is no question whatsoever that there is a significant climate crisis and that we are contributing to it by virtue of emitting too much carbon into the atmosphere. We need an all-hands-on-deck strategy to get policy outcomes that address climate change in a manner that is mindful of environmental and social justice.
We have a great opportunity to grow the clean energy industry and jobs of the future, but we've got to do so in a way where those who will be most impacted by this transition—the coal miners and the fossil fuel industry workforce—are part of the clean energy solution. That's what the Green New Deal aims to do, and I was proud to stand alongside Senator Markey, Congressmember Ocasio-Cortez, and so many others in unveiling the resolution.
The resolution itself says a number of things. First: Climate change is deadly serious. It's already having a detrimental effect on our planet, and we must enact bold policies that fundamentally change course to a sustainable energy future.
It also addresses the myth that a shift to a clean and renewable energy economy has to come at the expense of jobs. Quite the opposite: The Green New Deal and an accelerated transition to renewables will help us grow the clean energy jobs of the future and lift up the middle class.
On the Natural Resources Committee, I sit on two subcommittees: Water, Oceans and Wildlife, chaired by Jared Huffman of Northern California; and Energy and Mineral Resources, chaired by Alan Lowenthal of Long Beach. We committed to holding the first Congressional hearings on climate change in nearly a decade; we started those hearings February 6, and they are ongoing.
Unfortunately, in many cases, what we still see on the other side of the aisle is a denial of basic scientific consensus. We see Republicans calling witnesses to testify who claim that we don't need to reduce carbon emission, or that renewable energy is more damaging to the environment than fossil fuel energy. This is totally at odds with everything we know about science.
We've got a President of the United States who thinks climate change is a hoax, who sees Amy Klobuchar running for president in the snow and thinks that is evidence that there is no global warming, and who doesn't seem to know the difference between weather and climate. My great hope is that we can correct course. I have two young children at home, and this is about leaving the planet better for them than how I found it. 
Let's turn to the actual policies that ground the Green New Deal. You called on the Federal Energy Regulatory Commission (FERC) to finalize guidance on a rule to "grow a more flexible resilient and sustainable energy future by allowing Americans to connect their rooftop solar, wind, and storage devices to the electrical grid." Speak to the necessity of that policy and rule change.
If we're going to achieve our significant greenhouse gas reduction goals, one thing we have to do is enact policies that transform the electric grid to capture rooftop solar and storage. This will be important as we electrify transportation and move toward distributed generation as a lower-emission, and in many cases zero-emission, replacement for centralized fossil plants.
I've been working on distributed generation technologies in my public- and private-sector careers for well over a decade. My recent letter to FERC was merely a reflection of the need to acknowledge the value provided by a wide variety of distributed energy resources. In my discussions with utilities, they've acknowledged that this needs to occur—particularly in California, where we have a very aggressive goal of getting to 100 percent renewable energy by 2045.
Transitioning to a more decentralized and ultimately zero-carbon grid is one thing we have to do—but it's not the only thing. For example, we also need to work toward widespread adoption of electric vehicles and far better ways to build that reduce the carbon footprint of buildings. All of this needs to work in concert in order for us to hit our emissions reduction targets.
In your role on the Select Committee on the Climate Crisis, you've organized a task force to consider how millions of pounds of radioactive waste from the closed San Onofre nuclear plant can be safely stored. Elaborate please. 
In Southern California, we began decommissioning the San Onofre nuclear generating station several years ago with the hope that spent fuel from the plant —that is, radioactive waste—would eventually be moved to a permanent storage repository.
As envisioned many years ago, Yucca Mountain in Nevada was that repository. Today, we're still living under that policy regime from 1982 and '83. But in the intermediate years, it has become very clear that we have to explore other options beyond Yucca Mountain—both interim storage sites and potentially other permanent storage sites.
Currently, there are 1,600 tons of highly radioactive waste sitting 100 feet from the ocean. That is simply not sustainable. There are significant seismic risks, given the two active earthquake faults and a whole network of inactive earthquake faults. There are volatile and rising sea levels; the Scripps Institute of Oceanography has done significant work demonstrating the increase in ocean temperatures at the site and along the Southern California coast.
This task force brings together a group of local and national scientists and experts, along with a select number of important community activists and stakeholders, to help determine the appropriate legislative and regulatory path to accelerate the removal and transportation of that waste off the coast.
The task force will also look beyond San Onofre to address the lack of a comprehensive national plan for spent nuclear fuel. Throughout the country, there are dozens of other sites with highly radioactive spent nuclear fuel. Remember, the places where powerplants were sited were never intended to become permanent homes for the plants' spent fuel. We need to find a solution.
Co-chairing the task force are Gregory Jaczko, the former head of the Nuclear Regulatory Commission, who just wrote a great book called Confessions of a Rogue Nuclear Regulator; and Retired Rear Admiral Len Hering, former president of the Center for Sustainable Energy, where I served on the board for a number of years. We will meet regularly to chart a course from the legislative and regulatory perspective, while also providing guidance and recommendations to Edison and other stakeholders in Washington.
In May, your colleague, Congressmember Earl Blumenauer, told The Planning Report there had been but one House hearing in eight years on infrastructure, and that getting to yes on infrastructure with the Republican Party was daunting. Do you expect that to change with Democrats now in leadership in the House?
I certainly hope so. Between Earl and Peter DeFazio, who now chairs the Transportation and Infrastructure Committee, my hope is that we'll pass a bold and green infrastructure proposal in the House. At that point, it will be left to the Senate Republicans and Majority Leader Mitch McConnell, and ultimately to President Trump—who, during the State of the Union, did refer to infrastructure.
I believe that infrastructure is an area that has broad bipartisan support. My great hope is that we won't miss the opportunity to build green infrastructure—to help create the clean energy jobs of the future that are so important.
I can't tell you what's on the President's mind or Mitch McConnell's mind. But I can tell you that we House Democrats are absolutely committed to passing an infrastructure bill. 
Senator McConnell  recently called for a vote on the "Green New Deal" paradigm even before specific policies have even been introduced. How will the Democrats who support the general goals of a Green New Deal contend with the mis-characterizations that likely will be advanced by skeptics? 
The Republicans are betting against science and evidence when they try to belittle the most bold and ambitious plan to deal with climate change that we've seen Congress produce. I think they would be well served, before they try to discredit the plan, by actually reading the principles and the vision.
I believe it's a vision that most Americans share—one in which we tackle the climate crisis in a manner that ensures justice and equality for communities that will be impacted by the transition to more sustainable energy. I don't believe that the Democrats are at a political disadvantage when we talk about bold and aggressive steps to combat climate change; I look forward to a robust debate about the need to act, because that's a debate in which I believe the public is on our side. 
Lastly, as one of 40 newly elected members of Congress, give our readers a sense of your experience to date.
It was honor of a lifetime just to run for Congress, and to ultimately win and get to serve only continues that honor. I get goosebumps most mornings in Washington when I see the Capitol and remember I get to go to work there, and when I walk onto the floor of the House to vote.
I have such incredible colleagues from all backgrounds. Everyone brings a particular expertise and their unique sphere of influence, and Speaker Nancy Pelosi has been absolutely incredible in terms of recognizing and accommodating our unique strengths. For me, that has been primarily environment and energy policy. But also, recognizing the large number of veterans in my district, she selected me to be on the Veterans Affairs Committee and even to chair its Subcommittee on Economic Opportunity. All of that is indicative of the type of person she is—helping each individual optimize our backgrounds so that we can be most effective collectively.
It's an amazing class; I'm thrilled to be a part of it, and I'm very grateful for the opportunity.