For decades, TPR has reported on the progress (or lack thereof) of Eli Broad's vision of Grand Avenue—and by extension, Downtown Los Angeles—as a thriving center of urban culture and commerce. Now, with the groundbreaking this month of Related's The Grand, a major milestone in this effort has finally been reached. Scheduled to open in 2021, the $1 billion, Frank Gehry-designed mixed-use project will redefine the Avenue and bring housing, hotel space, retail, and restaurants to the block that also boasts Gehry's iconic Walt Disney Concert Hall. TPR is pleased to present excerpted remarks from the groundbreaking ceremony by philanthropist Eli Broad; Los Angeles Mayor Eric Garcetti; Los Angeles County Supervisor Hilda Solis; Related Urban CEO Ken Himmel; and Related California CEO Bill Witte—followed by a panel with Broad, architect Frank Gehry, Related Founder and Chair Steven Ross, and Rising Realty CEO Nelson Rising, moderated by KCRW host Frances Anderton.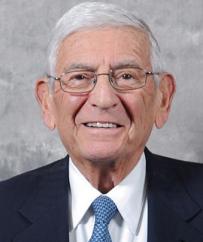 "It all started with the belief that every great city needs a vibrant center. We saw Grand Avenue as becoming the arts, cultural, and civic district for a region of 14 million people." —Eli Broad
Eli Broad: This is an historic day. It's the culmination of a dream we had some 40 years ago—a dream to transform Los Angeles into a major cultural capital of the world, with Grand Avenue being the centerpiece. I'm privileged to play a role in all of this—giving my time, energy, and yes, my money, to make this all happen. No city in the world has such great architecture within four blocks. And today, we're adding the crown jewel: the Grand by Frank Gehry.
Ken Himmel: When we began exploring Eli's dream to cap off Grand Avenue with a great mixed-use project, I'll never forget what he said: "You are about to take a journey on what is going to become the Champs‐Élysées of Los Angeles." That was enough to get us started!
Having spent over 40 years building these kinds of projects, I can tell you that you are about to see a project unfold like nothing else you've never seen in all of Los Angeles, never mind Downtown.
People challenge us every day in our work about the death of retail. Well, retail is dead where it doesn't belong. Retail is dead where people are not innovative. Retail is dead where there is no great planning and architecture.
We haven't even started marketing this project yet, and already 30 restaurants—eight local and 22 around the country—have expressed interest in coming to the project. We're going to bring a collection of terrific retailers to complement what's already in Downtown: great public spaces, art, places for performances, and places for public gatherings. Take great planning, great architecture, and great programming, and you end up with an incredibly great project.
It's a good thing we're doing this project today; five or 10 years ago, we would have been too far ahead of our time. I think the timing is perfect because of the great work that has been done by all the public parties that contributed to the success of the Downtown market.
Eric Garcetti: I've been dreaming of this day. We've planned it many times, and to actually be here today is a little bit surreal. But I assure you, you're not in a dream; this is real, and it is happening. It did start with a dream—Eli's dream.
This is the crossroads of a city that is the crossroads of the world. This is a city in which everybody belongs. We're defined by three things. First, our freedom: the sense of unlimited possibility; that sense when you climb up to the top of the Hollywood Hills and look over the expanse of the city—at night, laid out like a bed of jewels; in the daytime, seeing all the way to the ocean. You feel that sense of freedom.
Second, we're defined by our sense of belonging. This is a place, at a time when people are figuring out who doesn't belong and how to divide us, where everybody belongs. It doesn't matter where you come from. You can be lucky enough, like me, to be a fourth-generation native. You can be smart enough to move here, like Eli. Or you can be a visitor, like Steve. Los Angeles is a place where everybody—no matter your background, no matter who you love, no matter your religion or nationality—belongs.
Third, this is a city that defines itself by its innovation. And nobody is the incarnation of that innovative spirit more than Frank Gehry, the man who has brought Grand Avenue alive.
A city isn't defined by how quickly it gets built. A city is defined by how well it gets built. When I was a freshman councilmember, I would walk up here and look and think about the possibilities of what could be. With all that is coming up here—the expansion of the Colburn School, where my daughter has taken music classes with children from around the city; the busloads the unload here to see the LA Philharmonic, the best Philharmonic in America, if not in the world, celebrating its Centennial; and the nine-and-a-half years leading up to the entire world coming here to see the Olympics and the Paralympics—we will see a city reborn.
We have our challenges in Los Angeles, and we face them. But more than that, our aspirations and our dreams are more than just abstractions. Today, we see they are material incarnations.
It was Aristotle who wrote in Politics what is now inscribed at the top of City Hall: "The city came into being to preserve life. But it exists for the good life." In other words, the city came to be because we needed to be safe. But that's not the end goal. Once we are safe and secure, the end goal is to find and define what the good life is. The vision of an architect, of a businessman, of a company of investors, of the builders, of the elected officials and the community all say: "This is what the good life means: a place to hear the music, a place to fall in love, a place to stay in a city and to understand it all over again."
Let's all dream for this city and let's make our dreams come true.
Hilda Solis: It's overwhelming to know that so much good energy is being spent here in Los Angeles, in the city and the county. We have the energy and commitment, and obviously the talent, giving us the impetus, the funding, the ideas, and the ganas, as we say in Spanish, to do something great.
This is going to be a significant project for the county and for the city of Los Angeles. It will occupy a unique public space in Downtown, and will help us thrive among all cultures and individuals that live here in Los Angeles—all 10 million of us. Part of that is its proximity to the arts and cultural institutions, like the Broad Museum; the beautiful Walt Disney Concert Hall, which many of us from as far off places as Pomona, Claremont, South Gate, and even East Los Angles have come to enjoy; the Colburn School, and the Music Center.
The atmosphere has changed so much downtown. As chair for the last 30 years of the Joint Powers Authority, I can say that indeed, we had some tough times. We got in there, though, and did the work. We didn't give up; we didn't throw in the towel.
This place that we're standing on right now will house 436 units of housing, and 89 of those units will be affordable. I'm so happy that we were able to negotiate a good 20 percent of those units for low-income affordable housing. It means a great deal, because it is who we are.
We also spearheaded the Project Labor Agreement for living wages. Not just that, but thousands of jobs are going to be created after this building is complete. Thousands of people will be able to have jobs because of this project. That says a lot about our commitment.
I'm excited because we're also going to have public amenities. Whether people come as tourists to visit or they work downtown, everyone is going to be able to enjoy this. It's going to be accessible. We're going to have open space, we're going to have an amphitheater, and we're going to have amenities that sometimes people don't even think twice about—like a facility for a mom to change the diaper on her baby, or for a senior citizen who gets tired walking across the way and needs a little respite. All of that was taken into consideration, and it means a lot to our constituents.
We have a lot of opportunities here. You're going to see the Regional Connector that LA Metro is building here that will provide about 90,000 trips and about 17,000 riders daily from all parts of LA County as well as visitors and tourists. We embrace that.
I thank all of you who did so much to open up our hearts and open up our minds an gave us the sense that we could belong—that we could be here together in a space that everybody can enjoy. Thank you for giving us that dream, that sueño, and that ganas. 
Bill Witte: It's been a long journey. I want to thank the Grand Avenue Authority, starting with Jim Thomas, Eli, and Antonio Hernandez—and in particular, Martha Welborne. She has been a tireless advocate for this project and kept it alive for a long time with a high-quality standard.
I also thank the downtown community: the Central City Association with Carol Schatz and now Jessica Lall, the Downtown Neighborhood Council, and all our supporters through thick and thin.
The financing for this project was particularly challenging, and I have to give a big shoutout to Deutsche Bank, who gave us a $630 million construction loan. Getting just a $100 million construction loan today is hard. To step up, along with our Chinese partners, on a project of this complexity and finance it for $630 million, including buying a $180 million tax-exempt bond to finance the mixed-income housing—that's truly special.
Those in the real-estate industry know: There was no one banging on our door to step into our shoes. To have the tenacity and creativity to hang in there as my colleagues did is remarkable.
Panel
Frances Anderton: Eli, you have been an indefatigable believer in Grand Avenue at a time when there were a lot of empty lots, and not so much confidence in the Avenue. What did you see then, and how do you feel about it coming to fruition now?
Eli Broad: It's been quite a ride; Frank Gehry and I have been involved in Grand Avenue for 40 years. It all started with the belief that every great city needs a vibrant center. We saw Grand Avenue as becoming the arts, cultural, and civic district for a region of 14 million people.
It started with MOCA. Los Angeles had great artists and art schools, but was not one of the six or seven North American cities that had a contemporary or modern art museum. That opened in 1979. It was followed by the Colburn School of Music, and of course the next big project was Walt Disney Concert Hall, which was quite an effort. Along the way, we had the Cathedral; the arts high school; and of course Grand Park. Last New Year's Eve, we had 100,00 people there.
We now have 4 million people coming to Grand Avenue each year. With the Grand, that number is going to increase dramatically. We feel great about all that.
Frances Anderton: Steven, when you got involved, Grand was still not fully fleshed out. Shortly after you got involved, there was a severe recession. What made you—a New Yorker—bank on Grand Avenue at that time?
Steven Ross: We were coming off the success of Time Warner Center in New York and seeing the impact that had on the city itself. We saw Downtown LA as a place that could really be great. We needed a center and something that was totally unique to bring up and grow Downtown. Being across from Disney Hall, which is one of the most iconic buildings in the world, we knew there were so many possibilities if we could develop a large mixed-use project and have Frank Gehry be the architect.
Think about Barcelona, and how people go there just to visit works by the great architects like Gaudi. I thought if Frank would do something across from Disney Hall, it would add such great importance to Downtown Los Angeles, and people would come here from all over the world just to see it. And Frank has done a great job in designing something that's compatible with Disney Hall, but totally unique.
Frances Anderton: Frank, talk about how you approached the design while having these buildings so close to each other. What was your thinking about how to differentiate or to connect them?
Frank Gehry: Since Disney Hall was completed, we've been desperate to have a few restaurants nearby for the evenings, so this is a welcome partner.
Concert halls and city halls and libraries and museums of necessity and of historical precedent are meant to be iconic. They have an image that's recognizable, they become part of the city, and they help define the city over the centuries.
A commercial development has a different mandate. This is about the people of the neighborhood and the community. It relies on finding the proper tenants that would fit here and make this a great place to be. And it will be a great place to be, and the architecture supports that.
But the architecture it will change as different tenants come in. It has to be flexible. It's intended to be an open-ended. It's still an architectural story, but it doesn't have that heavy duty architecturally.
Steve Ross: It's about creating great spaces that attract people and that people want to be in. Mixed-use projects are unique. That's what I think Downtown Los Angeles needs: a place that people from around the world can identify with and think, "This is why I want to be there." It's also important for the business community.
We've seen since we announced the project how Downtown Los Angeles has grown and is becoming "the" place in Los Angeles. Hopefully that will continue, and I think this project will have a large impact on that.
Frances Anderton: Grand Park has brought vibrancy to the area—New Year's Eve parties, Beyoncé, public protests, the Women's March, lots of people walking their dogs. It has changed the makeup of people that were coming to Grand Avenue. Did that impact your thinking about this project?
Steven Ross: This project will encourage future development around it, which is going to be great for Los Angeles. Doing a project like this is not just building a project; it's impacting all of Downtown Los Angeles. This is going to be important to the future of the city.
There are always those that just want a development. Holding out and waiting to build this project was important to us. We made a commitment that we would do something very important here, even when we were being pushed to just develop anything to get it going. Our partners had the ability to look forward and say, "This is the best piece of land in Downtown; we want to build something great, and we'll wait until we can build it."
That said, the gestation period of this project was longer than anything I've ever been involved in. I'm thankful that all of us are still here, given our respective ages!
Frances Anderton: One of Los Angeles's challenges is housing. Talk about the housing piece in this project. Is it going to be a mixed community of people living here? 
Steven Ross: In any project, diversity gives vitality to the project itself. It has to be reflective of the neighborhood and the city.
All cities are great because of their diversity; this project reflects that. It's for everybody. It's not a great project with great architecture just to act as a barrier to other people. It's there to be welcoming and bring the whole community into it.
Frances Anderton: Tell us what about the project is quintessentially Angeleno.
Steven Ross: The whole project. Real estate is a local business. It's very important that it reflects the city where you are.
Nelson Rising: One thing we are all conscious of is that this is very close to the Regional Connector, which will connect by bridge over to the Grand. That will make it so much easier for Angelenos to get here. The Regional Connector is a very important piece of what's going to make this even "grander."