In the past three years, the city of San Jose, CA has seen major expansions from such employers as Adobe, Amazon, Apple, Broadcom, Google, Hewlett-Packard Enterprise, and Microsoft—all the while undertaking a number of environmental initiatives. At the helm of the booming economy is San Jose Mayor Sam Liccardo. At the recent Yosemite Environmental Law Conference, Mayor Liccardo provided the keynote address, touching on ways that San Jose is leading on climate action. Mayor Liccardo highlighted: the importance of solving California's land use and CEQA challenges, San Jose's adoption of a community choice energy program, its work to bring BART and other transit improvements to San Jose, and the city's commitment to protect hillsides and open spaces from sprawling development. Using San Jose as a template for other cities, Mayor Liccardo additionally opined on ways to improve public health, fiscal sustainability, and build better communities through environmental leadership.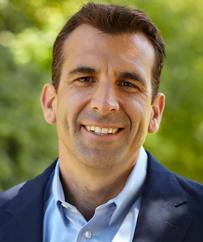 "There are major challenges ahead for California as it forges a sustainable path. There are areas of increasing friction—and that means legal battles. The first of those areas is land use, the second is CEQA, and the third is energy." —San Jose Mayor Sam Liccardo
Sam Liccardo: I believe that cities have many non-environmental motivations for promoting good environmental policy. For instance, we should care about the health of our populations—particularly low-income residents and seniors, who are most adversely affected by particulate emissions. We have a non-environmental interest in reducing vehicle miles traveled, because congestion is a challenge on our freeways.
There are also fiscal challenges to sprawl. Cities are challenged to provide fire, police, and sewer services to development in outlying areas, which is much less cost-effective than providing them in city centers. And since God's not making any more land, landfills are filling up and we need to find alternative places for waste.
Cities have strong motivations to act, and we're seeing innovations around the world and throughout the country. In our corner of the world, San Jose is doing our best.
We have the benefit of being the largest city in Silicon Valley, with lots of great innovative cleantech companies, like SunCal, Tesla, Blue Energy, and others within our city limits and our backyard. We want to continue to benefit from these green dividends. But we don't only want to help the city of San Jose; we're trying to create models for other cities to follow.
We charted a path to Paris with our Climate Smart plan. We are the largest city in the country with Community Choice Aggregation, which enables residents and businesses to choose the source of their electricity. We're investing billions of dollars in our main transit lines that all converge downtown, where we have the conditions in place to create the biggest multimodal transit center in the western United States over the next decade.
The United Nations Sustainable Development Solutions Network has, for the second year in a row, named San Jose as the most sustainable metro area in the United States. And Bloomberg Philanthropies named us one of a handful of cities to receive millions of dollars in assistance to implement innovative programs.
Why does all this matter? There are major challenges ahead for California as it forges a sustainable path. There are areas of increasing friction—and that means legal battles. The first of those areas is land use, the second is CEQA, and the third is energy. I can't predict how these battles are going to end, but we are all going to be involved in them together.
A dramatic reconfiguration of power over land is emerging right now throughout California. The traditional formula is this: A property owner applies to develop their land. If their desires and the general plan of the city align, then they can develop. If not, then they are subjected to a torturous process involving planning commissions, planning directors, and city councils. And if they can endure that, then they can develop.
Now, power is shifting in important ways. Firstly, ballot-box zoning is coming back into vogue. Secondly, cities are being forced to make more proactive decisions in light of the effects of climate change—from wildfires to floods to droughts. Third, the state is increasingly looking to step in on local control.
Let's begin with ballot-box zoning—perhaps better called ballot-box sprawling. Many cities today are proponents of smart growth: building densely along transit corridors to create walkable communities and reduce our reliance on the automobile. An endangered species in many of these urbanized areas is the single-family housing developer. In San Jose, for example, we typically build no more than a few dozen single-family homes in any given year—even though we build 3-4,000 units of housing a year, and have a goal of building 5,000 units of year for the next five years.
Developers are figuring out that it's not a bad strategy to go to the ballot and roll the dice with the voters. For example, in 2015 in the city of Tracy, Ponderosa Homes proposed building 590 single-family homes for seniors through a measure called the Active Adult Residential Allotment Program (Measure K).
Now, why focus on seniors? First, under state law, to be a "senior" you merely need to be 55 years old. That means there are a lot of seniors. And in the state of California, most people can't even afford a single-family home until they have accrued at least a 55-year lifetime of earnings. So, seniors are the market for single-family developers.
It also happens that senior housing can justify under CEQA that residents won't drive—as though 58-year-olds don't use the automobile. That reduces the traffic impacts that developers have to mitigate and lowers the cost of development considerably—all through the magic of designation.
On the voter side, who wanted to vote Grandma out of a home? Nobody—especially not Grandma. There was also strong support from the building trades, since the project would create jobs. Sure enough, Measure K passed in Tracy with 78 percent of the vote. And Ponderosa Homes figured that they had a formula, so they brought that formula to my town of San Jose.
Their 2017 proposal in San Jose was for 910 homes, which they called affordable housing for seniors and veterans. One problem was that it was a gated community, and that is not our vision for affordable housing for seniors and veterans. But worse, the measure would have opened areas of the city that were designated as open space and Urban Reserve to single-family housing development. Not only were the developers going to make more than $1 billion off this project, but they would also bust open our general plan and enable sprawl all throughout the Santa Clara and Silicon Valleys.
We were seriously concerned about this, so we pushed our own measure to the ballot that would prevent changes in land-use designation within a mile of our urban growth boundaries, and provide a way for us to secure the city against these kinds of assaults.
Of course, there are challenges to going up against developers who stand to make $1 billion. One challenge is that they already have a lot of money. We were outspent at least 10:1. Fortunately, we managed to get a broad coalition with the support of both the Republican and Democratic parties. This coalition enabled us to defeat the measure and pass our own countermeasure.
That was great news, but it's not the end of the story—because other developers are watching and learning from this lesson. And now, this November, in the city of Tracy, a development called R&T Farms is proposing to exempt 2,000 acres from city proposed constraints so long as it's designated for "senior" single-family housing.
There are other shifts in power over land use, as well. For one, cities are grappling with the impacts of climate change. As we see wildfires, flooding, drought, and sea-level rise throughout our state, increasingly, cities are looking at land-use designations and thinking differently about whether it's a good idea to develop in certain areas.
For example, in the 1980s, San Jose reserved an area of Coyote Valley for corporate development. That development never happened—and that's a good thing, because as nearby creeks and rivers rise, we can use the valley for retention of water. Now we see that there is an opportunity for us to capture the environmental benefits of the area by preventing development there.
But there are often expectations and land use entitlements to contend with. In some areas of San Jose, substantial infrastructure investments have already been made—through Community Facility Districts, for example. That means that developers and landowners are already out of pocket tens of millions of dollars with the expectation that we will allow them to build. That is challenging.
I've launched a ballot measure for November, Measure T, that would invest about $50 million to purchase land and protect it, in partnership with local open space authorities that are committing another $80 million. I suspect that San Jose's experience is not a unique one, and we're going to see more cities and counties recognize that development patterns have to change as we grapple with serious climate impacts.
The final shift I see in the balance of power over land use involves the state of California. You might expect that, as a mayor of a local city, I would be concerned about that, but actually, I am cheering and pushing for it. I think city mayors tend to agree on this, while mayors of suburban towns tend to disagree.
First, with SB 743, the standards under CEQA changed from Level of Service to Vehicle Miles Traveled. That changes dramatically how fees are imposed to mitigate traffic impacts in outlying areas. We hope that will spur more investment in central cities and infill areas, and deter sprawl development.
Other legislation is starting to encroach on local control. Senator Scott Wiener's efforts over the last year have been valiant, but failed; I suspect we'll see them again. Another example is AB 2923 from Assemblymember David Chiu, which mandates higher density transit-oriented development around BART stations in the Bay Area. This saw an enormous amount of opposition from some small-town mayors who believe in preventing development on surface parking lots. But I'm glad it passed.
San Jose is aligning ourselves with other big cities and advocates in the Bay Area through the Committee to House the Bay Area (CASA), which is working toward state legislation that would enable us to impose fees on suburban towns that do not want to build housing. Many towns are quite happy to embrace sprawling tech campuses because of the great financial benefit those campuses bring to those jurisdictions. However, they do not like the fiscal detriment of providing services to a lot of residents, particularly if those residents are low-income. That's a formula for disaster, as we see every morning and evening on our freeways. We're pushing hard, and I think we'll see a lot more state legislation—and as the legislation emerges, we'll see a lot more litigation.
Another issue that is going to be very relevant in the next couple years is CEQA. We all know that CEQA is a greatly important law, and we critically need to protect it. But CEQA is also being used in ways that very much undermine our environmental agendas.
There are ample examples in my own city. Right now, we are trying to build a BART extension to the largest city in the Bay Area in Downtown San Jose. We're facing a lawsuit from the operators of the San Jose Sharks, who would prefer not to disrupt their surface-level parking program. Surface parking is not our ambition for Downtown San Jose. But this lawsuit could threaten critical federal funding we need to complete the BART extension, and it relies on CEQA.
We're also trying to build affordable housing, particularly for our homeless population. We're trying to benefit from the billion-dollar housing bond that we passed two years ago, and we have another $450 million housing bond on the November ballot. But in affluent neighborhoods close to where these developments might be, there are threats of CEQA suits.
CEQA is not the instrument we want it to be. We need to reform it. It's political suicide to say this in California, because CEQA is a tool used by many powerful interests, including unions. But we've got to work together to ensure that infill development that aligns with all of our environmental protection objectives is something we can do. We need to reform this law to make sure it works for the environment and not against it.
The final area where I think we are going to see an awful lot of battles over the next few years is energy. Community choice energy programs are the most impactful actions that any local government can take to battle climate change in the short term. They put cities and counties in the position of wholesale providers of electricity—supplanting incumbent utilities like PG&E and Southern California Edison. Now, we still rely on utilities to provide the wires, the poles, and the transmission capacity. But CCE programs enable every resident and business to choose greener sources of electricity at prices competitive with, and usually cheaper than, those of the incumbent utility.
Right now in San Jose, PG&E offers electricity from solar and wind that's about 30 percent GHG-free. The program we are launching will offer a minimum of 40 percent, and we hope that within a few years we can get to 100 percent. San Jose recently became the largest city in the country to do this, and we're seeing widespread adoption in the Bay Area. It's a no-brainer.
The problem is how exactly to allocate the legacy costs that utilities inherited when they were purchasing energy contracts 20 years ago, often renewable energy contracts when renewable energy was more costly. Several years ago, the state came up with called Power Charge Indifference Adjustments, a way for new and existing customers of CCEs to pay utilities for their legacy costs.
This is a reasonable thing to do; we all agree we need to share these burdens evenly. But unfortunately, the PUC has been subjected to lobbying by the industry, and it recently announced that it would allow for a rapid ratcheting upward of the adjustment fees to about 20-25 percent of costs. That existentially threatens several community choice energy programs throughout the state—and we're not happy about it. We're going to see litigation and legislation against this, and I expect this battle will go quite a ways before it's worked out.
These battles are things that we're all going to be facing in the years ahead, and they are some of the most important battles as we try to reduce greenhouse gas emissions in all our cities.