At the UN Global Climate Summit, San Francisco Mayor London Breed called upon cities around the world to join her Advancing Toward Zero Waste Declaration, pledging to dramatically reduce waste and increase recycling by 2030. On this panel, leaders of major urban economies around the world, including Milan Mayor Giuseppe Sala, shared how they are attacking the increasingly urgent climate priority of recycling materials back into production. Introduced by Kate Hampton, CEO of the Children's Investment Fund Foundation, these mayors discuss the financial opportunities of reducing the climate impacts from our trash waste stream.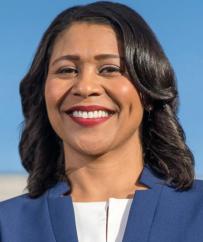 "By 2030, cities who sign onto San Francisco's Advancing Toward Zero Waste Declaration must do three things: reduce waste generated by 15 percent; reduce waste sent to landfills or incinerators by 50 percent; and increase the rate of recycling and composting to 70 percent." - San Francisco Mayor London Breed
Kate Hampton: For every pound of waste that consumers discard, there are 70 pounds of additional waste upstream—from mining, manufacturing, packaging, and distribution. It is truly an iceberg: A huge amount of waste is hidden behind the waste we actually see.
This is a problem in greenhouse gas emission inventories. While people talk about waste being 3 to 5 percent of emissions, actually, when you bring in all the upstream waste, and all the work in the waste sector around recycling, storage, and offsets from energy recovery, you find that it is much closer to 15 percent. This is a really understated opportunity.
Methane is obviously a key element of the waste story. It has a very high impact on the atmosphere over the short term. Reducing the methane emissions is a fast-action tool—and if we know anything about climate change, it's that speed is of the essence.
San Francisco Mayor London Breed: Today, we're going to talk trash.
Global waste generation is increasing faster than any other environmental pollutant. If we don't do something about this now, we are on pace to have more plastic than fish in the oceans by 2050. That's only 32 years away from now. And all of that trash will severely harm our global environment.
That is why we are doing our part in San Francisco to lead a growing international movement to stop waste in its tracks. In 2003, San Francisco became one of the first cities in the country to establish a goal of sending zero waste to landfills or incinerators. Since we set that goal, San Francisco has passed some of the most forward-thinking and comprehensive waste reduction policies in the United States.
Over the past 15 years, San Francisco has become the first city to make recycling and composting mandatory for residences and businesses. We became the first in the nation to ban plastic bags. And under legislation I authored, we passed one of the toughest Styrofoam bans in the country.
But it's not just about implementing new policies. What we have been able to do in San Francisco is create a cultural shift. We have been able to effectively reduce products that harm our environment because people and businesses here really get it.
We think about how we can reduce our own impacts every day. We bring our reusable bags to the grocery store. People in San Francisco really complained about the plastic bag ban, and now no one talks about it; they just bring their bags to the store.
We know how to use the blue bins and the green bins. As a result, more material in San Francisco is recycled than is sent to landfills. And San Franciscans are recycling and composting more and more every single year.
San Francisco's goal of zero waste is not just a feel-good policy. It has tremendous benefits for our city and our region.
Zero waste reduces organics in our landfills, which emit methane—a greenhouse gas more harmful than carbon dioxide.
Zero waste helps our environment recover with resources right here in our backyard. Every banana peel or used napkin we put in a green bin in San Francisco becomes compost used by farmers and vineyards throughout Northern California. If you are having a glass of Chardonnay or some Cabernet from Napa Valley, those grapes likely came from San Francisco compost.
Zero waste also creates jobs. Our waste collection partner, Recology, employs hundreds of Bay Area residents for landfilling, recycling, and composting.
Our rapidly growing economy, which adds hundreds of jobs every year, is transforming how we consume and generate waste. As economies change, so must our environmental policies and practices.
Today, I'm excited to introduce the Advancing Toward Zero Waste Declaration. San Francisco proudly worked on this declaration with the C40 and other cities in the Waste to Recover Network. By 2030, cities who sign onto this declaration must do three things: reduce waste generated by 15 percent; reduce waste sent to landfills or incinerators by 50 percent; and increase the rate of recycling and composting to 70 percent.
We already have commitments from 25 other cities, states, and regions representing more than 140 million people. And we need everybody else to sign onto this pledge. Together, we have the potential to reduce 100 million tons of waste by 2030.
Reducing waste is something that every one of our cities can do—and in fact, I'm doing it at home. I'm doing it by making sure that I take the things that need to go into the blue bin and the green bin, and using less and less of the black bin, which is where the trash goes. More importantly, I'm doing it by making sure that I generate as little waste as possible.
I call upon mayors and cities who have yet to sign on to join this bold commitment, because, as we've seen in San Francisco, zero waste is more than just a goal. It's a cultural mindset. It is all of us making a conscious decision every day to produce less and less waste for the sake of our planet.
I'm confident that this global commitment will drive that cultural shift for generations to come, and I hope that each and every one of you will not only join us in this pledge, but also make a conscious effort to reduce waste at home every single day.
Kate Hampton: Mayor Sala, please tell the Global Climate Acton Summit's audience about Milan Italy's commitment to zero waste and how you, as its Mayor, made it possible—especially through community engagement. 
Milan Mayor Giuseppe Sala: Waste is not a success story, but in Milan we have a wonderful story.
Milan's activities are based on three main pillars. The first one is to maximize the collection and recycling of materials, both in terms of quantity and quality, through the separate collection of five different types of waste: paper, glass, plastic, organic, and non-recyclable. This has brought us to more or less 60 percent separated waste collection and recycling. The other 40 percent of our waste goes to incinerators and produces energy.
The second pillar is to reinvest the savings and benefits in socially vulnerable groups. Let me give you a simple example. We are working on waste in general terms, but mainly we work on food waste. We have a deal with restaurants and canteens that if, at the end of the day, they donate their edible food waste to a [non-profit] that takes care of poor people, we will reduce their waste tax by 20 percent. This has been working.
The second fundamental point is to tell people: You have to work on waste, not only because it's your social duty and because of the impact on global warming, but because you can see in your city the effect of your actions.
The third very important thing is to invest in communication, and to have continuous feedback from the people. For example, to make things easier, we have a dedicated service to facilitate the correct disposal of unconventional waste—tailored pickup for oversized waste, such as furniture. (And in the "City of Design," you can imagine that people replace their furniture every single year). The point is to tell people: We are asking you to do more, but tell us how, when, and where we can help you. And this has been working.
We may be in the middle of the road. But our results of 60 percent recycled waste are not so bad.