The Planning Report is pleased to republish the introduction to Stephen Gee's recent book City Hall: An American Icon, which explores the role of Los Angeles City Hall in the growth of the new metropolis. Following the excerpt is a question and answer session at a screening of Gee's film Iconic Vision: John Parkinson, Architect of Los Angeles, which returns to light the once-forgotten architect who designed the iconic buildings that define this city.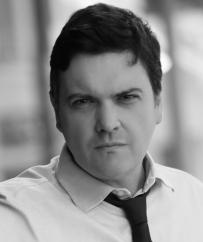 "Los Angeles City Hall is more than a building; it is a bold symbol of the forward-thinking ambition of America's most progressive city." - Stephen Gee
Introduction to Los Angeles City Hall: An American Icon by Stephen Gee
Los Angeles City Hall is more than a building; it is a bold symbol of the forward-thinking ambition of America's most progressive city, while gracing California as one of its most enduring landmarks. It is a proud vision of progress imagined by long-ago civic leaders to usher in a new era of prosperity and provide powerful physical evidence that Los Angeles's remarkable transition from an outpost to the dominant metropolis on the West Coast was complete.
The towering, futuristic—and monumental—edifice, completed in 1928, could not have been further removed from the rambling, dusty adobe acquired to serve as Los Angeles's first city-owned municipal home just seventy-five years earlier. The population then was around two thousand residents; by the time the current City Hall opened, it exceeded 1.4 million.
The gleaming white structure was the tallest in the city, more than three times the 150-foot legal limit set by a 1911 charter amendment, and on a par with any other city hall in ay leading city across America.
In the ninety years since it was put into service, the purpose, ambitions, and dreams of the city have evolved to become more open and inclusive, and decisions made within its storied walls now make an impact on a diverse population set to exceed four million. City Hall is no longer the tallest building in Los Angeles; the height limit was removed by voters in 1956, and it was later surpassed by the forty-two-story Union Bank square. It is now dwarfed by numerous skyscrapers, yet it maintains its majesty, proving a survivor in a city that has abandoned too many landmarks in the name of progress.
The building has hosted world leaders; survived earthquakes; and witnessed riots, suicides, and more than its share of bitter arguments. Its grounds have been occupied; its leaders vilified in protest; and if its walls could talk, they would tell the story of a city coming of age and a people looking for opportunity in a place perpetually wrestling over issues of economics, politics, and justice affecting the everyday lives of its citizens.
Within its magnificent rotunda, titans of local government have laid in state, including Senator Frank Flint, a powerful voice in building the Los Angeles Aqueduct and bringing water from the Owens Valley to Los Angeles; Mayor George E. Cryer, who was instrumental in the effort to build City Hall; Mary Foy, the first woman to lead the Los Angeles Public Library; controversial Police Chief William H. Parker, notorious for clashes with minority groups; and Mayor Fletcher Bowron, who guided Los Angeles through World War II and led a crackdown on corruption.
Ironically, the creation of City Hall pitted two of its most important future tenants against each other in an unprecedented political showdown. The City Council and the Board of Public Works both believed it was their right to choose an architect to design the monumental structure. The responsibility ultimately would belong to a trio of the city's most celebrated and prolific architects. John C. Austin, Albert C. Martin, and John Parkinson were close friends with synergistic skills and a determination to do the best job possible for a city they loved.
Together, they created a remarkable structure that blended architectural styles and spoke to an altogether new vision of what Los Angeles architecture could be. It would be decorated by leading California artists who created numerous exceptional works intended to remind the building's inhabitants of the ideals borne of their responsibility in conceiving a new symbol for the city.
Over the years, many have attempted to describe the building's architecture; it has been called Romanesque, Greek, Greco-Roman, Modern, and art deco. However, like the city in which it was constructed, it is made up of an inspired blend of influences.
Today, Los Angeles City Hall is intertwined with the identity of the city. Since 1940, the building has been the central image on the official badge worn by the men and women of the Los Angeles Police Department. One of the world's most recognizable structures, its celebrity has been enhanced by a local film industry that regularly makes use of the building to identify a location as Los Angeles. It was immortalized as the offices of the Daily Planet in the Adventures of Superman TV show, played a starring role in Dragnet, and was destroyed by aliens in War of the Worlds. It regularly hosts more than fifty productions each year and more recently appeared in Gangster Squad and Hail Caesar, as well as playing cameo roles in the Amazon TV shows, Bosch and Goliath.
It is such an integral part of Los Angeles that it is hard to imagine the city without it. And yet, there were those in the 1980s and 19980s who questioned whether it had outlived its relevance as the city's municipal headquarters. Its subsequent renovation was a rebuttal to the notion that Los Angeles is a city that inevitably fails to recognize its own history.
The restoration, led by A.C. Martin & Associates, the firm created by one of the building's original architects, with Levin & Associates Architects collaborating & Project Restore championing, introduced a new kind of innovation to the structure, an impressive base isolation system to help protect the building from future earthquake damage.
The incredible effort it took to restore the building was a demonstration of the faith a new generation of Angelenos had in their City Hall, not only as a cherished architectural gem, but even more, as an important reminder of the aspirations of a unique city always ready to keep moving forward.
Iconic Vision: John Parkinson, Architect of Los Angeles
Project Restore Q&A at Los Angeles City Hall, June 27, 2018
This film, to some extent, is about fathers and sons, and there was a father-and-son connection of yours that set you on the way to making the film. Tell us about that.
Stephen Gee: I worked in an office in Burbank for many years, and the office I worked in in Burbank moved to Downtown. Burbank is a wonderful place, but not a lot happens and you can't walk around much. I started working downtown and doing these tours, and on one of the tours I was on, the guide kept saying, "That's a Parkinson building, that's a Parkinson building, and that's a Parkinson building."
I went home and Googled John Parkinson, and I couldn't believe that he came from Lancashire in England. My father came from Lancashire, and being a Lancashiran was something my father was always extremely proud of. I also felt that they shared the same values system: You work hard, you get on, you don't cheat anybody, and you're very unpretentious.
I wanted to find out more about John Parkinson, and the first thing I wanted to do was find a picture of him. I walked into the architecture section of the Los Angeles Public Library and said, "I'd like to check out all your books on John Parkinson." And they said, "Who's that?" So I figured it would be a big story to develop, but it's taken a long time because it's been hard to find people who could actually talk about him.
One of those knowledgeable people is D.J. Waldie. He's a fabulous historian and a poetic voice, and I'm so grateful to him. Kevin Starr was also an incredible voice, and it was such an honor to have interviewed him and have him take part in this. In terms of historical voices in the film, I think we have the best people you could possibly have. 
It was you, however, who did the bulk of the work: You wrote, produced, and directed this film, and even popped up [onscreen] for a moment, and I understand that you did it on a very tight budget.
Stephen Gee: It's been described as a shoestring budget that couldn't even hold together a flip-flop. We got through it any which way we could. It was a labor of love. It was a passion for me for so long to do this story, and I met so many wonderful people through doing it. 
This was a person who, as you found out quickly, was not remembered–and yet you did unearth a lot of material. You met family members and descendants. Where did you find all this material? 
Stephen Gee: The Parkinsons were enormously helpful. During this whole process, I'd heard stories about how there existed a John Parkinson scrapbook—his own scrapbook—that had gone missing around 1980. There were all these theories within the family about where it had gone; maybe some contractor who worked on the house had taken it. During the process of putting this together, one of the grandsons texted me and said, "We found the scrapbook." I got on the next available flight to Boston, and they had four boxes of stuff. It really was John Parkinson's scrapbook (and that's how we cited it.)
We opened it up, and it was like a treasure trove. It had an image of all three architects who designed City Hall in the same picture. It had John Parkinson standing next to his elevator concept, which I'd never seen. It had John Parkinson in Seattle. It had letters that he'd written to Henry Ford and all these people. I'd had no idea how well he was connected, not just locally, but nationally. It was a lot of remarkable stuff.
At one point, somebody said to me, "Why don't you call the Academy of Motion Pictures? They must have some good footage of Downtown." So I rang up the Academy of Motion Pictures and asked, "Do you have any good footage of Downtown?" And the lady on the phone said, "I'm really sorry, but all we've got is some footage of City Hall under construction." I was practically crying on the other end of the phone: "Can I come see?!"
One of the most famous photos of City Hall is Julius Shulman's. But Shulman, of course, is known for his photography of the modernists—many of whom wound up far more famous and better known in the LA scene. 
Stephen Gee: Parkinson was so busy building a city that he wasn't building the residential or other structures that would get you a reputation for innovating a new architectural style, although Bullocks Wilshire is an exception to that.
They wouldn't go in the magazines that were proliferating as part of the cultivation of LA as a place for better living.
Stephen Gee: If you asked me, "If you had a choice as to what your legacy would be, would you rather be known for creating a new type of residential architecture, or would you prefer to design the majority of the iconic structures in the modern metropolis?"—I'd take the latter. 
It seems there were a lot of pageants in those days. Do you think we need more pageants? 
Stephen Gee: At the pageant for the opening of City Hall, there were half a million people on the streets. The population of the city then was 1.4 million, and yet you had half a million people coming out to a parade. It's enormous, and I don't think you could have anything now and expect that percentage of the population to show up.
It says something about the collective enthusiasm for building more stuff. There's a more ambivalent feeling about LA growing now, 100 years later. 
Stephen Gee: A lot of these structures were really the building blocks that put together the transition of Los Angeles from an outpost to a metropolis. You needed a monumental City Hall. You needed a stadium capable of bringing the Olympic Games to Los Angeles. These were all structures that marked that transition.