In a panel moderated by TPR Editor-in-Chief David Abel, panelists discussed how state and local agencies are working to redefine enforcement and safety procedures. As the number of homeless individuals in California has risen, safety concerns are elevated both about the individuals and the vulnerable open or wild landscapes they sometimes take refuge within. From fire concerns to issues surrounding sanitation, Armando Hogan of the LA Fire Department, Dominic Choi of the LA Police Department, LA City Park Ranger Albert Torres, and District Superintendent for California State Parks Craig Sap provided insights into how Southern California is tackling the new challenges.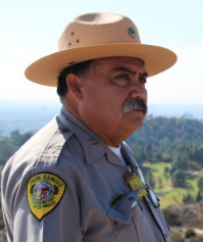 "There is no funding whatsoever for City Rec and Parks to do this. What I would ask is for additional funding and I would ask for at least two more teams to service parks in Los Angeles using the same formula we're doing now or developing it into something better." –Albert Torres, LA City Park Ranger
David Abel: Let's start with an overview of each of your department and organizations' mission and responsibilities on addressing homelessness.
Armando Hogan (Deputy Chief, LAFD): At the Los Angeles Fire Department, we treat the homeless community like any other community—with exemplary service. Our concern is how much education we need to do so we can prevent encampment fires that take place because someone is hungry. We try to identify where the camps and individual are, and work with the various communities to understand what is already being done to provide assistance.
For example, in the Pacific Palisades, we are working with the community as they attempt to help homeless folks get back to work. They are focusing on getting education, and we are helping them to understand individuals' plights and not cast any preconceived notions of who these individuals are. This is time-consuming, so we have implemented a program online where you can log homeless encampments by address or landmark. That database becomes part of our homeless task force of agencies and community members. 
Dominic Choi (Commander Operations, Central Bureau, LAPD) : LAPD's mission in general is to enforce the law and make sure that the public is safe. That means all populations of the public.
As LAPD's homeless coordinator, I oversee the Homeless Outreach and Proactive Engagement (HOPE) teams. The HOPE team is a coordination of city and county partners that includes law enforcement, Department of Sanitation, and LA Homeless Services Authority (LAHSA). Our approach is to lead with services, and to make sure that streets are clean and healthy from any type of hazards. As a last resort—and only if necessary—enforcement will take place.
LAPD's primary role is force protection for our service providers and for LA Sanitation. In the long run, law enforcement should not be the lead in homelessness. We should only be there to make places safer for everyone, both the sheltered and unsheltered.
Driven by the Mayor's Office, we have a unified homeless response center, which is essentially a homeless command post where city and county partners are housed together four days a week to coordinate our efforts. We do a needs-based assessment of every encampment and address issues such as cleanup. In the long run, we need to improve coordination within the city and county family to address this problem.
Albert Torres (LA City Park Ranger Chief): I have been doing this for too long. But in that time, I have learned a lot about the consequences of my actions at parks in the city of LA. The important word here is compassion—for the homeless person who might be violating the law and for the patrons who want to enjoy the park.
My mission is to remove encampments to make parks cleaner and safer. But we always engage with the individual person. We treat that person like a citizen, which they are. We protect their rights at all times. Our approach is to deescalate, to talk and to listen, and to think about what options we can provide for people. We work with all the agencies, especially LAHSA and the smaller groups that provide services to homeless people.
The Recreation and Parks Department has jurisdiction over about 440 parks and 16,000 acres of open space. I'm in the field at these parks every day leading a team that does this work. Our resources are limited, so distance, time, and traffic are a problem for us. I want to be in 50 places today, but I can't. I have to use intuition and data to choose my priorities.
For example, tomorrow a certain park is putting on a film for the community. The park has some issues, and it would be inappropriate for us to not clean it up before that event. That is a time-sensitive priority. On the other hand, a small recreation center might have one encampment. That's a priority for the people reporting it, which makes it a priority for me—an equal priority to a big park like Elysian Park, where I estimate there are about 40 encampments, despite the progress we've made there.
We never give up. I don't say to myself, "I've talked to this person eight times." In every conversation, I do my best. It doesn't matter how much they insult or threaten me, so long as they do as I ask and the situation is equitable for everybody. Recently, a gentleman from Sycamore Park who I've known for four years accepted services and now lives in a Section 8 studio in another part of the city. All I see from him now is smiles. He's very happy and productive these days.
Not only do I have to be compassionate to the homeless person, I have to be compassionate to the individual who is complaining, who might be afraid or upset about the situation. Sometimes they may not know exactly why; it just doesn't feel right. Or there may be something real, like a property crime or vandalism. People want someplace to spend the night, but forget that at 10:00 in the morning, children are going to come and use the park.
But no matter how illegal or inappropriate it might be for a homeless person to be there, the fact is that I am removing them from their home. That is profound. I can only imagine how it might feel. We deliver compassion because people don't have any options. Something brought them there, and I have to realize that there's potential for them to learn and for me to learn from that situation.
Craig Sap (District Superintendant, California State Parks): Our mission is to preserve and protect and provide high-quality outdoor recreation. My jurisdiction is the Angeles District, which stretches from Leo Carrillo, Malibu Creek, up to the Santa Susanas and the Verdugo Mountains, down to Whittier. Most of that 70,000 acres is natural, and up until now, we've largely been immune to the homelessness issue.
Fast-forward to 2000, when Governor Gray Davis did an initiative to bring state parks to the urban core. That $100 million commitment to the LA area gave us the Baldwin Hills Scenic Overlook, the LA State Historic Park, and Rio de Los Angeles. We understood that LA was one of the most hardcore cities in the United States, and the areas where we were planting our flag were some of the most hardcore neighborhoods in the city of Los Angeles. This is not a coincidence; it was on purpose. But as a result, State Parks is in the midst of the same type of issues that the city and county of Los Angeles have had—and we're behind the curve.
For example, we designed the LA State Historic Park for everyday use. Now, we're witnessing unsheltered people coming to the park, sometimes with mental issues that our staff is not prepared to deal with.
We are adapting by providing equipment and training. Our rangers want additional training on how to deal with homeless people without escalating a situation. They want to fulfill our mission of providing facilities for the public, while understanding that this person might have issues and they may not be able to deal with that person effectively. The question is how to design our facilities to prevent these types of situations. We feel unprepared, and so we're taking the best of what other cities are doing in developing our protocols.
We need the resources to guide homeless people through supportive, wraparound services. If you have an encampment and you don't have services—toilets and trash—people are going to take advantage of what they have available in the surroundings. Unfortunately, that causes resource damage.
The Pacific Palisades area, for example, is a prime location because it's close to services for those who don't have a car. Other parks are a 30-mile walk away. In the Channel Coast District, the city of Ventura has pushed the homeless out of the city core, so they've now set up in the outskirts—close enough so that they can go see their doctors for treatment and meet with counselors or parole officers. It's taking up a lot of their budget—money that would otherwise go toward recreational and educational programming.
David Abel: Chief Hogan, as fires rage throughout the state, address what park rangers need from LAFD and what you need from the rangers to best address the life, safety challenges posed by the homeless and climate change.
Armando Hogan: The fires up and down the state and the increase in hot weather are just one of many concerns that we have. With the increased heat come more heat-related illnesses and injuries that we have to respond to. We do everything we can from a preparative standpoint and pre-deployment standpoint where we can get resources to strategically placed to address this.
After every fire, we do a sort of critique with all the agencies and departments that were involved to find out what we can do better to provide better service. After the recent Griffith Park fire, we all got together at the Greek Theatre.
The Greek Theatre had an event coming up that night in four hours. There were more than 2,000 people at the Observatory. There were folks on the hiking trails. Our first line of defense at Griffith Park is the rangers. We're being called in because there's smoke in the air, but that's the first contact that we attempt to make. That's the first aspect of unified command.
From there, once we get on scene, LAPD will show up to assist. As per the charter, they handle all evacuations. You can see the unified command starting to come together. Throughout this, we share intelligence—what's going on, what our concerns are, where the fire's going, who's going to be impacted.
I play the role of agency administrator. My next step is to talk to the leadership of the Greek, the Observatory, what can we do for you? This is how the unified command continues to grow. It's three levels: the tactical side, the evacuation happening simultaneously, and then a strategy for how the situation should look in an hour, two hours. What are we going to do for continuity of operations? All of those discussions are taking place with these individuals on this panel.
The last part of that is the investigatory portion. The rangers assist us in finding out whether this was a cause and the termination of the fire. What happened? There are a lot of things that go on at Griffith Park; it's not necessarily an encampment. We want to be fair and collaborative. We'll ask the rangers: Did you see anyone here? We'll look at video footage.
With increased extreme heat, we want to be more of a presence out there. We'll look at pre-deploying where we will hire back additional resources. But we also reach out and have calls every morning as we continue depending on what that weather pattern looks like to make a determination so that the right hand knows what the left hand is doing at all times. Gone are the days where I could walk up with Commander Choi and say, "We're a unified command; I go right, you go left." We are joined at the hip. Because the rangers are usually deploying their people down to where the incident is I'll ask for a supervisor or a captain to come to the command post so we've got accountability and situational awareness of everything that's taking place.
David Abel: LAPD Commander Choi, you've said you don't want to frame your policework as "enforcement." What then do LAPD need to do to work with the rangers effectively.
Dominic Choi: At the parks, rangers are the lead for enforcement.
Oftentimes, we hear that law enforcement shouldn't criminalize homelessness. I want to explain, from the LAPD perspective, what that does and doesn't mean.
It doesn't mean that we're ignoring what we consider crime—property crime, violent crime, theft of a vehicle or a home break-in. There is no amnesty or non-enforcement for that type of law.
What we're referring to is certain things that occur because of being unsheltered. If you have a tent, you might have to erect it on a sidewalk or public right-of-way. You might sit, lie, or sleep in a public right-of-way. Those are violations of Los Angeles municipal code during certain hours of the day. But if we were to enforce them 24/7, where would these individuals go? Do we have enough permanent supportive housing in the city or county? No. Do we have enough storage for their property in the city or county? No.
When we say don't criminalize homelessness, it's those violations that occur naturally as a result of being unsheltered that we don't want to overpolice or overenforce unless it's absolutely necessary. Enforcement, as it relates to the unsheltered population, is talking about a very few municipal codes.
When it comes to other violations of law based on conduct, criminal behavior is criminal behavior. Stealing, robbing, hurting somebody—LAPD does not refrain from enforcing those laws. We have to enforce those laws equally across all populations, sheltered or unsheltered. We also have to balance the needs—and the complaints, frankly—of the sheltered and unsheltered communities.
Another thing to keep in mind is that within the homeless population, since April 2016, LAPD has been tracking the number of homeless suspects related to crimes and homeless victims related to crimes. Those numbers have been increasing every quarter. Part of it is that we're tracking it better so we're seeing it more. But also there are more victims in this unsheltered population. As long as we have victims, our task is to keep them safe and provide safe places for them.
That's why I always say that LAPD does have a role in this effort. We have to remind ourselves that we don't want to criminalize homelessness by over-enforcing, but there is a place for law enforcement in the homelessness effort. But we have to provide services and we have to coordinate with our service providers, sanitation partners, and our fire department.
We have very high fire hazard zones in the city of Los Angeles. We have put together a task force that includes Rec and Parks, LAPD, Sanitation, and Fire. The Fire Department has mapped out where all these encampments are. Once they've been identified and located, LA City's HOPE team goes out and impacts them, leading with services—going out there and talking to individuals, seeing if we can get them services, shelter, and voluntary compliance to get them out of these areas.
David Abel: Chief Torres, given their mission - to remove encampments to make parks cleaner and safer -  do the Park Rangers presently have what they need to carry out their growing responsibilities?
Albert Torres: I need more resources. We have limited resources. But we work very well with the Fire Department and the Police Department, especially the HOPE team and their senior lead officers. We work very well with other park agencies, and we back each other up. We're on a good path there.
My anxiety is about using my limited time most effectively. One thing that I do is listen to those who are complaining but let them know that I'd rather be trusted to be out doing my job than to constantly take complaints about issues that I know very well. When it comes to prevention of fire for example a few weeks ago we were at an encampment that had an open fire. One of my ranger units extinguished the fire, and I spent some time with the individual to talk about fire danger and the fact that we were in a very high fire hazard severity zone, and the propensity of the brush to burn.
My teams have an average of two or three rangers, a heavy equipment operator, and six caretakers. We're not funded at all. There is no funding whatsoever for Rec and Parks to do this. What I would ask is for additional funding and I would ask for at least two more teams to service parks in Los Angeles using the same formula we're doing now or developing it into something better.
David Abel: The Governor has done a number of press conferences on the "new climate normal" and, climate change and the expense of addressing related challenges. Superintendent Craig, how have the Governor's articulated priorities  trickled down to you at State Parks – Los Angeles? 
Craig Sap: It all comes down to resources and what resources might come through the state agency those stay with the county or the city. I don't know if there's been a session in the state whether it be the MRCA or the Conservancy or State Parks having funding from that. As I understand now it's not the case.
We've always been a resilient Mediterranean climate. At this point we're getting overwhelmed by the drought. The heat is getting bad even on the coastal areas. We're feeling the effects of climate change.
As it relates to homelessness, I'd just like to get funding [prop a funds to state parks] if there's a way that those could come our way that would certainly be a great help to us. We do see the effects in the Santa Susana mountains; we see a lot of homeless encampments developing out there and in the Verdugo mountains. Fortunately there are other parts of the city for daytime operations.
David Jallo (LA County Parks and Recreation Department): Our population of homeless has gone up despite the recent trends. We see about 300 people homeless a day. I'm noticing large numbers of that are people who were recently released from prison. Have you identified funding or mechanism to help deal with these people?
Dominic Choi: That is not a unique situation. It happens every day: Someone who's unsheltered comes in and claims territory. Sometimes we have tent fires or other crimes because of it.
The bottom line is that the long-term fix for this, regardless of whether it's parks or open space, is that we need more shelter. We need to be able to place people. That's a big problem.
We need more permanent supportive housing. We need more temporary housing. We need more mental health facilities for longer-term care. And we have to think about prevention. What's causing this influx of the unsheltered population? As a state and a nation, we have to fix that.
Right now, in the city of LA, if you wanted everything cleaned up, we could do it. We could get all of Sanitation, all of LAPD, all of Rec and Parks, and clean up all the trash. Guess what's going to happen two days later? We're going to have the same stuff. This is not the fix. We've got to think longer term.
David Abel: Chief Hogan, given this expansion of the scope of your responsibilities, do you have the resources you need? 
Armando Hogan: We're always going to need more resources. But there are competing interests as well. Our budget was shrinking, and we appreciate that the mayor and council have started to build back what we lost some 10 years ago. We're still looking at the dynamics of what is needed.
When it comes to asking for more funding, we can never have a singular argument for one issue. They want to do everything. Case in point: we've got brush fires going on but we've also got an increased EMS challenge. In addition, we still have folks who are in the homeless areas, and where are they going? A lot of them are going to beaches, which creates more challenges in terms of people making calls about them. There is discussion now about having a homeless shelter or someplace for people to go. There are a number of things that are taking place.
The main thing that we're doing is looking to collect data so that we can have a strategic plan on how to address it. Right now, I don't see anything drastically changing. But we all recognize that we have to come together as one unified force and collaborate to address the challenge. From a response standpoint I want to make sure that if someone tells us that they don't want to be transported to a local facility that we're not leaving someone there who could be a threat to someone else. We're doing a lot in that regard. Recently we just had our Advanced Provider Response Units, which include a nurse practitioner, who can do almost everything an ER doctor can do for us. That way we keep our ambulances and paramedic resources available for other challenges. We are still looking at 1,500 responses per day. There are competing interests that we all face in terms of trying to provide exemplary service.
David Abel: Again, how many acres of City open space are the Rangers responsible for, Captain Torres; and,  how many rangers do you have, and what more in the way of resources do you need?
Albert Torres: I'm proud to say that we currently have 26 park rangers citywide, which is significant growth. Our rangers must graduate from the LAPD academy. We have been growing steadily for the last two and a half years. The challenge for us is that we only have one team. We have 440 parks, big and small, about 182 recreation centers with amenities (water, bathrooms)—and those amenities attract homeless people; and we have the expanse of the city of Los Angeles. You might find me in San Pedro today and tomorrow I'll be in the West Valley. We do need more resources. I thought we would get some of the city budget that was allocated to this homeless problem, but we are not.
Joe Edmiston (Santa Monica Mountains Conservancy): We heard about the database where people could enter sites of encampments and that the Fire Department also has a database. Are they coordinated? 
Armando Hogan: Yes, and we have a single point of contact for both as part of the Homeless Task Force. Working in silos was our challenge before, and we have since discontinued that practice. It is also connected to the 311 system, where all the data is collected and shared. The 311 service request and the Recreation and Parks system are both available as smartphone apps. The reason we still have agency-specific ways of reaching out is because people may reach out to us individually. Folks are sometimes more comfortable talking to, say, the park rangers; everybody loves the park rangers. But irrespective of who is collecting the data, we all share it.