The LA City Department of Transportation recently released a strategic implementation plan for the Urban Mobility in a Digital Age report. One of the leading thinkers inspiring this implementation plan is Gabe Klein, co-founder of CityFi. Klein provides an overview of how the plan envisions the city as a platform for thinking of data, mobility, and infrastructure as services. Touching on bus ridership and Metro's Measure M investments, Klein notes that government needs to create with the private sector a sandbox of collaboration and co-creation.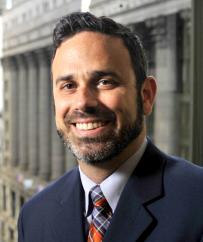 "Even as the role of government changes, this is a vision for Los Angeles to be the capital of transportation technology for the US. There is an opportunity to leapfrog some of the mistakes of the past and catalyze some of the awesome transit investments of the present." –Gabe Klein, CityFi
Gabe, the Los Angeles Department of Transportation has just unveiled its Urban Mobility in a Digital Age Strategic Implementation Plan.  CityFi, which you and Ashley Hand founded, is an affiliated partner on this Plan's consulting bench.  With your ideas thus incorporated, give our readers an overview of the LADOT's goals and execution stragegy. 
Gabe Klein: The Urban Mobility In a Digital Age Plan is foundational in terms of looking at the city as a platform—and on that platform, looking at data, mobility, and infrastructure as services. It is a strategy to leverage technology and design for a better transportation experience. That leads to our "transportation happiness" metric and Mobility Bill of Rights.
Government needs to create a sandbox of collaboration and co-creation with the private sector to bring great new products and services to market. Additionally, government needs to get feedback from all public stakeholders in order to find out what's working in terms of the user experience, so the city can improve it in real time. 
The plan also outlines what is coming to LA and the rest of the world in terms of new business models, new technologies, and new partnerships. How do we stay true to a human-centered design aesthetic while also accepting all this new technology—within the framework that Mayor Garcetti, General Manager Seleta Reynolds, and our citizens believe will lead to great social outcomes?
Address the City of LA's plans for implementation. 
In terms of implementation, the focus is on operationalizing the strategies discussed in the plan. I'm so excited for LADOT because they are truly taking the bull by the horns, and they have lots of partners and brainpower to carry this strategy out. That's important because, even as the role of government changes, this is a vision for Los Angeles to be the capital of transportation technology for the United States. There is an opportunity to leapfrog some of the mistakes of the past and catalyze some of the awesome transit investments of the present.
LADOT has some interesting programs already underway, such as the Mobility Hub program, which will create 13 ambitious, connected mobility hubs throughout LA. 
The question now is how to take these new programs and energize the entire ecosystem.
LADOT can do that through its vision of "Transportation 2.0," which is the understanding that there is going to be an electric, shared, autonomous, and active system in the future. It's not enough just to eliminate congestion. This framework needs to enable economic growth. It needs to be equitable throughout LA. It needs to be safe and sustainable, and to create great health outcomes. 
This might sound like LADOT's asking for a lot. But it's really about aligning the larger outcomes of what the mayor and the citizens have prioritized. It's saying that everything we execute in the city of LA needs to stay true to what we have defined as the Mobility Bill of Rights. Everybody, equally across the city, should have access to these environmentally responsible, healthy, safe outcomes. 
You personally have significant public systems' experience in other metros, like Washington, D.C., and Chicago. What have you learned about the challenges public transit managed operations have evolving to  "Transportation 2.0"?
This moment in time is like no other. We are in the third stage of the Industrial Revolution and heading into the Information Age. Not since the turn of the last century have we seen a moment like this, where innovation was happening at this pace—and it is so critical to get it right. 
I give a lot of credit to the city of LA, LADOT, Seleta Reynolds and her team and Ashley Hand for seeing this coming a few years ago. They prepared the city by writing the Urban Mobility in a Digital Age plan, and that gave us the framework to build upon.
Now, a plan is only as good as its execution. We have worked from Kansas City to Chicago to Singapore, and we always try to bring to bear our experiences from other places, small and large. 
There is a lot happening globally that can be translated to Los Angeles. The transport minister of the Netherlands just announced that they are going to start paying people to bike to work. They already have 25 percent mode-share to get to work on bike, but they think they can get another 200,000 people by incenting them. There's no reason that these types of innovative ideas can't be incorporated into the work that we do in LA. 
Elaborate on LADOT's execution challenges. 
I recently spoke with a former Chhicago Alderman about how political inertia is at an all-time high, and how a lack of risk-taking at the political level can keep cities from innovating. 
One of the big risks anywhere—but particularly in a place like LA with a weaker mayor role and stronger council system—is that the councilmembers need to be on board with making change.
Communication and outreach to people affected by potential change is important, and I think LADOT is doing an excellent job prioritizing that because they understand how crucial it is.
Whether it's the GitHub they inaugurated to put out API calls so that people can understand how to communicate with the city's technology platform, or engaging people in their communities, the city is focused on extreme transparency and tailoring messages to different stakeholders. Clearly, when people hear about new programs, they want to understand how they will benefit.
Let's pivot to the new technologies and mobility platforms that could be made possible by a groundbreaking  LADOT strategic implementation plan. What's likely to be "the new," and what's likely to be discarded as "the old"?
The "old" is the traditional DOT focus on throughput and safety. Both of those are critical aspects of mobility, and will remain integral to the way LADOT manages the city streets. But the new strategy is much more proactive as supposed to reactive—upgrading infrastructure and technology proactively, rather than reacting to what companies are bringing to market with the city as an afterthought.
Seleta often talks about LADOT as a product company. It doesn't mean that they literally want to develop products, but it's a different stance than what they have ever taken. 
For the last 100 years, LADOT has built hardscape. Now, there is recognition that there's a digital transformation happening in the business world and in societ, and the city needs to proactively engage with the private sector and the community in co-creating the future.
To that end, the city has been meeting with lots of companies and has created a bench of more than 50 service providers, ranging from Lidar, which powers our autonomous vehicles, to outreach and communications services. 
We're asking them, "What do you see as an opportunity for the city? What would you like to see happen in this city, and how could you think outside the box to partner with us to provide us data to create a better system?"
Of course, the idea of transportation happiness and the Mobility Bill of Rights is a really different approach than the private sector has seen before. We're pushing together a softer approach—not just focused on level of service and throughput, but on higher-level outcomes—with a nuts-and-bolts technology approach. 
That combination is completely new, not just for LA, but for any DOT in the country. It's setting a standard. It's new and a bit experimental, and it's going to be really fun to work on and to watch roll out.
Elaborate on who is now on the LADOT bench.
It's really a wide range. There are many large companies, including Uber, AT&T, and Verizon, and a lot of start-ups, too. Anybody that applied had a fair shot, and there's great representation of lots of different types of companies. There are more product companies than you might have expected, versus just consultants.
That's encouraging, in part because it forces government to get more educated about and involved in the nuts and bolts of things like software and hardware. 
It also exposes interesting opportunities for collaboration—not just between the government and these companies, but also among companies that may not have interacted before. 
A large company like Samsung might be working with a small start-up to meet the city's needs.
The idea of the LADOT bench is not only to bring new players—the best and the brightest—to the table, but also to short-circuit the two- to three-year procurement cycle with one big procurement cycle. 
Let's turn to another issue facing urban transit: declining Bus ridership. Many existing urban bus systems are losing ridership. LA Metro is now engaged in a study to redesign its whole bus network. What digital age strategies in coordination with LADOT's stragegic planning ought Metro consider? What's precisecly is the role of historic bus operations in a transportation 2.0 digital mobility ecosystem?
I recently spoke at the APTA Bus Conference in Tampa. We're seeing a quick switch, over the last three or four years, from bus operators seeing new technology as a real problem to be addressed to looking at it as an opportunity to cooperate.
Absolutely, our bus systems are losing riders. But is it all due to TNCs? No. There is a lot of complexity to what's going on. 
Bus systems are figuring out that if you have great service, great frequency, and a frictionless way of interfacing with the system, you're going to do well. It's the same with, for example, traditional bike-share versus dockless. 
Here in D.C., our Capital bike-share system had its best month ever last month despite all the other dockless systems. 
You've got to focus on having the best quality service. Sometimes that means doubling down on what you're doing; sometimes it means an entirely new routing optimization plan; sometimes it means partnering with Lyft or a scooter company for first/last mile connectivity. There are lots of opportunities right now. 
You're not going to fix congestion with taxis, Ubers, or Lyfts on their own. You need high-capacity, high-quality transit, and the services to interface for first/last mile connectivity. We're seeing that all over the country.
What are the unintended strategic challenges of moving from the third Industrial Revolution? What have you discovered in your work that wasn't anticipated as you move toward these new technologies and platforms?
For me, it's speed at which the business models are evolving. 
For example, the fact that dockless bikes were the hot thing six months ago and they're an afterthought now is pretty amazing. Suddenly, dockless bikes are "meh"; everybody is doing scooters now. If you see what has happened with Bird or Lime in cities in Southern California, every week something new is changing the game. Visitors from all over the world come to Santa Monica or to Culver City, and then they take these ideas for scooters and bikes back to their cities. Globally, we are fostering more and more creativity. 
This speed of creativity is incredible, and that's why CityFi encourages our public-sector clients to build a framework that is flexible and malleable and that addresses larger outcomes and issues. 
Rather than getting too focused on whether the next technology is going to be a bike, a scooter, or hovershoes, let's figure out a framework that could work for anything.