At a recent Westside Urban Forum, experts convened to discuss Metro NextGen Comprehensive Countywide bus study. As trends and technologies change, how should cities, transit agencies, and developers respond? In a conversation led by Investing in Place's Naomi Iwasaki, UCLA Professor Brian Taylor, Metro Senior Executive Officer Conan Cheung, Trammell Crow's Greg Ames, and Los Angeles Local Initiatives Support Corporation Director Tunua Thrash-Ntuk, strategies to better understand and serve bus ridership in LA County today and in the future were shared. TPR presents an excerpt of the conversation.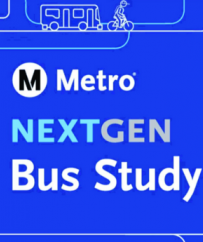 "Instead of thinking like supply-side planners (because we already have a robust and frequent network), we want to better understand how to provide a system that is relevant and attractive to the way people travel today." —Conan Cheung, LA Metro
Naomi Iwasaki (Deputy Director, Investing in Place): Brian, first give us an overview of why transit ridership has been falling on a per-capita basis?
Brian Taylor (Professor of Urban Planning, UCLA): Metro has lost a number of its core transit users. When we looked at a variety of indicators and issues, we found a possible smoking gun: Between 1990 and 1999, the SCAG region added 2.1 million residents and 456,000 new cars. That is 0.25 motor vehicles per new resident. Between 2000 and 2015, we added 2.3 million residents and 2.1 million cars. That is 0.96 vehicles per resident. The trend is to add a vehicle for almost every resident in the region. When we model transit ridership, the biggest predictor of someone using transit is that they do not have a vehicle available to make the trip—and normally that is a zero-vehicle household.
The number of zero-vehicle households in the region is plummeting. The core ridership—that is riding Metro more than 45 times a month—is a rapidly contracting group. We are having a larger number of choice riders. The drop in zero-vehicle households is even faster for immigrant households, and fastest among all among immigrant households from Mexico. Often, we saw our highest ridership in low-income, immigrant populations; and that is where we are seeing our steepest decline of ridership and steepest incline in automotive access.
We are also finding that although immigration is down to the region, the composition is changed. We had a lot of relatively low-income, low-education workers coming into Los Angeles in the 1990s. Today, the immigrants entering the region are more likely from Asia (South East Asia) and more likely more educated. Today's new immigrant populations are much more likely to obtain a car as soon as they arrive.
The investments in new vehicles by new arrivals to Southern California is far greater than all of the investments in new public transit infrastructure by Metro and Metrolink. There is a huge private investment in transportation, but it is happening in personal vehicles through individual decisions.
This presents a new challenge for transportation planners and academics, because we have previously thought of transit-dependence as analogous to relatively low-income households in comparison to more affluent households. Now, lower-income households have much higher levels of car access. This creates a new composition of the market and new challenge for transit agencies.
Transportation agencies do not have the power to manage the private vehicle. There is no comprehensive policy for managing vehicle use, and it is radioactive to try to impact when and where individuals can drive their private cars.
Naomi Iwasaki: Conan, as the manager of Metro's largest redesign of the bus network in 25 years, talk about Metro's priorities.
Conan Cheung (Senior Executive Officer, Operations, LA Metro): Our study is attempting to get at some of the things that Brian mentioned. There is no doubt that when we see people leaving the transit system, they are jumping into a car. We constantly survey riders, former riders, and non-riders. Our former riders almost always get into a car instead of riding on Metro.
Our primary question is whether car ownership is a cause or effect of other factors? We need to ask whether our service was the cause of their decision to not use transit, or if access to a vehicle came first and ending their ridership was merely an effect.
When we survey our very frequent riders, about 40 percent are looking to get a car as soon as possible. That means we are losing a large percentage of riders who make up the largest percentage of our trips. 60 percent of our riders are not looking to buy a vehicle as soon as possible, so how do we maintain them within our system? When we look at riders who use transit less–perhaps once or twice a week—they most likely already own a vehicle in the family.
One of the big conclusions in the UCLA study was that if one out of every four people in the region who do not currently ride transit begin to ride once every two weeks, then we would erase the entire ridership decline that Metro has felt over the last three years.
If Metro is losing its core riders, how do we get into markets that we are not penetrating as well? How can we get core riders to stay and entice occasional riders to ride more often? Our NextGen Study is aimed at understanding the market. Instead of thinking like supply-side planners (because we already have a robust and frequent network), we want to better understand how to provide a system that is relevant and attractive to the way people travel today.
We carry a lot of people to work and school. But when we talk to occasional riders, about 35 percent of them use the system for personal errands. Metro generally focuses on peak hour service, and we add a lot of service and frequency during the busiest times. What people really want is an all-day, everyday frequent network.
When we ask occasional ridership about what their top three improvements to Metro's bus service would be, we hear that people want more weekend service, reliability, and frequency. We know that reliability is difficult—you all are in the same traffic that our buses are in. But riders are clear when they tell us that they need better communication and information dissemination about times to expect the bus. If you look at Lyft and Uber, the app gives you very reliable information about the location of the vehicle. We need to do a better job of providing real-time information to our customers. The thing that drives people crazy is waiting at a bus stop and having it not show up when they expect it.
When we talk about frequency, traditionally it used to be 15-minute or better service. Now, with the immediacy in our lives, we have instant access to information. Expectations have risen, and when we ask people about optimal peak hour frequency it is landing between five and ten minutes. During the midday, it is still about ten to fifteen minutes. That presents a challenge to Metro because we have seven million hours of service. Those seven million hours do not go far enough to provide everyone everything that they want. We need to balance the tradeoffs in terms of frequency, time coverage, and geographic coverage.
When you talk to the non-rider, frequency is important—but then we get into the issue of speed and safety. For non-riders, Metro is competing with another choice. People understand that buses will be slower, but system design feeds into how much time it takes our riders to get to major destinations. If a trip takes two transfers, then you are less likely to commit to Metro. It goes back to us needing to better understand the origin and destination travel markets today. They are different from what they were 25 years ago.
For former riders, safety and security is an issue. Homelessness is a societal issue—not just a Metro issue—but it comes into place on Metro properties and in transit. If people have choices, they will choose to put themselves in comfortable situations. Finally, for those who do not ride the system, they say that the information about the system is not clear and simple to use. The stress that comes from transit use is the opposite of traveling in a personal car. In a personal car, the beginning of the trip is stress-free. You turn on the car. But then, the stress starts: traffic, parking, and other drivers. For transit use, all the stress is before you get on the bus: is it going to get here, how do I plan this trip, how do I pay? The anxiety prevents people from trying the experience. Once they get on, it is relatively smooth.
Naomi Iwasaki: Let's talk about transportation's spouse, land use. How can developers support transit ridership?
Greg Ames (Managing Director, Trammell Crow Company): Our focus as a developer is to support people who want to take transit. The choice rider, as Brian and Conan described, continue to grow in numbers and our work continues to support. Some choice riders are making decisions based on gas prices, or job convenience.
To build on the conversation about reliability: the fact that the Red Line reliably delivers people from North Hollywood to Downtown Los Angeles in 26 minutes is remarkable. It has completely changed the Valley, and there is no Uber driver out there who can produce a faster time to Downtown. The concept of the last mile is a concept that regional industrial distribution centers and corporations like Amazon are focusing a lot of effort on right now, but this issue is no different than what Metro is facing for ridership.
No matter if you can use Metro's fixed rail, you still need to be within comfortable walking distance of your destination. If it is convenient, you will continue to use it more because it beats all alternatives. Developers and planners can do something about this.
At Trammell Crow, we are making big investments in multi-family projects in Sierra Madre about 200 yards from the Gold Line station. About 560 new multi-family units will provide easy access to Downtown LA in about 30 minutes. Just one stop north of Union Station in Chinatown, we have another 355 units at the Plaza location.
In Koreatown, right off of the Red Line at 6th and Vermont, we have 252 units that will be fully entitled in the coming month. At Hollywood/Vine, we have 220 units, and in North Hollywood we are developing more than 1,400 units. In North Hollywood, we have partnered with Metro to maximize the potential for ridership and the entire neighborhood. Solving the last mile issue can increase ridership. So we are focusing on moving the people closer to the transit, and making the destination right on the transit line or as close as possible. More density on the transit lines will create increased ridership.
Naomi Iwasaki: Tunua, your work at Los Angeles Local Initiatives Support Corporation (LISC) is directly helping communities get resources and opportunities. What are you seeing? 
Tunua Thrash-Ntuk (Executive Director, Los Angeles LISC): We are seeing a structural economy change. A lot of the families that we are working with are commuting to multiple jobs in the region. Given the minimum wage, the cost of living, and the sprawl of our region, it is not sustainable to be spending hours on transit. That is why we are also seeing so many people move out of the region.
Because people are putting together work on untraditional hours, people need other transportation options in order to get there. If you have to move between multiple jobs, you need consistency and reliability.
The other piece that we are seeing today is that people's side job requires a car. Driving for Lyft or Postmates requires a vehicle. These jobs supplement a low-income family, but all require a vehicle. The gig economy relies on having a car. Because Uber and Lyft help people finance their cars, more people are now able to access car ownership or leases. In lieu of credit scores or a down payment, sweat equity for these drivers bring down barriers.
We need to better support the core rider of Metro by putting more affordable housing near transit stops, so they can access and use the services and system. Frankly, we do not have enough transit going to the key employment centers for low-income people. We also need to stop relying on the low-income communities as the core of the ridership.
Low-income communities want the same thing as everyone else. They want a clean, safe environment for their kids to be able to travel. When we look at the Blue and Red Lines, the two lines that have lost the most riders, it is the two lines that people feel the most unsafe. The Gold Line has pretty high safety marks, and ridership continues to climb. Because we have these other societal issues of homelessness and mental health issues, all of that is now on our trains. The next generation of riders sees that, and they are making their decisions today about whether they will be riders. I do believe that changing the culture of public transit in Los Angeles is possible, and that we can do it together.