In May, Councilmember Joe Buscaino delivered his annual State of the District speech at a newly repurposed 1914 port warehouse at AltaSea. AltaSea is the "bluetech" marine research campus that the councilmember has crowned "the epicenter for the emergence of an entire new industry." In his remarks, excerpted here, the councilmember announced the arrival of The Boeing Company to the LA Waterfront, joining SpaceX. Buscaino discusses the role that these innovation-based industries will bring in transforming the Port of LA and South Bay region.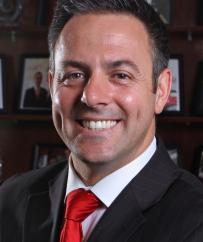 "The addition of AltaSea and SpaceX has created a new floodgate for our economy and made the Port of Los Angeles a bonafide innovation district" - Joe Buscaino
LA City Councilmember Joe Buscaino: We are here in this historic warehouse because we have arrived at a time and place where our past is becoming our future. When this warehouse first opened in 1914, it opened the floodgates for the Southern California economy where now more than three hundred billion dollars a year in international commerce flows.
In 1917, Southwestern Shipbuilding and Dry Dock Company built pier 240 in support of World War I.  In 1929, seventy five percent of the fish caught in California were canned right here in the LA Harbor. 
By the 1950's LA Harbor accounted for eighty percent of the twelve million cases of tuna produced in the U.S.; the canneries employed five thousand people. As recently as 1983, Todd Shipyard employed more than five thousand workers on a multibillion-dollar Navy program to build eighteen frigates.
Today, these industries have long left town, and are no longer supporting the thousands of families that relied on them. In 1984 Star-Kist was the first big cannery to shut down. In 1989 Todd Shipyard laid off its last 400 employees when it closed. In 1992, Pan Pacific cannery shut down. In 2001, Chicken of the Sea tuna canning plant closed. 
The jobs that attracted immigrants from all over the world, including my parents, disappeared quickly, and we have spent the last couple of decades in limbo. Downtown San Pedro languished. People began to commute further and further away for work. The hustle and bustle of a working seaport quieted. 
Fast forward to today where seemingly overnight, we find ourselves with a new and exciting set of circumstances that promise to deliver opportunities that even our storied past can't compete with.
AltaSea is giving this warehouse new life, and is the main catalyst for new opportunities at the LA Waterfront and the Harbor Communities. Innovation and entrepreneurship are pathways toward reinventing our city's economy and we are proving that concept here at the Port of Los Angeles.
Today, our cargo volumes are larger than we have ever seen. And while cargo and global trade made us the number one port in the Western Hemisphere, and will always be our core business, the blue economy entrepreneurs here at AltaSea will bring a new dimension of economic opportunity to the LA Waterfront and the City of LA. They will be responsible for innovations that will sustain our planet and sustain our families.
The ocean-based Blue Economy will be launched in the 21st Century much like space exploration in the last Century created a massive aerospace industry here in Southern California, led by companies such as Boeing and continued by companies like SpaceX.
Over ninety percent of the ocean has not been explored, and ocean exploration will be the catalyst for a booming Blue Economy. Nobody has planted the flag for the Blue Economy and there is no better city in the world than Los Angeles to be the capital. The ocean business cluster being built here at AltaSea promises to be the epicenter for the emergence of an entire new industry. That is why I am proposing to incentivize those businesses in the Blue Tech sector, by reducing the city's business tax for them. 
At the beginning of this millennium we thought that technology was going to allow people to work everywhere and anywhere—and while there is some truth to that—the reality is that innovation happens in clusters and ideas grow and become reality in compact geographic areas.
This is how Hollywood was born, this is how Silicon Valley was born, and this is how the LA Waterfront will be re-born. Firms and inventors located in clusters are significantly more inventive than firms off on their own.
AltaSea has already landed some of the most important innovators exploring our oceans.  On its deep-water-access wharf, AltaSea houses notable tenant partners such as Dr. Robert Ballard's Ocean Exploration Trust. Dr. Ballard discovered the Titanic. Sustainable aquaculturist, Catalina Sea Ranch was the first tenant here. It is the only company in the nation to operate an aquafarm in U.S. federal waters.
The United States imports approximately 85 percent of its seafood, with over half of that derived from global aquaculture. Despite having the second-largest sea region in the world, the U.S. trade deficit in seafood, grew to about $13 billion last year. AltaSea will close the gap on that deficit by creating an aquaculture cluster, which promises to grow and harvest shellfish and edible kelp. Harvesting the ocean is a massive opportunity. Where we were once the nation's capital in tuna fishing, we can now work toward being the capital of aquafarming.  
I am also excited to announce that the Boeing Company and AltaSea have reached an agreement for Boeing to occupy warehouse 60 right behind me to operate its Echo Voyager, an unmanned undersea vehicle. The Echo Voyager can spend six months at a time exploring the deep sea, with a 7,500 mile range. Boeing says customers could use the Voyager to inspect underwater infrastructure, take water samples, create 3D maps of the ocean floor, and help with exploration.
The Trade, Travel and Tourism Committee—which I chair—has approved the lease for SpaceX to move into the 18-acre former Southwest Marine Terminal at Berth 240, where ships were once built for World War 1.
With up to seven hundred  employees, SpaceX will be conducting production development on the largest rocket ever known to man, The Big Falcon Rocket. The addition of AltaSea and SpaceX has created a new floodgate for our economy and made the Port of Los Angeles a bonafide innovation district. This district is now ground zero for both space and sea exploration!
Vibrant startup ecosystems are important not only for growth and jobs, but also for a city government's ability to solve local problems and run itself well.
This is why two weeks ago, I lent my support to Elon Musk's other project, the Boring Company, to fast-track construction of a test tunnel for an underground network that can whisk people across our County in minutes. This is why I have lent my support to LimeBike, a dockless bike share technology company, which is developing public transportation of our future without using public funding.
I am eager to support smart city solutions and invite entrepreneurs, inventors, investors, and all those looking to create a more sustainable planet here to the LA Waterfront.  Jobs in the high-tech sector have a strong multiplier effect.
Urban economists tell us that each new high-tech job leads to two additional professional, and three additional nonprofessional jobs. Attracting a new scientist, software engineer, or mathematician increases demand for local services like nannies, doctors, lawyers, and dog walkers.
The LA Waterfront now has all of the ingredients necessary for a vibrant, dynamic, opportunity-filled community. We have the ingredients for a modern-day smart community with great businesses, a vibrant downtown, a thriving waterfront, popular breweries, and efficient transportation.
The tide is rising here at the Port of LA and it is rising for everyone. The port is relying on innovation to achieve its ambitions Clean Air Action Plan which will deliver a zero-emissions Port by 2035. Despite dramatic reductions in diesel emissions under the port's 2006 clean-air plan, our port complex remains the largest single source of air pollution in Southern California. This is why it is important to continue transforming this massive hub for freight-moving trucks, trains, and ships to cleaner technologies and zero emissions by 2035.
We can only accomplish this through innovation because the equipment that will get us to zero emissions is yet to be invented. We will invent it right here!
Currently, the Port of LA is generating 2.9 megawatts of solar power which is enough to power approximately five hundred homes for an entire year. But this is hardly enough.  The Port is continuing construction for the installation of approximately twelve more megawatts of additional solar power within the Port, scheduled for completion by early 2019.
Beyond the Port, Los Angeles is the number one solar city in the Country with nearly 359 total megawatts of installed local power. That level of energy is enough to power over eighty-two thousand homes in Los Angeles, the equivalent of taking forty thousand cars off the road.
But today in LA, the opportunity to buy a home with modest wages no longer exists because the lack of housing has created too big of a demand which has driven costs to an unsustainable level.  During a time housing is most needed, we are building the least we have ever built.
I support density where it makes sense in Los Angeles. Places where smart growth will allow people to live, work and play in the same community without always having to rely on their cars.
However, too many people cannot afford to live near their work, so they spend more and more time in congested traffic during their daily commutes. Since 2005, Los Angeles has seen a twenty eight percent increase in people spending more than 90 minutes commuting to work.
But this is where downtown San Pedro can be a model for the rest of the city. Currently, there are nearly one thousand apartment units that are planned or already being built in downtown San Pedro.
Creating a more dense community ensures better neighborhood amenities, successful businesses, more restaurant options, all in a walkable environment where we see less driving.
I want to thank the Business Improvement District for its commitment to work with my office to finally launch a sidewalk dining program in downtown San Pedro and I also want to acknowledge the work of our very own Chamber of Commerce, for developing a training series for area businesses.  Employees at local shops will become our own tourism ambassadors and improve our service for visitors.
I envision SpaceX and AltaSea employees living in new developments in downtown San Pedro and walking a block to a water taxi that will take them across the Harbor Channel to SpaceX or riding a bike along the San Pedro Public Market on their way to work here at AltaSea.  Higher density creates the housing we desperately need while also creating situations that pull people out of their cars and off of our congested streets and freeways.
In San Pedro, 700 single-family homes are being built at the former Navy Housing site on Western Avenue.The bottom line is that the city needs fifty thousand new housing units every year for the next ten years in order to get in front of our housing crisis, otherwise, we will not escape our homeless crisis, nor will we escape the stress of living in this city.
In the past year, our communities made great progress. In Watts, we started the one billion dollar redevelopment of the Jordan Downs Housing development with the build out of the first 250-units. When complete, the redevelopment will double the amount of housing from 700 to 1,400 units and will deliver a new nine-acre park, 50,000 square foot community center, 115,000 square foot retail center to include a supermarket, retail and dining options. 
This summer the Department of City Planning will also begin the Wilmington/Harbor City Community Plan Update. When this and the Harbor Gateway Community Plan are done, the entire 15th Council District will have updated Community Plans.
In San Pedro we have focused our efforts on Gaffey Street, specifically at the entrance to town at the end of the 110 Harbor freeway. The new Sister Cities Plaza and palm tree-lined median create the first impression of California's newest innovation district.
San Pedro was one of the first communities in the city to update its community plan. This plan is already working to create more smart density in downtown San Pedro where multiple developments are happening all at once. 
The new community plan will help us redevelop Rancho San Pedro, a 21-acre property with only 479-units. I look forward to creating a much more dense development adding housing for all income levels. Four teams have submitted interest in re-developing Rancho San Pedro. The teams will hit the streets with their proposals later this year. 
As most of us here already know, the new designs for the $150 million dollar construction of the San Pedro Public Market has begun. Demolition is almost complete and most of you here today experienced the newly realigned Harbor Boulevard as you arrived today.
By 2020 when the San Pedro Public Market opens, and downtown San Pedro gets more dense, this area will feel more like San Diego's Gaslamp District. In addition to the amphitheatre venue which will be built at the Public Market, I am happy to announce that that we have secured five million dollars to finish upgrading the Warner Grand Theatre which will ensure that our new innovation  district is also an entertainment district.