At a recent Building Industry Association breakfast, Senator Scott Wiener spoke about SB 827, the transit-zoning bill that has stirred much conversation in the California planning and real estate community. Sen. Wiener, who also posted an article about the bill's amendments and relation to local control here, spoke to the genesis of the bill and the conversations he has been having with stakeholders. The author of SB 35 last year and a number of housing-related bills in this session, Sen. Wiener also engaged in a Q&A regarding lessons learned in the process of introducing SB 827.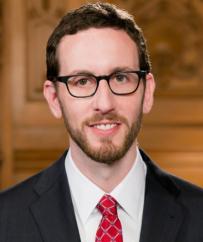 "The gist of the bill is that within half a mile of a subway station, or a quarter mile from a high-frequency bus stop, cities can't limit density or push height below a certain point. It also eliminates parking minimums." - Sen. Scott Wiener
Scott Wiener: When I was elected to the state Senate, some of my critics in San Francisco were happy that I was out of city politics because they thought I couldn't mess with land use anymore. They thought the state wouldn't do anything on housing or land use. And of course, I believe that the state does need to do more on housing.
We are going through a difficult adjustment period. When it comes to critically important issues to our state, such as public education or health care, we would never say that cities should have pure local control. If I went to the other Senators with a bill to delete the state Education Code and let local school districts do whatever they want, that would be seen as absurd. We recognize that the state sets basic standards for local control on the critically important issues for the future of the state.
Housing is the exception. It's a weird anomaly, because there are very few things more foundational to our success than housing. Housing is key, yet we have taken the position in California that it is a purely local issue. As a result, we've had some communities that produce housing, and plenty of communities that produce little or no housing.
 For a long time, we muddled through like this. But it has led to the mega-sprawl we have in both Northern and Southern California today. Over the last 50 years, we have methodically developed what I call a "housing-last" policy in California, where housing is considered a blight, a problem, and a negative environmental impact.
Cities have dramatically downzoned, like the mid-1980s downzoning of LA, which reduced their housing capacity by about 50 percent. San Francisco also went through dramatic downzoning in the 1970s. In my neighborhood, the Castro—which has two subway stops and a number of bus routes, and is located in the center of the city—you can only build two or three units on a parcel. My 39-unit condo building, which was built in the 1960s, would be illegal today. Additionally, we have created process after process and obstacle after obstacle such that it now takes years even to approve projects that are within the zoning capacity.
The chickens have come home to roost. We can't muddle through anymore. We have constricted supply so dramatically that young middle-class families cannot stay in an increasing number of cities. You now have to make a choice between having kids or having a long commute.
Last year, we took the first meaningful step in asserting that there is a role for the state in housing. One thing we focused on was funding affordable housing. Since the elimination of redevelopment, the state has been a negative force for affordable housing. We established several funding streams for affordable housing. That work is not done, but it was a good first step.
The second step was to improve the process for housing. We passed SB 35 to streamline approvals housing in cities that are not meeting their RHNA goals. We also strengthened the Housing Accountability Act, which limits arbitrary rejections or downsizing of projects, and closes some loopholes in the Housing Element process.
Many critics have made me out to be anti-local government. No. I am a former local elected official. I know that local government officials are overwhelmingly fantastic people who are giving of themselves to the community. But they have a hard job. They might know a project is a good one, but their constituents hate it. What are they to do?
Other critics have told me to wait some time to let the bills we've recently passed "settle in." But we know that last year was just the beginning, not the end, and there are a number of good housing bills in the hopper this year. One of them is SB 827, which follows a basic concept: We should allow more housing near public transportation throughout the state.
We have transit-rich areas with hyper-low-density zoning, and that is not sustainable. It pushes people away from transit and forces people to drive, which gridlocks our freeways, increases carbon emissions. We want more people to be able to live near transit.
The gist of the bill is that within half a mile of a subway station, or a quarter mile from a high-frequency bus stop, cities can't limit density or push height below a certain point. It also eliminates parking minimums. We've recently made some amendments about [non-mandatory] anti-displacement protections. We borrowed these protections from Los Angeles, and they have been described as the strongest anti-displacement protections ever adopted. They require relocation assistance and a right of return at the same rent.
Despite some cynical misrepresentations, SB 827 does not in any way change the approval process. The process that exists today will exist after SB 827, whether it's a streamlined process under SB 35 or a CEQA Conditional Use process under normal local control. The bill also defers to local demolition controls as they are now or will be in the future. The notions that this is a bulldozer bill are unfounded.
The bill also defers to local inclusionary rules, including LA's Prop JJJ and San Francisco's more traditional model of X percentage of units for affordable housing. In fact, the San Francisco Planning Department did an analysis showing that SB 827 would lead to a significant increase of below-market-rate units because it will produce denser, more affordable units. In addition, low-density parcels that are currently not candidates for inclusionary zoning will become part of inclusionary programs as their zoning capacity increases. The bill also defers to local design standards—as long as the standard isn't meant to shrink the building.
We are still negotiating further amendments, but one thing I can tell you right now is that our current definition of high-frequency bus service is too broad. We had adopted the definition that currently exists under state law (SB 375)—15-minute headways during rush hour, even with otherwise limited service—but that's not what we want.
There are some who are pushing to take bus service out of the bill entirely. I don't want that, either. Limiting the bill to rail and subway—fixed assets—would still be impactful, and a big win, but I'm advocating to include bus lines that are truly high-frequency. The way I'd hope to define that is buses that run from 6 am to 10 pm, with 15-minute headways during rush hour and 20-minute headways the rest of the day, and 30-minute headways from 8 am to 10 pm on the weekend. For areas like South LA, which have a lot of bus service, redefining the bus service in the bill is a much more refined approach and less globally encompassing.
We are going to put inclusionary in the bill, which is controversial. But I will not be able to pass the bill without the inclusionary amendment. My desire is to use the percentages defined in the state affordable housing density bonus program—a scaled or tiered approach that developers are already used to using.
There is also a push to have direct demolition controls in the bill. I put demolition controls in SB 35, such that you cannot use SB 35 to demolish rent-controlled housing, and even non-rent-controlled multifamily tenant housing has to be vacant for a number of years. The reason for that is that SB 35 is a process bill, and we didn't want to create a situation where someone would be entitled to demolish a rent-controlled building with tenants living in it.
By contrast, SB 827 is not a process bill. It's a zoning bill. It's already going to have to go through the local process for a demolition permit. We don't think it's necessary to put direct demolition controls in SB 827, but if we're forced to do it, we will.
There is also a push for delayed implementation. I'd resist a long delay, but I'm fine with delaying by a year or two to give communities an opportunity to prepare—with the provision that communities cannot screw with their zoning in the interim, like by rezoning all their residential as commercial or industrial, to get around compliance.
This is a challenging bill. It's very aggressive, and we've known from the beginning that it would get scaled back to some extent. Our first of two committee hearings is coming up, and we'll know what the likely amendments are soon.
Audience Question: We see time and time again in the housing debate that the middle—workforce housing—is forgotten. What can we do about that? 
Scott Wiener: There's a certain dynamic in the capital that has been a struggle. Things are changing, because California YIMBY is now a formal organization with a lobbying presence. That's important, because in the past, the only advocacy for housing—other than the development community, which many people saw as self-interest—was for low-income housing.
The advocates for low-income housing are incredible. I support their important work around funding and anti-displacement. And I totally respect their laser-like focus, because the struggles of low-income people in LA and San Francisco are so real. But that is all they are focused on. We're trying to inject a broader view of housing in the advocacy at the capital. The low-income part is important, but the middle-class is, too.
Now, we're not going to solve the middle-class housing problem with subsidies; it's too big. We'd need a martial plan from the federal government, which isn't going to happen. And I worry that if we focus on housing subsidies for middle-class people, all that's going to do is take away subsidies for low-income people. My view is that we should focus our housing subsidy program on low-income people—but it needs to be reasonable so that we're producing a lot more housing, which, over time will make housing more affordable for middle-class people.
That's a hard argument to make because of the long timeframe. But it has taken us decades to get into this mess, and we're not going to get out of it in a couple years or even in five years. It's going to take a long time.
David Abel: You began with an interesting comment about whether education is appropriately overseen at the state level. Do you think California State Government has done such a good job with education at the state level that we ought to Zoning to the State? It also a total absence of any reference in legislative debates about supply side housing solutions to community planning, smart growth, or managed growth. Supply-side solutions appear the only way you talk about the State's recognized housing "crisis". Is the aforementioned a fair observation?
Scott Wiener: I think that that is a way to characterize what we're trying to do. There is plenty of planning that goes on in cities—and it might be good planning or bad planning. There's a lot of bad planning that happens at the local level, including in San Francisco at times.
One of the inaccurate notions that has been put out there is that this bill eliminates zoning. That is not true. It changes, in certain areas, what the default zoning is.
I met with Los Angeles Councilmember Paul Koretz, who has said the bill would turn LA into Dubai. I asked him why he said that, and he said, "I thought the bill removed all height limits." No! If you have a 35- or 45-foot height limit now, instead it might become 55 or maybe 85 stories.
David Abel: What opponents, if any, have you personally learned from in the process of drafting SB 827
Scott Wiener: I've had a lot of great conversations with various LA City Councilmembers, with my own former colleagues on the San Francisco Board of Supervisors, and with mayors and city councilmembers around the state who have offered concerns as well as suggestions. Before ACT-LA came out with their letter against the bill, we were working with a number of organizations within ACT-LA on anti-displacement language. They ultimately opposed the bill.
I recently had an hour-long conversation with Zev Yaroslavsky, who is obviously a critic of the bill, but who is also a very thoughtful person and had some constructive ideas for me, some of which might make it into the bill.
If you come away today with the notion that I'm dismissive, that's inaccurate. Many of our amendments have come from critics of the bill.
Audience Question: Many of the LA neighborhoods at issue in SB 827 often feel like they're under siege—and when people are under siege, you have to offer them carrots, not just sticks. Are there opportunities to offer benefits to people? Are there ways we could provide communities trying to add housing some flexibility to tailor their zoning—like through accessory dwelling units (ADUs)?
Scott Wiener: I do believe that we need to have both carrots and sticks. But we're past the point where we can take a pure carrot approach in California. We want that—we want to help—but we have to have rules, or people just won't do it.
The recent ADU legislation, for example, was very much a stick. The state had passed legislation in the 1980s saying cities had to allow ADUs, but there were no teeth, and everyone ignored it. Then, over the last five years, there were a series of bills in the Legislature essentially saying, "No, we really mean it." There was huge local resistance in many parts of the state, until the state laid down the law—and now, there's actually less resistance. I think that's often the case: Once it starts to happen, and people see the sky isn't falling, they become more accepting.
Now, with SB 827, people are saying, "Oh my god, in six months, there are going to be 85-foot buildings everywhere." But we know that's not how development works. You need an available parcel, a developer, funding, etc. It's a gradual process; the change is going to happen over decades. And once people see that it's not going to be an immediate shock to the system, they will take a different view.
But the state does have to provide a ton more money for infrastructure. SB 1 is a start: $5 billion a year, a lot of which goes to local communities for infrastructure. We need to do a lot more of that. We also put money in one of the bills we passed last year to give financial support to cities that don't have fully fleshed out Planning Departments, so that local communities can adopt objective design standards and do the kind of local planning work that they've never really done. The state should be helping communities do that.