Days before cleantech leaders and green economy market-makers will gather to mark the 11th Annual VerdeXchange Conference in Los Angeles, California Governor Jerry Brown and California Air Resources Board Chair Mary Nichols convened visionaries to celebrate the 50th Anniversary of the California Air Resources Board. Since its creation in 1967 and it's first meeting in 1968, CARB has been a government agency that has shown leadership and creativity in tackling air pollution, vehicle innovation, and greenhouse gas emission reductions. Years before passage of the federal Clean Air Act, CARB pioneered the nation's first air pollution emission limits and pollution control technologies for motor vehicles. These regulations served as a model for the nation, and continue to grow in global importance. The following is a brief excerpt from Governor Brown and CARB Chair Nichols about the progress of the past half-century, the opportunities for a low-carbon economy, and the challenges of the climate crisis.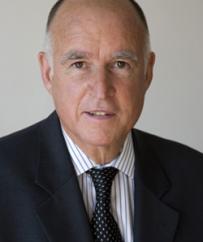 "When I think back over the past 50 years, I think that the Air Board has benefited greatly from institutional memory. From lawyers, scientists, engineers, and regulators, this is not something you learn overnight. This expert government agency and the private actors they regulate—it's a 50-year symphony." - Gov. Jerry Brown
Governor Brown: We have come a long way in California. From a Republican Governor, Ronald Reagan, who signed the Mulford-Carrell Act to create the Air Resources Board, to Governor Arnold Schwarzenegger who signed AB 32, which put the ARB on the map again.
Where we were in the beginning, back in 1968, we were focused squarely on addressing smog. Dr. Arie Haagen-Smit of CalTech invented the word smog. In the 1950s and 1960, smog choked Los Angeles and I remember it being very hazy on my trips as a young boy. The sky would often be yellow and you could not see the mountains. In fact, there was a Republican Supervisor named Warren Dorn who ran on a platform of "SOS: Stamp-Out-Smog." It was not a Democrat vs. Republican issue, it was a citizen-led drive to act and protect health. 
This effort led to the pressure to create the Air Resources Board, and soon after the Clean Air Act. California has a unique as a setter of auto emissions standards. With Ronald Reagan as Governor and Richard Nixon as President, the first Earth Day made us feel in California like we had a pathway to success on a bipartisan basis.
When I started as Governor in 1975, we got serious about enforcing and strengthening these laws. Then, people had second thoughts about these regulations. It became real, and it scared the auto industry. We did not relent when the auto industry said they could not meet the standards. We have come a long way in regulating what comes out of the tailpipe, and now we want nothing to come out. We want a massive deployment of zero emission vehicles to usher in the next wave of clean air goals.
When I think back over the past 50 years, I think that the Air Board has benefited greatly from institutional memory. From lawyers, scientists, engineers, and regulators, this is not something you learn overnight. These things take time to master and these folks have committed years and decades to this cause. This expert government agency and the private actors they regulate—it's a 50-year symphony. 
Addressing our natural disasters and fires, nature is not a political game. We are looking at the overall ecology. Nature is the ground on which we stand; it's the air we breathe. The truth of the matter is that there's too much carbon being emitted; that heat-trapping gases are building up; that the planet is warming and all hell is breaking loose.
Now, we are dealing with greenhouse gases' impact on our world: The fire season used to be a few months in the summer. Now it's almost yearlong. These fires are unprecedented. We've never seen anything like it. Scientists are telling us, "This is the kind of stuff that's going to happen." And we have to deal with it. I don't think this is being taken seriously enough. Climate change is not news.
Where we will be in another 50 years is difficult to conceive of. But I know we need to get to zero-emission, and then negative emissions. We have to figure out how to extract carbon dioxide and create a negative emission clean energy economy. It has never been more important to get involved and dedicate your lives to the cause of making our air cleaner and addressing climate change. California is the epicenter and we can really make a difference. 
CARB Chair Mary Nichols: A 50-year period of life doesn't seem all that long, but it's enough to see how much change can be made if you have the political support, the science, and the resources. California has been blessed in all these respects with an incredible opportunity to have influence in the world.
Back when I was in Washington, heading the air program in the Clinton administration, I was given the opportunity to administer what was then a brand new Clean Air Act. I quickly realized that my job was mostly going to be about replicating in the national arena things that we had already done in California. That was quite a realization.
I always wore my California credentials very proudly, and people used to say to me that things are easy in California—that everybody is green and progressive, and you can get easy support for anything you try to do. And it is true that we've had wonderful support over the years from the public demanding that the air get cleaned up.
It was pretty filthy when I moved out here in 1971. You could see the air; you could taste the air. It was unacceptable, and people reached a point where they just weren't willing to put up with it anymore. There was plenty of evidence mounting that not only was it ugly, but it was really bad for people's health as well.
But California is not a monolith. Not only are we a big state, and an economically important one, but we are also a very diverse state. We're diverse in our population, as well as in our geography and in our economic base. We have people in this state who commute to work by bicycle and people who commute by motorcycle. We have people who are Hell's Angels, and we have people who are Evangelicals. And I think one basis for our success is that we are able to bring enough of those people together at any given time to support moving forward on protecting our resources and our public health, so that we have been able to achieve some wonderful things.