In the aftermath of the Volkswagen settlement, the company committed $800 million to fund zero-emission vehicle projects through its subsidiary, Electrify America. In July, the California Air Resources Board approved the first investment cycle of Electrify America's Zero-Emission Vehicle Investment Plan, which included a $44 million investment in Sacramento as the first "Green City." The Green City investment will include charging infrastructure and other initiatives to increase the use of ZEVs, particularly in disadvantaged communities. Sacramento Mayor Darrell Steinberg joins TPR to share the catalyzing impact of these investments, and the goal of becoming a scalable model for regional clean transportation.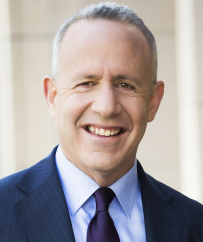 "Ultimately, I want Sacramento to become a center for the research and development of advanced transportation technologies." —Darrell Steinberg
In July, the Volkswagen subsidiary Electrify America named Sacramento its first "Green City," a designation that comes with a $44 million buildout of electric vehicle infrastructure. How does the city hope to deploy this new investment?
Darrell Steinberg: It is an honor and an unprecedented opportunity for my city; it's a big deal. We want to use this relationship with Electrify America to catalyze new industry in Sacramento around alternative fuels and electrification. Ultimately, I want Sacramento to become a center for the research and development of advanced transportation technologies and the rapid electrification of the automotive industry.
To me, economic development is the key. In the first round, Electrify America is focused on developing a car-sharing service and building on our existing work installing charging stations. At this stage, we want to see enhanced mobility options for our low-income residents—for example, low-cost ride-hailing services and zero-emission shuttles in those communities. We also want to see this investment used to help strengthen first/last-mile connections to transit.
Metropolitan Sacramento has a number of leading civic and educational institutions—from UC Davis to the Sacramento COG, AQMD and SMUD. As a recognized regionalist, address how these civic institutions have coalesced in support of your initiatives around alternative fuels and transportation electrification.
Obtaining this grant was not just a city initiative by any means; in particular, County Supervisor Phil Serna, who sits on the state Air Resources Board, has been a great partner.
The greater Sacramento region has a long tradition of regional cooperation. We were the first region in the state to put forward a regional blueprint for smart growth planning, which led to my authoring SB 375 in 2008 to establish regional targets for reducing greenhouse gas emissions.
Now, Sacramento is expanding its identity. We have long been a proud government town, and certainly a proud capital city. But we also want to be much more. We can't be reliant on one industry. We are intently focused on diversifying our economy, and the VW investment is a big part of that. Our goal is to build a dynamic, high-wage economy with a robust private sector.
We recently launched a unique public-private partnership with Verizon: They are investing $100 million in Sacramento's broadband infrastructure in exchange for being able to place their small cell network throughout the city.
We are also competing hard for a number of industries and relocations; we're aggressively working to attract Silicon Valley and San Francisco enterprises, as part of the greater Northern California megaregion. The Bay Area Council doesn't see Sacramento as being in competition with the higher-cost Bay Area. Instead, they're working with us to say to companies: If you can't afford the Bay Area, don't move to Texas; don't move to Seattle; move to Sacramento. This region is primed to be the center of new technologies.
Elaborate on the Green Cities grant, since it may be a progenitor to similar grants around the state. How did it come about, and how does Sacramento plan to be a model for other cities or regions looking for similar resources?
It came about because we went for it—we put ourselves out there as "California's emerging city." Another factor was our proximity to UC Davis. We want to bring them across the river, and we're having serious conversations with their new chancellor about integrating both UC Davis and Sacramento State University into the broader economy.
Davis's chancellor, Gary May, was one of the primary architects of Tech Square at Georgia Tech University. Tech Square is a collaboration among the city of Atlanta, Georgia Tech, and the larger business community to create an incredible synergy of the workforce pipeline, higher education, and R&D for high-wage technology entrepreneurs in Atlanta. We want to do the same thing here in Sacramento. Ultimately, we want the Green City investment to be a catalyst to create jobs and to help disadvantaged communities—and that's already beginning to happen.
That $44 million and Green City designation is a major market signal, and we're already seeing the effects. The phone is ringing off the hook with calls from manufacturers, electric vehicle charging companies, and various mobility service providers that are now looking at Sacramento in a different light.
In last month's TPR, Lyft's Emily Castor Warren addressed how ride-hailing might help solve the first/last-mile challenge in transportation. How do you envision the VW grant helping to improve mobility options?
It's no secret that the world is changing fast, and while we have to invest in building up the basics of our transit system—bus and light rail—we also have to be much more creative about building a modern transportation system. First/last-mile is absolutely the right place to start.
When the Golden 1 Center opened in Downtown Sacramento last year, the city partnered with Uber, Lyft, and Yellow Cab to provide a package deal: For about $15, a family of four could take one of the ride-hailing services from their home to the nearest light-rail station, to the arena, and back. That's exactly the kind of thing we need to do more of.
In this issue, TPR also speaks to Ryan Popple of the electric bus company Proterra, which has a contract for zero-emission shuttles at the Sacramento International Airport. Talk about how the electrification of transportation intersects with your airport.
We've got a great airport that is relatively close to the city center. In order to ensure that it continues to grow and be competitive, we have to offer multiple ways to get from there to various parts of the Sacramento region. Certainly, in applying this grant opportunity, creating more mobility at the airport is a real priority.
We know that we want to build light rail out to the airport, but there's no reason why we couldn't use some of this grant money for ZEV airport shuttles as well. That would be a great outcome.
Reflecting on your tenure as a member of the Assembly and President pro Tem of the Senate, how does California's capital city benefit from or encourage state legislation and rulemaking? What's the nexus between Sacramento and the state Legislature?
Our proximity to the Capitol, and the fact that I served in the Legislature before becoming mayor, provide Sacramento a unique opportunity and advantage. We can be the test site for innovations like autonomous vehicles—the laboratory that helps inform the state regulatory decisions around new technologies.
It is always the place of the regulator to ensure safety and fairness. On the other hand, you don't want regulations to become so onerous that they kill emerging industries. Sacramento can draft templates for how the state might achieve that balance 
Offer your perspective on the governor's priorities, such as high-speed rail. How's he doing?
I think Governor Brown has been a great governor. I had the privilege of working with him for four years to solve the state budget crisis. It's easy now to take for granted the good times, but it took the governor's unique style of leadership and commitment to get the state through its fiscal crisis. I'm certain he will not go easy in his last year—he will continue to work hard.
Governor Brown has a vision, and that vision has resulted in significant investment in clean infrastructure, aggressive renewable energy standards, and cap and trade. I love high-speed rail—I think it's the future, in terms of how it will impact regional economies. It would change Sacramento forever to have high-speed rail to San Francisco and the Silicon Valley; that would truly create the megaregion.
Do you think we'll ever achieve alignment among the Northern, Southern, and Central California regions on a statewide agenda for water infrastructure investment?
I believe it's possible. In 2009, I authored the legislation (SBX7 1) that created the Delta Stewardship Council with a focus on the "coequal goals" of water supply reliability and ecosystem protection. In 2014, the state Senate passed a water bond (Prop 1) with a unanimous bipartisan vote. These things give me hope that our old fights can be overcome. But of course, it won't be easy.
The tunnel project is a challenge at this point—so much so that it has come up in the gubernatorial primaries. I'm not sure about this particular version, but to me, any project that both creates more water supply reliability and aggressively protects the Delta ecosystem is at least worth looking at.
We've noted the good relationship Sacramento has with the state. Comment now on the city's relationship to the federal government—its needs and expectations.
That's a bit of a different story. I've said it from the beginning: We'll work with the Trump administration where we can—like on infrastructure—but we're not going to compromise our values, especially on civil rights. Ever. In some ways, that's freeing.
It's going to be a long few years, but in the end—as long as we act consistently with our values, and stand for our people and their civil rights—I'm confident we'll be okay.