Ahead of the Urban Land Institute's Fall Meeting in Los Angeles this week, TPR sat down with Tom Gilmore of Gilmore Associates in his Farmers & Merchants Bank Building office at 4th and Main Streets to assess the status of Los Angeles' real estate markets and the role of the private sector in contributing to an economically healthy and livable city. Gilmore's work began three decades ago in redeveloping and bringing residential units to the Historic Core of Downtown Los Angeles, and he believes that the region is primed for continued growth and investment. Gilmore is presently deeply involved in the civic fabric of Los Angeles, as incoming chair of the Central City Association, chairman of SCI-Arc, and the mayoral appointee as chairman of Sister Cities of LA, among other initiatives.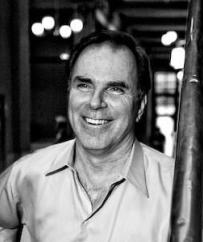 "Most of the development community is very optimistic about the future of Los Angeles, and gung-ho about the opportunities. But at the same time, they're also rudderless. They're afraid that there is no overarching philosophy driving the city—just hundreds of one-off deals that don't gel into a philosophy of urbanism of any real note." - Tom Gilmore
We last interviewed you back in 2011, focusing on the then-cooling real estate market in Downtown L.A. You reflected then on the difficulty of getting projects done because of the lack of proper land pricing and landowners' reluctance to sell. Today, in fall 2017, reassess the development market downtown.
Tom Gilmore: Everything we saw in 2011 was a function of the first and second large phases of redevelopment in Downtown, going back to the 1980s and later in the 1990s. The recession slowed that latest movement, but I was happily surprised that the market stayed relatively steady downtown.
It's a different game now, and I believe we are set up for yet another phase of growth. Around 2013, a massive wave of investment swept into Downtown particularly from national and international capital. This level of investment was a function of a few things: First, the Downtown market had not tanked as many other markets did during the recession, so there wasn't a sense that it was as vulnerable a development market as others; and secondly, there was a lot of capital in the markets, and for the first time in decades, Los Angeles appeared to be a key location.
I don't expect to see that level of investment decline much. Building types and micro-locations—like the Arts District, South Park, or the Historic Core—will shift how investments are made over time, but I think we are in continued investment phase. The long-term trajectory of Downtown is positive.
Over the past six years, developers have seen the demise of the redevelopment agencies, the growth of regional rail investment, and the birth of a viable Arts District. How have these changes impacted investment? 
When it comes to rail investment, I see the Regional Connector as the "sleeping giant" that is about to make connectivity a very important component of downtown development. I expect that the extension of the Gold Line into the Arts District, the completion of the Crenshaw line to the airport, and the Purple Line to the sea to provide the broad, international level of infrastructure that makes development inevitable.
Now, which areas this change will involve will depend on local access to transportation, preserving the integrity of neighborhoods, and the evolving face of Downtown as a metropolis. Right now, there's an enormous amount of development in the Arts District and South Park, and I think we're going to start to see more development south of Washington and in Chinatown, especially around the new state park at the border with Little Tokyo. Over the next 20 years, most of the geographic area we know as Downtown will both be challenged by and benefit economically from this development. 
Before he passed away, developer Len Hill warned Angelenos of the "Orsinization" of Downtown, referring to Geoff Palmer's development style. Speak to the scale and type of development that national and international capital embrace.
I always sympathized with Len and Yuval's desire to have a hand in the design of the future Arts District. Their impact has been enormous.
Building types are changing because economics are changing. The five-story-on-a-podium construction type—like the Orsini— is very prevalent, very popular, and easy to build. Therefore, it is favored by the city because it is a known entity. What the city knows, they love. What they don't know, they make much more difficult to build.
The issue we are running up against is that the economics and demographics driving development are pushing more and more toward high-rise buildings—and ultimately, the metropolitanization of Downtown requires high-rise development. These five-story podium buildings are a waste of space. They may be more efficient uses of space than single-family housing or town house housing, but they are not as efficient as high-rises. I expect that the Orsinization phase may last another 5 to 10 years, and then high-rise will find its way in, and there will be yet another battle.
This is not just an argument about building type. It's an argument about curation: Who holds the keys to curating the city? I don't believe it's the Planning Department. To me, Planning has to be a space-oriented and density-oriented organization. Instead, curation is the one place where I think council offices need to be actively engaged. Councilmembers need design professionals within their offices as advisors to help guide rational and attractive new development in their districts.
The current system is about as broken as a system can be; the push and pull of advocacy and lobbying is incredibly destructive. Right now, planning is reactive to the point of being silly. But our council offices have the capacity to evolve. Real leadership on the part of the council and the mayor would be to empower the Planning Department to act as a professional organization—so that it is not constantly subject to political whim, and can do what is right, not what is popular. We're beginning to see that leadership now. 
Though short of Robert Moses' triangle of authority in New York, you have amassed an incredible range of civic organizations that you are now leading—from SCI-Arc to Central City Association and the Mayor's Sister Cities program. Speak to your ability to align these forces to achieve the results you desire. 
Because I was fortunate enough to be successful, and because part of that success had to do with an urban philosophy and a planning philosophy, I feel obligated to connect these disparate components and form a civically responsible version of Robert Moses's triangle. That involves active participation in government, the business community, and the educational community, as well as in our international relationships and in culture and the arts. Engaging in all of these things separately, and trying to combine them, has helped my capacity to advocate for an urban philosophy. These are all interrelated, and we suffer when they don't integrate.
I hope to help the talented people in these fields interact in a city that often silos its talent. Because there are so many different voices engaged in this work, I know that my attitude toward the city won't be monolithic, but inclusive.
It seems you are taking on the theme of the Hamilton song "The Room Where It Happens"—trying to craft a new paradigm for our decision-making process beyond pay-to-play. Talk about that challenge.
As a developer, I engage in a dialogue with the city. My concern is that there is a broad misconception about who is the fox and who is the hen in this environment. The perception is that developers are scrounging around trying to pay off everyone they can to do whatever they want to do.
I believe that the reverse is true. Developers are looking for a set of rules that they can rely upon, and they will invest based on those rules. When those rules are broken down or made arbitrary, or subject to challenges that will delay them for years, developers look for another answer. And unfortunately, the political system offers them an answer. But that's not the answer we need.
With a few exceptions, I would be happy to never contribute to a political candidate ever again. But I can guarantee that I will do so many times over the next 30 years, because at a certain point, it's not my choice anymore.
When Measure S appeared on the ballot last year, the city had an opportunity to mandate and fund community plans and a 21st century zoning code that would offer clear guidance to developers. In your view, how and why did City Council and the development community manage to dodge that opportunity? 
Measures S, JJJ, HHH, H, and even M were examples of quintessential crisis planning on the part of the city. As a general rule, I am not an advocate of planning by initiative. But in lieu of leadership, the public takes over.
I don't think Measure S was the result of a lack of leadership by this mayor, or any particular mayor before him; it's inherent to the system. Measure S was a wakeup call to the Planning Department and the city at large that we are not going to get out of the box we're in without significant planning changes. These changes are going to be painful, and there are going to be arguments about them. 
Who do you anticipate joining you in this effort to do "real planning" in Los Angeles?
Architects, urban planners, and the Urban Land Institute all need to be part of the conversation. There must be a consensus about what serves the greatest amount of people and how to limit whose ox gets gored.
As an example, look at Measure JJJ, which passed last November. Measure JJJ performed a certain service for a group of people, but it was not in the service of planning overall. That type of constituency-based advocacy is so damaging in the long term, because no one gets to consensus. And although I am not a major fan of consensus, I am a fan of collaboration. All the stakeholder groups—planners, developers, union leaders, business leaders, and politicians—need to craft a narrative that they can all support.
This is what I am trying to do in my new role at the Central City Association (CCA). I want to recast CCA as the most effective organization in Los Angeles in terms of its collaborative process. Historically, CCA has been a strong business organization, but I want to shift our efforts to being strong advocates for the city itself. We cannot always just fight our own fight; the city doesn't move forward that way.
Even though CCA's membership includes many residential real estate developers, I don't see that as a dichotomy. I think a healthier, more predictable market is better, not just for the people who invest in it, but also for the people who inhabit it.
Speak to the impact of current real-estate financing models on development in Southern California.
It's funny that much of what we are using today is not new; sometimes, in order to move forward, we have to look to our history. Many of the early leaders of Los Angeles, from J.B. Lankershim to Isaias Hellman, were creating both the most iconic Downtown landmarks and the entire San Fernando Valley in the early 1900s using much of the same financing instruments we use today. Even more, there was a civic component to the work that they did.
Now, as of the last decade, equity is king again. And it's not just U.S. or pension fund equity anymore—it's international equity. Much of that equity can ignore short-term variations in the market. That's what I'm seeing in South Park and the Arts District right now. That equity has legs, because it's not just a play on development—it's an investment in the trajectory of the region. To be perfectly honest, it's also a monetary play because of the value of the dollar.
Equity has a freeing capacity, like that of Lankershim and Hellman. Lending is unbelievably restrictive because it is not entrepreneurial by nature. Equity is entrepreneurial. The question is whether we can engage and reward that entrepreneurial spirit at the civic level. How can we make so that civic engagement is the quid pro quo of investment in our region?
I think AEG is doing a good job along with Metropolis by Greenland, Holland Partners and others who are engaging the broader community. Oceanside is also making attempts to build community. I think we'll see more of that in the coming years. 
As its chair, share your hopes and expectations for SCI-Arc.
SCI-Arc doesn't get enough credit for the incredible impact it has had on the Arts District. It has been the educational foundation of the neighborhood. In my opinion, SCI-Arc is to the Arts District as Trinity College is to Dublin. It integrates fresh blood and enthusiasm into the fabric of our city.
The discussion about the future of architecture is completely linked with the discussion about what constitutes a great city versus a vanilla city. For many years, SCI-Arc was an insular institution interested only in capital-D Design. Now, while they are still the preeminent design architecture school in the country, they are also turning into a civic platform. The director of the school, Hernan Alonso, and the rest of the faculty are all engaged in the conversation around the Arts District—not just in a parochial way, but in terms of its significance for the broader constituencies of Los Angeles.
Los Angeles needs super creative architects to help us out of the jams we're in right now. SCI-Arc, as well as UCLA and USC, will provide constantly churning brainpower. From there, I hope the Mayor's Office will engage these young people at the city level.
Union Station was the portal of entry to Los Angeles for much of the 20th century. But having just visited the redeveloped Tokyo Station in Japan, it's hard not to think that L.A.'s imagination is not grand enough for its central mobility hub. Share your thoughts on the grandness and utility of Union Station's master planning process.
Los Angeles's history with transportation is so tortured. We built the most extensive transportation system in America in the early 1900s, and then we dismantled it in the '50s and '60s. Now, when we think about transportation, we just don't think big enough.
I applaud our mass transit investment through Measure M; I think it's extraordinary. But when it comes to the center of our transportation hub, there's a lot more we could be doing. We need to get mixed-use development into Union Station on a level that is hard to even fathom right now. The plans Metro is making now are solid plans, but they are timid, and they need to be bold.
Like Tokyo Station, the Berlin Hauptbahnhof is insanely complicated, in the best sense of the word. The same is true in London, where buildings and transportation are beginning to intersect at an extraordinary level underneath the Shard. Los Angeles still thinks like a small town, even though we are the second-largest city in America. But as the economics of Downtown continue to astound the broader city, change will become possible.
Lastly, you'll be presenting at ULI's upcoming international Fall Meeting in Los Angeles. What message will L.A.'s development community send to the rest of the world about who we are?
I think we in L.A. are a little bipolar. Most of the development community is very optimistic about the future of Los Angeles, and gung-ho about the opportunities. But at the same time, they're also rudderless. They're afraid that there is no overarching philosophy driving the city—just hundreds of one-off deals that don't gel into a philosophy of urbanism of any real note.
I get that we're doing interesting things in streetscaping, pedestrianism, engagement, and all of that. But that's not the big idea. The development community is still playing catch-up with a world that has changed.
An extraordinarily important issue that we need to talk about is affordable housing. The city has made a fundamental shift in the last 20 years in that we've effectively inverted our economic model. It used to be that the cheapest place in the city was the dead center, and the most expensive place was in the outskirts. An enormous amount of disruption is going on as a consequence of the reversal of that model: both NIMBYism, and genuine concerns about turning areas that used to be affordable into the next big development play.
We have to accept the fact that the fundamental multipolar system of Los Angeles is evolving, and its center is becoming the only true developable area of the city. And we need to be serious about what that means for affordability—not only in the micro-geography of Downtown, but also in terms of affordability spreads throughout the city.
We're whistling past the graveyard, because right now, everything's going fine: There's plenty of money around, and there's huge depth in the market. But I am concerned that, absent a philosophy from our mayor, City Council, and Planning Department, we are going to find ourselves backed into an even more difficult corner than we are in today—where we need to build more, but we can't, because nobody knows what the hell we are supposed to be building.