The Port of Los Angeles has broken record after record in recent years, recently completing not only own busiest year, but the busiest year of any Western Hemisphere port in history. Executive Director Gene Seroka realizes that this immense goods-moving operation must be as clean as possible, and to that end, has overseen a variety of innovative initiatives around zero-emission equipment and data-driven routing, even incubating new cleantech at the port. He discusses the latest programs for TPR.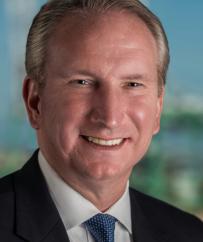 "We moved a record number of cargo this fiscal year: 9.2 million TEUs, the most ever in the history of a port in the Western Hemisphere. And yet, because of these efficiency models—just moving the cargo smarter—we reduced emissions." —Gene Seroka
Let's begin with the port's recent announcement that it would expand its Transportation Digital Solution Portal Pilot, a partnership with General Electric, to all container terminals and shipping lines. What motivated this decision, and are other shipping interests interested in data-sharing solutions?
Gene Seroka: This impetus for this project originated just after I started at the port in 2014. At that time, most major east-west trade gateways around the world were suffering from congestion caused by many things: brand-new big ships bringing in more cargo at one point in time than ever before; new vessel alliances and partnerships; divestiture of assets; and, here on the U.S. West Coast, a protracted labor negotiation. We found that, with all of the issues in this rapidly changing industry, the one common need was data. If we could share data a little better, then we could move cargo more fluidly and enable the success of our supply-chain stakeholders. So, we went on a campaign around the world, looking for people who shared our vision.
Being a municipal agency, we went out to a public bid to find a partner, and we were very fortunate to get matched up with General Electric Transportation. These folks have a great background in transportation and supply-chain work, and they have also done a tremendous amount of work with the federal, state, county, and municipal governments in the United States, as well as government agencies abroad. They have technical know-how, savvy, and understanding of public-private partnerships like no other.
We've now gone through the pilot and asked our board for permission to expand it throughout the port. I was recently in Asia and Europe talking to the major shipping lines and terminal companies, and they are all very excited about coming along with us on this opportunity.
How central are GHG emission reductions and other climate goals to POLA's Digital Solutions project? 
They are central, because we have an outsized responsibility in this area. And after working overseas in this industry for 12 years, I can tell you that no other port complex in the world has invested the time, effort, expertise, and money that we have in trying to reduce emissions.
Part of the opportunity with General Electric is around speeding velocity, creating surety in transit, and becoming more efficient. We moved a record number of cargo this fiscal year: 9.2 million TEUs, the most ever in the history of a port in the Western Hemisphere. And yet, because of these efficiency models—just moving the cargo smarter—we reduced emissions.
We've reduced diesel particulate matter and oxides of nitrogen and sulfur by double digits, and dropped the all-important greenhouse gas number by 28 percent, simply by employing the idea that fewer touches to the box mean fewer emissions go airborne. Going forward, with machine learning, big data, and predictive and prescriptive analytics, I think we can do so much more.
How do you prioritize the challenges of managing one of the U.S.'s largest port complexes?
One thing I learned pretty quickly when I took this job a few years ago is that everything is important—from the big international companies to the mom-and-pop localities. Everything is important at this port complex, from the cargo standpoint, the work we do in the community, and the work we do on the environmental side.
Today, one in nine jobs in Southern California—which is a little over a million jobs—is related directly to this port complex. That's the men and women who work on the docks, administrators like myself, all the way through to the importers and exporters, logisticians, and more. Between the passengers and cargo that traverse our port every day, we touch each and every one of the 435 Congressional Districts in the nation. This truly is one of our nation's greatest assets, and the responsibility that goes along with that cannot be understated.
Elaborate on the port's ambitious Draft 2017 Clean Air Action Plan Update, which sets aggressive goals for clean freight, zero-emission trucks and drayage, and resilient infrastructure.
In September 2015, I made a bold public statement saying that I wanted to renew our committed to the Clean Air Action Plan and develop Version 3.0. Now, we've got to get to the work of implementation. We've had 51 public meetings with various stakeholder groups, and most recently, we held a public four-hour workshop that was greeted by more than 100 public speakers. We're hopeful that in November, we will have a joint board meeting with the harbor commissions of Long Beach and Los Angeles to vote on the policy that we recommend.
The mayors of Long Beach and Los Angeles have called for zero-emission heavy-duty trucks by 2035, and zero-emission container yard and terminal operating equipment by 2030. That's mostly technology that doesn't even exist, so we've got a lot of work to do. My focus is on getting original equipment manufacturers and tiered suppliers interested. This is a market-maker concept: We need to give confidence to manufacturers that they will have customers for this type of equipment—albeit, we're the only ones asking for it today.
Los Angeles Mayor Eric Garcetti is working with us on a request for information that will go out to the manufacturing community on behalf of all major West Coast cities that have ports. We're not just talking about LA and Long Beach—not even just California. We're going to bring the entire coast with us to get manufacturers to develop technology for tomorrow that will be commercially available through mass production, at a reasonable price that can compete with the conventional equipment that exists today.
What is the estimated cost of implementing the Clean Air Action Plan, and how might you finance it?
There are varying cost projections out there now. An industry group has recommended close to $40 billion; our own estimations say $14 billion; and the trucking aspect, a possible subset, is $7-8 billion. How we raise that money is the big question.
In the past, most funding has come from us and from industry. But with a price tag this big, we're going to need additional funding, whether federal, state, or local. The key thing for us is that finding funding is possible for voluntary and collaborative pieces of work alike—but if we go down the path of regulation, our grant-making capabilities will be eliminated. So, we're going to stay on this path of doing more than the law requires, and doing our best to retain our leadership position worldwide.
Security must be a priority for the port, including cybersecurity. How do digitization initiatives address these challenges? 
This is a big area of work for us as well. We look after 7,500 acres, 43 miles of waterway, 27 terminals, and 270 berths on a daily basis. Our approach is unique, but it pays dividends. It begins with our Port Police—one of the only uniformed police departments at a municipal infrastructure project of waterborne interests in the United States. They have close relationships with the FBI, the Department of Homeland Security, Customs and Border Protection, the United States Coast Guard, and state and local law enforcement and first responders.
We have the nation's only cybersecurity center at a port, which was done through a grant from the Department of Homeland Security. We're trying to expand that fiber ring through a potential public-private partnership. We also have more than 400 CCTV cameras positioned around the port that help us on the efficiency side as well as securing our points of access and entry.
Equally as important for our security efforts is establishing a protocol for information-sharing best practices. If one of our port customers has an issue related to cyber, and they share that with their competitors so that they can all be on the lookout and strengthen their own internal systems, which would take us all a step farther.
Address the value of academic research for POLA, such as that of USC Marshall's Center for Global Supply Chain Management, funded by Jonathan Rosenthal.
It's invaluable, and we're putting it into practice today. We work with the Global Supply Chain Center at USC on efficiency models—they have no fewer than eight Ph.D. candidates studying our transit patterns to see how we can better utilize this property for international trade. They've put together a series of programs, including algorithmic formulas and other calculus, that are showing us right now how we can move cargo more efficiently across all 27 terminals.
They are also producing formulaic approaches to emissions: If we move cargo in a certain fashion, what is the impact, positive or negative, on our emissions inventories? Some of this information could be on-boarded in conjunction with the work that we're doing with GE right now.
We also have MOUs in place with Los Angeles Harbor College, a two-year community college based right here in the harbor enclave, and Cal State Dominguez Hills—the latter working on curricula for tomorrow's supply chain folks.
In all of these cases, it would have been pretty easy to go to a high-paid consultancy and ask for a whitepaper. But working with academia gives us a platform of legitimacy, while at the same time helping students pursue their degrees and providing us some very good advice on how to operate in the future.
Last summer, The Planning Report interviewed you and Pasha's Jeff Burgin about the Green Omni Terminal Microgrid project. Please update our readers on that project. 
The Port of LA is known as a test basin that will accelerate demonstration projects of new technology. The Pasha Green Omni Terminal was the first of its kind using photovoltaic capture. Powering yard machines and heavy-duty trucks with renewable energy is the future, and it's something that we are testing right here at the Port of Los Angeles. We now have two more terminals using different types of equipment so we can get a well-rounded look at how different operations can use this unique technology. 
Lastly, our readers have been following reports of the revitalization of LA's San Pedro Bay waterfront, particularly the Ports O' Call redevelopment and AltaSea. How is POLA contributing to the revitalization of its rather large neighborhood?
Part of our charter is public access—getting people close to the water and allowing the public to take in all that we have to offer on the shores of our great state. Bringing maritime themes to the public and welcoming visitors is a cornerstone of what we do.
We just came off our second annual Fleet Week, where we welcomed nearly 200,000 visitors to witness five vessels brought in by our United States allied country agencies, and programmatic activities like this will continue to draw people to the waterfront. In fact, the 2017 fiscal year was our second-best year ever, with more than 341,000 visitors to the waterfront. This was outpaced only by the 2014 fiscal year, when we had the giant yellow rubber duck at the port as well as the Tall Ships Festival. That year, we drew nearly 400,000 visitors.
We signed a 50-year agreement with The Ratkovich Company and Jericho Development to redevelop the Ports O' Call area—some 300,000 square feet of property. Those folks are working through the design stages, while we have begun the infrastructure work by realigning Harbor Boulevard. You should see the construction that's taking place. It really is ensuring that we will have a bright future at Ports O'Call. And I know that Wayne Ratkovich and the Johnson brothers believe in that equally as much as we do.
Just weeks ago, we also signed a restated 50-year agreement with AltaSea that was unanimously approved by the Board of Harbor Commissioners. Executive Director Jenny Krusoe and I have talked about having a zero-emission incubator or learning facility there, which would both be helpful to the port's core business and also draw some really bright people and organizations into AltaSea. The opportunities to bring a different job skillset to our area are equally as important as the opportunities to refine what we do at the port on a daily basis.