The historic places of L.A. County have, for 25 years, benefitted from the careful stewardship of Linda Dishman as head of the Los Angeles Conservancy. In this special interview for TPR, Dishman demonstrates the Conservancy's broad and creative approach to preservation, and the evolution that has led the development community to embrace revitalization. She also explains the importance of historic housing to affordability and neighborhood placemaking, and the role historic resources can play in bringing communities together. (Photo by Sheri Belafonte.)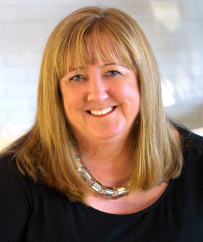 "People think preservation is about buildings—and it is, of course—but it's also about how people relate to buildings, and to one another, in historic places." —Linda Dishman
Under your leadership, the L.A. Conservancy has grown to play an indispensible role in preserving the city's history. Today, L.A. is at an inflection point for growth and new development. What is the Conservancy's role going forward?
Linda Dishman: In the past decade, combining old and new has increasingly become the norm. It's no longer seen as unusual. As a result, developers are coming to the Conservancy much earlier in their process to try to figure out a win-win solution. We're thrilled when people want to work with us, as opposed to us having to break down the walls to get them to work with us.
We're not about stopping development; we're about making it better by balancing old with new. Some developers have told us that their projects are more successful with preservation than they would have been otherwise.
This collaborative spirit is a substantial change from the past. We're proud of this evolution, and want it to continue.
Does the Planning Department's increasing focus on community plan updates align with the Conservancy's efforts to preserve historic neighborhoods?
We're happy that the city is making community plan updates a priority, because a lot of the general dissatisfaction with new projects right now stems from them not meeting the zoning code or the General Plan. Going through this process won't necessarily bring communities into agreement, but it will at least help bring all the issues to the table.
Our priority is to look at where historic resources are located. Now that the Office of Historic Resource's SurveyLA is done, we'll be able to look at each community plan in terms of how it addresses these historic resources. Then, we can work with community members to find ways to preserve the historic character of each plan area.
SurveyLA is a good first step in determining where our historic resources are, but it's not the final word. Lots of resources with historic or cultural value will be identified later that weren't picked up in the survey. But Survey LA has done an amazing job changing how people perceive their neighborhoods. Our office is certainly hearing from people who are using the HistoricPlacesLA.org website because they want to protect the historic resources in their neighborhood.
Over the past 25 years, the city and county's politics, demographics, and built environment have experienced much change. Some housing advocates suggest neighborhood integrity is no longer a high civic priority; rather, the overarching policy goal is increased housing supply. How is the Conservancy adjusting to this reframing of LA's landuse policy challenges?
There are a few ways we approach this issue. One thing we advocate for is making a variety of housing types available. Housing is not one-size-fits-all; it's not a question of building only low-income housing or only market-rate housing.
A lot of the resources identified in SurveyLA are historic multifamily buildings that provide affordable housing. They're rentals, and they're regulated under rent control. These resources are being torn down and replaced to build housing that is not affordable, or that has a very small percentage of affordable housing.
It is important to put into context that the approximately 30,000 sites identified by Survey LA represent less than 5% of the 880,000 parcels in the City of Los Angeles.  In that context, there are lots of opportunities for housing that would not demolish historic resources.
One of the best examples of that is the 2005 small lot subdivision ordinance, which developer and former TPR editor Mott Smith was one of the first to use to convert the historic 1920s Maltman Bungalow Court into condominiums. The Conservancy strongly supported that ordinance, and the bungalow court project earned one of our Preservation Awards. But that's the only case of a historic bungalow court being converted to condominiums under this ordinance.
We're hopeful that an updated small lot subdivision ordinance will be adopted soon, as it provides incentives to encourage more adaptive reuse projects. All too often, we see tear-downs of existing single-family or multifamily residences to create 2,500 to 3,500-square-foot houses that sell for very high prices—sometimes well over $1 million, depending on the neighborhood.
We need a more holistic approach to housing that focuses not just on building more affordable housing, but also on keeping what we have and augmenting it with new construction.
TPR recently published an interview of University of British Columbia Professor Patrick Condon about the challenges to neighborhood placemaking resulting from the "commodification" of housing. Is the LA Conservancy fearful that commodification is already happening in LA—that the notion of more housing supply as an affordability solution swamps every opportunity for nuanced conversation?
I do think that there is very strong nuance to supply and demand in the housing market, and that more at the top is not necessarily going to trickle down. This reinforces the need to look at a variety of affordable housing options, and to conserve the ones that we have.
Rent control has been one of the strongest means of maintaining the number of affordable housing units in Los Angeles. Now, with today's market for new development, the dynamic has completely changed. We lost more than 1,000 units of affordable housing last year—a lot of which were historic resources—that were torn down in the name of building more housing.
There needs to be a more creative look at housing. We are a city with a wide variety of people—people living alone, with other people, or with large families—and we need a wide variety of housing types to reflect that. To get the biggest bang for our buck, we need to integrate new construction with the historic housing options that already exist. 
Let's pivot to the Conservancy's preservation efforts in Downtown L.A.'s Arts District. How successful has the Planning Department been in keeping the District's core characteristics intact given developer pressure for greater and greater density. 
The Conservancy has been very concerned about the Arts District for about five years; in fact, we did a tour there four years ago to highlight its great historic character, and more than 900 people attended. The dynamic in the Arts District right now is that it is a very hot market, and people are paying exorbitant amounts of money for land. That complicates things.
We're working with Planning to figure out how to incentivize property owners to save their low-scale buildings, such as a transfer of development rights to other properties in the area or other parts of the property. This way, everybody can be part of the bonanza of development in the Arts District without being penalized for preservation, and we can maintain the Arts District as a place and a destination.
The good news is that the Arts District has a lot of large parcels that can accommodate great density, many of which are vacant or parking lots. In our conversations with the planners working on the community plan, we've focused on shifting density to these parcels so that the city can get the maximum number of units while preserving the character that makes up the Arts District.
There's a great fear that if everything in the Arts District is torn down, and it all becomes six-story apartment buildings, it's going to look like any apartment neighborhood off of the freeway. It won't have the same character; it won't be the Arts District. The question is how to preserve as much as possible in order to tell the story of the city's industrial history, as well as a very important component of our arts history. That will require thinking outside the box.
We are looking at how other cities are dealing with these kinds of challenges. San Francisco is a possible model: They've come up with some very creative ways to keep the character of South of Market, which is an industrial area very similar to the Arts District, and we hope to bring some of those ideas to the table.
This issue of TPR also includes an interview with the Metro team working on Union Station. Please share the Conservancy's current view on the plans for Union Station and the development surrounding it?
We have worked very closely with Metro staff throughout the Master Plan. Overall, we have been supportive of the direction it takes. But there is a new alternative proposed for an elevated concourse behind the station, and we are currently assessing its potential impacts.
The proposal would dramatically elevate this transportation hub and make it much more visible from various points of the city. That would really change how people perceive Union Station as one of the jewels of the city—a goal that we reinforced in the Master Plan. Right now, everybody walks through Union Station to get to transportation. One concern is about connectivity, and ensuring the historic station building is a core part of the transportation experience in the future. An above-grade, elevated concourse may have the unintended consequence of dropping Union Station from the mix, as people might bypass it to go directly to the new part.
Let's now turn to the Conservancy's work on anti-mansionization. Could you update our readers on the Conservancy's conversations with elected officials and the Planning Department on curbing this kind of growth?
Mansionization has been a huge issue, not only in the city of LA, but in communities throughout LA County. In the city, we've worked very closely with Councilmember Paul Koretz. His leadership made a big difference in the adoption of amendments to the Baseline Mansionization Ordinance (BMO) and Baseline Hillside Ordinance (BHO) amendments in March. We also worked very closely with a coalition of neighborhood activists from all parts of the city.
The goal was to strengthen the existing BMO and BHO ordinances to better address concerns raised since their passage. The revisions focused on setback, bulk and scale. These three items are very important in addressing mansionization. When developers build McMansions taller than neighboring houses, it can change the quality of life for other people—how sunlight and breezes enter their house, the amount of privacy they have in their backyards. A man's home is his castle, but that doesn't mean you should be able to prevent somebody else from enjoying their home and their castle.
The updated BMO and the BHO are positive steps. We'll see whether they result in enough changes, and whether they improve projects in terms of neighborhood character and livability. The city's recent rollout of new single-family variation zones is another positive that, combined with the BMO and BHO, should help address some of these problems. We will continue to monitor mansionization, and press for further policy refinements should they be needed.
Lastly, let's conclude with your summary reflections on the L.A. Conservancy's last 25 years under your leadership.  
Twenty-five years is a really long time, yet it's also a really short time. One thing about life at the Conservancy is that we are always busy (in a good way).
I am very proud that we have in fact saved buildings. That's the core mission of a preservation group—the actual ability to save significant historic buildings. We always prefer to collaborate on positive solutions, and it's great that we've seen more people reaching out to work with the Conservancy. People see us more as a partner in their projects, rather than as an opponent. Of course, that isn't always the case, and we're prepared to be an opponent if we need to be.
It's also been a joy to witness the growth of Historic Preservation Overly Zones (HPOZs). Los Angeles now has 35 HPOZs, and we've seen that they make neighborhoods stronger. While HPOZs are officially designated by the city, they are really created by the neighbors who go door-to-door to gain people's support and organize their neighborhoods. People think preservation is about buildings—and it is, of course—but it's also about how people relate to buildings and how they relate to one another in these historic places. I think the HPOZ movement has had a really powerful impact on community-building and fostering better neighborhoods.
Another important achievement is that the Conservancy's work has expanded into resources that are not just architectural. Many of our most important places appear quite modest, yet have great cultural value and layers of history. We're including more of these layers in the stories we tell. We're also not waiting for a building to be 50 years old to have significance.
For example, eight years ago, we worked with a community in Pico Union to spotlight resources identified by the community as significant. One of the sites was Angelica Lutheran Church, built in 1925. It is a beautiful historic church, but it also had community significance as a sanctuary site for Salvadorians fleeing their country in the late 1980s. We're reaching out to communities to talk about the history they've inherited in their neighborhoods, but also about their own history in these neighborhoods and why all of these histories are so important.