Paul Matt, master builder of countless Los Angeles landmarks, passed away on June 30, 2017. His memorial at the Skirball Cultural Center—one of his finest buildings—was but a small tribute to a true builder of a better Los Angeles. As Dr. Uri Herscher, founder of the Skirball Cultural Center, noted, the Center is a testament to Paul's full-bodied embrace of life and community. Matt, born in June 1932, was also responsible for The Broad, Petersen Automotive Museum, Wilshire Boulevard Temple, Huntington Library, Hollywood Bowl, Wallis Annenberg Center for the Performing Arts, and Waldorf-Astoria Hotel in Beverly Hills, among so many other important buildings. Below is an excerpt from the memorial service, including tributes by Eli Broad, Brenda Levin, Dr. Herscher, Trent Anderson, and Steven Matt.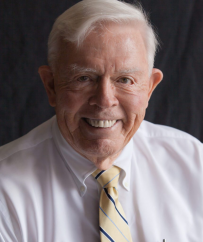 "There is no limit to our success as long as no one cares who gets the credit. It's not what you can do yourself, it's what you can do to help others succeed." – Paul Matt
Eli Broad: Over the past three decades, I have had the privilege and pleasure of working with and around Paul Matt and MATT Construction. Upon meeting him, I knew right away that Paul and I would get along. We both loved our adopted hometown of Los Angles. We were both born in June, just a year apart from each other. My 80th birthday celebration happened to fall on his birthday, and when he came up to me and reminded me of his birthday, I said: "Great, now we can split the costs." Paul was always kind enough to laugh at my jokes.
MATT Construction built the Broad Contemporary Art Museum at LACMA. It was quite a complicated building. Paul had the flexibility, ingenuity, and tenacity to achieve a beautiful project. When my wife Edie and I started to think about building the Broad, one of the first people we called was Paul. Paul started out by helping us choose an architect, and provided smart, practical advice on hundreds of decisions over the process. He was my rock.
It's hard to imagine Los Angeles without Paul. He gave us so many of our landmarks. More importantly, Paul was a good, honest, and decent person. 
Brenda Levin: Since being asked last week by Steve Matt to share my memories of Paul, I have reached out for reflections from several of my fellow architects—among them Chris Martin, Steven Ehrlich, Scott Johnson, Andy Cohen, Fred Fisher, and Jim Crawford. Like me, each has had the great privilege of working in collaboration with, and being mentored by, Paul.
My colleagues' observations are noteworthy for their uniformity. Each reflected on Paul's ability to tackle a stubborn challenge; his commitment to quality and excellence; his devotion to helping the architect and owner achieve their vision; and his steadfast commitment to fairness and the highest integrity. Each recalled him as a trusted collaborator and wise partner; a gifted builder; and above all: a gentleman true to his word.
Allow me to share Michael Maltzan's response: "Paul was a builder. Most people would associate that with making buildings, but he was also someone who built relationships, values, a sense of possibility, and most importantly, trust. When Paul invited me to lunch soon after I started my firm, I was surprised, given I was small potatoes, and he was—well… he was Paul Matt. I remember sitting with him in the restaurant, hoping that people would see us because if I was with Paul, they might think I had potential. As we got up to leave, Paul stopped and looked at me with that smile—his smile—and offered to help in any way if I ever needed it. I always hoped he knew that he just had."
Yes! No doubt, Paul was a builder. Paul built a family, a firm, a team, a community of colleagues, and a legacy of iconic signature projects. He built a reputation of personal integrity and extraordinary skills, and as an out-of-the-box thinker. He was a leader, a teacher, a mentor, and a friend.  He built a culture at Matt Construction of great people who respect an architect's vision, strive for excellence, and never shy away from a challenge. And he built a life of kindness, generosity, decency, dignity, and fairness—encouraging and investing in people and their potential.
How many of us here today has Paul invested in; mentored; and provided with a ballast, guidance, or even a rescue? There was no apparent distinction in the way he treated people.
When I first met Paul two decades ago, it was before the first of our 3 collaborations together—a Music, Dance and Athletic Center for Oakwood School—and it was an opportunity I looked forward to. It was on a visit to this very site, during the construction of the first phase of the Skirball, at the invitation of Uri Hersher and my Grand Central Market client Ira Yellin.
Paul reminded me of John Lautner, my first architectural employer. I was introduced to a tall, gravely voiced man whose eyes twinkled, eyebrows lifted, and who offered me an all-encompassing firm handshake. I liked him immediately. What I didn't know was that he would become the bar against which I would measure qualities of dignity, humanity, integrity, kindness, generosity and excellence.
While ostensibly Ira and I were invited to tour the site, as we entered the trailer, it became clear that we had walked into the middle of a construction meeting. Drawings were being reviewed, challenges discussed—schedule, budget—the standard fare of conversations among owner, architect, contractor, and project management. What I came to appreciate was that the tone was absent of contention and accusation. Instead, while intensely focused, it appeared to be a cooperative and respectful problem-solving session of a design challenge.
The Safdie design of the Skirball is a masterful use of poured-in-place concrete. And who better to execute it than Paul Matt—the job superintendent who developed the innovative approaches in formwork and concrete for the Louis Kahn-designed Salk Institute?
According to the firm, it was on this project that Paul began to develop his skill as a collaborative builder, supporting Mr. Kahn's great design. Those collaborative relationships between the architect and consultants provided the basis for his philosophy as a builder for the rest of his career.
The relationship between architect and builder is an alliance of interdependence. It is one without contract—since each is a client of the owner—yet in every way, that relationship is, at its best, an unwritten contract to bring an architectural design of possibility into reality. Paul was an architecturally savvy builder with technical know-how—and unlike many, he enjoyed and respected architects and challenging design.
I am fortunate to have worked with Paul and the Matt team on two subsequent projects, each distinctly different: the Wilshire Boulevard Temple restoration and the Oakwood School pedestrian bridge, both of which were aesthetically and technically complicated.
As a young architect with design credentials but not much experience in construction, and as a woman in a profession still very much dominated by men, Paul was one of the few who always encouraged, supported and wisely counseled me. He and the Matt team have made me a better architect, and can share, in good measure, the credit of whatever success I have had.
Paul has touched much more than our great city. Paul, the builder, surely leaves a legacy of projects and relationships that his passing can never take from us. I will miss his smile, the twinkle in his eyes, and above all else, his kindness and humanity. In Hebrew, there is a prayer that roughly translates to: "May his memory be a blessing." Without a doubt, Paul's memory will always be a blessing to me.
Paul Matt was both a Builder and a Mensch. By the way, you do not have to be Jewish to be a mensch, and it is a particularly appropriate description to use here at the Skirball.
Dr. Uri Herscher: There are those who build to impress, and those who build to inspire. There are those who walk away when the building is done, and those who remain because their commitment is to the relationship, not the edifice. Paul was a friend of over 30 years. We formed a bond of trust and caring that was only strengthened over time.
Paul left an unmistakable impression on me when we first met in 1982. He was a man who didn't call attention to him. He was rarely the first to speak. His quiet confidence came with the skills of a master craftsman. Above all, every building Paul ever built rested on the same underlying foundation: character and integrity. Paul helped build every single one of the buildings on this Skirball campus, all over five meticulously planned phases. His dedication to this project, like all projects, was amazing.
The essence of Paul is what I will always remember. There was a purity of purpose that matched a kindness of heart. His moral compass was fixed to true north. He was a singular man of singular character, with willing hands and a willing heart.
Trent Anderson: Ever since I met Paul in 1968, he had this innate sense of matching the right people to the right project. His instinctive knowledge on how to build and how to lead made him the key advisor on every project we collaborated on.
One night in 1991, we were having dinner with Paul and Kathy. It was the pit of the recession, and Paul was Vice President at C.L. Peck and a member of the company's board of directors. He took me by surprise when he told me that he was going to start his own company: MATT Construction.
Paul had a strong nucleus, with his son Steve and his brother Al, along with a number of the superintendents and managers. Still, I was startled. Then, when I thought about Paul's quiet determination, I knew he would find success.
Early on, MATT was key to Paul's specialty: structural engineering. His work with concrete was critical for earthquake repairs after the 1994 Northridge quake, and once he had a client they would never leave him.
Building was Paul's life, and he built a stronger community of love and respect that transcends all of us.
Steven Matt: What I admired most about my father was his work ethic, his love of family, his incredible strength, his innovative thinking, and his joy of helping others succeed. His personality came from growing up on a rocky, eighty-acre farm in upstate New York in the throes of the Great Depression. His parents instilled in him a sense of responsibility to look after the farm and family.
Through his service to our country, to his dedication to learning the skills of building, my father persevered and never complained. He worked diligently, coming up with brilliant ideas and insights about the projects we would work on. Never was Paul more magical than when we were all sitting around, late at night, and he would just come up with genius. There was no way to see how he had arrived at that observation. He was simply in tune with the project. 
The decision to start a company at 60 years old was a big decision. On the day we launched, even my father—ever the optimist—showed some level of concern. That day, my father placed one phone call to Bill Tooley. All Bill said was, "How can I help?"—and that was all we needed. It was those moments that my father always wanted to pay forward for the next generation.
To those at Disney studios who gave us our first break, and trusted us with your reputation, we thank you. To the staff that dedicated decades to MATT, we would have never succeeded without you. You literally built our reputation from the ground up.
What I will miss most about my father will be the 5:00 PM Sunday phone call, where we would discuss the upcoming week's priorities. We talked about raising family, love, life, passion, and how lucky we were. I know that my brother will miss the Sunday morning golf meeting to discuss the field operations of the next week.
The values my father taught me, and the company he built, are his greatest legacy. All of you here today are his greatest legacy, as it was the people he loved and built with that inspired.