The renovation of Los Angeles International Airport is one of the biggest airport modernizations in US history, as well as the city's biggest ever public-private partnership. It promises to transform LAX into a truly state-of the-art facility by renovating every single terminal and building a new international terminal—not to mention a self-driving people-mover, the biggest rental car facility in the world, and a new Metro rail connection that are together projected to eliminate 50 percent of the airport's infamous traffic. Here to shed light on this enormous undertaking is Sean Burton, president of the Board of Airport Commissioners. In his other roles as CEO of CityView and a former Los Angeles Planning Commissioner, Burton also comments on the housing crisis and the challenges LA needs to address before reaching its full economic potential.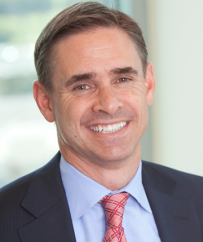 Let's begin with the multimillion-dollar modernization program underway at LAX. How is that process coming along, and how significant is it for the airport and the region?
Sean Burton: The program is in full swing. It started under Mayor Villaraigosa with the envisioning and building of the Bradley Terminal, which opened in September 2013 before the creation of our board. Since then, we have developed and approved a master plan that does a number of major things—including renovating every single terminal.
For many travelers, LAX is the front door not just to Los Angeles, but to the United States—yet we have had a terrible guest experience. Mayor Garcetti was very clear in his direction to us that he wanted to upgrade LAX and make it the world-class airport Angelenos not only expect, but deserve.
Recently, we had 28 airlines move among a number of different terminals. It was the biggest move in the history of airlines. Delta just moved into Terminals 2 and 3, and they've started their renovation. We signed a letter of intent with American Airlines for significant upgrades to Terminals 4 and 5, and we're working with United on Terminals 7 and 8. Terminal 1, with Southwest, has also changed quite a bit over the last couple years.
We're also building a new international terminal called the Midfield Satellite Concourse, which was initiated by our board. We've done the groundbreaking, and that will open in 2020 with additional gates and international opportunities for our airlines and our passengers.
When LAX was designed in its modern form in the 1960s, it was designed for about 40 million passengers. When our board took over in 2013, there were 64 million. Last year, we crossed 81 million. The existing physical infrastructure just doesn't meet the need today.
This is a really big opportunity for us to fix the terrible traffic congestion, especially in the central terminal area, which we sometimes jokingly refer to as the seventh circle of hell. (It's not so funny when you're stuck in it.)
The most exciting thing we're doing is the Landside Access Modernization Program (LAMP), which will work to alleviate the majority of that traffic. When it's done, it should pull up to 50 percent of the traffic out of the central terminal area.
The first part is building a rental car facility off the 405 in Century City. Right now, there are rental car lots spread all over Westchester, which creates a lot of confusion and a lot of traffic. We're going to consolidate all of those into the largest rental car facility in the world—north of 6 million square feet.
Next to that will be the new Metro Crenshaw Line station, opening in 2019. And all of that will be connected by a 2.2-mile automated people mover, which will move not only our 200,000 daily passengers, people renting cars, and people taking the train, but also lot of the 50,000 people who work at LAX. Our goal is to have all of that done in 2023.
Elaborate on what airlines are doing with their terminals.
The airlines are making a major investment—billions and billions of dollars of capital—because they share our vision of creating a great guest experience, and they understand that LAX hasn't provided that over the last three decades.
Their plan is to modernize the terminals with great amenities—the best restaurants, improved screening areas to make lines more efficient, and completely rebuilt club facilities. The goal is to create a better experience by getting passengers in and out more quickly, and giving them more options in the terminals. 
Prior to your board's tenure, there was controversy over the politicization of awarding concessionaire contracts; some were even taken over by City Council. With new leadership overseeing a major renovation, how will contracts be awarded going forward?
This problem hasn't occurred under our board or this executive director, and it won't happen again. We have a very transparent and public process. Since our board has been in place, Council has not asserted jurisdiction on a single concession contract. I think that's evidence that the new policy is working for everybody.
Our focus is on creating local opportunity and bringing LA-based businesses to the airport. A lot of the new restaurants and brands coming into our terminals are not national chains, but have a local LA flavor. That has been working out well, both for local businesses and for our passengers.
How will first/last-mile mobility solutions be handled in the traffic mitigation program? Will ride-hailing services, taxis, and shuttles have access to the inner circle of terminals? 
We haven't made a final decision on that, and for good reason. If you look back on how people got to the airport five years ago, people didn't take ride-hailing services like they do today. We don't know what the usage patterns of our passengers will be in 2023, especially once we launch the people-mover.
What I can tell you is that, at a minimum, we're going to pull out many of the shuttles— all those rental car shuttles that are cumbersome and big and clogging up traffic. There won't be any need for them, because people will be able to hop on the people-mover. Other shuttle services will better serve customers by dropping off at the people-mover or at the new intermodal transportation facility.
Our goals are to relieve the congestion from everybody driving into the central terminal area, and to give our passengers lots of different options for getting into the airport.
Talk about the decision to build the largest parking facility in the country, given how mobility trends are changing.
We looked at a lot of data, and worked very closely with the rental car companies on their projections. Right now, Los Angeles is the second biggest rental car market in the country. This new facility will serve that market, which includes both businesses and tourists. It is expected to do 20,000 transactions a day.
That said, we know people's habits are going to change—not just over the next five years, but over the next 30 years. We want to make sure that we will be able to adapt. So we are designing the building in a flexible way so that, as people start taking more ride-hailing services or as we get more automation and driverless cars, it can be adapted for another use.
We're also going to have a lot of parking for employees and the general public so that they don't have to drive into the central terminal area.
The last upgrade of LAX coincided with the 1984 Olympics. Speak to the relationship between the current program at LAX and the bid by Los Angeles for the 2024 or 2028 Olympics.
We were going to do this upgrade no matter what, because that's what we need to do for Angelenos. But staff have worked very hard to put together a plan that can be executed, implemented, and opened prior to 2024.
If we're fortunate enough to host the Olympics in Los Angeles—which I think we will be, whether in 2024 or 2028—we want to make sure we have an airport that's modern and that provides a great experience for the athletes, for the IOC, and for everybody who comes to Los Angeles. That's been a great driving factor in terms of schedule and timing for us.
The conversation about connecting LAX to Metro has gone on for years. Explain what that working relationship is like.
Since our board has been in place, we've been blessed to enjoy a very close working relationship with Metro, which, frankly, hasn't always been the case. For example, our teams work closely on connecting the people-mover to the Metro station in the right way. They work together on design and flow, and coordinate construction and staging. It's a very close relationship. We actually have a senior executive on the planning team at LAX who used to be at Metro, and she has helped to improve that coordination and discussion. 
Much of the investment in LAX is geared toward passengers, but cargo is also a huge part of what comes through that airport. Speak to your efforts around cargo movement. Is there a game plan to grow that industry as a basis for jobs and trade?
There is a game plan, and we coordinate it by talking to business and major air carriers about what their respective needs are. We've been able to continue to accommodate their growth.
The movement of cargo has been a big business for LA, and continues to become an even bigger business as people order more and more goods online. Logistics is very important. Even though it doesn't necessarily grab the headlines, we are continuing to improve the runways and improve access to hangars and distribution facilities so that we can meet the need of the region.
With 40 percent of the goods in the US coming in through LA's port facilities, having the airport be coordinated with that is critical.
Speak to the responsibilities you have to the other airports that LAWA oversees. 
Van Nuys Airport continues to be one of the busiest general aviation airports in the country; it's always either No. 1 or 2 in any given year. We spend a lot of time there working with our neighbors to make sure that we are being respectful to the community as we fly in and out. As part of the charter discussions, the board actually has a commissioner from the Valley whose job is specifically to be in contact with the community.
We're not currently running any operations out of the Antelope Valley, where we own some land near the Palmdale Airport. We haven't made any final decisions about what that will become in the future. Right now, our focus is on modernizing LAX.
Did the agreement to turn over the Ontario Airport refocus LAX as the center of the network?
I do think that was a benefit. The LAX plan is incredibly ambitious; it's one of the largest modernizations of an airport in US history, as well as the biggest public-private partnership Los Angeles has ever done. We need all hands on deck to bring it in on time and on budget.
How does LAWA maintain a relationship with other airport authorities in the basin?
LAWA's chief executive officer Deborah Flint is in contact with the directors of Long Beach, Burbank-Glendale, and other airports in order to understand their plans, as well as the plans of the airlines, who make decisions about which airports to fly in and out of. We also work closely with the Federal Aviation Administration to make sure we come up with comprehensive solutions to traffic and congestion, not just on the ground, but also in the skies. 
In your other work, as CEO of CityView, you have looked at the housing crisis in Los Angeles and around the United States. How should we frame the conversation about addressing this issue?
Speaking not as an airport commissioner, but with my private sector hat on: CityView is of the opinion that a lot of this crisis is due to basic economics of supply and demand.
It's no surprise to anybody that there is a housing shortage. We haven't been building enough housing for either the existing population or the growing population, and we're not projected to build enough housing going forward. Naturally, housing is becoming more expensive. We have to come up with ways to address that.
Opponents of new housing often say, "If you build it, they will come." But I think the evidence has shown that they're coming anyway, and we need to make sure they have places to live. We need to continue to build housing.
Now, housing needs to be built in a smart way and in the right locations. I'm a big fan of building near transit; that's one way to reduce traffic and other congestion. We need to build near jobs and amenities so people don't have to get in the car. That's better for families, for communities, and for everybody.
I think the crisis should be framed in terms of how we appropriately build more supply in the right areas. That alone will make housing more affordable. It's not the only solution, but it's a major point.
The conversations about Measure S seemed to be all about housing, with nothing about city planning or how to build smartly. What is it that keeps us from focusing on the role of planning in making our housing investment an intelligent one?
It doesn't make a great soundbite. It's easier to talk about banning high-rises and billionaire developers. There's a much more thoughtful discussion that needs to happen, and I think it's starting to happen now.
As a former Los Angeles planning commissioner, I believe that community plans are incredibly important documents. A community plan should be a vision shared by a community, by businesses, and by elected officials as to how the community will grow. And it's not a broad, soft, fuzzy vision: it goes block by block as to what kind of growth can happen there. Those kinds of discussions need to happen.
Frankly, we haven't done a great job over the last 25 years of updating the plans. There haven't been appropriate resources put in. I think that's changing: the mayor's budget puts a lot of money toward community plans and city planning, which I think is an important step.
I understand why a lot of citizens are frustrated in Los Angeles. They feel like the process isn't transparent. They see high-rises going up and they don't understand what's happening; they feel like they have no power. The mayor has gone a long way to addressing that. I think it was a really good move to ban planning commissioners from talking to developers individually, because that created a sense of backroom deals.
There are a lot of positive steps being taken, but a Manhattan project effort to update LA's community plans is critical to addressing the housing issue.
In hard times, people cut budgets—and one of the first things they cut is planning. But this "Manhattan project" for community plans would require five to seven years of continuous funding. What are the chances of that?
With this mayor, I think the chances are good. He understands that in the past, it's been politically expedient to cut planning budgets, but that doing so has profound impacts on people's ability to live in affordable and workforce housing.
I think this mayor is going to stick to his commitment, and keep that project funded so that we can build more housing. It's a priority for him.
What opportunities does CityView sees in Los Angeles, both the city and the metropolitan area?
CityView is incredibly bullish on Los Angeles. LA has more tech jobs than any region in the country. We have more manufacturing jobs. We have incredible creative workers. There's no other place on the planet that has the creative talent that Los Angeles has. Our demographic base is growing faster than the national average, and our 300 days of sunshine don't hurt, either.
We love to see the growth in Silicon Beach, Playa Vista, Santa Monica, and Hollywood, as companies like Netflix relocate there from Silicon Valley. Companies understand that in order to continue to compete in the digital arena, they need to create their own content, and the best place on the planet to do that is Los Angeles. Then there's the aerospace industry, the manufacturing industry, and the fashion industry. The Los Angeles economy is much more diverse than it was 30 years ago—which means it's poised for growth.
We have an incredible educational base; we graduate more engineers than any other city in the world. The hard thing is convincing them to stay here. To do that, we have to address our infrastructure issues.
Measure M is very promising in that regard. It will be the largest public works project in the world bar none, and it's desperately needed. Next, we have to address the housing issue.
What other challenges must LA overcome to reach the potential that you've just outlined? 
In addition to infrastructure, housing, and transportation, it's education. Educational opportunities are the future of this city. We have to continue to upgrade our schools and create opportunity for the kids who grow up in Los Angeles.