When Samuel Assefa was nominated to lead Seattle's newly consolidated Office of Planning & Community Development in 2016, Mayor Ed Murray touted his experience implementing holistic planning in cities around the US and the world. Assefa is a fervent believer in the global exchange of ideas who, in addition to bringing well-designed density to Millennium Park as planning director for the city of Chicago, has also overseen sustainable streets programs in Boulder and neighborhood redevelopment in San Francisco. In this interview, he shares with TPR what he's learned from other cities—and what other cities can learn from Seattle—on producing affordable housing, accommodating future growth, and revitalizing city centers for the next generation.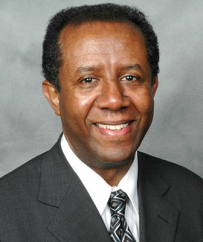 You lead Seattle's new Office of Planning and Community Development (OPCD), created at the behest of Mayor Murray to assure better integrated and equitable services citywide. Describe the mayor's vision, and the challenges that you've assumed in Seattle.
Samuel Assefa: The city is experiencing unprecedented growth, which is projected to continue over the next 10-20 years. This poses challenges from the planning, infrastructure, and equity perspectives. The charge of my office includes citywide coordination, as well as a robust set of equity-based planning principles.
One of the mayor's objectives with this new office is to better coordinate and integrate planning and infrastructure investment functions across all city departments. City organizations have become too siloed in the way they deliver services. We need to be able to respond to change at the speed at which change is coming.
As soon as I came in, we established a Capital Cabinet with the heads of all the departments that manage capital projects, such as City Light (the city's electric utility), Public Utilities, Parks, Transportation, Housing, Economic Development, and a few others. The budget director and I chair the cabinet, which has regular meetings every couple of months, and we use that venue to better coordinate and integrate the city's investments.
Another objective is to address equity issues for people who haven't benefitted from the city's growth over the last 15-20 years—not only in terms of income disparity, but also in terms of infrastructure and planning investment. My office aims to look at the city's commitment to racial and social justice, and help target public investment in neighborhoods that are at higher risk of displacement but have low access to opportunity.
Speak to the administrative challenges of going from a traditional siloed local governance structure to a more integrated city model.
There are a number of challenges, and some of them are structural. For example, the different capital departments have different funding sources. Some, such as Transportation, get a significant amount of their funding from federal or state grants, which may come with restrictions, timelines, or other requirements. And some, such as Public Utilities and City Light, are ratepayer-funded institutions, which are very different in structure and in terms of the requirements on how, where, and when they make investments. The city also has its own capital planning process, in which capital investments are planned in six-year increments and determined through the budgeting process.
That all poses a challenge when we're trying to redirect investments to address sudden changes that weren't anticipated, such as significant growth or development in a neighborhood. We try to coordinate and ask questions like: Is there a mechanism through which we can expedite Parks Department's planned investment in a certain area from 2025 to 2020, because Transportation has a sidewalk or street connection planned for 2020 in that same place?
The other major challenge is a general paradigm shift in the way city institutions work. We now have multiple departments co-lead major infrastructure investments. That creates equal ownership of the project, and it makes sticky decisions easier because one department isn't imposing its view on the other; it's a co-developed policy. We have created a significant amount of interdepartmental staff, who we engage through matrix management as well as regular communication. This way, all departments that touch a specific area are coordinated.
Before being enticed to Seattle just a year ago, you were responsible for planning and urban design in Boulder and Chicago. What experiential lessons did you bring from those cities to Seattle?
I spent about 10 years in Chicago. During that time, there was a significant amount of coordination in the city. It was part of the culture. Then-Mayor Richard Daley believed that each of the services the city provides, such as community planning, parks, or transportation, should not be viewed as the work of individual departments should rather viewed as services "the city" provides. That culture, and the lessons learned from there, inform the discussions we have here in Seattle, consistent with how Mayor Murry envisions how the city should function.
During the six years I was in Boulder—a much smaller city of 100,000—integrating the planning, sustainability, and housing departments into one department was a key objective of the City Manager to avoid siloed thinking regarding interrelated policy issues that affect service delivery across the board. The implementation of that program, as well as deliberate efforts to departments co-management of projects with multiple departments were useful lessons that inform my work here.
You're known and respected for embracing experimentation, based in part on your visits to China, the Netherlands, and Mexico to study models of sustainability, transportation, and public space. What have you brought from this international exposure to Seattle?
The main points I've brought back include the fact that the big problems most cities are trying to address—sustainability, livability, or equity are fundamentally similar and that exchanging ideas and lessons between cities is imperative to making well informed decisions on city planning issues. For example, as we plan public spaces for Seattle, a city that is growing fast and becoming more ethnically and culturally diverse, we must take into account issues of equity in the design and programming of public spaces so that they are welcoming to diverse cultures.
In Mexico and throughout Latin America, for example, plazas and outdoor spaces, as well as residential neighborhood streets are important places where public and private life is celebrated. In the US, the backyard is generally where people gather in most suburbs and single-family residential neighborhoods. Therefore, how we think about the design of our public spaces, including residential streets, requires extra sensitivity and an equity lens if Seattle is to become—to quote Charles Landry, author of The Creative City—a "city for the world." 
For example, the Seattle Design Commission (a division of OPCD), recently commissioned a study about private outdoor spaces in Seattle that are required to provide public access. Certain privately owned public spaces (POPS) in our downtown area, including plazas, arcades, atriums, and "green streets," are required to be open to the public. In reality, the design of POPS usually take on a private look, just like the private buildings they are associated with. That sends a message that the public, especially marginalized communities, are not welcome. The purpose of the study was to determine how the design of POPS are welcoming (or not) to the public, especially to diverse and marginalized populations in Seattle, and developed tools for the evaluation of projects. The Commission's study helped inform improved design guidelines evaluation criteria so that future POPS are more welcoming to diverse demographics.
Is Seattle drawing from Chicago's success with public development at Millennium Park to enhance livability downtown?
My role in Millennium Park was on the policy side, looking at how future development in the area would respond to the benefits that the park was bringing.
There were lots of ideas about how high-rise, dense buildings could be designed to meet the ground in a more public-friendly way, allow more light and air in, and take advantage of the park itself, to ensure that it paid dividends both economically and in terms of quality of place.
The way Millennium Park transformed that area was a key lesson that I used in discussions about Boulder's Civic Area. A lot of public institutions are located there—the library, City Hall, the museum, etc.—but about 60 percent of the park there was surface parking. We used Millennium Park as a model, as well as the leadership Mayor Daley had provided in Chicago, for ideas that we tried as pilot projects to address livability issues. That was well embraced, and Boulder residents voted to jumpstart the Civic Area Park. The first phase is under construction; they just completed some of the bridge and components.
Now, we're having that same discussion in Seattle as we envision the future of the Seattle Center, which is one of the mayor's key initiatives. We're thinking about how the Seattle Center can remain relevant to future generations, and what version of the Millennium Park story could take place in Seattle. I've sent staff to Chicago to meet with the people who were involved, and we're planning to go again with our current mayor.
Seattle Mayor Ed Murray recently said that, in order to create 6,000 rent-restricted units over the next 10 years, he wants the City Council to approve more than two-dozen up-zoning plans by 2018. Elaborate on the challenges of creating through urban planning more affordable housing when local residences are concerned about density and infrastructure capacity.
There are many challenges to creating more affordable housing—some of them internal, most of them external.
The mayor's target is to build a total of 50,000 housing units over the next 10 years, with 20,000 of those to be affordable, and 6,000 to come out of a mandatory requirement on private development. The city has never had a mandatory requirement for affordable housing or rent-restricted units, in part because of state restrictions. In order to comply with state requirements, we have to provide capacity commensurate to the number of units we're exacting.
Our planning process entailed looking at areas in the city to become urban villages and urban centers. In the comprehensive plan, we identified areas comprising about 18 percent of the city where 75-80 percent of the coming growth could be directed. We need to rezone those areas to create the capacity that generates 6,000 affordable units. That has been a very big challenge, because of the nature of development and how contentious it is.
There's a lot of anxiety in communities about the dramatic increase in housing costs throughout the city. Even in neighborhoods that are only going to be adding one- or two-story buildings, just the idea of rezoning translates to the lay audience as: "My god, there's going to be significantly more development coming, which means people are going to be displaced." The challenge for us has been to communicate that the rezoning is specifically to address these issues. The displacement occurring today is actually happening while there is no rezoning being proposed. If we did nothing, the situation would get worse.
Some people also have questions about the capacity of local infrastructure. We are coordinating with all the relevant departments to make sure that key pieces of infrastructure in those areas—like roadways, parks, or public spaces—are either in the planning stages, or are committed in future investments.
Over the last two years, we've permitted close to 24,000 units of housing in the city. If this requirement had been in place, we would have gotten more than 1,200 affordable units out of that. That's a big number.
In November, Puget Sound voters approved increases to sales taxes, property taxes, and vehicle excise fees to fund a $53.8 billion expansion of the regional rail system, as well as a transit-oriented development planning program. What is your office's involvement in planning and implementing these infrastructure investments?
My department has significant involvement, along with seven or eight other city departments, in the Sound Transit 3 Implementation Plan. We are engaged early on in the process to make sure that we are well coordinated when it comes time to invest that tax revenue.
We are coordinating with the Seattle Department of Transportation and Sound Transit to address key issues in the early planning stages, like where stations ought to be located. The Design Commission and the Planning Commission, which are both in my department, have a role in recommendations and approval of station alignments.
We're also studying what deficiencies exist from a land-use perspective and trying to anticipate what challenges might come up by the time the infrastructure is being built, so we can put appropriate regulatory mechanisms in place—be it zoning, or even design typologies that respond to the community character in future station areas. For example, we're considering having interim zoning in certain station areas in order to protect from any significant change that might be detrimental to transit-oriented development, such as strip malls or other uses allowed by the zoning currently in place.
Let's transition to Seattle's recently updated Pedestrian Master Plan, which calls for sidewalk initiatives in line with Vision Zero. What is your department's role there?
Investment and planning in sidewalk infrastructure has been long delayed. Now, our Transportation Department is actively looking at pedestrian safety. Instead of planning, designing, and investing based on general requests, they've moved to very sound, data-driven decision-making, and there is a lot of emphasis on pedestrian infrastructure.
My staff's role is planning and rezoning areas where we expect to see a significant amount of pedestrian use. We currently have a robust multi-departmental, public-private project called One Center City, which looks at the central city in terms of public connections and the quality of the public realm. We're working with King County Metro and the Department of Transportation, as well as the Downtown Seattle Association and the business community, on how best to accommodate transit infrastructure that's driven primarily by the quality and safety of the pedestrian environment.
Lastly, how is Seattle sharing its successes with other big cities?
My office and the Office of Housing recently hosted the Urban Innovation Speakers Series, which was focused on affordable housing and the "missing middle." We had housing and planning directors from San Francisco, Portland, Vancouver, and Seattle there.
The value of conversations like this is in realizing how very similar the issues and challenges that we deal with in different cities are. Other cities are also talking about access to accordable housing, obstacles to new policies, state regulations, construction methods, community resistance, etc. There are times when you could take a headline and change the name of the city, and it would feel exactly the same. That was helpful to see.
Even more helpful has been discussing ideas that we may not have thought about—that are working elsewhere and should be explored here, and vice versa. For example, there's a lot of discussion about looking at innovations that could disrupt the construction industry, in the hopes that new construction methods could make buildings more cost-effective and help address affordability. Then there are questions about what kind of code revisions we should be considering in each of our cities to make certain building types easier to build.
This exchange of ideas has been really effective in getting people to open up to new ways of thinking, and perhaps try out new ideas as pilots. It strengthens the creative processes that both the professional world and lay audiences engage in, and helps people see the broader benefits of an idea.
You see things very differently when you look at them in a new context. When you're really in the weeds on an issue in your own city, it can be hard to see new ideas and new thinking. The same idea could be proposed in the city for years and years, and people will finally open up to it when you bring in a similar experience from another place.
These kinds of exchanges help each of us to understand, not only our shared challenges, but also potential solutions we hadn't initially considered. For me, that has been really effective in each city I've worked in. It opens up the conversation.